Marc Marquez has a younger brother named Alex Marquez, and they are more like best friends than brothers.
Like his brother, Alex Marquez has been competing in the MotoGP since the 2020 season. Also, he was the 2019 Moto 2 World Champion and the 2014 Moto 3 World Champion.
Born on February 17, 1993, Marc Marquez has been a member of Honda's factory team since his debut in the MotoGP in 2013.
Nicknamed "Ant of Cervera," he is one of only four riders to secure world championship titles across three different categories, a feat previously achieved by Mike Hailwood, Phil Read, and Valentino Rossi.
Regarded as one of the most accomplished motorcycle racers in history, Marquez has clinched a remarkable total of eight Grand Prix World Championships, with six of them in the premier class.
Moreover, he became the first rider since Kenny Roberts in 1978 to win the premier class title in his first season.
Additionally, he holds the record as the youngest rider ever to win the prestigious title, achieving it at 20 years and 266 days.
Marc Marquez Grew Up With A Brother Alex Marquez
The six-time Moto GP champion, Marc Marquez, has a younger brother named Alex Marquez. The Marquez brothers share an age gap of three years, as Alex Marquez was born on April 23, 1996.
Alex has followed in his brother's footsteps as he is also involved in racing. He presently rides for the Ducati satellite team, Gresini Racing MotoGP.
The younger sibling initiated his world championship journey as a wildcard entry at the 2012 Spanish Grand Prix.
Transitioning to the Moto2 World Championship with the Estrella Galicia 0,0 Marc VDS team, he secured a 14th-place finish in the standings in 2015.
The pivotal year of 2017 saw Alex Marquez clinch his first Moto2 race victory at the Spanish GP, ultimately finishing 4th overall.
Moreover, he claimed the Moto2 world championship, adding to the Marquez family's double championship triumph. Remarkably, he became the first rider to attain titles in both Moto3 and Moto2.
In the 2020 season, Alex joined his brother Marc at the Repsol Honda Team, filling the void left by Jorge Lorenzo's retirement after the 2019 MotoGP season.
Subsequently, for the 2021 and 2022 seasons, Márquez donned the colors of the LCR Honda Castrol team.
Marc Marquez Girlfriend Gemma Pinto
The elder sibling, Marc Marquez, is currently in a relationship with Gemma Pinto, a social media influencer.
The Honda rider has previously been reserved about his personal life, but this has recently changed. He publicly acknowledged his relationship with Gemma back in May, although the duration of their relationship remains undisclosed.
The photo announcement immediately piqued the interest of his fans, sparking widespread speculation about their connection.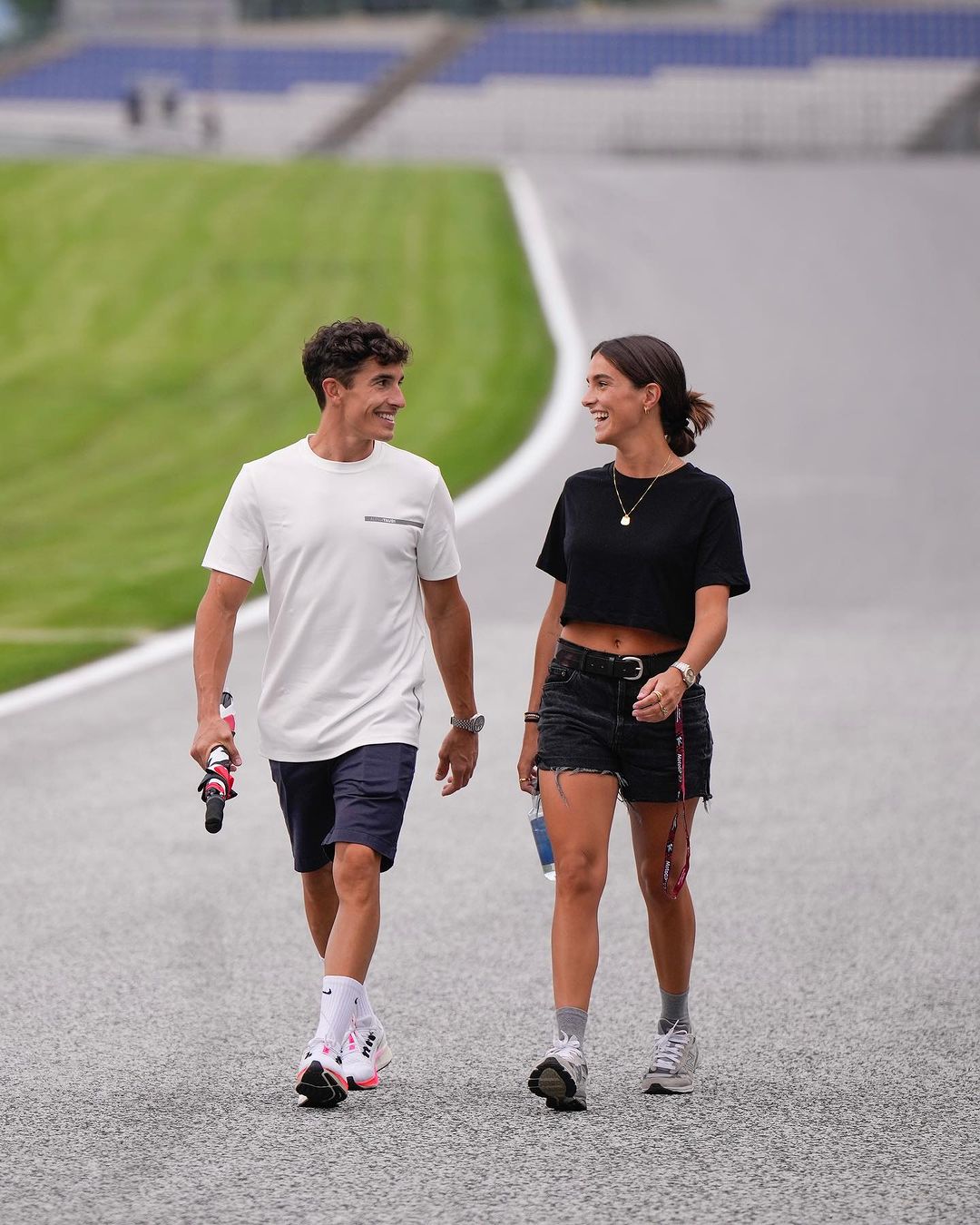 Gemma, originally from Barcelona, has garnered an impressive following of 125k on Instagram. Furthermore, she has been Kram's Brand and PR Manager since January 2022.
Regarding her education, she earned her degree in advertising, public relations, and marketing from Universitat Ramon Lull.
Frequently Asked Questions
Who is Marc Marquez Brother?
Marc Marquez brother is Alex Marquez