Matthias Steiner's wife, Inge Posmyk, contributes equally to her husband's nutrition and fitness program as he has transitioned from his weightlifting career into entrepreneurship.
Their marriage is a testament to the power of love and resilience; together, they have built a beautiful family.
In this article, we delve into the married life of Matthias Steiner and Inge Posmyk, exploring their journey together and their wonderful family.
Matthias Steiner, a renowned German weightlifter, is known for his incredible sporting achievements as an Olympic gold medalist.
The Austrian native was born in Vienna on August 25, 1982, and competed internationally for Austria from 1998 to 2005.
During the stint, he competed in the European Championships, World Championships, and the 2004 Summer Olympics.
Similarly, Steiner was four times Austrian National Champion in the +105 kg category from 2002 to 2005. He also holds Austrian records in the −105 kg and +105 kg categories.
Steiner left the Austrian weightlifting federation in 2005 as he married a German woman and moved to Germany.
The athlete received German citizenship in 2008 as he continued his weightlifting career in Germany.
Moreover, Steiner won the gold medal for Germany at the 2008 Summer Olympics.
Matthias Steiner Wife: Inge Posmyk
Inge Posmyk, a native of Germany, is known for her work as a television presenter. She is also an author and operator of an online nutrition and fitness program.
The Austrian-German weightlifter's wife was born in Biberach an der Riss on April 28, 1970.
In 1989, Inge graduated from the Pestalozzi High School in Biberach. She lived in Florida for a year, studying languages, economics, and culture at the University of Passau.
Inge graduated from Passau in 1997 with a degree in cultural studies, having spent a few semesters in Spain and Hawaii.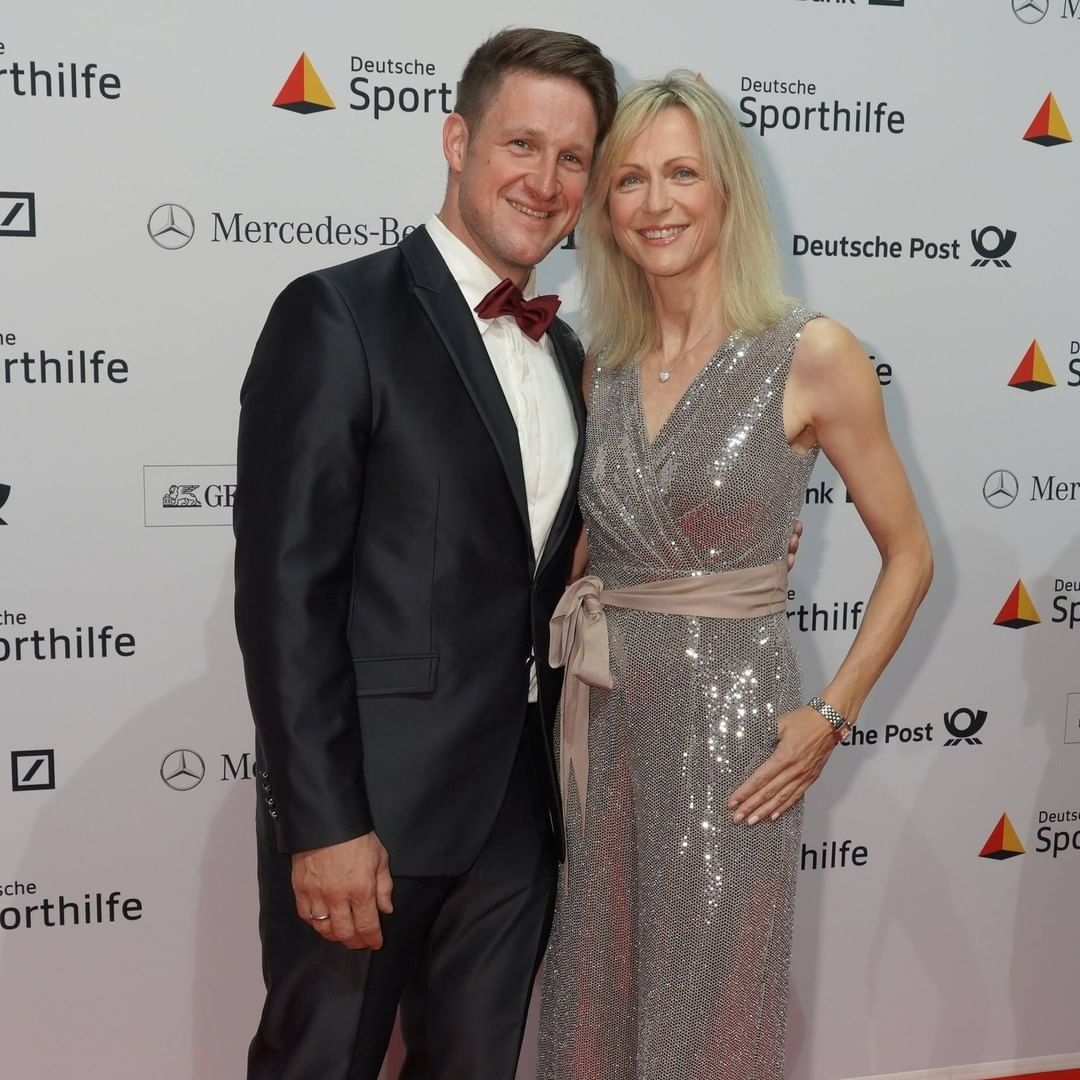 Her television career took off in 1998 at RTL in Hamburg, where she worked as a presenter, editor, and the head of the service.
Similarly, Inge took on moderation and editorial work on various programs on Sat.1 after her move to the network in 2001.
In addition, she earned an award from the World Media Festival in Hamburg in 2004 for her work at Bundeswehr TV.
Lastly, Inge has moderated the knowledge magazine Welt der Wunder auf Welt since March 2015.
A Bond Strengthened By Adversity
In 2007, Matthias Steiner faced one of the most challenging moments when his first wife, Susann, tragically died in a car accident.
Steiner's heart-wrenching gold medal performance at Beijing 2008 touched the world. He dedicated his victory to his late wife, holding up a picture of her on the podium.
This devastating loss would have a profound impact on his life. Amid grief and heartbreak, Inge Posmyk emerged as a pillar of strength for Matthias.
Inge's relentless support and love helped Matthias navigate this difficult period since they met in October 2008.
Married Life And Kids
Matthias Steiner tied the knot with Inge Posmyk on January 15, 2010, and they have built a beautiful family together.
They welcomed their first child, a son named Felix, on March 14, 2010. Likewise, their second son, Max, was born in 2013.
Their relationship grew stronger as they embraced parenthood together, demonstrating the depth of their commitment to each other.
In 2017, Steiner even dedicated his album "Zurückgeliebt" to Posmyk for "loving him back to life" after the tragic loss of his first wife.
Aside from their nutrition program, the family of four is also featured on Steiner's Instagram, having fun together.