Meet Mark Stone brother Michael Stone, the siblings who are doing wonders in ice hockey.
Mark Stone, born on May 13, 1992, is a professional ice hockey player and a captain of the Vegas Golden Knights of the National Hockey League (NFL).
Stone began his junior hockey career with the Brandon Wheat Kings of the Western Hockey League (WHL) in 2008-2009.
He was eventually selected by Ottawa Senators in the sixth round, 178th overall, of the 2010 NHL draft.
Stone, who is also widely recognized as one of the NHL's premier two-way forwards, made his regular NHL season debut against the Toronto Maple Leafs in 2013.
In addition to that, he scored his first NHL goal against Carey Price of the Montreal Canadiens on January 4, 2014.
On March 8, 2019, Mark signed an eight-year contract with the Vegas Golden Knights, where he recorded his first hat-trick against the San Jose Sharks in game three of the 2019 Stanley Cup playoff.
Moreover, Stone became the first Golden Knight player to record a hat-trick in the playoffs.
Mark Stone Brother: Michael Stone
Michael Stone, the older brother of Mark Stone, was born on June 7, 1990.
He is also a professional ice hockey defenceman who plays for the Calgary Flames of the NHL.
Michael was selected in the third round, 69th overall, in the 2008 NHL Draft by the Phoenix Coyotes.
On February 18, 2012, Stone made his NHL debut against Dallas Stars. Eventually, he scored his first NHL goal in a 3-0 victory over the San Jose Sharks.
He was traded to Calgary Flames on Feb 20, 2017, in exchange for a 2017 third-round pick. Later Stone re-signed with Calgary Flames on June 30, 2017.
Michael played for Calgary Flames for three years before re-signing with Flames as a free agent on September 10, 2021.
Michael and Mark Stone, who are both professional ice hockey players, played against each other in the WHL.
Additionally, the two brothers competed in an NHL game on January 31, 2015, facing off against each other.
Michael Stone married Michelle de Villenfagne on July 11, 2015, and welcomed their first twin kids, Jolie and Wyatt, on October 2016 and their third child Rhett Michael Stone on April 2, 2018.
Mark Stone Family
Mark and his brother Michael Stone were born in Winnipeg, Manitoba, Canada, to their parents Rob and Jackie Stones, and attended Westwood Collegiate.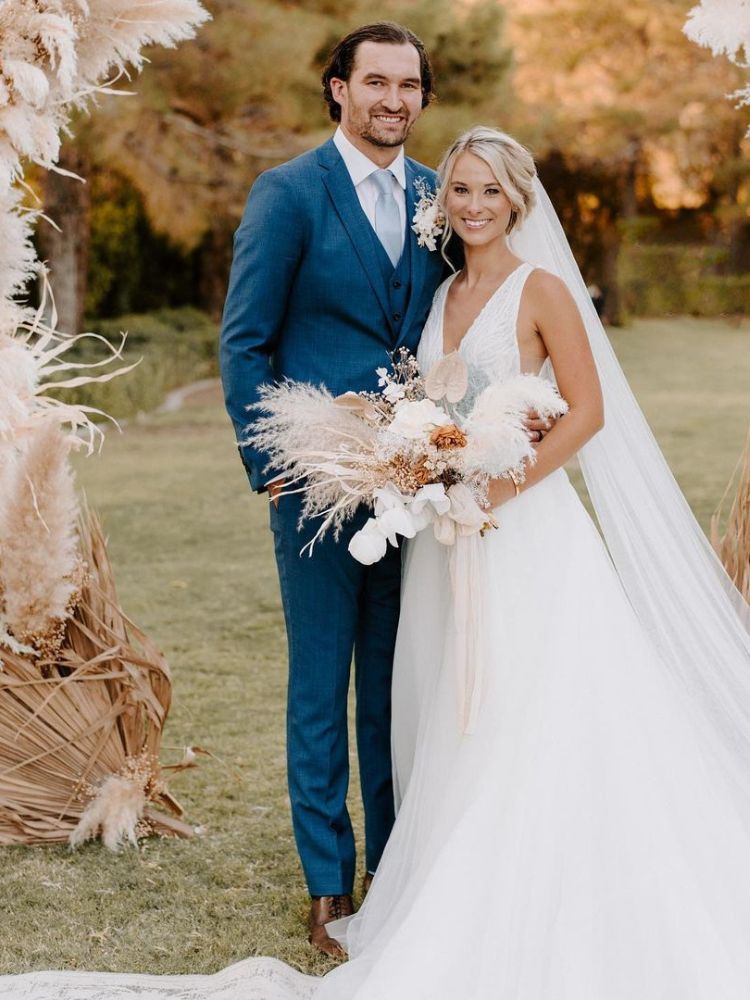 Mark married Haley Thompson on September 1, 2021. The couple announced their marriage on Instagram during the NHL-Star break.
They shared a picture from the special day, with Mark wearing a sharp blue suit and Hayley wearing a stunning white gown.
Stone and Hayley's story is unknown, but it is evident that they are destined to be together.
Mark Stone Kids
Mark Stone doesn't have any kids at the moment.
The NHL player and his wife are committed to one other, but they are not parents yet.
It seems like Mark's current priorities are his work and personal life; he and Hayley may decide to have children in the future.
Regardless of his current family situation, Mark Stone's commitment to his loved ones and passion for his work inspire and enthrall his fans.