Journalism is an integral part of sports in the 21st century. A sport with low spirit but with excellent reporting, it is unforgettable. Sportscasters like Melissa Stark are reasons that lure viewers to watch and enjoy the game to the fullest.
Many might be unaware, but cracking into journalism is equally challenging, unlike any other profession. Since 1996, Stark has covered various sporting events for ESPN, NBC, CBS, and ABC.
Melissa is an American media personality and sportscaster renowned as the current sideline reporter for NBC Sunday Night Football and former sideline reporter for Monday Night Football.
Currently, she is a reporter for the NFL Network and is in her fifth season hosting NFL 360. The 49-year-old Baltimore native previously worked with NBC and as a correspondent for NBC's The Today show.
Moreover, the American sportscaster has a net worth of $3 million in 2023.
So, we are here to inform you about Melissa Stark, as most readers might be unaware of her life. This article will shed light on her career, net worth, and relationship status.
Before that, let's look at her quick facts.
Melissa Stark | Quick Facts
Full Name
Melissa Stark
Birth Date
November 11, 1973
Birth Place
Baltimore, Maryland
Nick Name
Melissa
Religion
Christianity
Nationality
American
Ethnicity
White
Education
University of Virginia

Roland Park Country School

Horoscope
Scorpio
Father's Name
Walter Stark
Age
49 Years Old
Height
5'4"/1.73 m/173 cm
Weight
52 kg/115 lb
Shoe Size
6.5 US
Hair Color
Blonde
Eye Color
Blue
Figure
Slender
Relationship Status
Married
Husband
Mike Lilley
Children
Four; Michael Lilley Jr, Jackson Lilley, Clara Lilley, and Clementine Lilley
Profession
Sportscaster, NFL Network Reporter
Net Worth
$3 million
Affiliations
ESPN, ABC, CBS, NBC, NFL Network
Active Since
1996-Present
Social Media
Instagram, Twitter, Facebook
Last Update
June, 2023
Melissa Stark Wiki-Bio | Early Life, Education, & Parents
Melissa Stark was born on November 11, 1973, in Baltimore, Maryland, to father Walter Stark, whereas no information about her mother was found on the internet.
Walter works as an eye surgeon at the Wilmer Eye Clinic, a famous eye clinic located on the premises of Johns Hopkins Hospital in Maryland. Her father is the very reason she exhibits hard work and passion for her work.
While growing up, she was interested in football. Melissa attended many Baltimore Colts games with her father, a Colt medical team member.
The Baltimore native attended Roland Park Country School, an esteemed women's preparatory school where she was class valedictorian. After high school, Melissa enrolled at the University of Virginia.
While there, Stark majored in Foreign Affairs and obtained another degree in Spanish. At the same time, Melissa was a member of the Kappa Alpha Theta Sorority.
Melissa Stark | Age, Height, & Body Measurements
As of 2023, the blonde sportscaster is 49 years old and is still active in broadcasting.
The Marylander is of a petite size standing at 1.73 m and weighs approximately 115 lb. She has bright blonde hair, a squared face, striking blue eyes, and a raspy voice.
Not many talk about it, but Melissa is an attractive journalist who can easily pass as a model in beauty. She hits a gym five times a week and eats a balanced diet to maintain her figure.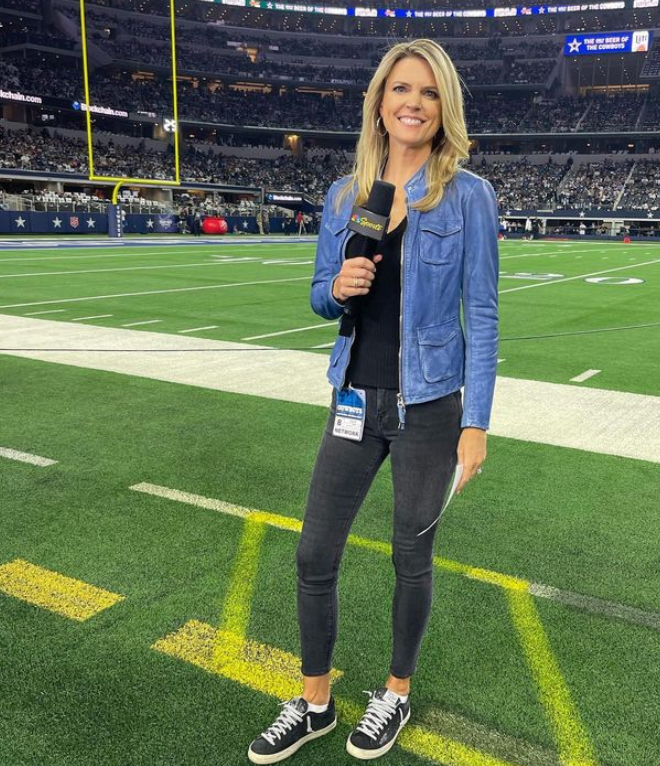 Her presence is incredibly charming, whether it is during sideline reporting or studio hosting.
On the other hand, a mother working in the sports industry, where one has to distance herself from their family, is pretty daring as she is successfully raising four children with her husband's support.
Melissa Stark | Sportscasting Career
When Melissa graduated from the University of Virginia, she found an internship opportunity at WMAR-TV, where she primarily worked on simple sports assignments.
After that, Stark moved on to the CBS network, landing an intern role for a segment called Evening News with Dan Rather in 1993.
With the commencement of 1994, the Marylander undertook more challenges as she conducted research, wrote scripts, and organized available information for health news correspondent Dr. Bob Arnot.
Between 1994 and 1995, Melissa served as a production assistant and reporter for Coach's TV Show at the University of Virginia's Sports Marketing division.
Subsequently, Stark joined Entertainment and Sports Programming Network (ESPN) the following year.
With an ESPN role, the Baltimorean traveled to many states within the U.S., covering high school and college sports for a weekly segment called Scholastic Sports America.
Eventually, more opportunities came her way that mainly involved in-studio programs.
To illustrate, for seven consecutive years since 1996, Melissa was part of Sunday NFL Countdown and Outside the Lines, the latter being an EMMY-winning show.
Stark was a sideline reporter for World Series, NBA Finals, Final Four, and Stanley Cup Finals. She undertook coverage duty for MLB, Golf, NHL, and NCAA Basketball for ESPN.
Even though Melissa worked for several programs under the ESPN banner, in mid-2000, she teamed up with ABC Sports and got selected to lead the sideline reporting for Monday Night Football for three years.
Similarly, Stark reported the coverages of Super Bowl XXXVII held in San Diego and went on cover figure skating, Golf tournaments, and NFL Pro Bowl.
Further
An amusing event unfolded in her life when Melissa got detained in Mexico while attempting to cover the NFL games there.
A few years later, she recollected the incident and laughed at her lack of communication with the Mexican officials since Stark took Spanish as her minor in college.
With the ABC network, the Baltimorean was featured in The View and presented a primetime reality series, The Runner, produced by actors Matt Damon and Ben Affleck.
Furthermore, in 2003, Melissa landed a job at NBC and served as a national correspondent for The Today Show alongside her anchoring duties for MSNBC Live.
The 49-year-old sportscaster conducted interviews and prepared reports for NBC Sports, mainly covering Triple Crown and horse races.
For the 2005 New Year's Special, Stark and other reporters participated in a segment hosted by Carson Daly. After hosting the 2009 Super Bowl, she dropped her service for MSNBC Live and The Today Show.
Additionally, the Baltimorean contributed to the network for NBC Sports by covering the 2008 Summer Olympics and 2006 Winter Olympics.
On the other hand, Melissa's career started taking off, and currently, she serves as a field reporter for the NFL network. She reports live from the pitch for NFL Total Access and Around The League Live.
Melissa Stark Net Worth | Salary & Income
As a result of her unbelievably long career, which spans more than two decades, Melissa falls on the list's highest-paid sportscasters. The Baltimorean has a net worth of $3 million as of 2023.
Stark has a monthly earning of $18.8k, which amounts to a yearly $75.7k. Working for the NFL network has provided sufficient growth to her earnings.
Aside from that, she has worked for several other well-known networks, including ESPN, ABC, CBS, NBC which has contributed to her wealth greatly.
Nevertheless, we hope that Stark's fortune keeps growing and that she progresses in every aspect of broadcasting.
Melissa Stark Gets Hit With A Football
Back in October of 2018, Melissa Stark was hit by a football in her head while giving some recent updates from London.
Ahead of the game between Los Angeles Chargers and Tennessee Titans, Stark was about to give stats of both teams and what experts are anticipating about the game.
Just a few seconds later, a football flew into the shot and smacked her just below her ponytail. She said, "Oh, Ok, nothing like live television! I'm OK," with a smile.
After delivering the report on Gordon, Stark kept glancing over her shoulder, saying, "I'm not in a good area here."
When her reporting was over, Stark took to Twitter and wrote that it hurt more each time she looked at the video.
Stark kept her sense of humor, tweeting, "In case of ur wondering, I'm already off the injury report."
Melissa Stark | Personal Life
If you are wondering about Melissa's relationship status, then yes, the blonde sportscaster is a married woman as of late.
After a lengthy affair, Mike Lilley proposed to Stark and married sometime in 2001. During the same year, she had non-stop rumors of loving lacrosse players.
Although intricate details regarding the ceremony are primarily unknown, sources closer to the couple claim it to be a magical day for both the to-be-weds and the invitees.
Moreover, the two are occasionally spotted in public, even if Lilley prefers privacy over his partner's charming lifestyle.
Melissa and Mike are proud parents of four beautiful children, two of whom are sons, and the other two are twin daughters.
Stark manages part of her time looking after her children with a hectic schedule, alongside Lilley's unwavering support as the family resides in Rumson, New Jersey.
Melissa Stark | Social Media Presence
The American television personality and Journalist is active on several social media platforms like Instagram, Twitter, and Facebook.
Instagram: 70.8k followers
View this post on Instagram
Twitter: 397.6k followers
Facebook: 28k followers
Her social media post includes photos and videos from NFL, NBC, ESPN, and many other networks.
Melissa Stark | Popularity
Melissa is an American sportscaster and Journalist who currently works with NFL Network. He previously worked with several sports networks like NBA, ESPN, and many more.
The graph shows his search graph for 12 months.
Melissa Stark | Frequently Asked Questions (FAQs)
How much does Melissa Stark make?
Consequently, Melissa falls on the list's highest-paid sportscasters with her remarkably long work, which crosses over two decades.
The Baltimorean has a net worth of almost $3 million. In like way, Stark has a monthly earning of $18.8k, which amounts to an annual $75.7k.
Is Stark still into reporting?
Yes, she is still into journalism and works for the NFL Network.