Michael Block wife Val Block, is from Argentina, and the couple has been married for over a decade.
The golfer was born on June 15th, 1976, in Reno, Nevada, and is currently the head professional at Arroyo Trabuco Golf Club.
Apart from being the head of the California organization, Michael has also appeared in over 20 PGA Tour events.
Moreover, Block also charges around $100 for a 45-minute lesson as a golf instructor.
Michael has also been around the golfing world for a time now and playing his fifth PGA Championship in 2023.
Turning professional in 1988, he will bring plenty of experience and will surely show his skills in the tournament.
Furthermore, the 46 year old also won the 2022 PGA Professional Player of the Year award.
Michael Block Wife Val Block
Val Block, Michael's wife, met each other at a birthday party in Laguna Beach, California.
The couple went dancing that night, and she was hooked on Nevada's native accent and then began dating.
Michael and Val later decided to tie the knot, and the couple have been living happily and have two children together.
Additionally, the golfer was in his mid 20's when he fell in love with his future wife.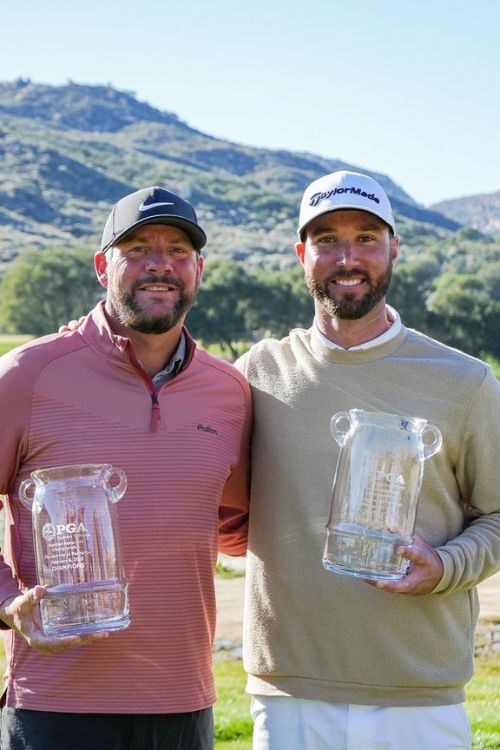 Val states that he was in peace and in touch with reality like he is now. Talking about her she was born and raised in Argentina.
However, the details surrounding her professional life or other things are not known due to her private life.
One thing we can say surely is that she is not involved in the golfing world like her husband, although she does seem to be interested.
Additionally, Val would rather play badly than take lessons from her golfer Michael Block.
She has stated jokingly, "That man can teach every single human in the world, but not me. He doesn't have the patience for me."
Michael Block: Head Golf Pro At Arroyo Trabuco Golf Club
As mentioned, the legendary golfer who has won several accolades has also become a golf instructor.
He has won the Southern California PGA Player of the Year honors nine times.
Moreover, Block has also won the California State Open champion and Southern California PGA Championship.
His home course is the Arroyo Trabuco, and the course was also designed by former golf legends; Tom Lehman and Casey O'Callaghan.
The impressive course measures 7,011 yards from the tips, and Michael spends around 45 minutes teaching his lessons.
The 46 year-old charges $125 for lessons and a nine-hole playing lesson running at $500.
In addition, Block owns the record at his home course Arroyo Trabuco, shooting 59 in 2019.
He uses the cookie-cutter method to teach his students and, later, adapted to provide specific instructions to each student.