Last year, MLB fans worried about Michael King as he missed almost the whole season because of an elbow injury for which he needed surgery. This year, however, is different for King. In addition to being back on the field, he will marry his girlfriend, Sheila Hill, at the end of this year.
Michael McRae King, better known as Michael King, plays in the MLB as a pitcher for the New York Yankees.
Even though the Miami Marlins selected him in the 2016 MLB draft, he debuted for the Yankees in 2019.
Before that, King played in various minor leagues nationwide for different clubs, including Gulf Coast Marlins, Greensboro Grasshoppers, and Tampa Tarpons.
Born in New York, King attended Bishop Hendriken High School in Warwick, Rhode Island, where he honed his baseball skills.
His performances for his school helped him become the Gatorade Player of the Year in 2013, as he contributed to leading his team to the Division I state championship the previous year.
Mike King later played collegiate baseball for the Boston College Eagles, aside from doing his undergraduate course in Finance. However, he left the college before graduation.
Michael King's Wife-To-Be: Sheila Hill
Michael King is engaged to Sheila Hill. On December 31, 2022, Mike posted pictures of him kneeling and presenting a ring to his would-be wife, Sheila, along with some other photos, which appeared to be a romantic candlelight dinner.
The caption on the post read, "Here's to forever!!"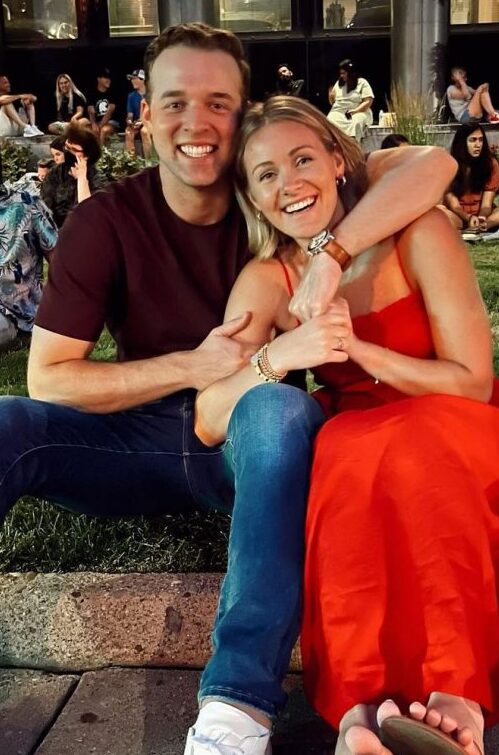 Based on his Instagram posts, Mike seemed to be dating her since the early 2020s. His social media post in July 2021 revealed her to his fans.
Although it has been years since people became aware of their relationship, there is not much about Sheila on the Internet.
Hill seems like a reserved person with very little social media presence. Although she has an Instagram and Twitter account, she rarely tweets and has kept her Insta profile private.
However, one can see she can be herself around people she is close to, and we can know by observing her photos with Mike.
The duo enjoys going on vacations, date nights and spending all their spare time together.
The couple is all set to get married on December 16, 2023.
Mike King's Dad Is A Boston Red Sox Fan
Mike King was born to his parents, Michelle and Jim, on May 25, 1995.
Although born in New York, Mike spent most of his life outside the city and only came back after he began playing for the Yankees in 2019.
Being a Yankee player, Mike, of course, is a Yankee fan, but his dad, Jim, is a diehard Boston Red Sox fan.
If you dig deeper into his family, everyone watches baseball, including his older sister and mother.
When Mike was young, he watched almost all the MLB games on tv and often went to see games live on the ground with his dad.
He still remembers being a Red Sox fan until he was eight. However, that all changed when he went to watch Yankee vs. Red Sox game in 2003 with his mom. The Yankees won the game as well as little Mike's heart.
When he returned home from the game, he had bought a Yankee cap, which surprised his dad. It has been over twenty years since he switched sides, but they still joke about it.
Jim, a broadcaster by profession, is still a Boston Red Sox fan, but he is proud that his son plays for the Yankees now.
Not to mention, his mom, Michelle, was a Yanks fan all her life, and now she loves it even more as her son Mike is in it.