If you follow the winter Olympics, then you must have heard of Michael Matt, famously known as Michi Matt, who is an Alpine Ski racer hailing from Austria and comes from a family full of ski racers like him.
The Austrian ski racer is very ambitious and believes in winning races and making impossible things possible.
He believes in the faith of "do your best." With the belief, Michi has raced in the snow for almost 8 years now and achieved lots of success, and amassed huge earnings over the years.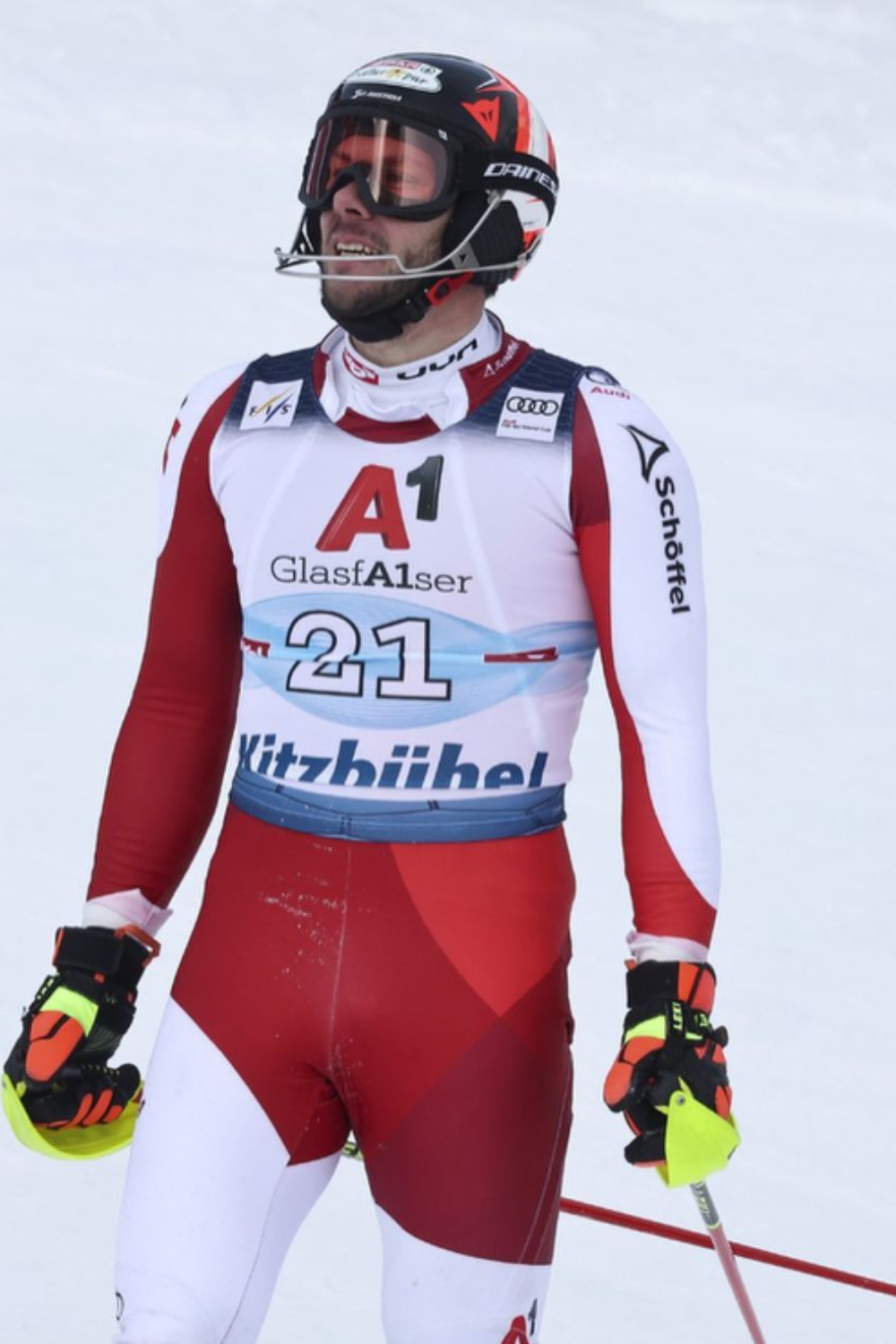 Michael competes in different disciplines like Downhill, Giant Slalom, Parallel Giant Slalom, Slalom, Super Combined, Super-G, Team, and Team Parallel Slalom.
But he mostly specializes in Slalom events and is currently associated with Ski Klub Flirsch-Tirol Club and the national team, playing under national coach Marko Pfeifer.
The professional ski racer has a net worth between $1 million-$5 million in 2023.
Before getting into further details about the ski racer's life, let's know some quick facts about him.
Quick Facts
| | |
| --- | --- |
| Full Name | Michael Matt |
| Birth Date | May 13, 1993 |
| Birth Place | Zams, Tyrol, Austria |
| Nick Name | Michi |
| Religion | Christian |
| Nationality | Austrian |
| Ethnicity | White |
| Horoscope | Taurus |
| Father's Name | Hubert Matt |
| Mother's Name | Hanni Matt |
| Siblings | Two; Mario Matt, Andreas Matt |
| Age | 30 Years Old |
| Height | 6'1″/1.85 m/185 cm |
| Weight | 88 kg/194 lb |
| Hair Color | Brown |
| Eye Color | Blue |
| Build | Athletic |
| Profession | Ski racer |
| Club Name | Ski Klub Flirsch-Tirol |
| Discipline | Slalom, Team Parallel Slalom |
| World Cup Debut | November 2013 |
| Active Years | 2013-Present |
| Relationship Status | Single |
| Net Worth | $1 Million- $5 Million |
| Social Media | Instagram, Facebook, Twitter |
| Last Update | May 2023 |
Early Life, Family, & Education
The Austrian skier was born on May 13, 1993, in Tyrol, Austria, to winter sports enthusiast parents Hubert Matt and Hanni Matt.
He grew up with two siblings, Mario and Andreas Matt, who are the champions in the ski race world.
The elder brother, Andreas, is a retired freestyle skier who specializes in the skicross discipline. He made his debut in 2004 and represented the sports club SC Flirsch.
Before retiring in 2016, he bagged three medals and was the ski champion of the 2009 FIS freestyle World Championship and silver medalist of the 2010 Olympic Games.
Meanwhile, his second elder brother, Mario Matt, is a former alpine ski racer specializing in the Slalom discipline, just like Michael. Mario started his career in 1999 and retired in 2015.
Mario achieved lots of success throughout his decade-long career, bagging several titles under his belt. He is an Olympic gold medalist and three times World Champion.
Michael started his career alongside his brother Mario Matt and considers Mario, his mentor and seeks advice from him. But also feels pressured due to comparison and to be as successful as his brother.
Matt wants to build his own identity in the ski world and not just be known as Mario's younger brother.
Height & Weight
The Austrian World Cup Alpine Ski racer is 6'1″/1.85 m tall and weighs 88 kg/194 lb.
Matt has an athletic build body made from regular exercise. He encourages others to exercise as he believes that exercise is a must to stay fit. In addition, he likes to indulge in hiking, motorbikes, and biking whenever he has spare time.
Furthermore, the athlete is fluent in German and English languages.
Freestyle Skier
Career Highlights
The Alpine Ski racer was born as the younger brother of two incredibly talented ski racers, so he was already exposed to the event early in his life. However, he made his world cup debut only at the age of 20 in the Levi Slalom.
Matt raced alongside his brother Mario in the Slalom event in his debut year, November 2013. In 2015, Matt competed at the World Championships in Beaver Creek in the US but couldn't make it to the podium.
Even so, Matt didn't give up and gained his first World Cup podium finish in Finland as the runner-up at Levi on November 13, 2016. He then went on to win the World Cup for the first time in his career on March 5, 2017, in Slovenia.
Likewise, he won two silver medals; at the Slalom in World Championships and the team event in the same championships in 2019.
Olympic Highlights
Matt made his Olympic debut at the 2018 Winter Olympics in Pyeongchang, South Korea, and participated in the Slalom event of the winter Olympics games.
Matt finished in 12th position in the first run of the slalom event, and eventually, he moved up to third after the second run. He ended the event with the bronze medal.
The ski racer was also part of the Austrian team for the 2018 Olympics and won a silver medal with the team for Austria.
Matt once again participated in the 2022 Olympics, where he won gold in the Mixed Team Parallel.
Accident
In 2001, just at the age of eight, Matt had an accident, an avalanche buried the skier. Luckily, he survived the accident.
During the 2022 Olympics, Matt had a crash while ski racing in the Slalom event, causing him to miss the podium.
Awards & Achievements
Slalom event
Kranjska World Cup champion in the year 2017
2nd place in Levi World Cup in the year 2017
3rd place in Aspen World Cup in the year 2017
2nd place in Zagreb and Adekboden World Cup in the year 2018
2nd place in Oslo World Cup in Parallel Slalom event in the year 2018
3rd place in Madonna di Campiglio in the 2019 season
Silver medalist in World Championships, 2019
Bronze medalist in the 2018 Pyeongchang Olympic Games
Team Event
Silver medalist in the 2019 World Championships and 2018 Pyeongchang Olympic Games
Gold medalist in the 2022 Beijing Olympic Games
Relationship
The Austrian ski racer is a very private person and prefers to keep his personal life hidden from the media. Not much is known about his relationship.
Matt is very focused on his career and committed to Slalom ski racing. He hopes to establish himself as one of the world's greatest ski racers.
Net Worth
The slalom ski racer's net worth is under review. However, it is estimated to be between $1 million-$5 million in 2023.
Most of his earnings come from winning in ski racing, and through his 9 years of career, he has piled up a significant amount of wealth.
His salary earnings are estimated to be $85k monthly, and his net worth is significantly increasing with each of his achievements.
Social Media Presence
The Austrian skier is quite involved in social media platforms like Instagram, Twitter, and Facebook.
Instagram: 49.6k followers
Twitter: 871 followers
Facebook: 28k followers
Besides skiing, Matt is passionate about outdoor sports; his summer training also involves mountain biking and motorcycle trial riding in the beautiful Tyrolean mountains.
His posts also show that Michi is very close to his brothers, Mario Matt, and Andreas Matt.
Popularity
The Austrian Alpine Ski racer won the bronze medal in the 2018 winter Olympics and a gold medal in the team event at the 2022 Beijing Olympics.
The graph shows his search trend for 12 months.
Frequently Asked Questions (FAQS)
Did Michael Matt win the Olympic medal?
Michi won a bronze medal in the Slalom event in the 2018 Pyeongchang Olympics and recently bagged the gold medal in the team event in the 2022 Beijing Olympics.
When did Michael Matt start skiing?
Michael made his debut only at the age of 20 in the Levi Slalom and raced alongside his brother Mario Matt in the Slalom event in November 2013.