Milan Lucic has been all over the news after allegedly assaulting his wife in their North End apartment early Saturday. Amidst this controversy, there has been widespread concern for Milan Lucic and his kids.
According to reports, Lucic's wife, Brittany, called the police and conveyed that her husband tried to choke her.
A further report from the Boston Police Department stated that Lucic appeared intoxicated when the police arrived. The Bruins forward is scheduled to be arraigned on an assault charge.
Milan Lucic was born in East Vancouver on June 7, 1988, to parents Dobrivoje "Dobro" Lucic and Snezana Kesa. He is a Canadian professional ice hockey player for the Boston Bruins of the National Hockey League (NHL).
Lucic's amateur career began as a junior with the Coquitlam Express of the British Columbia Hockey League in 2004. Later that season, he made his major junior debut for his hometown Western Hockey League with the Vancouver Giants.
In the 2006 NHL Entry Draft, the Boston Bruins picked Lucic as their 50th overall pick in the second round. He made his NHL debut on October 5, 2007 in a 4-1 loss to the Dallas Stars.
At the start of the 2008-09 season, Lucic scored his first NHL hat-trick and an assist to secure a 5-4 win against the Atlanta Thrashers. On June 26, 2015, the Bruins traded Lucic to the Los Angeles Kings.
After having an unimpressive stint with the Kings (2015-16) and the Edmonton Oilers (2016-19), he was traded to the Calgary Flames on July 19, 2019, in exchange for James Neal.
However, after struggling for form with the Flames on July 1, 2023, Lucic made a surprise return to the Boston Bruins. He signed a year-long contract with the Bruins for $1 million.
Milan Lucic Kids: Milan Jr. And Nikolina
Fans have been worrying about the state of Lucic and his kids. The recent news about the Bruins left winger getting arrested has left the media in a frenzy.
Lucic married his wife, Britanny Carnegie, on July 19, 2012. The couple have a strong bond, showcased often by their appreciation and support for each other on their social media.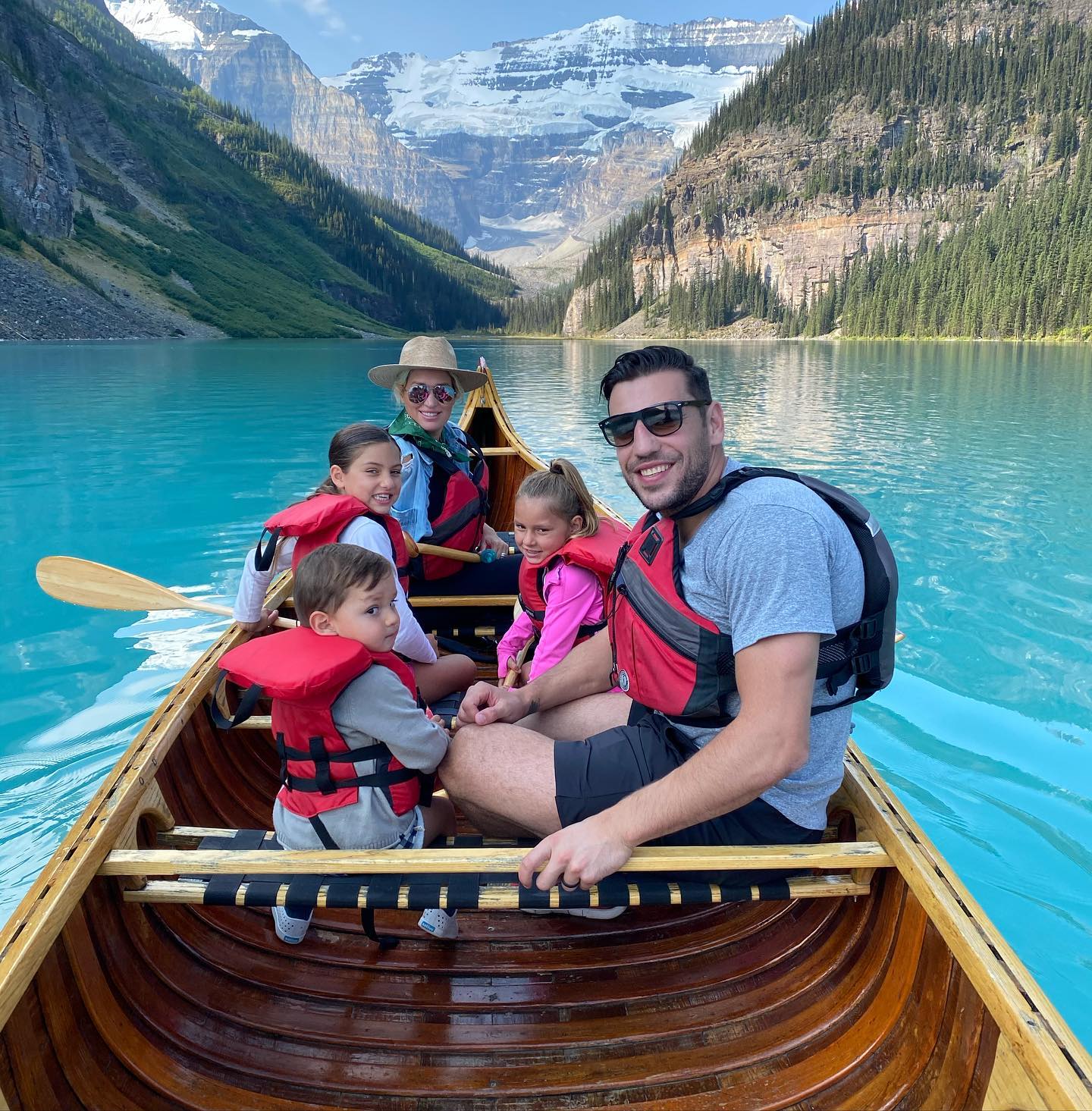 Furthermore, they are parents to three children. Their first child, Valentina, was born in 2013, while their second daughter, Nikolina, took her first breath in 2015.
Additionally, they brought their third child, a son, Milan Jr., to life in 2018.
The family appears tightly knit, and Lucic and Britanny look as though they enjoy being parents to three wonderful children.
In 2020, during the COVID-19 pandemic, Lucic told an interviewer that he enjoyed spending time with his children and felt like he wasn't missing much.
His children are still young, and Lucic hopes they won't remember this dark chapter of his life.
Meanwhile, whatever the reason for the assault, the fans wish it wouldn't affect the whole family, especially his kids.
Wife Brittany Lucic: Who She Is And The Assault
There is no information available on how or where Lucic met with Brittany. However, there have been reports that the couple met each other in college.
Brittany was born in Richmond, Canada, on August 28, 1987. Similarly, she is no stranger to sports as she reportedly was a soccer player as a college student.
Furthermore, the mother of three has been actively vocal about the welfare of animals. Moreover, she has collaborated with the Massachusetts Society for the Prevention of Cruelty to Animals (MSPCA) in conducting numerous fundraisers.
The Lucics have been married for nearly a decade, and both seem happy in their relationship and family. This is precisely why the news of the assault comes as an absolute shock to everyone.
According to the reports filed in Boston Municipal Court, Britanny claimed that Lucic returned home after a night out and started getting violent over his missing cell phone.
Lucic allegedly missed his cell phone and believed his wife had hidden it when he started yelling at his wife. Furthermore, when she tried to get away, he allegedly pulled her by the hair and stated that she was not going anywhere.
At this point, there is no way of determining if this was just one fight that escalated or if the 35-year-old has a more insidious problem. However, the fans would be all ears to know more as this saga unfolds.