Mitchell Starc and his wife, Alyssa Healy, have come a long way, meeting for the first time as two 9-year-old kids to exchanging wedding vows.
It is no surprise that they have good chemistry, considering their shared passion for cricket.
Despite being married since 2016, they do not share any kids yet.
Mitchell Starc is a talented left-arm fast bowler representing the Australian national team and New South Wales in domestic cricket.
Although he debuted in international cricket in 2010, his early career was hindered by persistent injuries.
He gained worldwide recognition as a key member of the Australian squad that won the 2015 Cricket World Cup.
Furthermore, Starc played a crucial role in Australia's victory at the 2021 ICC T20 World Cup and the 2023 ICC World Test Championship final.
Moreover, Starc holds the record for the fastest delivery ever recorded in a Test match, clocking in at 160.4 km/h.
Mitchell Starc Wife, Alyssa Healy- Relationship Timeline
Mitchell Starc and Alyssa Healy first crossed paths as nine-year-olds while competing against each other in the Northern District Junior Cricket Association.
Their journey together continued when they both played as wicketkeepers in an under-11s team.
Their friendship grew strong during their six years of playing together before Healy transitioned into women's cricket.
The lovely duo engaged in 2015, and after one year, on April 15, 2016, Starc and Healy tied the knot at an undisclosed waterfront location.
To commemorate the occasion, the couple coined the hashtag #stealy, cleverly combining their surnames, Starc and Healy.
Several of Starc's teammates from New South Wales attended the wedding ceremony.
Among those present were fellow Australian bowlers Nathan Lyon, Josh Hazlewood, Pat Cummins, and their NSW teammates Nic Maddinson and Sean Abbott.
Who Is Alyssa Healy?
Alyssa Healy was born on March 24, 1990, in Gold Coast, Queensland, Australia.
The Australian cricketer represents New South Wales in domestic cricket and Sydney Sixers in the Women's Big Bash League.
Healy made her international debut in the 2010 Rose Bowl series against New Zealand.
She played in every match of the 2010 T20 World Cup, contributing significantly to Australia's unbeaten campaign and lifting the trophy.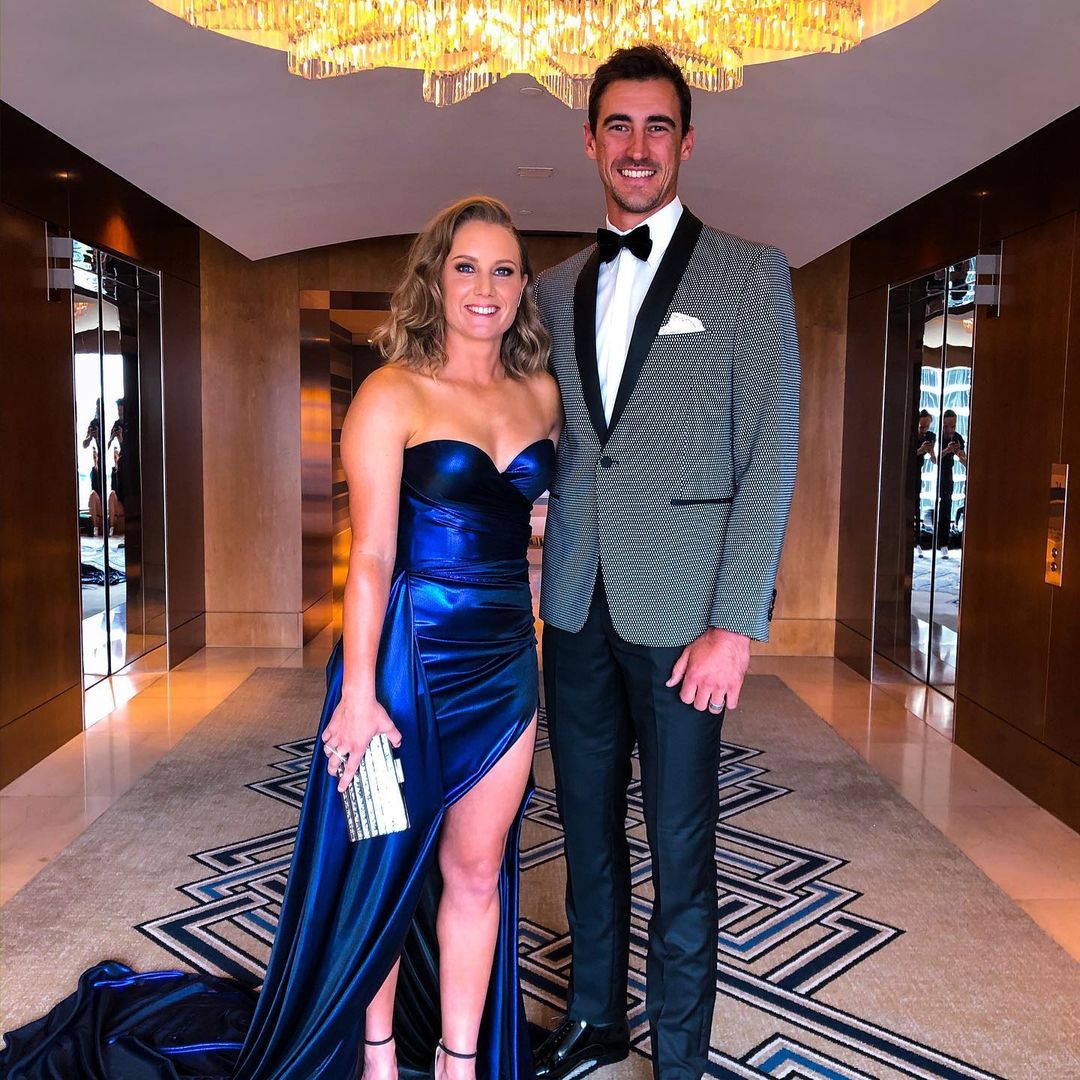 The wicketkeeper was a member of the Australian team that won five more T20 World Cup victories (2012, 2014, 2018, 2020, and 2023).
Additionally, she was part of the Australian squad that clinched ICC Women's Cricket World Cup titles in 2013 and 2022.
Moreover, she has been named ICC Women's T20I Cricketer of the Year twice in 2018 and 2019.