Speculation about the ice hockey star Morgan Barron girlfriend has put his relationship status in the spotlight, leaving fans eager to know more.
Morgan Andrew Barron is a prominent Canadian ice hockey center known for his exceptional skills on the ice. He is currently a key player for the Winnipeg Jets in the National Hockey League (NHL).
Barron played two seasons of minor ice hockey with the Newbridge Academy Gladiators in the Nova Scotia Major Midget Hockey League (NSMMHL) before attending St. Andrew's College in Ontario.
After graduating from St. Andrew's College, Barron went on to attend Cornell University to play collegiate ice hockey.
He had a successful collegiate career at Cornell before being selected by the New York Rangers as the 174th overall pick in the 2017 NHL Entry Draft.
Morgan burst onto the NHL scene with his debut for the Rangers on April 6, 2021, in a thrilling match against the Pittsburgh Penguins.
In just his second game on April 8, 2021, against the New Jersey Devils, Barron made his mark by recording his first NHL point with an impressive assist.
Despite being a rookie, Barron's skills and determination were evident as he wrapped up his debut season with a notable four points. His versatility, with two goals and two assists in just 14 games played, was remarkable.
Throughout his career, the ice hockey player has earned numerous accolades. His achievements include AHCA All-America, All-Ivy League, and All-ECAC Hockey First Team selections.
In 2020, he was honored with the prestigious title of ECAC Hockey Player of the Year for his outstanding performance on the ice.
Morgan Barron Girlfriend, Alex Monello?
Morgan Barron's talent on the ice is only matched by the curiosity surrounding his romantic life.
The ice hockey star Barron has been making headlines recently due to his relationship with Alex Monello.
Barron and Monello have been active on social media, sharing pictures of each other on Instagram, which has sparked speculation about the nature of their relationship.
These posts have been widely discussed, with many speculating about their romantic relationship.
However, despite the social media posts, there has been no confirmation from either Barron or Monello about their dating status.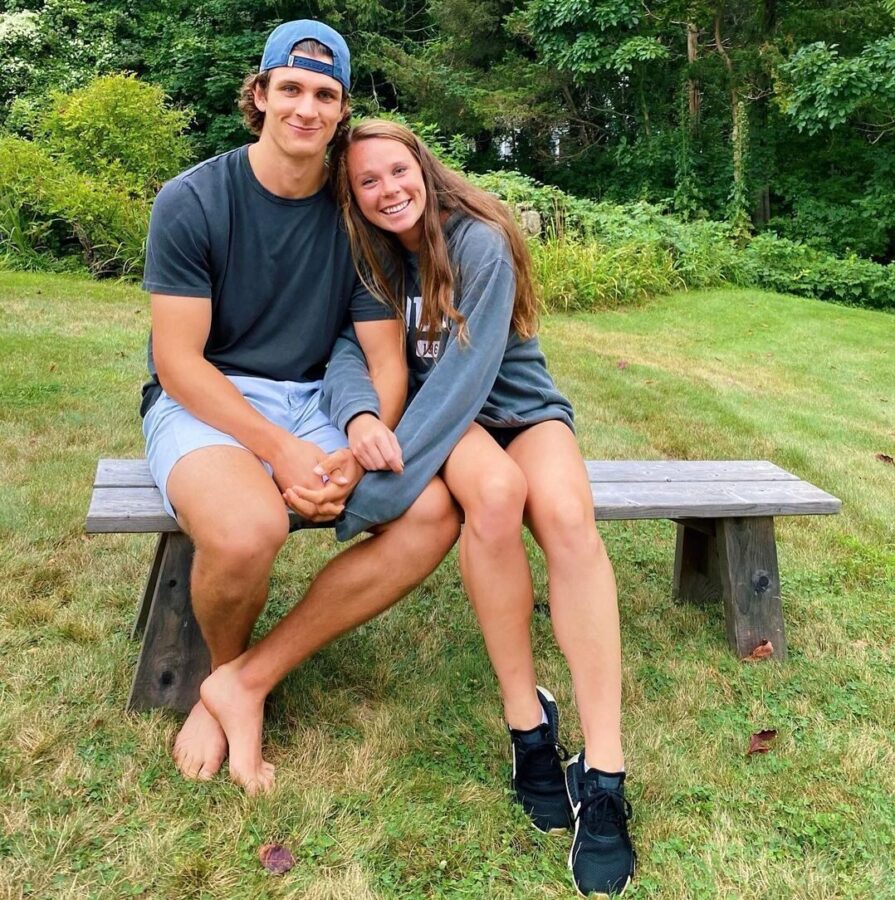 Many fans are eagerly speculating and wondering about Morgan Barron's relationship status, particularly whether Alex is his girlfriend or wife,
With his talent, charm, and good looks, Barron's romantic life is certainly a topic of interest among his followers.
Barron's relationship status remains a mystery, leaving fans eagerly anticipating any updates on his love life.
Morgan Barron Family
The talented Canadian ice hockey center, Morgan Barron, comes from a family with a deep-rooted hockey background.
Gerard Barron, Morgan's father, works for Nova Scotia Power, while Jenny Barron, his mother, is a nurse.
Morgan also has a younger brother named Justin, who shares his passion for hockey.
The Barron brothers frequently played mini sticks street hockey with other neighborhood kids as kids. It ignited and nurtured their love for the game from a young age.
This upbringing in a hockey-loving family likely played a significant role in Barron's development as a talented hockey player.