An American football coach who has been the head football coach at the University of Alabama since 2007, Nick Saban has been married to his wife, Terry Saban, since December 19, 1971.
Together they share two kids, Nicholas and Kristen.
Saban's reign as the head football coach at the University of Alabama undeniably marks one of the most extraordinary college football dynasties in history.
His remarkable achievement of securing six national championships is a feat that would be impressive over half a century, let alone within a span of just 15 seasons with the Alabama Crimson Tide.
Whether it's the BCS or the College Football Playoff, Saban has shown his mastery over both, cementing his legacy as a coaching legend.
The allure of Saban's coaching prowess is undeniable, with other institutions eager to replicate the magic he has woven in Alabama.
It's akin to a closely guarded secret recipe, and numerous schools have gone to great lengths to hire former Saban assistants, hoping to capture a taste of that success.
One only needs to explore Saban's extensive coaching tree to witness the far-reaching impact of his coaching expertise and influence.
The Real MVP Terry Saban, Nick Saban Wife
Alabama Football's First Lady, Terry Saban, has worked behind the scenes. She has been providing unwavering support to her beloved husband for over 51 years and counting.
Nick and Terry's love story traces its roots back to their seventh-grade days when they first crossed paths at a science camp.
However, it wasn't until years later that their romance blossomed. At the time, Nick was a student at Kent State, while Terry was teaching in West Virginia.
Despite the physical distance that separated them, they channeled their youthful enthusiasm, exchanging love letters much like two seventh graders smitten with each other.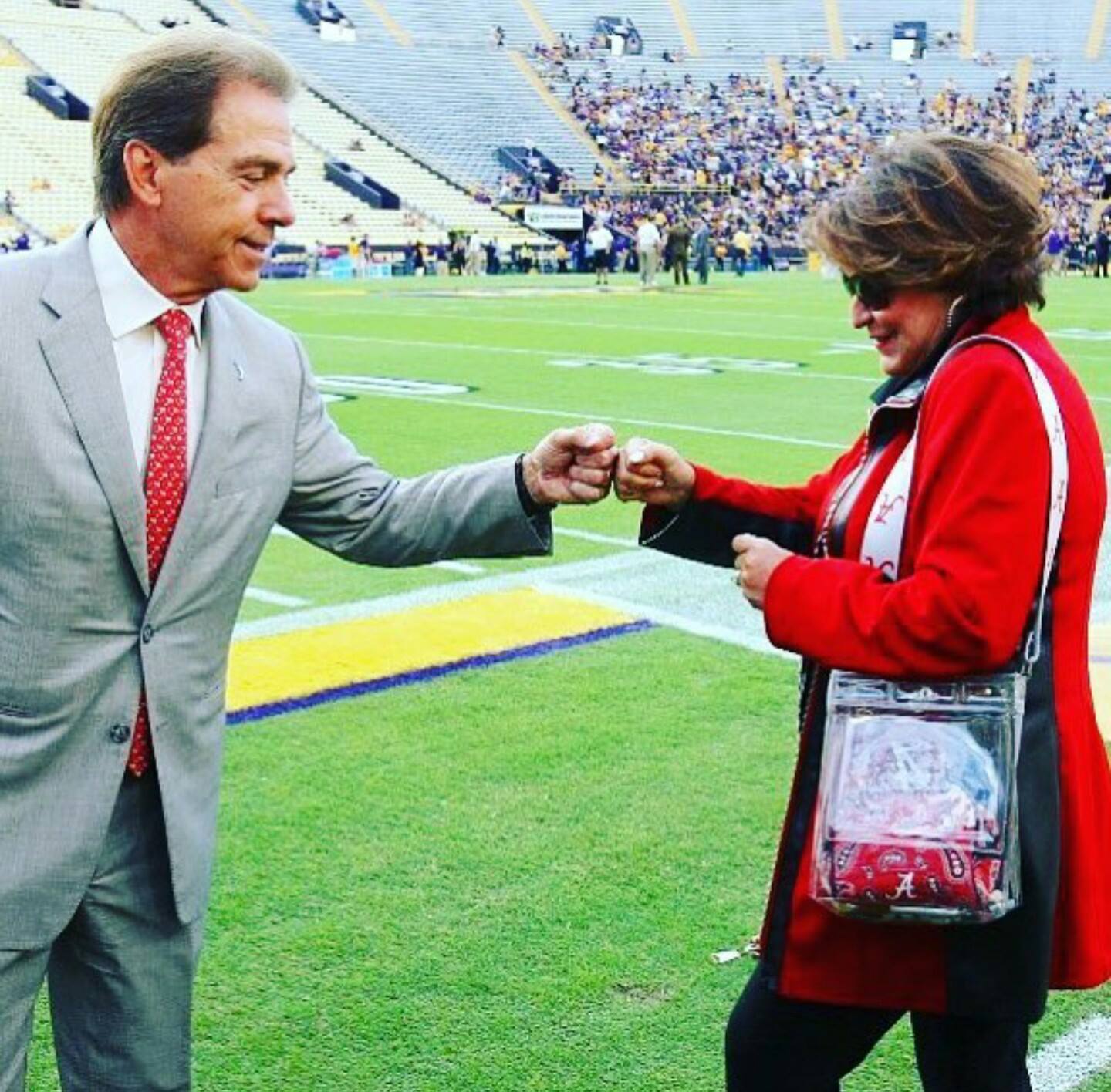 In 1968, their love story took a significant turn as they embarked on their very first date.
Nick, ever the romantic, took Terry to a theater in Fairmont, West Virginia, to watch "Gone with the Wind."
This classic date marked the beginning of their enduring love story.
Three years later, in a beautiful culmination of their journey together, Nick and Terry tied the knot, and from that moment forward, their love story has continued to flourish.
Their commitment to each other has spanned the decades, serving as an inspiring testament to the power of love and lasting connections.
Kids & Philanthropy
Nick and Terry Saban are proud parents to two children, a son named Nicholas and a daughter named Kristen Saban.
As they enter this new phase of life, they've also been blessed with grandchildren.
Throughout their journey, the Sabans have rarely had the opportunity to settle down in one place.
Nick's illustrious coaching career has taken them to various locations, from Toledo to Michigan State, LSU, and even the NFL with the Miami Dolphins, where he served as the head coach.
Among all these stops, the longest they stayed in one location was five years.
Nick Saban's commitment to family and community is a hallmark of his character.
An early example of this was when he received his first bonus check as the defensive coordinator for the Cleveland Browns.
With a generous spirit, he used it to pay off the mortgage on Terry's parents' house, demonstrating his dedication to giving back.
The Sabans' philanthropic efforts are particularly notable through their co-founding of the Nick's Kids Foundation.
Since Nick's head coaching career began, this foundation has been a vital tool in its mission to support the needs of children.
In their initial three years at Alabama, Nick's Kids raised an impressive sum, surpassing $1 million.
Their unwavering commitment to helping children in need reflects their deep compassion and desire to make a positive impact in the lives of others.