The rumor about Nick Taylor being gay is spreading widely on the internet, so is he gay? We shall find out.
Manitoba-born Nicholas Taylor is a professional golfer who plays on the PGA Tour and has three PGA Tour wins.
The golfer won his first PGA Tour event in November 2014 at the Sanderson Farms Championship.
In February 2020, Taylor beat Phil Mickelson by one stroke heading to the final round of the AT&T Pebble Beach Pro-Am.
This was his first full-strength tournament victory on the PGA Tour, which helped Nick qualify for his first appearance in the Masters Tournament.
Nicholas came victorious in the RBC Canadian Open on June 11, 2023, leaving behind Tommy Fleetwood and Aaron Rai.
The golfer became the first Canada-born to win Canada's National Open since 1914 by making an insane 72-foot eagle, his career-longest putt.
Taylor graduated from the University of Washington and won the 2007 Canadian Amateur Championship.
Similarly, during his amateur career, Taylor won the Sahalee Players Championship and the US Open in 2009.
Is Nick Taylor gay?
Born on April 14, 1988, Nick Taylor caught the eye of the media after winning the RBC Canadian Open.
The rising attention of the media and fans led to the rumor that Nick Taylor is gay.
However, without confirming the facts, it is not appropriate to spread rumors about someone's sexual orientation.
But, the golfer is not gay and is happily married to Andie Taylor. The couple also have a lovely son and a beautiful daughter.
Nick Taylor's Wife And Kids
Nick Taylor's wife, Andie Taylor, was born in Canada on August 21, 1988. Andie is a social worker and used to work as a social worker at Abbotsford Regional Hospital.
She is dedicated to providing support and assistance to people in need. The Taylor couple participates in charity causes and has helped the Canadian Cancer Society as well as many other charitable organizations.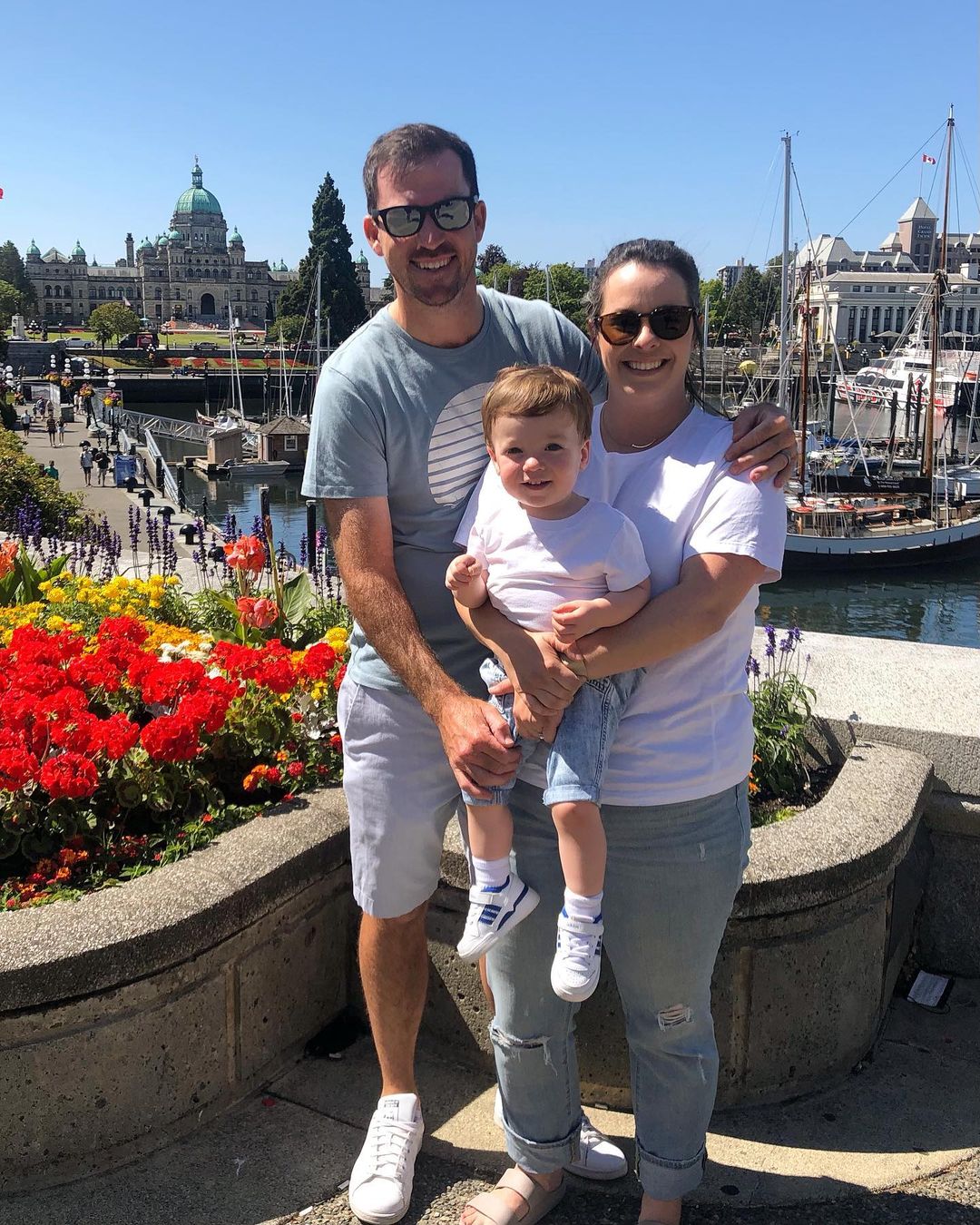 According to Andie's Instagram bio, she is a part-time professional golf spectator, part-time social worker, and homebody on the road with my little family.
Nick and Andie exchanged their vows on May 11, 2014. And after five years of marriage, the couple welcomed their first son, Charles Wells Taylor, on October 24, 2019.
Moreover, a new member was added to the family in May 2023; the couple was blessed with their second child, a daughter named Harper Mae Taylor, in May 2023.
Nick Taylor Parents And Siblings
Nick Taylor, the Canadian golfer, was born to his father, Jay Taylor, and his mother, Darlene Taylor.
Taylor gives credit for his success to his parents. He said, "It's funny, the older you get, the more daunting it becomes how much (my parents) sacrificed, not just for me but for my brother as well."
The professional golfer grew up with an elder brother, Josh Taylor, who was born on Josh on May 25, 1985.
Like his younger brother, Thomas also played golf. He has won the Canadian Junior Golf Association Tour and the Western Canadian Junior Golf Tour three times.
He also played golf during his college years at the University of Texas at El Paso (UTEP). Josh earned the Conference USA Commissioner's Academic Honor Roll three times (2007–2009).
Not only golf but Taylor's brother was also involved in two more sports: basketball and volleyball.
However, after his collegiate years, he opted for a different career option and ventured into the world of music.