Russell Wilson, an American football quarterback for the Denver Broncos of the National Football League (NFL), married his second wife, Ciara Wilson, on July 2016. Ciara is an American singer, actress, model, and entrepreneur.
When Russell takes the field for a big NFL match, there is a high chance his wife Ciara is there in the stadium supporting him. He is among the most successful, highest-paid, and most talented quarterbacks in NFL history.
The football quarterback has been named to nine Pro Bowls to date and led the Seattle Seahawks to two consecutive Super Bowls winning Super Bowl XLVIII. Seahawks drafted him in the third round (75th overall) of the 2012 NFL Draft.
The quarterback got emotional following the Broncos' 27-24 loss to the Chiefs on January 1, 2023. Despite the loss, he completed 26 of 38 passes for 222 yards and one touchdown to one interception, adding two rushing scores.
Like Wilson, his wife Ciara is a Grammy award-winning singer who is a popular and influential figure in the music industry.
Their relationship is like a match made in heaven. In 2014, Ciara ended her relationship with her fiance, Future, due to his infidelity.
Likewise, Russell divorced his ex-wife Ashton Meem in the same year. Later, the couple started dating and married in 2016 in England.
The couple has been married for six years and blessed with three children.
Let us look at quick facts before moving in-depth to the article.
Ciara Wilson | Quicks Facts
| | |
| --- | --- |
| Full Name | Ciara Princess Wilson |
| Date of Birth | October 25, 1985 |
| Age | 37 Years Old |
| Place of Birth | Fort hood, Texas |
| Gender | Female |
| Nick Name | The First Lady of Crunk, Princess of Crunk & B, and The Princess |
| Religion | Christianity |
| Nationality | American |
| Ethnicity | African-American |
| Education | Riverdale High School |
| Horoscope | Scorpio |
| Father's Name | Carlton Harris |
| Mother's Name | Jackie Harris |
| Siblings | N/A |
| Height | 5'7"/1.70 m/170 cm |
| Weight | 62 kgs/137 lb |
| Hair Colour | Black |
| Eye Colour | Dark Brown |
| Tattoo | Yes |
| Relationship Status | Married (2016) |
| Husband | Russell Wilson |
| Children's | Sienna Princess Wilson (daughter), Win Harrison Wilson, Future Zahir Wilburn |
| Past Relationship | Rapper Future (Engaged) |
| Profession | Singer-Song writer, Dancer, Model |
| Active Since | 2002-Present |
| Genres | R&B, Pop, Hip Hop, Dance |
| Hobbies | Skiing, Traveling |
| Net worth | $25 Million |
| Social Media | Instagram, Twitter, Youtube, Facebook, Deezer |
| Merch | Audio CD |
| Last Update | June 2023 |
Ciara Wilson | Early Life
Ciara Wilson was born on October 25, 1985, at Fort Hood Military Base, Killeen, Texas. She is the only child of parents Jackie Harris and Carlton Clay Harris.
Her parents named her Ciara after the Revlon fragrance (Ciara), launched in 1973.
Ciara's father served in US Army, so she spent most of her early childhood days on army bases in Germany, New York, Nevada, Utah, and Arizona. Later, they moved to Atlanta and settled there.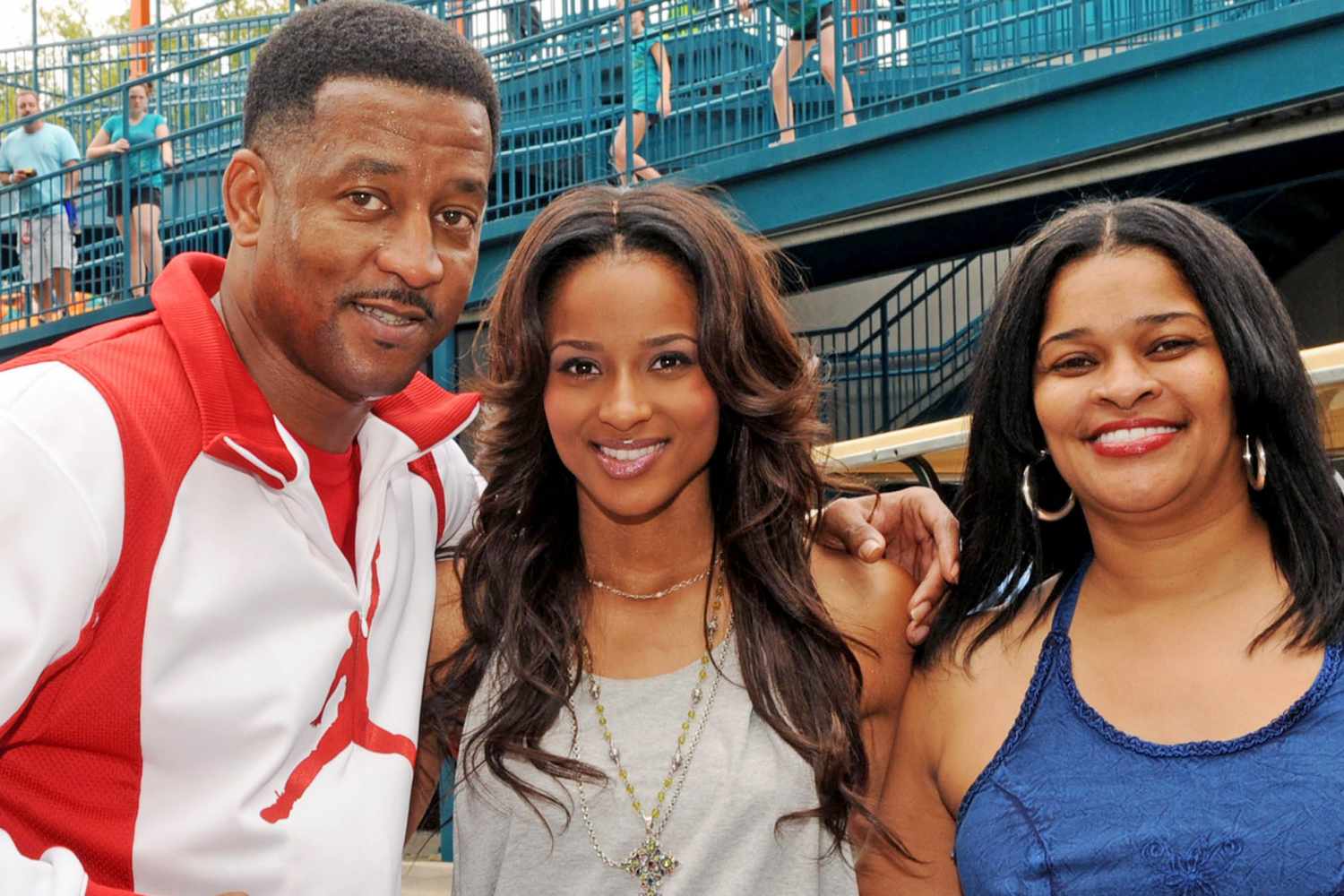 Watching Destiny Child, Janet Jackson, and Michael Jackson on TV during her childhood inspired and motivated her to pursue a music career.
At 15, she started her music career and worked on her songwriting skills. Her first success came with the song "Got Me Waiting" for Barrino's first album, "Free Yourself."
Ciara Wilson | Personal Life
First Meeting
Ciara ended her relationship with her fiance, Future, in 2014. The same year Russell divorced his ex-wife Ashton Meem.
Later, in 2015, the couple met for the first time while attending the University of Wisconsin basketball game.
Wilson asked Ciara for dinner, and she agreed. Although he had already made plans with a friend, Wilson canceled it and went with her. One month later, in April, they made their relationship public.
They both attended the White House State dinner, organized to honor the Japanese Prime Minister.
Marriage And Children
Wilson proposed to Ciara during their holiday in Seychelles in 2016, and she said Yes.
Moreover, her engagement ring featured a large, brilliant-cut diamond in the center and trapezoid and diamond on either side of the sparkling center stone, which cost a whopping between $2 million and $2.5 million.
Four-month after their engagement, they married secretly in Peckforton Castle, England.
Ciara son, Future, acted as ring bearer at their wedding.
Before marrying Wilson, Ciara already had a son, Future Zahir Wilburn, from her past relationship. Later, on her 31st birthday, she revealed she was pregnant.
In April 2017, the celebrity couple welcomed their first baby together. They named her Sienna Princess Wilson.
Likewise, while enjoying a vacation in Turks and Caicos in January 2020, the couple announced they were expecting another baby.
Later, in July 2020, Ciara gave birth to her second son and named her Win Harrison Wilson.
Ciara Wilson | Lifestyle
House
Ciara Wilson lives with her family in a $6.7 million Seattle mansion. The 10,210 sq feet property has luxury seven bedrooms and seven bathrooms.
It has a custom kitchen featuring exquisite chandeliers, a high-ceiling center island, a walk-in pantry, and fantastic wood cabinetry. The mansion also has a wine cellar with a capacity of 2,000 bottles.
Likewise, other remarkable residential designs include a stunning spiral wood staircase, multiple skylights, and five fireplaces.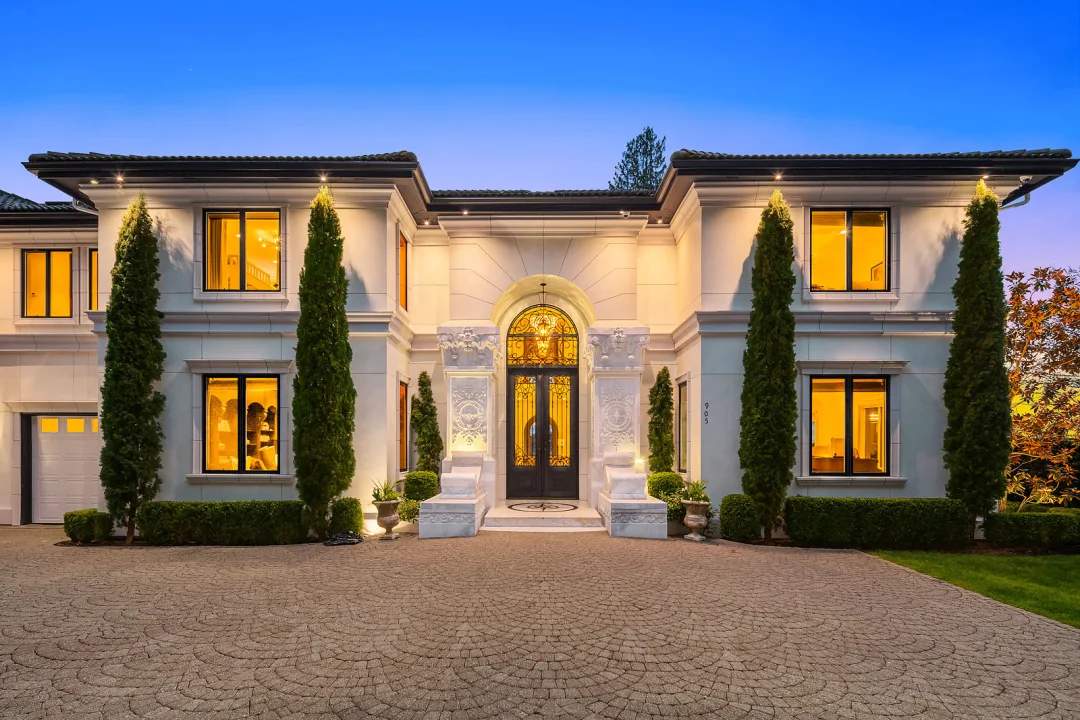 What is more stunning in every room in the house is a primary bathroom and a panoramic lake view. Other extraordinary features of the house are a media room, a private dock, and a gym.
Similarly, before moving with Russell Wilson, Ciara lived in a luxurious condo in Atlanta. Later, Ciara sold it for $520k, which she initially bought for $680k.
Fitness
Since giving birth to her third child, Ciara, the pop star, has been working hard to maintain her fitness level.
Ciara trains with Decker Davis, her husband's trainer, and likes to switch workout routines between Tabata, plyometrics, strength, and cardio.
Now, she trains regularly, at least four times a week, and has become more consistent.
Her go-to fitness types of equipment are resistance bands, treadmills, and rowing. She also does a lot of unique core workouts.
Moreover, after giving birth in July, Ciara she managed to lose 39 pounds in 2020. Her secret to her tremendous weight loss was her diet.
Vacations
The couple has spent each anniversary vacationing in top tourist countries like China, South Africa, Japan, France, and Italy.
In the GQ interview, Ciara mentioned her dream destination is the Maldives.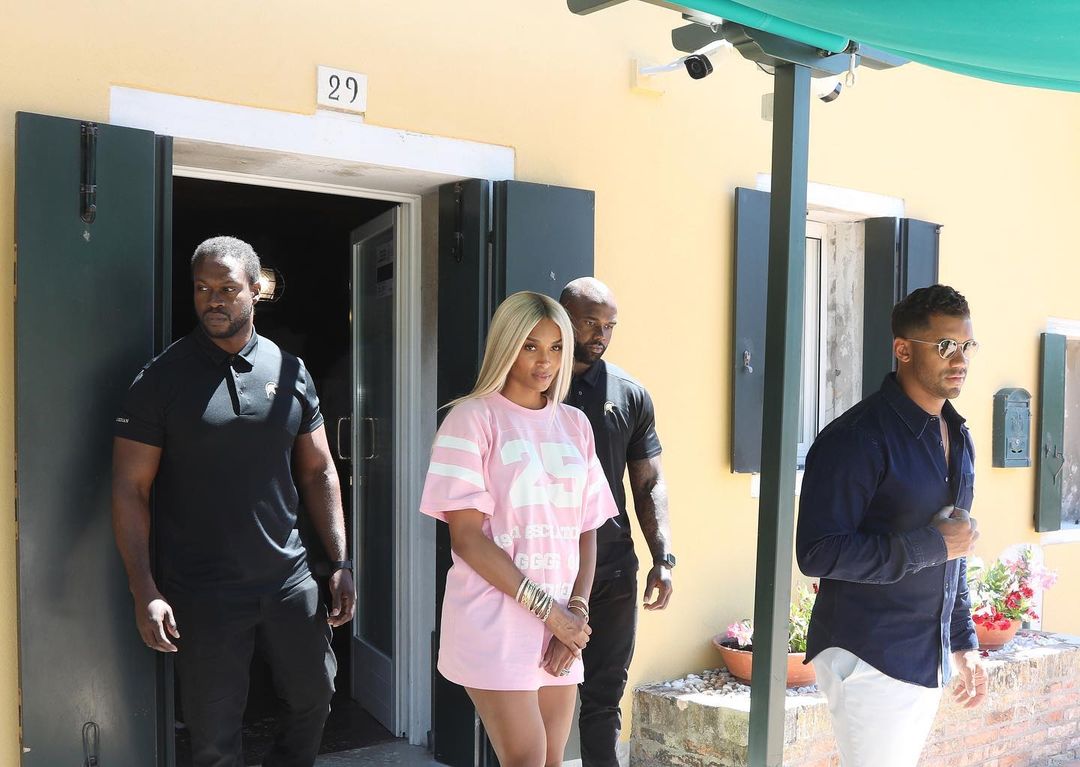 They celebrated their fifth anniversary in 2021, flying to Itlay. The couple jetted off on July 1 for a few days for delicious food, shopping, and gondola rides.
To remember the special occasion couple recreated a picture in 1985 of the late Princess Diana and her husband, Prince Charles, leaving the restaurant on the Italian gateway.
Ciara Wilson | Career
Music
Ciara Wilson graduated from Riverdale High School in 2003. Later she signed with La Face Records executive.
On September 28, 2004, Ciara released her debut song, Goodies. The release of Goodies rose her stardom to the next level.
Her track topped the Billboard chart for about seven weeks. It became the first debut single by females since 1977 to achieve that feat.
Her song earned nominations for four categories in the 48th Annual Grammy Awards.
She released her first album in September 2004 with three other songs: ' 1, 2Step', 'Oh' and 'And I.'
Her next studio album "Ciara: The Evolution," was released in December 2006 and managed to top "US Billboard 200". It also became "USA Billboard Top R&B/ Hip-Hop Albums."
In May 2009, Ciara released her third album, Fantasy Ride. However, it became less successful than her other two albums.
She released her fourth album 'Basic Instant' in December 2010. Later, Ciara signed a new record deal with Epic Records on September 2011.
Her fifth studio album Ciara released in July 2013, became her fourth album to reach the top 3 in 'USA Billboard 200' chart debuting at #2.
Ciara released her sixth studio album 'Jackie' from 'Sony Music Entertainment. It debuted at #17 on the 'US Billboard 200' chart.
However, the album Jackie recorded the fewest first-week sales (20,000 copies) compared to her other albums.
Further
In May 2019, Ciara released her seventh studio album and named it after Beauty Marks' labels. It debuted at #87, making 'Beauty Marks her lowest charting album on 'US Billboard 200 charts.
Moreover, she has sold over 7 million albums and 16 million singles globally, and her four albums have featured in the 'US Billboard 200' top 5.
The pop star has marked four headlining tours and featured alongside Bruno Mars, Britney Spears, and Rihanna on their sold-out tours.
Acting
Ciara made her acting debut in the 2006 film All You've Got, playing the role of Becca Watley. Later she appeared in movies like Mama I Want to Sing, and That's My Boy.
Likewise, in 2013, she featured a recurring character in the American comedy-drama TV series The Game.
The American singer has also appeared in TV series like I Can Do That in 2015, Idols South Africa in 2012, and America's Next Top Model in 2009.
In addition, she judged 2016 America's Most Musical Family and hosted the 47th American Music Awards in 2019.
Modeling
Ciara's perfect and attractive body, alongside her top-notch fashion sense, has helped her make a career in modeling too. Vogue named Ciara the "new fashion icon for her style prowess."
In 2007, Ciara became the face of Rocawear, Jay-Z's clothing line. She appeared as the spokesperson for their "I Will Not Lose" women's campaign.
Ciara signed a lucrative modeling deal with Wilhelmina Models in 2009. Following her signing, Ciara was featured on the cover of many magazines.
Furthermore, Wilson announced signing a contract with IMG Models in 2016. Later the same year, Ciara landed her first deal after signing with the company.
Ciara was appointed as Global Brand Ambassador for Revlon in 2016. Collaborating, they have launched many beauty products.
Likewise, she is also the face of Roberto Cavalli, Kohls, Pandora, Topshop, and Equinox brands.
Ciara Wilson | Charity And Business
Charity
Ciara is one of the active celebrities in the charity world. Moreover, her husband is one of the most charitable athletes in the world.
In September 2008, Ciara performed in "Stand Up to Cancer" for a television special which later raised $100 million for cancer-related research.
Likewise, in 2009 Dosomething.org announced her as the face of the Do Something campaign, which mainly organizes a drive to collect school supplies for needy children.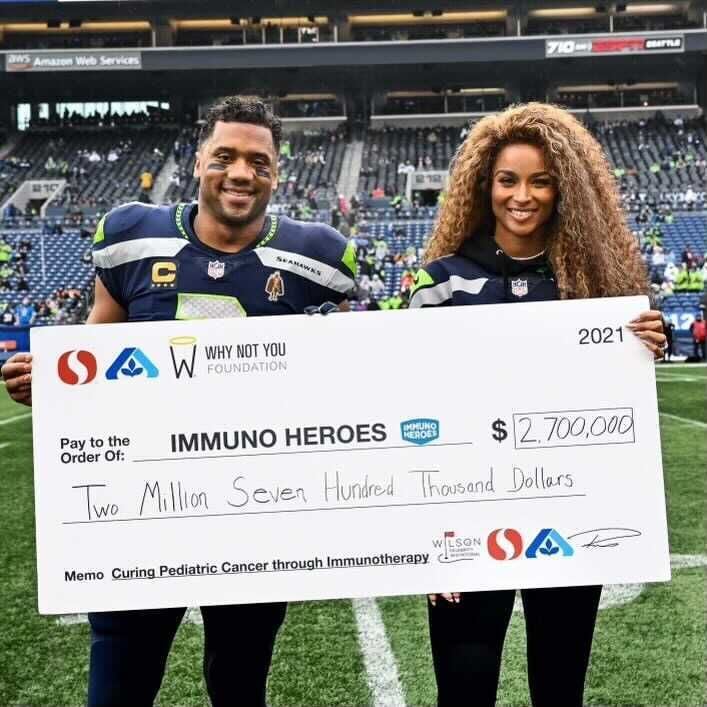 After marrying Russell Wilson, Ciara has always worked closely with his husband's Why Not You Foundation.
They have already conducted many campaigns and programs to help fight poverty through educational reform and help needy people in the communities.
Some of their recent donations include one million food meals to Food Lifeline and $2 million in donations to Washington Charter School.
Likewise, in July 2021, the couple initiated the "Immuno Heroes" campaign to raise $3 million to help Seattle Children's Hospital's immunotherapy program.
The couple announced the establishment of a tuition-free Why Not You Academy in Washington.
Business And Investment
Besides being successful in her professional career, Ciara is also tasting success in the business world.
The pop diva is the founder and CEO of Beauty Marks Entertainment which she launched in 2017 so she could lead her direction in the fast-moving music industry.
In 2018, Ciara and Wilson signed a partnership deal with Portland Diamond Project to start the MLB team in Oregon.
Later, the couple joined the MLS side Seattle Sounders ownership group in 2019. The Sounders won the league that season.
In the same year, the couple announced a joint venture, a production company named Why Not You Productions.
The couple landed a major deal with Amazon to produce scripted films and series. That business deal will take their company to a new height.
In 2020, Ciara, her husband, and Christien Day launched a new fashion brand, The House of LR&C. The brand has two clothing lines called Good Man and Human nation.
Alongside producing environmentally sustainable products, 3% of the brand's profits go to the Why Not You Foundation.
Net Worth
The American singer and songwriter have a networth of $25 million in 2023. Her primary source of income comes from music, business advertising deals, and brand endorsements.
Likewise, his husband, Russell Wilson, has a net worth of around $165 million.
Ciara Wilson | Social Media Presence
Ciara Wilson is one of the famous names in the music industry. So, it's not surprising that she has a huge fan following on her social media handles.
Instagram: 33.2 million followers
Facebook: 15 million followers
View this post on Instagram
Twitter: 11.8 million followers
YouTube: 5.39 million subscribers
She likes to upload photos and videos of her lifestyle, travel, and family on her social media handles.
Ciara Wilson | Popularity
Wilson is an American singer, actress, model, and entrepreneur. She is also renowned as the wife of Denver Broncos's quarterback Russell Wilson.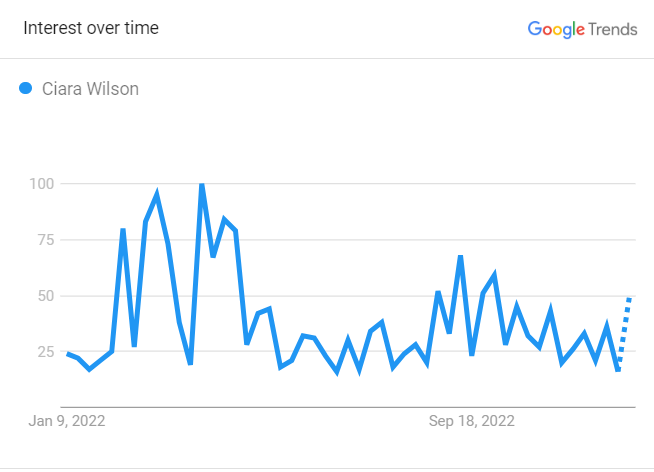 The graph shows her search trend for 12 months.
Russell Wilson & Ashton Meem
Let's learn about Rusell Wilson's past relationship. Wilson married his high school girlfriend, Ashton Meem, in 2012.
Ashton Meem was born on September 6, 1987, in Richmond, Virginia, and studied at St. Catherine High School.
Wilson and Ashton met briefly in high school but started dating after the summer party. After completing high school, both of them chose different colleges.
Ashton enrolled at the University of Georgia. However, Russell transferred to North Carolina State, where he enrolled in the football scholarship program.
Later, in 2010 Ashton graduated with a communication degree. Soon after graduating, she worked at Lewis Media Partners and Mckinney.
Then in 2011, she became an accountant executive of the Richmond-based Morton organization.
After working there for several years, Ashton joined an American Family Insurance company to work in an advertising operation.
Marriage And Divorce
In August 2010, Wilson organized a surprise stay in the Presidential Suite of a luxurious hotel in Cary. Later, Wilson proposed to Ashton, getting on one knee.
They married on January 14, 2012, at the Country Club of Virginia with 300 guests. However, the couple kept their honeymoon on hold due to NFL training.
The Seattle Seahawks drafted him as a third-round pick in the 2012 NFL Draft just three months after their marriage.
But, their love life had a rough patch behind the scenes. Later, in 2014 Wilson filed for divorce, mentioning the difficult decision of his life.
After Wilson and Ashton divorced, rumors spread about potential reasons behind it.
One famous theory was that Ashton allegedly cheated on Wilson with former Seahawks teammate Golden Tate.
However, Tate published a lengthy personal essay on his social media, denying the allegations.
Neither Wilson nor Ashton has shared the real reason the couple ended their relationship.
Frequently Asked Questions (FAQs)
Who are Ciara and Russell Wilson's children?
After Caira and Wilson married in 2016, she gave birth to two children. The first is daughter Sienna Princess Wilson, and the second is son Win Harrison Wilson.
Likewise, Ciara also has custody of her son from his past relationship. His name is Future Zahir Wilburn.
What happened to Russell Wilson's first wife?
Russell Wilson divorced her ex-wife Ashton Meem in 2014, just after two years of their marriage.
The former couple was in a relationship from high school. Wilson also mentioned filing for divorce as the most difficult decision of his life.