Ryan Newman's girlfriend, McKenzie Geibel, might have entered his life a year after his divorce. Newman was previously married to Krissie, with whom he shares two girls.
The NASCAR veteran Ryan Newman separated from his wife of 16 years in 2020. The couple already had cracks in their relationship in 2019 and took the case to court in 2020.
Newman, who debuted in the racing scene in 2000, has 18 wins to his name. In 2023, he announced he would be racing with Rick Ware Racing in select starts.
Recently, Ryan went head-to-head with Denny Hamlin at the SRX race at Stafford Speedway. It was NASCAR legend Hamlin's debut race with SRX, and he finished in first place while Ryan had to settle for a second.
Ryan Newman Girlfriend: Who Is He Dating After Divorce?
Ryan Newman's girlfriend, Mckenzie Geibel, has shared interests with him. Geibel is native to Abrams, Wisconsin, and currently lives in North Carolina.
Geibel has been seen several times on Newman's Instagram, but the NASCAR veteran has never tagged McKenzie in any of the photos.
It isn't known when and how Ryan met McKenzine, but the first time she was seen on Ryan's Instagram handle was in July 2021.
Like Ryan, McKenzie loves fishing and hunting, and their first photo together was of them fishing at RW's Big Eddy Resort and Fishing. They were joined by Ryan's two girls.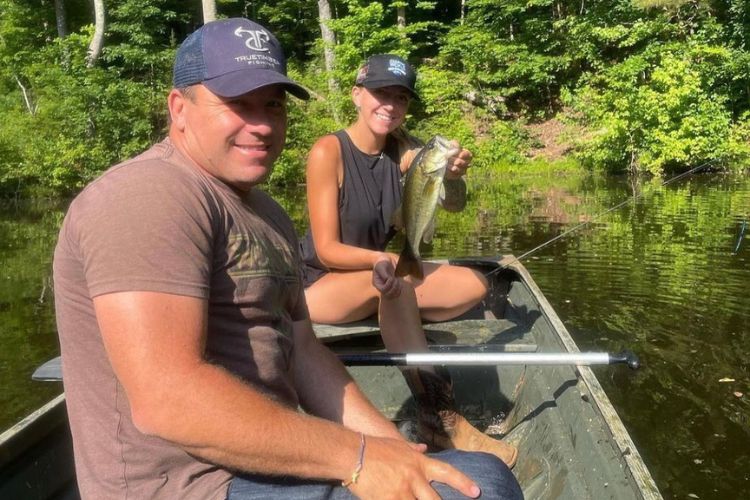 McKenzie also celebrated Christmas 2021 with Ryan's family as he shared a photo of them under the Christmas tree.
McKenzie was also seen cheering for her man at Stafford Motor Speedway. And Ryan took home the win and had two daughters there to watch him win as well.
Earlier this year, Ryan and McKenzie attended the Capital Ford's Make a Wish ball. Ryan looked smart in his suit, and McKenzie wore a beautiful thigh-slit dress.
In his latest Instagram post, Ryan, McKenzie, and his two girls traveled to Howard Family Farm. It sure looks like McKenzie has made considerable effort to fit in with Ryan and his family.
McKenzie is available on Instagram with the username @mckenzie.geibel but has kept her handle private.
Ryan Newman Ex-Wife, Kristina Newman
Ryan Newman's ex-wife, Kristina Newman, also known as Krissie Newman, used to be famously known as the First Lady of NASCAR.
It was Krissie and her involvement with charities that warranted her the title. Before their divorce, Krissie used to be the vice president of Ryan Newman Motorsports. She was also the leader for Ryan Newman Foundation.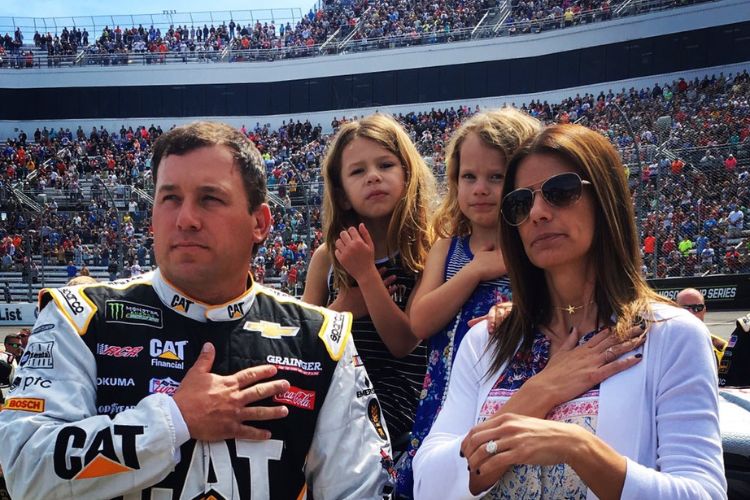 Currently, Krissie manages Rescue Ranch, a foundation that rescues animals. She established the foundation in 2013.
The former partner of Ryan Newman is a graduate of Shippensburg University and earned her degree in Criminal Science. The two met on a blind date in 2001, set up by her grandmother and a friend from church.
Krissie and Ryan quickly hit off and tied the knot on January 3, 2004. The former couple is also parents to two girls, Brooklyn and Ashlyn.
Ryan And Kristina Newman Announced Their Divorce In 2020
After spending 16 years as husband and wife and parenting two girls, Ryan and Krissie announced their divorce in 2020.
Newman took to his Instagram handle to announce the news coming as a shock to many of his fans. According to the court papers, The National ENQUIRER, the couple had split back in 2019.
Ryan and Krissie were also set to be locked in for a $50 million battle. It was also written in the court papers that Krissie was found cheating with another man to whom she was paying $450,000.
In his statement on social media, Ryan wrote he and Krissie had amicably separated. He also shared he and Krissie will continue to raise their girls jointly and work together to support Rescue Ranch.
Krissie is available on Instagram with the username @krissienewman and continues to share pictures of her girls and her work with Rescue Ranch.