Scott Hatteberg is one of those baseball veterans with broad exposure in baseball and Hollywood. Hatteberg is an American former baseball player whose character was portrayed in the Brad Pitt starring movie Moneyball.
The film was adapted from the book written by Michael Lewis. Its premises are factual, covering the story of Oakland Athletics First baseman/Catcher.
Hatteberg started his MLB journey with the Boston Red Sox in 2008 and later played with Oakland Athletics and Cincinnati Reds of the Major League Baseball (MLB).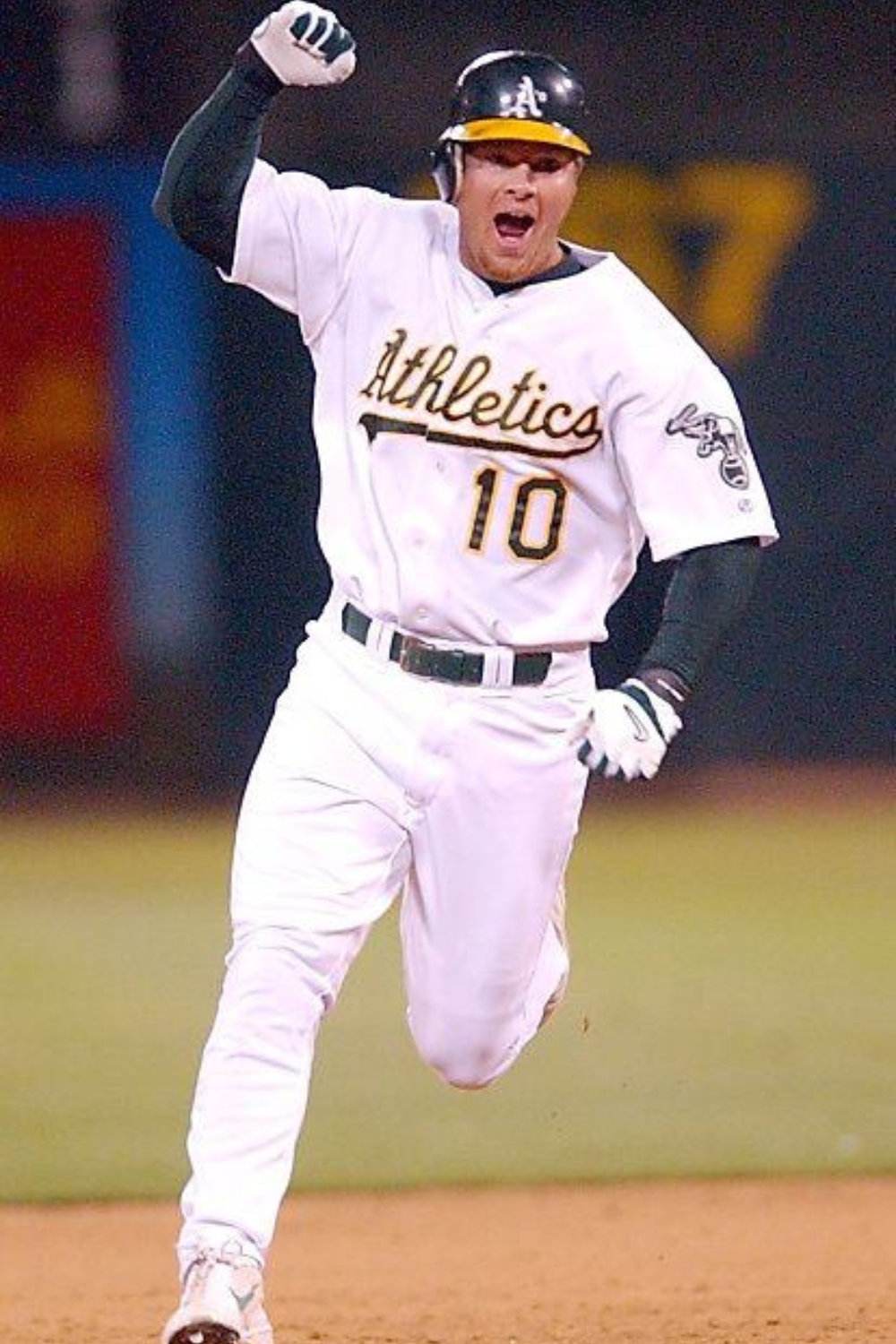 Scott played for 14 seasons in MLB, recording a .273 batting average with 538 runs, 249 doubles, 7 triples, 106 home runs, 527 RBI, and a .410 slugging percentage.
The retired baseball veteran has an estimated net worth of $10 million in 2023.
Today, we will discuss anything significant that has ever happened in Scott Hatteberg's personal and professional life.
But before that, let's go through his quick facts.
Quick Facts
Full Name

Scott Allen Hatteberg

Known As

Scott Hatteberg

Current Residence

Gig Harbor, Washington

Birth Date

December 14, 1969

Birth Place

Salem, Polk County, Oregon

Age
53 Years Old
Religion

N/A

Nationality

American

Ethnicity

White

Education
Eisenhower High School


Washington State University

Horoscope

Sagittarius

Height

6'1″/1.85 m/185 cm

Weight

96 kg/211 lb.

Build

Athletic

Hair Color

Dark Brown

Eye Color

Gray

Marital Status

Married

Spouse

Elizabeth Hatteberg, also known as Bitsy

Children

Three

Children's name

Lauren Hatteberg, Sophia Hatteberg, and Ella Hatteberg

Profession

Baseball Player (Retired)

Position

First baseman / Catcher

Active Years

1988-2008

Affiliations

Major League Baseball (MLB)

MLB Debut

September 8, 1995

Last MLB Appearance

May 25, 2008

Former Teams
Boston Red Sox
Oakland Athletics


Cincinnati Reds

Net Worth
$7 million
Movie Presence

Moneyball

Merch
Autographed Items
Last Update
June 2023
Early Life
Scott Hatteberg was born in Salem, Oregon, on December 14, 1969. The details regarding his parents and siblings are not available.
The former baseball player played Little League in Salem, Oregon, when he was young. He was also a part of the Pony League and American Legion baseball in Yakima, Washington.
The Salem native attended Eisenhower High School in Yakima, Washington, and graduated in 1988. He served as the team captain during his senior year and hit .570 with seven home runs.
Baseball Career
College
Scott committed to play for the Washington State Cougars baseball team in the Pacific-10 Conference. With Hatteberg in the team, the Cougars won the Pac-10 North all three years.
He served as the captain of his college baseball team. He was also honored with the Most Valued Player (MVP) title in 1991.
The former MLB player was a part of collegiate summer baseball in the Alaska Baseball League in 1989 and 1990. Also, he was a member of the Alpha Gamma Rho fraternity at Washington State.
International Career
Hatteberg represented the United States national baseball team. He hit a home run against Mexico at the 1990 Goodwill Games.
Furthermore, he hit .292/.346/.417 for Team USA in the 1990 Baseball World Cup.
Professional Baseball Career
Boston Red Sox
The Boston Red Sox selected Hatteberg in the 1991 MLB draft with a sandwich pick between the first and second rounds as compensation from the Kansas City Royals for signing Type A free agent Mike Boddicker.
Hatteberg made his Red Sox debut on September 19, 1995. In his seven seasons with the Red Sox, he hit 34 home runs and batted .267.
He became the only player in MLB history to hit a triple play and a grand slam against the Texas Rangers on August 6, 2001. The bat used during that game is now kept in the National Baseball Hall of Fame.
In the last season with the Sox, he ruptured a nerve in his elbow, impairing his throwing skills.
After the surgery, Scott had to relearn how to throw and hold a baseball. The period must have been challenging for Hatteberg, as his career as a baseball catcher was in danger.
He was then traded to the Colorado Rockies in exchange for Pokey Reese. However, the Colorado Rockies denied the salary arbitration two days later, leaving Hatteberg as a free agent.
Then, the former Red Sox's first baseman landed with the Oakland Athletics.
Oakland Athletics
A day after facing denial from the Rockies, the Oakland Athletics signed Hatteberg to a one-year contract with a $950k base salary plus incentives.
The former MLB player was offered to play first base considering the throwing difficulty he might face because of injury. He aided Oakland Athletics in reaching the playoffs in 2002 and 2003.
During his time with the Athletics (2002-2005), Hatteberg hit 49 home runs and batted .269. Further, he drove in 263 runs with an on-base percentage of .355.
His best performance with the Oakland Athletics came in 2004, when he hit .287, scored 87 runs, hit 15 home runs, drove 82 runs, and had an on-base percentage of .367.
Cincinnati Reds
On February 12, 2006, the Cincinnati Reds signed Scott Hatteberg to a one-year/$750k contract. He was expected to give the Cincinnati Reds team flexibility at first base, backing up Adam Dunn.
With Dunn back to the outfield and Wily Mo Pena traded to Red Sox, Hatteberg got to play at first base, improving the Reds' defense.
The Salem native recorded his 1,000th career hit on August 8, 2006, against Jason Marquis of the St. Louis Cardinals at Great American Ball Park in Cincinnati. He further went 3-for-5 in the game.
Hatteberg was relegated to pinch-hitting during the first week of the 2008 season, replacing him with a newbie, Joey Votto.
The former athlete was not very familiar with pinch-hitting. Nonetheless, he had recorded his remarkable 20-game winning streak for Oakland as a pinch-hitter.
The club officially released Scott Hatteberg on June 4, 2008.
Iconic Bat And Career Stats
Scott Hatteberg is one of history's greatest players with analytical moves. Hatteberg's baseball bat, which he used during the 2001 world record, is kept in the National Baseball Hall of Fame.
It is a gesture of appreciation for his glorious strike. With this, Hatteberg has been carved into history's memory lane and would inspire the coming generations.
During his professional career, the former MLB player has maintained a batting average of .273, with 106 home runs and 527 bats in 1,314 games over 14 seasons.
The Movie Moneyball
Moneyball is a book by Michael Lewis that portrays Scott Hatteberg's conversion from catcher to first baseman in the Oakland Athletics.
Oakland Manager Billy Beane openly admitted how the team helped Scott transition from catcher to first baseman.
Billy Beane said it was the only possible option for small-market clubs like the Oakland Athletics instead of spending extravagant amounts on some top player. Infield coach Ron Washington trained Hatteberg for the new position.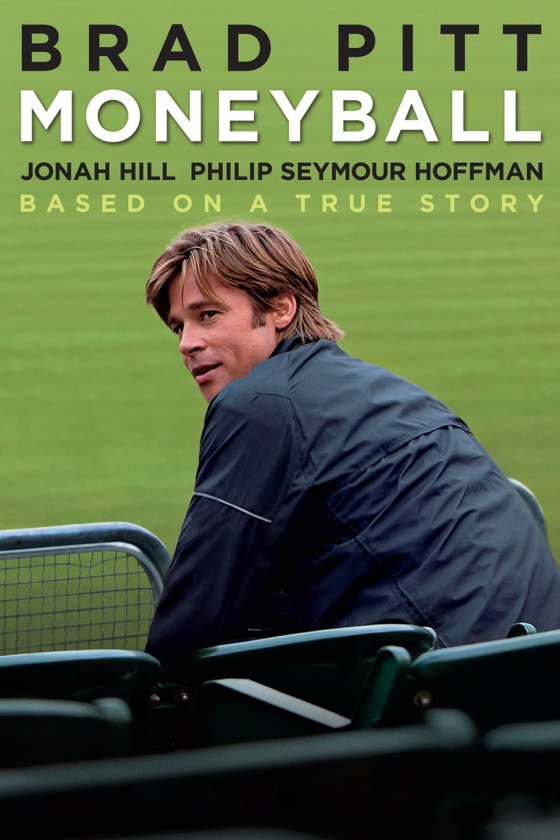 Scott Hatteberg's character has an important story to tell in the movie. The movie featured big celebrities like Brad Pitt and Jonah Hill. An actor named Chris Pratt played Hatteberg's character in the film.
The Oakland Athletics gained victory in 19 subsequent games to tie the American League record.
In a game against the Kansas Royal, Hatteberg pinch-hit with one out and the bases empty in the bottom of the ninth inning. Also, the Athletics succeeded in gaining an 11-0 victory.
Moreover, Scoty drove a 1-0 pitch well over the right-center field wall off Jason Grimsley for a walk-off home run.
All of these incidents were captured in Michael Lewis's book. Later, these moments were depicted in the Moneyball cinema.
Life After Retirement
Hatteberg currently serves as a Special Assistant to Baseball Operations for the Oakland Athletics. At times, he does the job of an instructor for the Athletics. His work mostly revolves around scouting.
He has scouted on both the pro and amateur sides. He checks the guys eligible for the top spots and then makes reports on them.
Hatteberg finds appealing the concept of finding the right person for the right position and then evaluating their place in the next five years.
Further, the MBL veteran player worked as a substitute for Ray Fosse as the Oakland Athletics' color commentator on TV broadcasts for several games in 2012 and 2013.
Wife And Children
The baseball veteran is married to Elizabeth Hatteberg, also known as Bitsy. She is from Tacoma, Washington.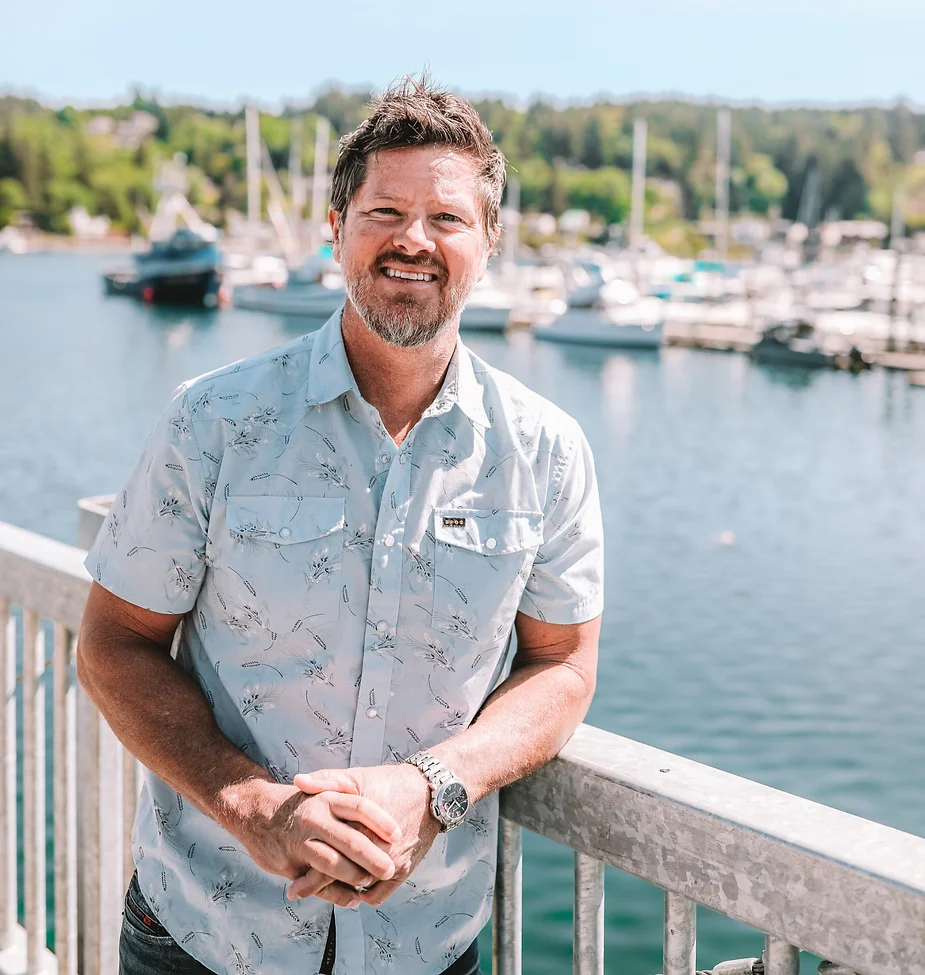 The couple first met at their college, Washington State University. They got married and are blessed with three kids; Lauren Hatteberg, Sophia Hatteberg, and Ella Hatteberg.
She was also portrayed in the movie Moneyball by actress Tammy Blanchard.
Net Worth
The former MLB player earned some fortune in his baseball career. Scott has a net worth of $7 million in 2023.
He also stacks some extra earnings to his net worth by serving as Special Assistant to Baseball Operations for Oakland.
Furthermore, he lives a decent life with his wife and three children in Gig Harbor, Washington.
Popularity
Scott is an American former professional first baseball and catcher. He played for three teams in his 14 years MLB career, earning a considerable number of fans worldwide.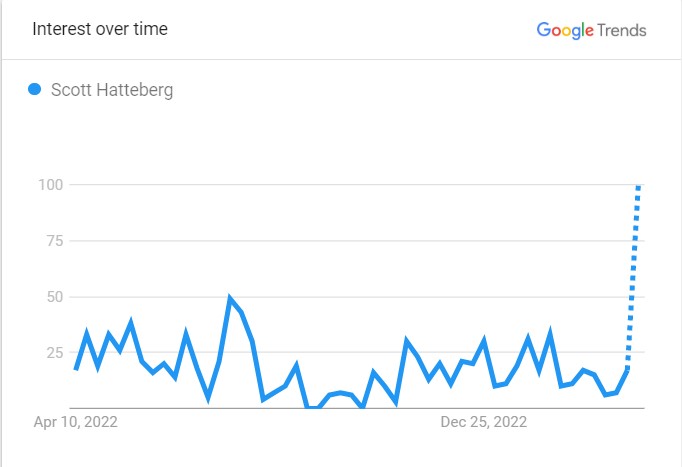 The graph represents his search trend of Scoot Hatteberg based on Google searches in the United States over a year.
Frequently Asked Questions (FAQs)
Does Scott Hatteberg have a role in the Moneyball movie? Is the Moneyball movie real?
Yes, Moneyball, both book and movie, are based on a true story. The movie featured Scott Hattenberg's days at Oakland Athletics. In the movies, Hattenberg was portrayed by Chris Pratt.