Starting from childhood companions to teenage romantic partners and later becoming husband and wife, Shaquille Leonard and Kayla have shared numerous experiences throughout their journey together.
Shaquille and Kayla have been familiar with each other for as long as they can remember, with their story beginning from their kindergarten days.
Shaquille Leonard was born on July 27, 1995, in South Carolina, United States.
He played high school football at Lake View High School and collegiate football at South Carolina State.
The Indianapolis Colts drafted the linebacker in the second round of the 2018 NFL draft as the 36th overall pick. He has been playing for the team ever since his professional debut for the Colts.
The linebacker won the 2018 NFL Defensive Rookie of the Year award and has been named to the First Team All-Pro thrice (2018, 2020, 2021).
Furthermore, he is the 2018 NFL tackles leader award winner, and the 2021 NFL forced fumbles leader winner.
Shaquille Leonard & Wife, Kayla: Relationship Timeline
The South Carolina-born player Leonard and his future wife, Kayla Sanderson, were in the same class during their kindergarten.
He then took the courageous step of asking Kayla out during their sixth-grade year.
However, at that time, Kayla declined his invitation. It wasn't until their 11th-grade year that fate intervened, and Kayla's response changed.
After their high school years ended, the linebacker pursued his football aspirations at South Carolina State University while Kayla played softball for Claflin University.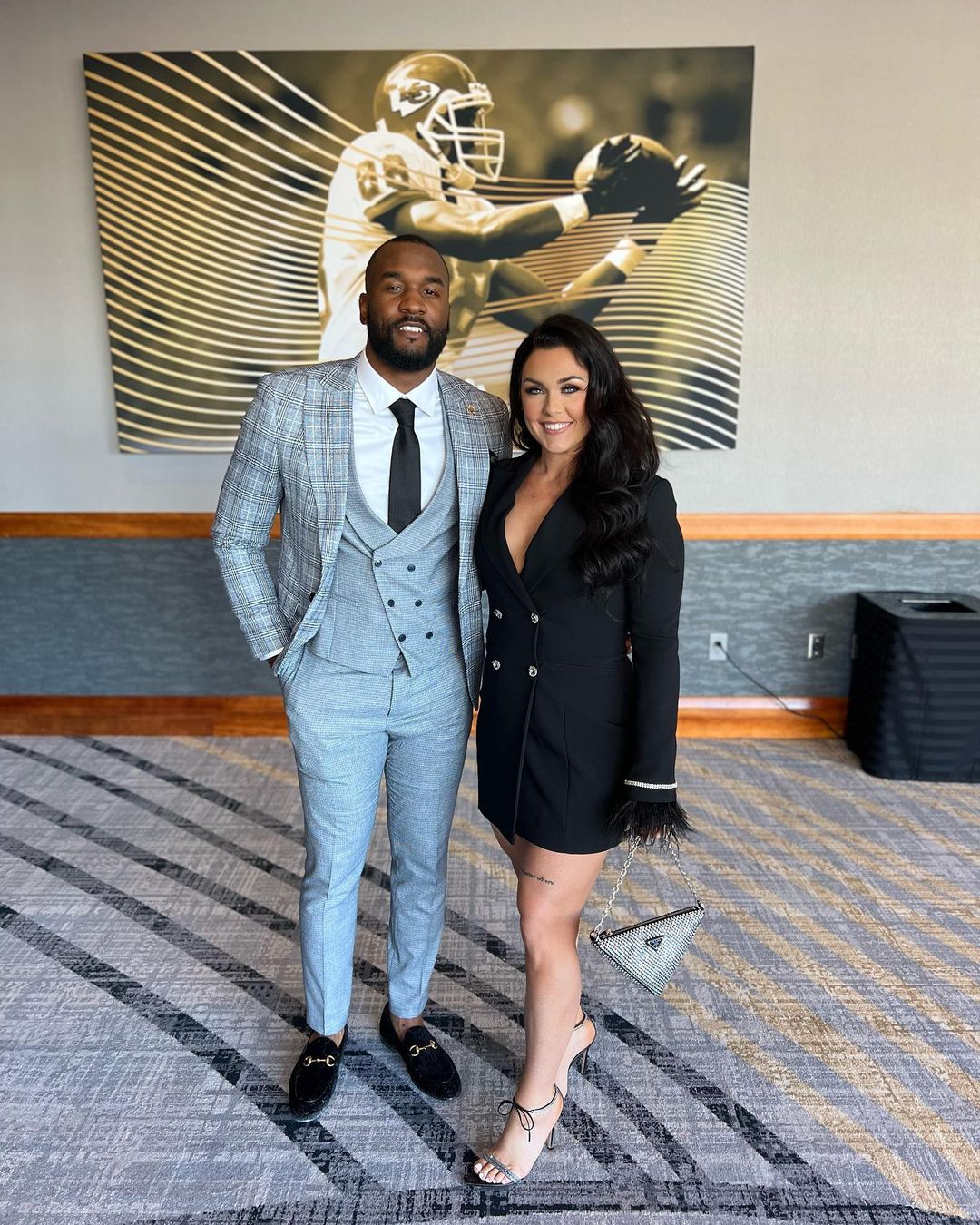 During his senior year, Leonard was on his journey to the NFL and was determined to share this new chapter with Kayla.
Waste no time he did, as on November 11, 2017, shortly after SC State's victory over Hampton, he proposed to his lifelong acquaintance and kindergarten mate, Kayla.
During his NFL Draft preparations in Tampa, Kayla supported him by working as a ninth-grade algebra teacher.
Parents Of Two Kids
Their relationship continued to flourish, and in December 2018, the couple joyfully announced Kayla's pregnancy.
The fruit of their love, Mia Leonard, was born on March 28, 2019.
Taking the next step in their journey, Shaquille Leonard and Kayla Sanderson exchanged their vows on May 9, 2018.
Three months following Mia's birth, she was the flower girl in her parents' dream wedding on June 29, 2018, a cherished moment Kayla had envisioned since her youth.
The couple then welcomed another daughter, Laila, on June 4, 2021.
Additionally, a kid named Dorell Hardee Jr. is frequently featured in snapshots alongside the Leonard family on their social media platforms.
However, the extent of their relationship remains undisclosed to the public.
Maniac Foundation
Shaquille Leonard and Kayla Leonard founded a nonprofit named Maniac Foundation in 2020.
The organization is dedicated to positive change within communities through initiatives centered around education, well-being, assisting underprivileged families, and various charitable endeavors.