What's more satisfying to see in sports is the transition. To illustrate, the slick change from one league to the other, meaning playing for one's country to representing it in the other platform.
With the recent transition, we talk in-depth about Shun Yamaguchi from Japanese Leagues to Major League Baseball.
Currently, the athlete features in the MLB as the first Japanese to play for the Blue Jays.
Before it, he worked in the Yokohama BayStars/Yokohama DeNA BayStars and the Yomiuri Giants of the Nippon Professional Baseball (NPB).
Furthermore, Starring in the baseball field for more than a decade now, Yamaguchi has secured an impressive resume throughout his journey.
Consequently, he has acquired a lengthy mile with his elite competitiveness and flexibility.
"Sometimes, you have to be flexible. And when that happens, I'm ready for that too."
-Shun Yamaguchi
Quick Facts
Full Name
Shun Yamaguchi
Date of Birth
July 11, 1987
Birth Place
Oita, Japan
Nick Name
Not Available
Religion
Unknown
Nationality
Japanese
Ethnicity
Asian
Zodiac Sign
Cancer
Age
35 Years Old
Height
6 feet 1 inch (1.87 m)
Weight
90 kg (198 lbs)
Hair Color
Light Brown
Eye Color
Unknown
Build
Athletic
Father's Name
Yamaguchi Hisashi
Mother's Name
Keiko Yamaguchi
Siblings
None
Education
Yanagawa High School
Marital Status
Married
Wife
Kaori Takagi
Kids
A son and a daughter
Profession
Baseball player
Position
Pitcher
Affiliations
Yokohama BayStars/Yokohama DeNA BayStars
Yomiuri Giants
Toronto Blue Jays
Active Years
2006-present
Net Worth
$500,000-$1 million
Social Media
Instagram, Twitter
Merch (Affiliations)
Yokohama DeNA BayStars, New Era Men's Hat.
Last Update
June, 2023
Shun Yamaguchi | Early Life
Yamaguchi was born on July 11, 1987, under Cancer's sun sign to his parents Keiko Yamaguchi and Yamaguchi Hisashi.
Since there is no mention of his siblings, we believe he might be a single child born and raised in Oita, Japan.
Additionally, Yamaguchi hasn't opened about his childhood, and we can expect it to be peaceful and memorable.
Zach Eflin Bio: Career, MLB, Baseball, Net Worth>>>
As a matter of fact, Yamaguchi's father, Yamaguchi Hisashi (April 16, 1952 – October 19, 2010), was a sumo wrestler. To elaborate, he debuted in January 1971 and reached the top division in May 1978.
Throughout his career, his father reached maegashira 4, until he finally retired in November 1982.
Amateur Career
Following his father's footsteps, many expected Shun Yamaguchi to follow his father's footsteps and get involved in the sumo wrestling arena.
However, right after his high school graduation, Yamaguchi started playing baseball and devoted his time.
What's interesting is his sense of humor that explains why he chose baseball over sumo wrestling.
"As I got older, I started thinking about showing my butt [in public], so I think that's why."
-Shun Yamaguchi
Initially, he starred in his high school team of Yanagigaura High School, where he had his pitching of 94 mph.
With interest in baseball, he commenced his career through the 2005 high school draft. Back then, the Yokohama BayStars drafted Yamaguchi in the first round to feature in the Nippon Professional Baseball.
Nippon Professional Baseball
After a year of selection, Yamaguchi made his debut for the league in 2006. Back then, he devoted ten years to the Yokohama BayStars until eventually signing in with the Yomiuri Giants in 2017.
Yokohama BayStars
As a rookie in the team, Yamaguchi a 6.30 ERA by 2007 and then moved to the bullpen in 2008.
Afterward, he featured as the closer for the team until three years. He posted 18 saves and a 3.27 ERA during those tenures and even stood 6th in the Central League in saves.
Later, he was even named to the 2010 NPB All-Star Games. Before that, he stood 3rd in saves behind Hitoki Iwase and Chang-Yong Lim.
In the meantime, he bagged his second consecutive all-star and broke the record of Hiroaki Nakayama for the game finish.
After series of gameplay and smooth games, he had to step down as a closer. Therefore, Jorge Sosa replaced him for the closer duty.
Thus, Yamaguchi was in the starting rotation and then advanced to being a regular starter.
Within a few years, again in 2016, Yamaguchi had a good start, where he tied Tomoyuki Sugano for the complete games. The very next year, he signed with the Yomiuri Giants as a free agent.
Yomiuri Giants
After signing, his first year with the team was limited with just four games to play due to his shoulder problems.
Not only this, but he also had to serve in suspension after attacking security games while he was drunk. Moving on to next year, he completed every game of the season without any injury or scandal.
Apparently, 2019 is marked as his best season as a starter, where he had maintained a 2.91 ERA. Infact, that year, he was the opener for the 2019 Japan Series, and therewith, he made the Best Nine for the first time.
Altogether, he ended the series after becoming the second in voting for the 2019 Central League Most Valuable Player Award.
Consequently, Yamaguchi ended the season after making three starts in the 2019 Premier 12. After the 2019 WBSC Premier12, Yamaguchi announced to enter the posting system to play in Major League Baseball (MLB).
Therewith, on December 3, 2019, Yamaguchi became the first player in Giants history to be posted in the MLB.
Shun Yamaguchi | Major League Baseball
On December 28, 2019, Toronto Blue Jays signed Yamaguchi with a two-year contract worth $6.35 million.
Subsequently, now he features in the number one jersey for the team. With his entry came the press conference on January 15, 2020, closely followed by the fan meeting.
However, Yamaguchi couldn't start his gameplay right then due to the outbreak of the pandemic.
Thus, he returned to Japan on March 26 and only returned after the regular season's announcement.
Likewise, his MLB debut was not a good start that took on July 27, 2020. Advancing further, he claimed his foremost MLB victory on August 26.
To date, Yamaguchi has played 17 games in total for the team, and his statistics stand as a 2–4 record with 8.06 ERA and 26 strikeouts in 25.2 innings pitched.
"The Blue Jays are the only team that plays in Canada, not on the U.S. side; I think that makes it so much different than other teams. And Major League Baseball is the No. 1 in the world. So for me to play for Blue Jays and play the highest level baseball in the world, I think it means a lot."
-Shun Yamaguchi
Shun Yamaguchi | Playing Style and Achievements
As one of the top pitchers in Japan, Yamaguchi mostly relies on three of his top pitches: the fastball, the splitter, and the slider.
As a known fact, he is a right-handed pitcher who has had 26 strikeouts. All the pitches and throws of Yamaguchi are at 90 mph (tops out at 95 mph).
"I'm not going to change my pitching style — I'm still a [ground-ball] pitcher. I want to make sure that I get a swing from a ball instead of being a strike. Those are some of the adjustments that I want to keep making moving forward."
-Shun Yamaguchi
Although Yamaguchi has yet to earn a spot and mark his name in the MLB, he is an accomplished one in the NPB. Some of the achievements during his NPB's tenure are highlighted below.
4× NPB All-Star (2010, 2011, 2016 & 2019)
Wins leader (2019)
Strikeout leader (2019)
Best Nine Award (2019)
Net Worth
Shun Yamaguchi hasn't updated his net worth; however, he indeed makes millions. As of recently, he also signed a $6.35 million worth contract for just two years, and apart from it, he has an average annual salary of $3,175,000.
You might be interested in Joakim Soria Bio: MLB, Contract, Wife, Net Worth, ESPN>>>
Shun Yamaguchi | Personal Life
Yamaguchi is a married man and has a family of four. Apparently, he is married to the Japanese television star and actress Kaori Takagi.
As for his wife, she was born on 23 July 1985 and featured as the gravure idol.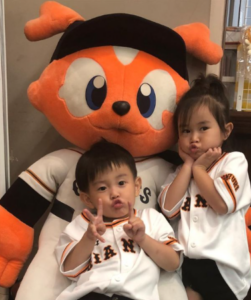 Furthermore, Takagi announced their marriage through her official blog on March 14, 2015; however, they had already taken their vows on December 25, 2014.
Later, in just a week, Takagi delivered their first child: a daughter on March 20, 2015. Within just a year, they again welcomed their son on August 20, 2016.
Controversy
In July 2017, Shun Yamaguchi was suspended from the team after a scandalous incident. According to the news, as the player was celebrating his 30th birthday in a restaurant, he got heavily drunk.
Apparently, they suspected him of damaging the restaurant doors and properties and even hit the security guard with an investigation.
After the report was received, it was claimed that the security guard had bodily injuries, including bruises to the chest and lower back.
Not to mention, it was also reported that the athlete had paid a visit to the hospital after sustaining a wound on his right hand from broken glass at a restaurant.
Following it, fans and the officials all criticized the athlete and wanted the team to take action.
Altogether, he was suddenly and unexpectedly withdrawn from a game against the Chunichi Dragons. Thus, pitcher Hayato Takagi replaced him for the position.
Social Media
FAQs
Who is Shun Yamaguchi's wife?
Shun Yamaguchi married a Japanese TV actress named Kaori Takagi on December 25, 2014.
What is the latest contract Shun Yamaguchi sign?
Shun Yamaguchi signed a contract of 6.35 million dollars for two years with the Toronto Blue Jays.
What is Shun Yamaguchi's salary?
Shun Yamaguchi's salary for 2021 is $3,175,000 and for 2019 is 230 million JPY.