Steve Stricker, a professional golfer, has been married to his wife, Nicki, for over two decades. Does Steve Stricker wife have cancer?
While there have been concerns regarding Nicki's health, it is essential to clarify that there is currently no available information suggesting that Nicki is battling cancer.
Steven Charles Stricker, an accomplished American professional golfer, actively participates in the PGA Tour and the PGA Tour Champions.
He has achieved twelve remarkable victories on the PGA Tour. It includes the prestigious WGC-Match Play title in 2001 and triumphing in two FedEx Cup playoff events.
Notably, in 2009, he claimed three victories and secured a runner-up finish on the money list, marking his most exceptional season.
Impressively, Stricker maintained a prominent presence in the golfing world, spending over 250 weeks in the top 10 of the Official World Golf Ranking and attaining a career-high world ranking of No. 2 in September 2009.
Furthermore, Stricker proudly served as the U.S. Ryder Cup team captain during the 2021 matches. He led them to victory at Whistling Straits, a moment of great significance as it took place in his home state of Wisconsin.
Steve Stricker Wife Nicki Stricker
Steve Stricker's wife, Nicki Stricker, is his occasional caddie on the PGA Tour Champions.
Formerly known as Nicki Tiziani, she changed her surname after marrying Steve in 1993.
They have two daughters, Bobbi and Izzi. Both of their children are accomplished golfers in their own right.
Nicki was a former golfer from the University of Wisconsin. She began caddying for Steve in 1994 when he joined the PGA Tour.
Nicki returned as Steve's caddie in 2001 for one year and again in 2015 when his previous caddie, Jimmy Johnson, left for Justin Thomas' bag.
Nicki's caddying has coincided with Steve's success in recent years, as she has been present for his seven PGA Tour Champions victories.
Does Steve Stricker Wife Have Cancer?
There is no available information indicating that Nicki Stricker has cancer. Assuming or making any claims about her health condition would be incorrect.
However, there might be some confusion among people regarding the illness of Carol, Jerry Kelly's wife, who is known to have kidney cancer.
Jerry Kelly is a close friend of Steve Stricker, and individuals may have mistakenly associated Carol's health situation with Nicki.
Steve Stricker Health And Illness Update
In late October 2021, Steve experienced the onset of a mysterious illness. It commenced with a sore throat and a persistent cough, leading to an antibiotic prescription.
However, his condition deteriorated, accompanied by intense side pain and a fever spiking to 103 degrees.
As a result, Stricker was admitted to the hospital two weeks before Thanksgiving. The COVID-19 report came negative so did Cancer.
The medical team at UW Health's University Hospital in Madison, Wisconsin, diagnosed him with pericarditis and an irregular heartbeat.
At one point, his heart rate surged to 160 beats per minute and remained elevated for two hours.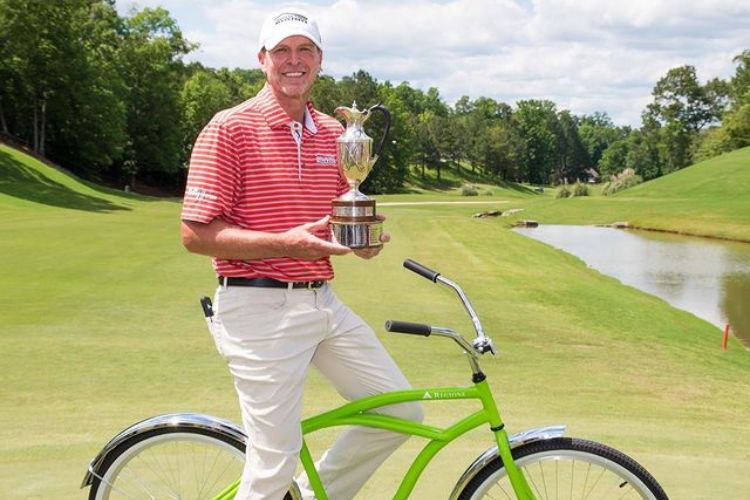 Disturbing results from his bloodwork, including abnormal white and red cell counts and liver function, posed additional concerns.
Stricker faced difficulties consuming solid food and struggled to perform basic tasks.
Despite a series of tests conducted for significant health issues such as cancers and liver problems, including a liver biopsy, the medical professionals could not ascertain the exact cause of his illness, leaving it shrouded in mystery.