Stuart Dew wife, Sarah Cumming is a journalist who has made appearances on shows like The Morning Show and Weekend Sunrise.
Sarah lives happily with her two beautiful children and her husband Stuart Dew, Australian rules football coach and former head coach of the Gold Coast Suns.
Stuart Dew made a name for himself in the Australian Football League (AFL) through his impressive career as a player with the Port Adelaide Football Club and Hawthorn Football Club.
He gained recognition for his exceptional left foot kicking ability, renowned for his remarkable long-range power.
Stuart later served as the head coach of the Gold Coast Suns in the AFL and coached rising players like Izak Rankine, Australian rules football player.
Stuart Dew Wife, Sarah Cumming
Sarah Cumming is an Australian journalist who began her career after completing her Journalism degree at the University of South Australia.
She gained experience at various media outlets, including Southern Cross Ten in Canberra, DMG Regional Radio in North Queensland, Seven News Adelaide, and Nova 91.9 Adelaide.
In 2007, Cumming moved to Sydney and joined Seven News as a reporter and fill-in weather presenter.
She also filled in for Natalie Barr on Sunrise, and in February 2010, she became the Saturday news presenter on Weekend Sunrise.
Starting from November 2010, Cumming took over as the weather presenter on Seven News Sydney, succeeding Sara Groen, an Australian actress and television presenter.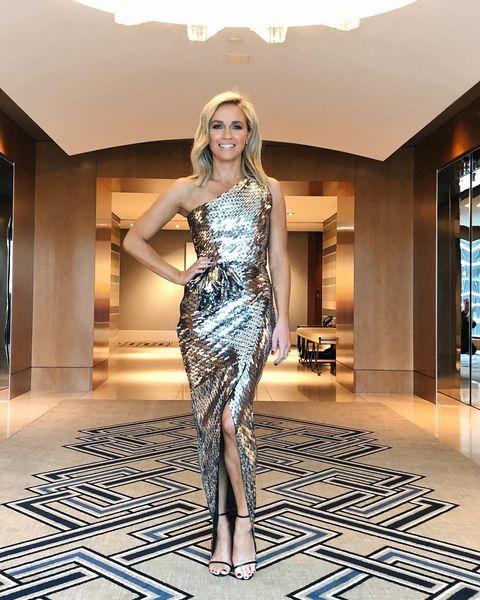 She held this position until she went on maternity leave in late 2015, during which David Brown replaced her.
After 13 years with the Seven Network, Cumming resigned in November 2017.
She has also served as a fill-in presenter on shows like The Morning Show, The Daily Edition, and Weekend Sunrise as a news presenter.
Overall, Sarah Cumming has established herself as a seasoned journalist and weather presenter with the Seven Network.
The Couple Was Blessed With Two Beautiful Kids
Cumming and Dew exchanged vows in a heartfelt beach-side ceremony in December 2013, approximately 16 months after welcoming their first child.
The couple shared the news of the pregnancy in April 2012 when Cumming was pregnant with their first child.
Their daughter, Frankie (b. August 2012), the firstborn, brought immense joy into their lives when she was born in August of the same year.
Close family and friends attended The intimate wedding ceremony, with little Frankie playing a special role as the flower girl, adding extra sweetness to the celebration.
Later she announced her second pregnancy with her husband, AFL coach Stuart Dew in June 2015.
Sarah was already showing a baby bump as she strolled through a Sydney park with Stuart and their daughter, Frankie.
Sarah revealed that she couldn't keep her pregnancy a secret as her stomach grew rapidly, even to the point where Frankie noticed and was excited about becoming a big sister.
In October 2015, Stuart Dew and Sarah Cumming welcomed their second baby, Jack Harry Dew, weighing 3.1 kg before the anticipated due month of November.
Sarah announced it through her Instagram post in his older sister Frankie's arms and captioned, "A big sister welcome for little Jack Harry Dew. "