The late Tori Bowie sister Tamara Bowie is a basketball player who has played all over the world.
Tori Bowie, who sadly passed away at the age of 32, is the holder of two world titles in Track and Field.
She has also shown her skills and abilities in the world of the Olympics; Tori Bowie is a three-time Olympic gold medalist.
Born in Sand Hill, Rankin County, Mississippi, USA; she competed in the long jump, 100m, and 200m.
The American star started her career in 2013 and made a personal record a year later.
Bowie had a personal record of 6.95 m in the long jump. Moreover, she managed to win a number of titles throughout her career.
Tori Bowie Sister Tamara Bowie
The Bowie family has been blessed by athletes in their family.
Like her sister Tori, Tamara Bowie was also an athlete. As mentioned, she is a former basketball player and played as a forward.
The two sisters were raised by their parents, Bobby Dennis and Dennis Smith, and they also seem to be very close together.
Tamara chose a completely different field to that of her late sister.
Furthermore, she managed to play in countries like Iceland, Latvia, Israel, Greece, and Bulgaria.
Her biggest achievement is when she played for WBC Neftokhimik Burgas. Bowie featured for the team during the 2010–2011 season.
Moreover, she helped the team to win the Bulgarian Women's Basketball Championship.
The forward started her career as a professional in September of 2006 when she signed for Grindavik.
Additionally, when she played college basketball, she left as Ball State Cardinals' all-time leading scorer with 2,091 career points.
The gorgeous Tamara was also honored with the Kodak/WBCA Honorable Mention All-America three times during her career.
Before Tori's passing, she had a career path and interests despite a nine-year age gap between them.
However, the reasons why she quit playing basketball are not yet known. Looking at her social media, she is currently living a happy life with her child.
Tori Bowie Death And Tribute
After the sad news of the death of the Track and Field star, many were in awe of the news.
Although her family kept quiet and mourned in private; many around the world shared their condolences.
Tori's death was confirmed by her representatives, Icon Management. US athletics star Noah Lyles responded with a tribute on his social media.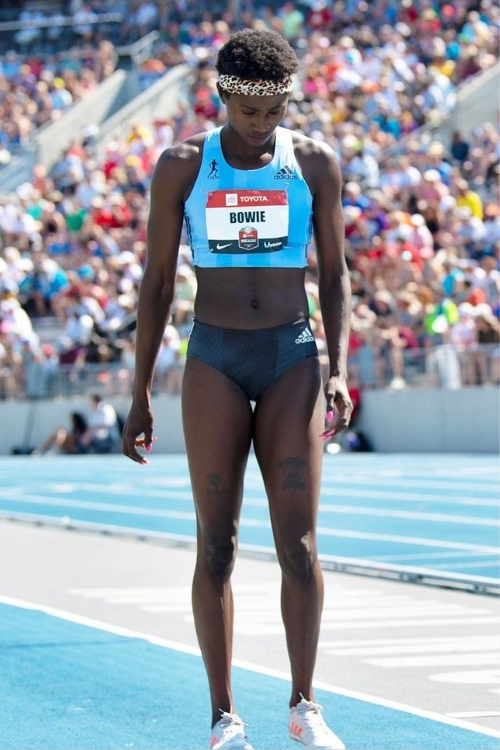 Likewise, World Athletics said it was "deeply saddened" by her death in an Instagram post.
Furthermore, Bowie's on-track rival Shelly-Ann Fraser-Pryce, was also very saddened by the news and shared her condolences.
Former Great Britain Olympic track and field athlete Jade Johnson also paid his tribute to the late long jump athlete through his Twitter.
Her cause of death has not yet been revealed, and Tori has been a big loss to this world.
The only thing known about the Track and Field star is that she was found dead at her home in Florida.