Teofimo Andres Lopez Rivera, better known as Teofimo Lopez, is an American professional boxer. Born to Latin American parents in Brooklyn, Teofimo admits he has been subjected to racial injustice since childhood.
On February 12, 2021, Lopez took to his Instagram handle to support victims of racial injustice.
In the same post, Lopez issued a message for the Asian communities, telling them to stand against rising Anti-Asian hatred in recent years.
Teofimo started training in boxing at a young age. In 2016, he made it to the Summer Olympics in Rio, representing Honduras.
Eventually, the French lightweight boxer Sofiane Oumiha knocked him out of the competition.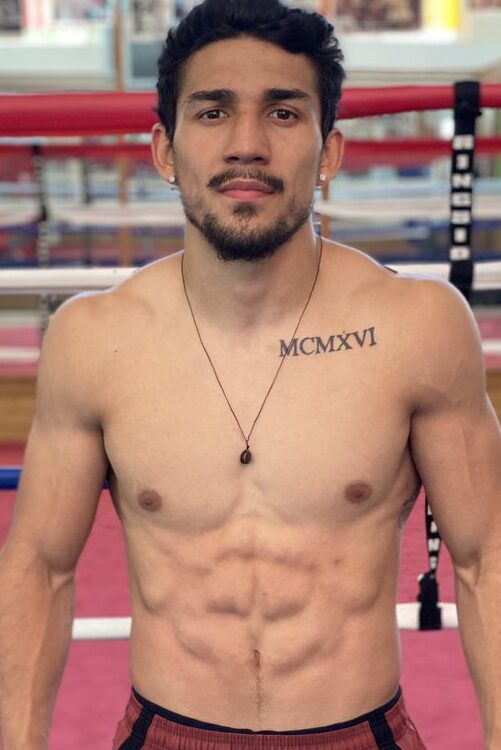 Teofimo started his professional career after his return from the unsuccessful Summer Olympics campaign in 2016.
He signed with the boxing promotional company Top Rank in October and immediately debuted in November.
After a perfect 10-0 record, he announced he was ready for the world stage in December 2018. He is currently the WBO and The Ring magazine lightweight world champion.
Parents, Teófimo And Jenny López
Teofimo Lopez was born on July 30, 1997, to his parents, Teófimo and Jenny López, in Brooklyn, New York. Originally from Spain, his family migrated to Honduras after the Second World War.
Although many of his family members still live in Honduras, his grandmother, like many Hondurans, emigrated to the United States with her children when his dad Teófimo Sr. was five.
They had moved to the States for better lives. But Teófimo Sr.'s childhood was tough.
Not only had they had difficulty paying school fees, their mother had to do many jobs to provide them with food and other basic needs. But that was insufficient.
As a result, Teofimo Sr. did not even finish high school.
To make it worse, young Teófimo Sr. became addicted to drugs at a young age, and he continued doing it even after his marriage to Teofimo Lopez's mom.
Luckily, she had a bartending job at a strip club, which somehow assisted them financially.
His mother, Jenny López, had a no different life from his dad while growing up. She was raised in a poor household in New York and did not go to college either.
Teofimo Lopez's birth gave his family a way out. Since his dad was a boxing enthusiast, he began teaching boxing to his young son when he was six.
Since Teofimo is a successful boxer, Jenny and Teófimo Sr.'s life has completely changed.
Teófimo Sr. is still active as his son's boxing coach. They have not revealed if they have any other children aside from Teofimo Lopez.
Will Teofimo Lopez Retire Anytime Soon?
With continued success since his professional debut, it is ridiculous to discuss Teofimo Lopez's retirement now. In his mid-twenties, Teofimo has lost only one fight and still has many battles to conquer.
He recently won a fight against the Scottish Josh Taylor at Hulu Theatre on June 10 in New York City.
Taylor had previously announced he would defend his WBO and The Ring light welterweight belts against Lopez in April 2023.
Following the match, Teofimo expressed joy, saying, "It's been a long time coming. We just beat the No. 1 ranked guy, the No. 1 champion, former undisputed champion."