Jerry Jeudy has an elder brother named Terry Jeudy and two sisters, Diane and Aaliyah. However, the Jeudy family lost their youngest member to a rare disease.
Jerry and his elder brother are very close to one another. They used to play football together as a child.
Moreover, Jerry used to join his elder brother for a road trip and would sit on the floor of the van.
Terry played little-league football along with the Jacksonville Jaguars wide receiver Calvin Ridley.
Jerry Jeudy is an American football wide receiver for the Denver Broncos in the NFL.
He played college football for the University of Alabama and was known for his exceptional route-running and receiving skills.
The 2018 Fred Biletnikoff Award winner was named a consensus All-American in 2018 and earned first-team All-SEC honors twice (2018, 2019).
Impressed by his performances, the Broncos drafted him as the 15th overall pick in the 2020 NFL Draft.
The wide receiver made his NFL debut against the Tennessee Titans on September 14, 2020.
Jerry Jeudy Brother, Terry Jeudy
The wide receiver, Jerry Jeudy, was born on April 24, 1999, in Deerfield Beach, Florida.
He has several known siblings, including his older brother, Terry, his older sister, Diane Constant, and his late younger sister, Aaliyah.
Terry Jeudy also played football and attended Monarch High School.
He has been a source of support for Jerry, standing by his side from the beginning of his journey to his successful NFL career.
Elder Sister: Diane Constant
Jerry Jeudy's sister, Diane, is an alumna of Florida Atlantic University. She is also the founder and chief executive officer of Constant Visage Consulting.
Previously, she held the position of executive brand manager at Jeudy Sports LLC from 2019 to 2022.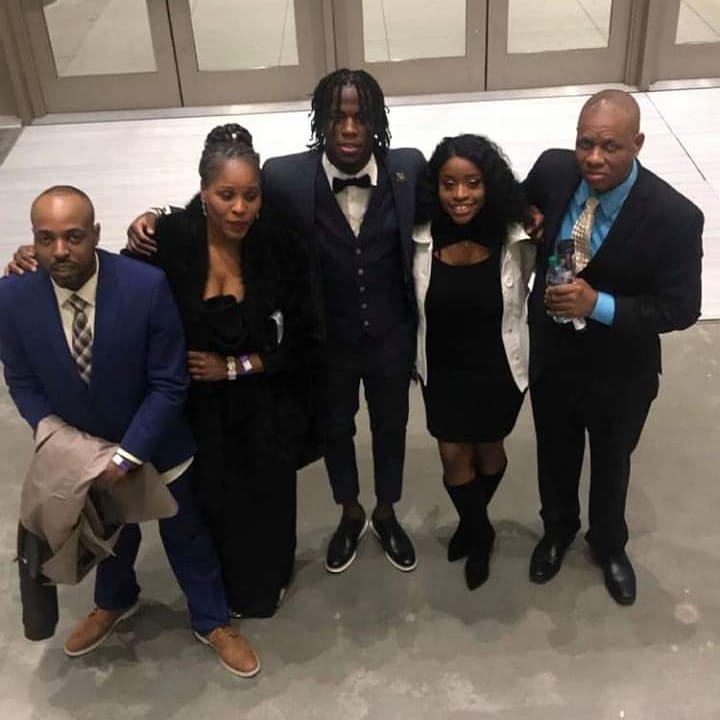 Moreover, she served as the creative director at Duconsi Extensions from November 2015 to June 2021.
Talking about her personal life, she is married to a guy named Joseph.
Late Sister, Aaliyah
Jerry's sister, Aaliyah, was born prematurely and was diagnosed with trisomy 18, a rare condition that causes severe developmental delays.
She spent several months in the hospital and eventually went home, beating the odds. The little baby had to live with tubes to help her breathe and eat.
After the Bucks (10-2) clinched the first trip to the state semifinals in nine years with a 28-21 win over Delray Beach Atlantic in the regional final, Jeudy's joy quickly turned to tears.
The miracle baby, Aaliyah, fought hard till the very end but took her last breath. Jerry was informed by his elder brother, Terry, that their beloved sister had passed away.
"I love you sis, you in a better place now," Jeudy wrote on Twitter. "I swear I'm going to make it for you and mommy. #RipAaliyah"
Jeudy Parents
Jerry's parents, Tercius and Marie, got divorced when he was young, and after the separation of his parents, he became more close to his mother.
For the first half of his life, Jerry was the baby of the family; he became his mom's little right-hand man.
This led to his siblings calling him a mama's boy. Nevertheless, Jerry never minded that and proudly stated, "I am a mama's boy,"
His mother, Marie, came to the U.S. from Haiti when she was 14, and every summer, she would take her kids back there for what Diane called "a humbling experience."