To think carefully, often we are weird, ain't we? Well, we look up to the success and overlook the person behind it.
Today, Barcelona stands as one of the greatest football clubs in the arena ever since they had their breakthrough in the early 2000s.
Often it was cited as the most successful era of the club, and indeed, it was Tito Vilanova's days.
Most of us are unaware of who Vilanova is, though he was the one who pushed the players to their prime. Sadly, he never got much exposure needed.
However, he was the hands behind the great players we see today.
Apparently, his pairing with Pep Guardiola bought immense success, and after Guardiola's departure, Vilanova took over by himself.
Indeed, football is not only a strength but a game of tactics, and sometimes, it gets chaotic.
Anyways, Vilanova had a short-lived life, yet; he was able to impact the industry.
Quick Facts:
Full Name
Francesc "Tito" Vilanova Bayó
Date of Birth
September 17, 1968
Birth Place
Bellcaire d'Empordà, Spain
Nick Name
Tito
Religion
Christianity
Nationality
Spanish
Ethnicity
Unknown
Zodiac Sign
Virgo
Date of Death
April 25, 2014 (aged 45)
Cause of Death
Complications from cancer
Death Place
Barcelona, Spain
Father's Name
Joaquim Vilanova
Mother's Name
Maria Rosa Bayo
Siblings
None
Education
Unknown
Marital Status
Married
Wife
Montse Chaure
Kids
Two children;
Daughter Carlota Vilanova
Son Adrià Vilanova
Profession
Football center midfielder
Teams played
Barcelona
Figueres
Celta
Badajoz
Mallorca
Lleida
Elche
Gramenet
Playing Career
1984-2001
Post Retirement
Coach
Teams Coached
Palafrugell
Barcelona
Coaching Career
2003-2013
Jersey Number
Unknown
Active Years
1984-2013
Net Worth
Around $5 million
Social Media
Instagram
Merch
Tito Vilanova: El presente del Braca (Spanish Edition)
Last Update
May, 2023
Tito Vilanova | Early Life
Vilanova (fully named Francesc "Tito" Vilanova Bayó) was born on September 17, 1968, was born under Virgo's sun sign.
Furthermore, his birthplace is Bellcaire d'Empordà, Spain, where he was born to Maria Rosa Bayo and Joaquim Vilanova.
Well, Vilanova used to have a concealed life and never let the inner depths of his life to the public.
Hence, there is no information regarding his academics, family background, and childhood days.
Playing Career
Vilanova commenced his gameplay early in his days through the youth ranks of local FC Barcelona.
In fact, he was on the youth team for three years until finally, he made his professional entrance.
Vilanova was with Barcelona during his senior career and stayed till 1990. Right after his breakthrough with the team, he left the La Liga giants and played for UE Figueres.
He stayed with the team for two years, and during his tenure, he led the team to the Segunda División classification, where they placed third.
In 1992, he joined the RC Celta de Vigo and was with them for three full seasons.
However, Vilanova's appearance with the Celt was very rare. Anyways, he was back to division two and featured for CD Badajoz and RCD Mallorca, playing for a season each with the team.
During his tenure, he was promoted to the top with UE Lleida, where he had scored a goal in a 1998 Copa Catalunya game against Barcelona.
Herewith, he became the first player to net against a team directed by the Portuguese.
After Lleida, he played two seasons with Elche CF and a season with UDA Gramenet. Here, Vilanova hung his boots in 2001 and thus, started as a coach.
Also, read about: <<Magic Johnson Bio: Early Life, Net Worth, Stats, Rings >>
Coaching Career
After his retirement as a player, Tito Vilanova began working with La Masia's Cadete B team in 2001. Afterward, he commenced coaching for the Tercera División side FC Palafrugell.
Apparently, Vilanova was a technical director at Terrassa FC, and after the 2004 season, he joined his friend Pep Guardiola as the assistant manager at FC Barcelona B.
During the team time, Vilanova and Guardiola were promoted to Segunda División B. Therefore, they replaced the Dutch duo Frank Rijkaard and Johan Neeskens to take over the team.
During those tenures, Vilanova gave opportunities to the deserved players from the youth team.
In fact, he had blossomed the team by providing minutes in the games for the promising athletes.
During his tenure, Tito helped players like Lionel Messi, Gerard Pique, and Cesc Fabregas to be top prospects for the club.
Likewise, Vilanova enjoyed success at Camp Nou, with the victory over six major trophies.
Not to mention, they also became the first in Spain to conquer the Copa del Rey League and UEFA Champions League titles in the same season.
As the duo had continued success, Guardiola announced his leave from the team in 2012, and Vilanova was the one to take full charge.
However, many were worried that Barcelona would not be successful as Guardiola left the team.
Therefore, it created tension among the people, but Vilanova only continued with success.
To illustrate, during his tenure, he bagged their 22nd domestic championship.
After a least one score in every game, he led the team to maintain a record margin of 15 points, totaling 100 in the process.
Learn more about Oribe Peralta Bio: Career, Awards, Net Worth, Love >>
Tito Vilanova | Achievements and Barcelona Record
Villanova, without any doubt, stood more than people's expectations. Indeed, Vilanova had a direct approach to games; however, what helped him the most was that he took every player as a star athlete.
During his coaching career, he had the rotational technique in his team to have their share of time in matches.
Additionally, for a better outcome, Vilanova had a close relationship with the players, both professionally and personally.
By the end of Vilanova's retirement, he had garnered 32 victories, four draws, and only two defeats at La Liga.
Furthermore, as a manager, Vilanova had claimed Miguel Muñoz Trophy for the 201-13 season.
Managerial Record
Have a look at Tito Vilanova's managerial record for the Barcelona team.
Team
From
To
Record

G

W

D

L

GF

GA

GD

Win %

Barcelona
July 1, 2012
July 19, 2013

45

34

6

5

121

51

+70

75.56
Tito Vilanova | Classy Handle to Controversy
As a person in the limelight, it would be no surprise to get pulled into controversial grounds.
As everyone has their processing ways to handle, Tito Vilanova also stood out for making things crystal clear.
Back in 2012, after the match of the Spanish Super Cup, Real Madrid's Jose Mourinho created controversial grounds for Vilanova.
Apparently, after the infamous eye-poke incident, the Spanish federation (RFEF) had given Jose a two-match Super Cup ban.
Furthermore, his reaction of angrily pushing Vilanova away also added another match ban. Later, during an interview with Vilanova, he stated that the past incidents were not good to discuss.
"Mourinho has already greeted me at the Bernabeu in the league, and I don't think we have a bad relationship.
What happened in that game that is still being talked about a year further on? I am tired of it.
The biggest punishment the two of us will have are the images that people will be able to see for many years."
-Tito Vilanova
Tito Vilanova | Personal Life, Wife & Death
Apart from being a professional in the sport, Vilanova was a loving husband and a father.
Indeed, he was happily married to Montse Chaure and had two children, daughter Carlota Vilanova (June 1, 1994) and son Adrià Vilanova (born on February 11, 1997).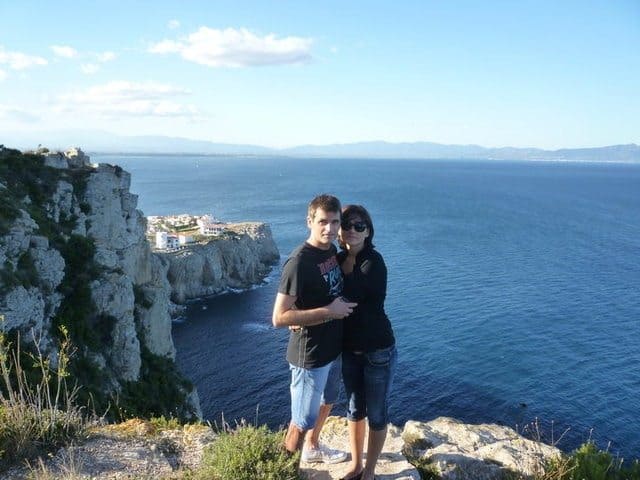 At present, his son Adria plays for the FC Andorra in jersey number five as a defender.
Moreover, Carlota Vilanova used to be in a Business school in Barcelona ESADE. Furthermore, Vilanova's wife, Montse Chaure, used to be a native Barcelona graphic designer.
Apparently, the duo met when they were just 18 years old and later got married in 1992.
Chaure was always supportive of her husband and would travel alongside him during the matches.
Although information regarding Tito Valinova's net worth ain't disclosed. However, he is expected to have a net worth of $5 million before his death.
You might be interested in reading: <<Toni Duggan Bio: Early Life, Relationship, Career, Net Worth >>
Cancer, Death, and Hommage
On November 22, 2011, Tito Vilanova first discovered his cancer in the parotid saliva gland. Therewith, he took some time off and underwent surgery to remove the tumor.
Following it, he would have a routine check-up in Barcelona. Altogether, Vilanova was back to work in just 18 days after his first surgery.
However, again on December 19, 2012, Vilanova revealed his tests portrayed the return of cancer.
Herewith, he underwent a six-week treatment of radiotherapy and chemotherapy; while at work, assistant Jordi Roura took over as head coach.
In the end, Vilanova ended up resigning from his work as a Barcelona manager with a thankful resignation letter.
Apparently, it shocked the world, and many questioned the issue, to which Vilanova had replied that his health was not compatible with a professional manager's status.
Sadly, at the age of 45, after nearly two and half years of battle with cancer, Vilanova took his last breath. Before it, on April 19, 2014, Vilanova had called Lionel Messi to his house.
As Barcelona was doing poorly at the tenure, Messi regarded changing the club.
However, Vilanova had asked Messi a favor to stay in Barcelona and help to grow it. Well, it was like a deathbed promise that Messi keeps alive to date.
On April 25, 2014, Vilanova passed away due to cancer complications after suffering a relapse the previous week. The coach stepped down from Camp Nou Stadium following his relapse on December 19, 2012.
He passed away and was buried in Spain. However, his burial site is undisclosed to respect his and his family's privacy.
Hommage
Following his passing, every star and public paid tribute to Vilanova.
"Tito loved coming here. He said it was a privilege to train the best team in the world, and he loved the players."
-Wife, Montse Chaure
Furthermore, Barcelona's training ground, Ciutat Esportiva, named its Pitch 1 Camp Tito Vilanova to honor his legacy.
Some FAQs:
What is Tito Vilanova La La Liga record?
Tito Vilanova's record in La Liga stands at 32 victories, four draws, and two defeats.
Does Tito Vilanova have a social media account?
Although the news isn't sure, Vilanova seemed to have an Instagram account.
Apparently, he goes by his real name Tito Vilanova (@titovilanovaofficial), which has 664 followers.
Furthermore, the account doesn't seem to have been uploaded since May 9, 2013.