Ferrell Edmunds, the father of NFL linebacker Tremaine Edmunds, is also a former football player himself. He was selected in Pro Bowl two times (1989 & 1990).
An alumnus of Maryland, he played a total of seven NFL seasons in the 90s with Miami Dolphins & Seattle Seahawks.
After retirement from football, Ferrell became a football coach & served at Dan River High School as its head coach. In 2019, he stepped down as the Wildcats' varsity team head coach after 11 seasons.
Besides Tremaine, he is the proud father of two other sons (Tremaine's elder brothers): Trey Edmunds, and Terrell Edmunds, who play in the NFL.
There is no denying that all of Edmunds' sons got football passion & genes from him.
Not only has he been his boys' idol but also their supporter, mentor & everything a good dad could be.
To know more about the retired athlete on a deep level, why not scroll down the article?
Quick Facts
Full Name
Ferrell Edmunds Jr.
Known As
Ferrell Edmunds
Date Of Birth
April 16, 1965
Age
58 Years Old
Birth Place
South Boston, Virginia
Father's Name
Ferrell Edmunds Sr.
Mother's Name
N/A
Siblings
N/A
Nationality
American
Ethnicity
Black
Height
6 feet 6 inches/ 1.98m/198 cm
Weight
115 Kg/ 254 lbs
High School
George Washington High School
University Name
University Of Maryland
Marital Status
Married
Wife's Name
Felicia Edmunds
Children
Three sons (Ferrell "Trey" Edmunds III, FeDerius Terrell Edmunds, and Fe'Zahn Tremaine Edmunds)
Profession

Retired Football Player
Football Head Coach

NFL Active Years
1988-1994
Draft Year
1988 NFL Draft (Round Three: 73rd Overall)
Teams Played For
Miami Dolphins (1988-1992)

Seattle Seahawks (1993-1994)

Net Worth
$1-2 Million
Social Media
None
Last Update
June 2023
Ferrell Edmunds' Family & Early Life
Edmunds was born on the 16th of April 1965 in South Boston, Virginia. He comes from a black ethnic group.
As of 2023, the former NFL player is 58 years old.
His father's name is Ferrell Edmunds Sr., though further about his parents or family background remains unknown for now.
Not much information is uncovered regarding Edmunds's childhood as he has not shared it with the public. But, most likely, the former player grew up in a sound environment.
Height & Weight
If we go back to Ferrell's playing tenure, his athletic physique proves he was meant to be an athlete. His recorded height is 6 feet and 6 inches (1.98 m).
Near in his sixties, Edmunds looks fit and fine though he is near his sixties. This proves that "Once an athlete, forever an athlete."
Likewise, the former Tight End's weight is recorded to be 254 lbs (115 kg).
High School & College Football
In 1983, Edmunds graduated from George Washington in Danville, Virginia.
Then, he went to the University of Maryland, College Park, and played as a tight end for the Maryland Terrapins from 1984 to 1987. His collegiate football career totals 1641 receiving yards for 10 receiving touchdowns.
Who Is Ferrell Edmunds' Wife?
For many years, he has been living a blissful married life with his wife, Felicia Edmunds.
As reported, the couple met back in the early 90s when Felicia was teaching at an elementary school and Ferrell played in NFL with the Dolphins.
They married in July 1994 and have been together ever since.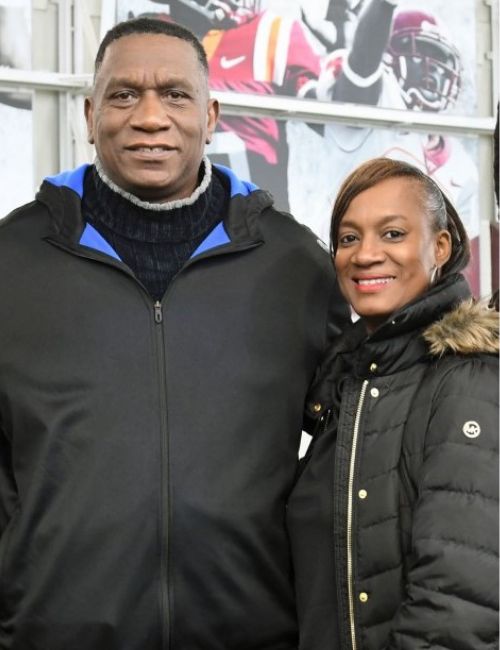 Edmund's wife, Felicia, goes by the nickname "Cookie."
As reported, she currently works as a gym teacher at G. L. H. Johnson Elementary School in Danville.
Father Of Three Sons: All Are NFL Players
With his wife Felicia, the retired NFL player-turned-coach is a proud father of three sons (Trey, Terrell & Termaine)- all of them have NFL stints like him.
Eldest Son Trey Edmunds Is A Free Agent
In the same year of his marriage (i.e. 1994), Ferrell and Felicia welcomed their first child, son Ferrell "Trey" Edmunds III, aka Trey Edmunds, on December 30, 1994.
Currently, Trey, 28, is a free agent, having played for Pittsburgh Steelers (2018-22) earlier. They waived him on July 26, 2022.
After going undrafted in the 2017 NFL Draft, he signed with New Orleans Saints and played for a season before his trade to the Steelers.
Currently, Trey Edmunds lives with his longtime girlfriend-turned-wife, Tianna D., a graduate with a Master's in Public Health.
They exchanged vows on March 12, 2022, in Miami.
Second-Eldest Terrell Edmunds
The former NFL player's second son, Terrell Edmunds (b. January 20, 1997), plays as a football safety for Pittsburgh Steelers since 2018.
Along with his younger brother Termaine, who also got drafted in 2018, are the first set of brothers who got picked in the first round of the same NFL Draft.
The 26 years old football player is currently in a relationship with his girlfriend Kayla Smith, an R&B singer and actress.
Kayla is the daughter of Kenny "The Jet" Smith, a former NBA player, and Dawn Reavis, an actress.
Youngest Son Tremaine Edmunds
Ferrell's other son Fe'Zahn Tremaine Edmunds aka Tremaine Edmunds became the first-round (16th overall pick) of the Buffalo Bills in the 2018 NFL Draft.
After playing five seasons with the Bills, he signed a four-year contract worth $72 million with Chicago Bears on March 13, 2023. The deal will run throughout the 2026-27 season.
A two-time Pro Bowl, Tremaine is an alumnus of Virginia Tech who played for three seasons from 2015 to 2017.
Career Of Ferrell Edmunds (Tremaine Edmunds' Father)
Ferrell began his career as an American footballer in 1998 when the Miami Dolphins drafted him. He played for the team as the Tight End till 1992.
Later, in 1993, Edmunds joined the NFL team Seattle Seahawks, where he showed his exceptional playing skills.
During his tenure in the National Football League, Edmunds recorded 148 receptions with an average of 1,894 receiving yards. Also, he has a record of 12 receiving touchdowns.
In addition, Ferrell was the two times Pro Bowls in the year 1989 and 1990, respectively. Also, he was a second-team All-Pro in the year 1989.
Currently, Ferrell serves as the coach by supervising the Varsity Football Program at the Dan River High School, which is located in Ringgold, Virginia.
How Rich Is Ferrell Edmunds?
The retired Tight End did achieve success in his professional career, which assisted him in earning enormous amounts of money.
As of 2023, Ferrell has a whooping worth of $5 million.
On the other hand, his first son Trey has a net worth of $1 million, which he mainly accumulated from his football career.
Similarly, Ferrell's second son Terrell's total fortune is reported to be $5 million.
Furthermore, the youngest child, Tremaine, of the retired Tight End, has also earned a massive sum of money from his playing profession. As of now, Tremaine's net worth is reported to be around $10 million.
Social Media Presence
The former American footballer is not active on any social media sites. It seems that Ferrell prefers living his life outside of social sites. But he might use it soon.
Anyway, Ferrell's sons are very active on social media platforms. His eldest, Trey, has about 88.6K followers on his Instagram handle, treyday_03.
Similarly, his middle child goes by the name rell_island6 on his Insta. And he has 189K followers as of publishing the article.
Then comes the youngest son, Tremaine, who is followed by 109K people on his gram, maine_savage23.
FAQs
What team did Ferrell Edmunds play for?
Ferrell Edmunds played as the Tight End for Miami Dolphins (1988-992) and Seattle Seahawks (1993-1994).
Where did Terrell Edmunds go to college?
Ferrell's second son, Terrell, attended Virginia Polytechnic Institute and State University, where he also played football.