A man's greatest deed is to keep his mother happy. If there is anyone who has accomplished making their mother happy, then that person is Tyquan Lewis. Tyquan Lewis is a defensive end for the Indianapolis Colts.
Being raised by a single mother alongside four other siblings, Lewis endured a difficult childhood.
Moreover, in his father's absence, Lewis had to lead the family. As his mother toiled hard to make ends meet, Lewis is a superstar NFL player today.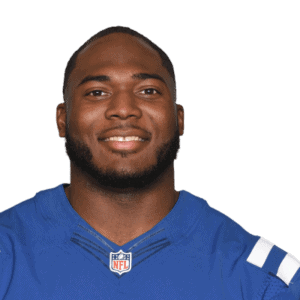 Lewis is an American professional football player who plays as a defensive tackle. Moreover, he plays for the Indianapolis Colts.
Furthermore, Lewis was awarded the Big Ten Defensive Lineman of the Year in 2016.
Today, we will explore the life, family, relationship, and net worth of Tyquan Lewis.
But first, let's take a look at some quick facts about him.
Tyquan Lewis | Quick Facts
| | |
| --- | --- |
| Full Name | Tyquan Lewis |
| Birth Date | January 30, 1995 |
| Birth Place | Tarboro, North Carolina, United States |
| Known as | Tyquan Lewis |
| Religion | Unknown |
| Nationality | American |
| Ethnicity | N/A |
| Education | Tarboro High School, Ohio State University |
| Horoscope | Aquarius |
| Father's Name | Unknown |
| Mother's Name | Tyronda Whitaker |
| Siblings | Three brothers and one sister |
| Age | 28 years old |
| Height | 6'3″/1.91m |
| Weight | 277 lb/126 kg |
| Hair Color | Black |
| Eye Color | Black |
| Body Build | Muscular |
| Marital Status | Not Married |
| Son/Daughter | None |
| Profession | American Football Player |
| Position | Defensive Tackle |
| Jersey Number (Kit Number) | 94 |
| Net Worth | $5 Million |
| Currently Plays For | The Indianapolis Colts |
| Affiliations | NFL |
| Active Since | 2018 |
| Social Media | Twitter, Instagram |
| Merch | Rookie Trading Card, Autographed Photo |
| Last Update | May, 2023 |
Who is Tyquan Lewis? Early Life, Education & Family
Tyquan Lewis was born on January 30, 1995. Moreover, he was born in Tarboro, North Carolina, United States.
Similarly, Tyquan was raised by his mother, Tyronda Whitaker. The name of Lewis's father is still unknown to this date.
Lewis grew up without a father figure in his house. Furthermore, his mother, Tyronda, raised Tyquan and three other children all by herself. Similarly, Tyquan has three younger brothers.
Growing up, Tyronda had a difficult duty to raise all four boys all by herself. As Tyquan was the oldest among the four, he would lead the family and help his mother.
To provide for the family, Tyquan's mother had to work up to three jobs at one time. Due to the big family's expenses, Tyronda poured out blood and sweat to keep the family fed.
Tarboro High School
As a student, Tyquan Lewis attended the Tarboro High School. Lewis also graduated from the high school, which is located in Edgecombe county of North Carolina.
Moreover, Lewis played high school football for the Tarboro High School football team.
Ohio State University
After high school graduation, Lewis received multiple scholarship opportunities from various universities. As he was rated as a four-star recruit, life blessed him with multiple scholarship opportunities.
Moreover, Lewis had received scholarships from Louisiana State University, the University of North Carolina, Virginia Tech, and Clemson University.
However, despite lucrative offers from all these universities, Lewis committed to Ohio State University on September 12, 2012. Moreover, his enrollment in Ohio state wasn't well-received by his mother.
Tyquan Lewis majored as a sociology student at the Ohio State University.
A Mother's Worry
Tyronda was hesitant to allow Lewis to move to Ohio State due to North Carolina and Ohio's long-distance. Tyronda was especially worried as Lewis, her firstborn, was about to leave the house.
In an interview, Tyronda revealed that she had lost 23 pounds due to the stress caused by her son's move. Moreover, Tyronda has expressed that sending her child to an unknown place was the hardest thing she ever did.
Likewise, Tyquan's nine-hour move away from home was a bold move. He was moving to a place that he or his family knew nothing about.
You might be interested in reading about Everything You Need To Know About Tom Brady's Kids! >>
How tall is Tyquan Lewis? | Age, Height & Physical Appearance
Tyquan Lewis is currently 28 years old. As Lewis was born on January 30, his star sign is Aquarius.
Likewise, an Aquarius has the characteristic of being open-minded, witty, and imaginative.
Furthermore, Lewis has an outstanding height of 6 feet and 3 inches. Also, he weighs 227 lbs.
Tyquan Lewis | Professional Career
Tarboro High School
Lewis's football career began at Tarboro High school. Moreover, Lewis led the school to multiple state championships. With Lewis's leadership, Tarboro high school had won three 2A football titles.
The Associated Press named Lewis on the North Carolina all-football team during his senior year. Lewis was a prolific player coming out of high school.
Due to his impressive plays, he was rated four-star by major recruiting services.
Ohio State University
After much convincing, Lewis finally joined to play at Ohio State University. Furthermore, he redshirted his freshman season.
Likewise, Lewis broke through in the Ohio team in his sophomore season. He paired up with teammate and quarterback Joey Bosa and played solidly.
In 2012, Lewis helped his team win the National Championship. This was Ohio's first national title in 12 years. Furthermore, Lewis massively contributed to the title win as he played 13 games in the season.
Due to his remarkable effort, Lewis was also named to the 2015 All-Big Ten Conference football team. Also, due to their victory, Lewis was awarded a national championship ring.
The outstanding Lewis went on to captain the Buckeyes and racked up sacks after sacks. Moreover, he received the award of 2016 Big Ten Conference Defensive lineman of the Year.
Likewise, he also was included in the 2016 All-Big Ten Conference Football team. Lewis also garnered 6.5 tackles for loss and five quarterback sacks.
In the Senior Bowl, Lewis had one and a half sacks, involving working with Ogbonnia Okoronkwo for a strip-sack.
Coming out of college, Lewis had maintained an impressive record as a quarterback for the Buckeyes.
College Stats
| | | | | | | | |
| --- | --- | --- | --- | --- | --- | --- | --- |
| Year | Solo | Ast | Tot | Loss | Sk | PD | FF |
| Career | 63 | 49 | 112 | 37.0 | 23.5 | 5 | 5 |
Scouting Report
Here's what the professionals had to say about his play in his NFL Combine Scouting Report.
STRENGTHS
Tyquan plays with utmost charge as a rusher and has the capacity to attain good ground up to the rush arc with his first two steps. He [plays with his knees and bend that support him to flatten to the quarterback sharply once he gets around the border.
Tyquan has that size to lessen down the rush as a defensive tackle on passing downs. He is also equipped with nice hand strength and quickness.
WEAKNESS
Tyquan is rated average as an athlete at the position. Movements are somewhat partialized, and he plays too much motion. He cannot change his feet' immediate position when asked.
Tyquan is also reported not to show speedy acceleration after his first two steps as a rusher.
Injury
while coming up and playing for his entire sophomore season, Tyquan was going through an injured labrum. The injury happened to him the last spring, and he had a surgical remedy to repair the muscle in the coming January.
Tyquan was back in the game in white shoulder pads, and eventually, the pain was gone. It was quite impressive of him to have played with the injury the whole year.
The NFL Draft
Tyquan Lewis is a cool and calm person. Just before the greatest moment of his life in the NFL Draft, Lewis stayed cool and simple.
Furthermore, just before the NFL draft began, Lewis was busy watching his younger brother play baseball.
On the day of the draft, Lewis's mother had invited friends and family to her house. However, Lewis was busy watching his younger brother play baseball. Everyone was gripped with anticipation, thrill, and excitement.
Lewis continually received well-wishes and encouragement throughout the night through texts and calls. However, everyone awaited the call regarding the NFL Draft.
Lewis, along with his family, awaited the whole night for the call. As time went on, Lewis got antsier. The draft selection was nearing the end, and so was Lewis's chance of getting selected.
Finally, there was a phone call. The phone call was from Indianapolis general manager Chris Ballard. He informs Lewis that he is going to be selected.
After Lewis announced that the Indianapolis Colts had signed him, everyone in the room became excited and joyous.
Joy and the New Journey of Tyquan Lewis
After the announcement was made, Lewis was embraced and congratulated by his family and friends.
His mother, who worked so hard for her son, was overcome with tears. Likewise, the whole house went into a party mood.
Scouting Report for Indianapolis Colts' Pick
Positives
Tyquan is an effort-pass rusher who deals with both power and leverage while attacking. Thick-bubbled lower body with a solid power base and burst. He got a superb hand technique that helps him to counter pass blockers.
Tyquan's got immense agility that he can get into the body of tackles off the snap and then use hands/length to win.
Negatives
Tyquan doesn't hold up against the run and can get pushed off his spot too easily by tackles. He cannot balance the movement of his feet.
The Indianapolis Colts
The Colts selected Lewis in the second round of the 2018 NFL Draft. Moreover, he was the 64th overall pick of the draft.
Furthermore, the Colts officially signed Lewis on May 11, 2018. Also, he was signed on a four-year deal in a contract worth $4.36 million.
Moreover, Colt received a signing bonus of $1.25 million during the time of his signing. Likewise, after signing for the Colts, he suffered a toe injury. Due to the toe injury, he was kept in the reserves.
However, now, Lewis is an active member of the Indianapolis Colts. And in week 8 of the 2020 season against the Detroit Lions, he notched two sacks on Matthew Stafford during the 41–21 win.
Besides that, the footballer is eligible to be a free agent or an unrestricted free agent at the end of 2022.
Other Professional Endeavors
Besides playing high school, college, and professional football, Lewis has also engaged in other football forms.
The American-born has played in the 2018 Senior Bowl and has also taken part in the NFL Scouting Combine.
Career Highlights and Awards
CFP national champion (2014)
Big Ten Defensive Lineman of the Year (2016)
Muthead Ratings
| | |
| --- | --- |
| 73 | 3-4 |
| 75 | 4-3 |
| 87 | Mobility |
| 81 | Pass Rush |
| 66 | Coverage |
| 78 | Run Stuff |
| 82 | Physical |
Tyquan Lewis's Personal Life
Father Figure is Coach Larry Johnson
Growing up, Lewis had no father figure in his life. Moreover, his childhood was even more difficult as his mother had to look after four other kids.
However, coach Larry Johnson played a crucial part in Lewis's life. Larry Johnson arrived at Ohio State when Lewis was a student there. There he became a father figure for the young Lewis.
Johnson would drill confidence into Lewis. Furthermore, coach Johnson pushed Lewis to new heights. Likewise, the coach also nurtured Lewis in various other aspects of life.
Due to coach Johnson's influence, Lewis has gone on to become the man he is today. It is amazing to see how a presence of a male figure can change someone's life.
Younger Brother Kenai Lewis
Lewis is a brother who leads by example. His sporting success is a huge pride for his little brothers. Furthermore, his brothers also work hard to emulate the success set by their brothers.
The younger brother, Kenai Lewis, plays high school baseball and football.
Moreover, he has revealed that it is due to his older brother Tyquan Lewis that he plays sports. Also, Kenai has revealed that Tyquan remains a super supportive brother.
You might be interested in reading about Bailey Hockman: High School, Stats, Injury, Transfer & NFL >>
Family Guy Who Enjoys Life
Tyquan Lewis loves his family and friends. During the NFL draft, he chose to come back to his home and share the moment with his family and friends. He has revealed that he loves being around his brothers.
Furthermore, Lewis has learned to enjoy life and family. He is grateful for everything he has received so far. In regards to his life and the hustle, he has said the following quote.
"I enjoy every single moment of my life, and I never take my life for granted. The whole process I enjoyed. I am never tired of it."
What is Tyquan Lewis's Net Worth? | Net Worth & Salary
So, what is the big number behind Tyquan Lewis's net worth? Don't worry. We have got you all covered up with all the details.
Lewis signed for the Colts in 2018 in a contract worth $4.3 million.
Furthermore, he has received a signing bonus of $1.25 million. Tyquan Lewis has an average annual salary of $1 million.
According to various online sources, Tyquan Lewis has a net worth of $5 million.
Is Tyquan Lewis Dating? | Girlfriend & Relationship
The relationship status of the hot prospect is still in question. To this date, there are no confirmed reports about his current romantic life. So, the question remains whether Tyquan Lewis is single or in a relationship.
However, we do know that he has had one major relationship to date. Lewis was in a relationship with Ohio State basketball player Ameryst Alston.
Alston is also an alumnus of Ohio State University and played college basketball for the Buckeyes.
Alston plays as a guard for the Chicago Sky in the WNBA. Furthermore, both Alston and Lewis were drafted as the last pick in the second round of the NFL and WNBA drafts.
Currently, there are no official reports about their breakup or split.
Likewise, Lewis hasn't publicly announced his relationship with anyone else. If Lewis is in a relationship, then it is safe to think he loves maintaining privacy.
Does Tyquan Lewis use Social Media? | Social Media Presence
Yes, the football player from North Carolina uses social media. Moreover, he is quite a popular figure in the world of social media. Tyquan Lewis uses Instagram, Twitter, and Facebook as his social media accounts.
Despite only having six posts on his Instagram profile, Lewis has a massive fan following of 28.2k followers.
Moreover, all of his Instagram posts involve his game or travel pictures. Lewis also loves posting Instagram stories more than Instagram posts.
Likewise, Lewis remains much more active on his Twitter profile. He has racked up 15.7k followers on his Twitter profile. Furthermore, he has 29,000 tweets to his name.
Lewis often tweets his thoughts about life, music, quotes, NFL, and other random things. Likewise, despite being a part of the Indianapolis Colt's team, he supports the Buckeyes.
You can follow Tyquan Lewis through the following links.
Instagram: 28.1k Followers
Twitter: 15.8k Followers
You might be interested in D' Andre Swift: Career, Stats, Net Worth & Family >>
Frequently Asked Questions
What is Tyquan Lewis's salary with the Indianapolis Colts?
Lewis receives an annual salary of $1 million.
Did Rochester, NY Police arrest Tyquan Lewis?
A man named Tyquan Lewis was arrested by the Rochester, NY, Police for the possession of gun, ammo, and drugs. However, the man is not NFL player Tyquan Lewis.
What position does Tyquan Lewis play?
Lewis used to play quarterback. However, now he plays as a defensive tackle for the Indianapolis Colts.