Manchester United slides into second place in the Premier League after Craig Dawson's own goal favored the club with a 1-0 win during 14 march's Old Trafford MAtCH.
The game was played in tight contention as both teams were vying to be in the top four.
It wasn't, however, the best of performances by United except until eight minutes after the second half. Skipper Harry Maguire frustratingly gave it off reprimanding his team to step up during the first half.
West Ham tried to do a good job. However, they didn't see what was coming.
By fluke, Craig Dawson made his own goal for United and, after that, things turned downhill.
His performance of late has been brilliant to push Hammer into the top-four. But during the second-half-start, pressured by Scott McTominay, he scored into his own net.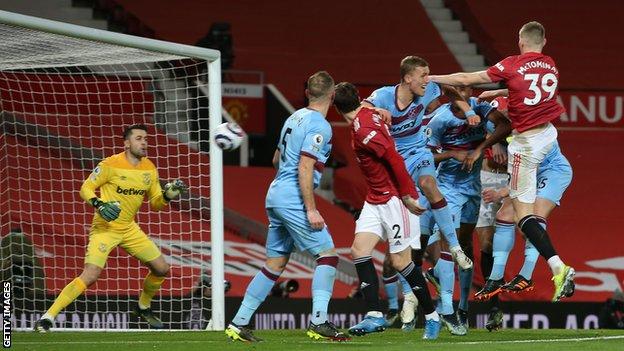 David Moyes told Sky Sports:
"I'm disappointed we lost. Parts of the game we played ok and parts we didn't. The way we set up maybe didn't quite work. Our breaks were really poor tonight.
"I've just been told it was an own goal by Dawson, I thought Scott McTominay scored it. It's one thing we've been good at this season, set pieces, defending or attacking, but tonight it wasn't our night."
United regains second place in the Premier League
United needed the score though unintended. They edged past Leicester City, who were in second place, after their victory with Sheffield United with a 5-0 home win.
Marcus Rashford's unexpected return boosted his team's spirit. He'd injured his ankle during their winning match with City last weekend but recovered to take his position upfront.
Mason Greenwood's efforts for a goal was brilliantly played out, however, to no avail.
25 minutes into the first half, he headed the ball to Rashford who disappointingly failed to grab a good opportunity.
37 minutes later, Greenwood was positioned perfectly to receive the ball from Fernandes in order to make the opening score just several minutes before the break.
However, Hammer keeper Lukasz Fabianski cleverly swerved his low shot away.
Tomas Soucek is deterred by Luke Shaw.
A point came when the West Ham were geared up and Tomas Soucek made an attempt which was stopped by Luke Shaw.
Thus, under Solskjaer, it was the first time United maintained a fourth consecutive clean sheet.
During the first half, neither teams were up to mark. The Red Devils were lackluster and careless with their passes, while the Hammers were working hard to maintain their former match performances. Both sides were goalless.
Rashford, Fernandes, and McTominays' playing capacities were not at their challenging most.
Moyes' team, despite several attempts, wasn't able to succeed in shooting on target.
Craig Dawson's own goal shifts the score balance
Only after the second half, United picked up. Uncannily, it was also a breakthrough for them.
Moyes' design for the Red Devils was to create a stronger defense in mid-field by shifting players from three to four. But United played aggressively and took the lead.
Then came the unforeseen moment. Dawson's strong ariel defense against Fernandes unintentionally headed the ball into his own net under pressure built up by McTominay.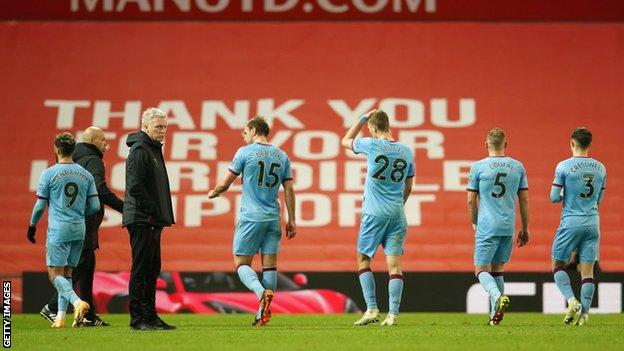 During the final 30 minutes, the Portuguese striker Fernandes made a powerful well-hit kick to the ball only to be blocked by Fabianski one-handedly from the area's edge.
And Greenwood's last attempt got derailed when his shot bounced off the base of the post invited by a fast break.
David Moyes told BBC Sport:
"We set up to try and give them some problems, in turn, what we found was Luke Shaw was a problem down the left [for us] and I had to make that situation better at half-time.
They had some counter-attack moments but I thought we had periods where we played much better.
We are upset. I'm not happy we've lost because I felt we had a chance to come here and put on a show. The players have done great and we'll go again and try and win the next one."
"We like to make it hard for ourselves." – Ole Gunnar
Ole Gunnar Solskjaer told Sky Sports: "As expected, they are always going to make it hard for you.
We could have been more comfortable towards the end as we had a few decent chances to finish it off – we like to make it hard for ourselves.
We created massive opportunities but the final pass or shot wasn't good enough.
It could have been two or three easily – but then it could have ended up in our net at the end as they are a threat.
"We know West Ham is challenging to get in the top four so it was a big result and we kept a clean sheet again."
14 points behind and nine games to play, Manchester United is all set to put up a ferocious stance in the running for the top four of the Premier league championships.
"It will certainly be a battle among the best of the best and Solskjaer's players are positioned well and ready for "may the best man [team] win."