Vlatko Cancar is a Slovenian professional basketball player playing for the Denver Nuggets in the NBA.
The player began his professional career with Petrol Olimpija in 2013 and has come a long way through.
The Denver Nuggets selected Vlatko Čančar as the 49th overall pick in the 2017 NBA Draft. He signed his rookie contract with the team in August 2019 and has played for them since then.
Cancar is known for his versatility and ability to play multiple positions on the court.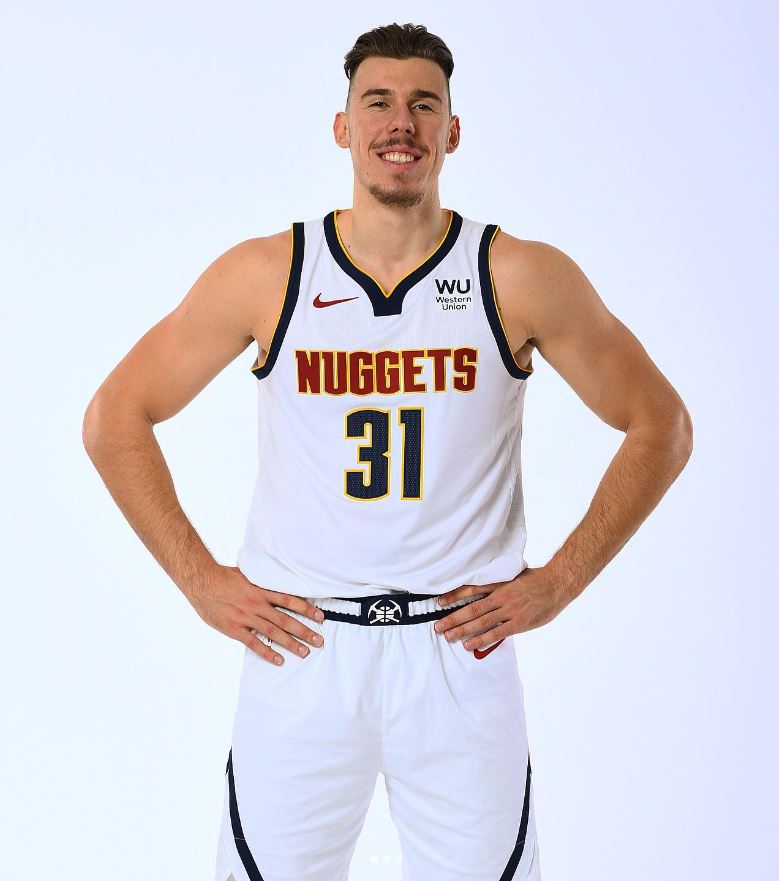 This article will delve into Vlatko Cancar, his basketball career, personal life, achievements, and prospects. But, before that, here are some quick facts!
Quick Facts
| | |
| --- | --- |
| Full Name | Vlatko Cancar |
| Date of Birth | April 10, 1997 |
| Age | 26 years old |
| Birth Place | Skopje, North Macedonia |
| Nationality | Slovenian |
| Religion | Unknown |
| Zodiac Sign | Aries |
| Chinese zodiac | Ox |
| Height | 6 feet 8 inches / 2.03 m / 203 cm |
| Weight | 210 lbs / 95 kg |
| High School | Unknown |
| University | Unknown |
| Father's Name | Ivo Cancar |
| Mother's Name | Nevena Cancar |
| Siblings | Zdenko Cancar |
| Girlfriend | Eva |
| Children | None |
| Profession | Basketball player |
| League | NBA |
| Position | Small forward |
| Team | Denver Nuggets |
| Jersey Number | 31 |
| NBA Draft | Round: 2, Pick: 49th overall, 2017 |
| Net Worth | $3-$5 Million |
| Social Media | Instagram |
| Last Update | November 2023 |
Early Life
Vlatko Cancar's parents are Ivo Cancar, a port worker, and Nevena Cancar, a cleaner. He was born in Koper, Slovenia, on April 10, 1997.
The player has a brother named Zdenko Cancar and is very close to him. This is evident from the player's frequent Instagram posts featuring Zdenko.
Age & Body Measurements
Vlatko Cancar, the NBA player from Slovenia, was born in 1997, making him 26 years old.
According to the Chinese Zodiac calendar, he was born in the year of the Ox. Likewise, his zodiac sign is Aries.
Cancar has a lean and toned physique with a height of 6 feet 8 inches (2.03 m) and weighs around 210 lbs (95 kg).
Started Playing Basketball As A Teen
Vlatko Cancar started playing basketball in his hometown when he was just 13 years old. He quickly showed promise as a talented player and was soon noticed by scouts from larger clubs.
In 2013, Cancar moved to Ljubljana to join Union Olimpija, one of the top basketball teams in Slovenia. However, he was overshadowed by other players, including Blaz Mesicek, and was not getting the playing time needed to develop his skills.
He played for LTH Castings Škofja Loka while remaining on the Olimpija team to continue growing as a player.
Despite these challenges, Vlatko continued to work hard and improve his game. He caught the attention of new manager Misko Raznatovic, who recommended that Vlatko join a Serbian team.
In 2016, he moved to Sremska Mitrovica in Serbia to play for the local team. There, he played in the Serbian League and the ABA League, the top professional basketball leagues in the region.
NBA Career
Vlatko's talent did not go unnoticed; he became the second round of the Denver Nuggets in the 2017 NBA Draft, where the top-three picks were Markelle Fultz, Lonzo Ball & Jayson Tatum.
The player became the 11th Slovenian to play in the league and quickly showed he had the skills to compete at the highest level.
Vlatko scored a career-high 14 points in May 2021. However, he suffered a foot injury in January 2022, which required surgery and sidelined him for three months.
The player returned in April 2022 and has been playing for the Nuggets since.
Representing Slovenian National Team
In addition to his NBA career, Vlatko has also played for the Slovenian national basketball team. The player first had the opportunity to represent his country in 2016 during the European Championship qualifiers.
Likewise, he was a member of the team that won the gold medal at the championship in 2017.
In recognition of his achievements, Vlatko was awarded the prestigious Bloudkova nagrada for outstanding international achievement in 2017.
Girlfriend & More On Relationship!
Vlatko Čančar, the Denver Nuggets basketball player, has shared snippets of his personal life on social media, including his girlfriend, Eva.
Eva is a 24-year-old from Croatia who graduated from the University of Virginia. Likewise, she has also earned her Master's degree from the Raymond A. Mason School of Business at William and Mary.
Eva is also a track and field athlete. She represented Croatia in the 2015 World Youth Championships and 2016 World Junior Championship.
Likewise, she set new records on the Weigh Throw during her college years. She recorded a distance of 63.61m and qualified for the NCAA East Preliminary Round in 2019.
Vlatko Cancar | Net Worth and Contract
Vlatko Cancar, the 25-year-old small forward of the Denver Nuggets, has a net worth of approximately $3-$5 Million.
The player signed a 3-year contract with the Nuggets on July 7, 2022. The contract was for $6,815,324, with $4,468,718 guaranteed and an annual average salary of $2,271,775.
For the 2022-23 season, the player will earn a base salary of $2,234,359, with a cap hit and dead cap value of $2,234,359.
In the following season, Cancar is set to earn the same base salary with a cap hit of $2,234,359 while carrying a dead cap value of $4,468,718.
Likewise, the third and final year of Cancar's contract, which includes a club option, will see him earn a base salary of $2,346,606, with a cap hit and dead cap value of $2,346,606.
Frequently Asked Questions
What jersey number is Vlatko Cancar?
Vlatko Cancar is a power forward player for the Denver Nuggets in the NBA and wears jersey number #31.
Is Vlatko Cancar married?
No, Vlatko is not yet married. However, he is in a loving relationship with a Croatian girl named Eva. The player has not disclosed any plans to get married as of now.