Waynes Barnes reportedly has a net worth of $1 million. A highly revered rugby referee, Wayne recently announced his retirement from the sport.
The 2023 Rugby World Cup was the last stint for the record-breaking English referee. Recently, Wayne and his wife, Polly, had talked about the series of abuses he received online and at the stadium while he was overseeing the final game between New Zealand and South Africa.
Earlier today, Barnes shared an Instagram post talking about bidding the sports goodbye after 20 years in it. Barnes has promised he will continue to advocate for referees and work closely with the International Ruby Match Officials Association.
During his time as a referee, Barnes is said to be one of the highest-paid rugby referees. But Barnes has always won the hearts of rugby fans with his superb referee skills that kept him at the top of his job for two decades.
Wayne Barnes Net Worth
The former international rugby union referee Wayne Barnes has a net worth of $1 million. The 44-year-old was one of the best at his work and also the highest-paid one.
Barnes is the most capped referee in international rugby history, having overseen 111 tests. He refereed at a record five World Cups. And now, the 2023 World Cup has become his last one.
It was reported by The Sun that the referees at the 2023 Rugby World Cup were set to receive $5k per game. The Englishman refereed six games, including finals, taking his total amount to $30k.
As per various websites, professional referees who have years of experience under their bag earn $200k per game. Rookie referees are said to earn $500 per match, and female referees earn $750.
The professional referees usually earn $1.5k and $4k for the main event. Barnes refereed six games even in the 2019 World Cup, and in total has officiated 27 matches in five World Cups.
Barnes has also refereed three Champions Cup finals and 26 matches in the Six Nations Tournament between 2007 and 2023. Despite, all the success he has received in his professional life, Barnes remains a humble guy.
Looking at his Instagram handle, where he has 19k followers, Barnes has kept his lifestyle simple and minimalistic. He mostly shares work-related stuff and also announced his retirement from the photo-sharing platform.
Wayne Barnes Family
The English referee tied the knot with a woman who has strong ties to the game he loves. Wayne Barnes is married to the Co-Founder and Director of the Women's Rugby Association, Polly Barnes.
The couple share two kids, Juno and Beau, who are seen at the rugby games. Polly completed her education at the University of Valencia and the University of Surrey and previously worked as an Account Manager at 3Sixty Design.
She later joined Iris, a marketing agency, in 2008 and worked there for a decade as a business director. She joined Fireball Ltd as a commercial director before joining Riskhub in 2021.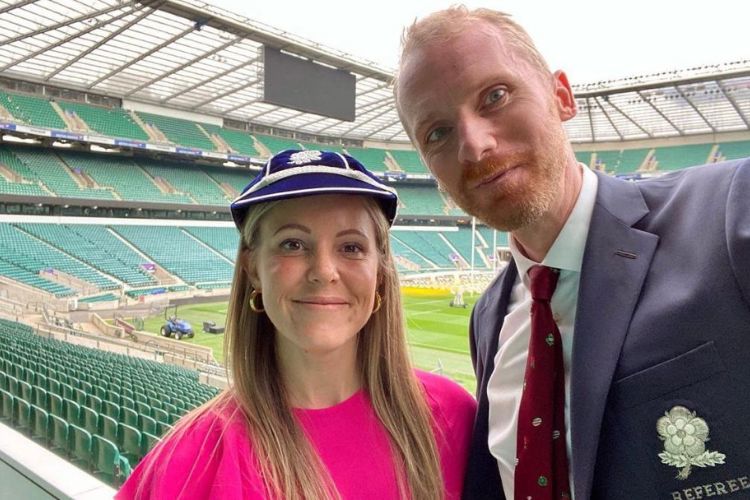 After working for two years at Fireball, Polly joined Nurture London as a Consultant commercial director and continues to work with them. In 2021, Polly became the co-founder and director of the Women's Rugby Association (WRA).
In her interview with The Times, Polly said she felt compelled to establish the new body, so she could help women's rugby players who went through many troubling situations.
Stories like that of Welsh star player Alisha Butchers, who had to ask for crowd-funding so she could pay for ankle surgery, pushed Polly to establish the body. The WRA is a separate body from the Rugby Players' Association.
Though Polly is available on Instagram, she has kept her handle private. Barnes is also the Head of New Business & Marketing at 50 Sport, a role she took up earlier this year in March.