Professional soccer player Jamal Musiala parents are Daniel Richard and Carolin Musiala. Born to parents with mixed heritage, Musiala spent his early childhood in two different countries, England and Germany.
Speaking of his soccer journey, it started when he was still a toddler. Jamal says his dad was a good soccer player, but he never played the game professionally.
Nevertheless, Daniel instilled his love for the game in Jamal while growing up. He still remembers him and his siblings playing the game with their dad outside their home.
Jamal Musiala is a German professional soccer player who plays as a winger and attacking midfielder for the Bundesliga club Bayern Munich.
Nicknamed Bambi, Musiala began his youth career training at TSV Lehren in Germany. However, he later honed his game skills by training at the facilities of famous European soccer clubs, including Chelsea and Bayern Munich.
On June 20, 2020, he debuted in the Bundesliga for Bayern, becoming the youngest player to play for the club in the league at just 17 years of age.
Aside from his club career, Jamal also represents the senior German national team in international competitions.
Jamal Musiala Parents Daniel And Carolin Musiala
Jamal Musiala was born to his parents, Daniel Richard and Carolin Musiala, on February 26, 2003, in Stuttgart, Germany. He has two younger siblings named Latisha and Jerrell in the family.
His mother, Carolin, is a German national with Polish and English roots. Similarly, his dad, Daniel, is an Englishman who belongs to the Yoruba tribe of Nigeria.
However, his parents were living in Germany at his birth. When he was two, their family migrated to Fulda, Germany, as his mom, Carolin, was pursuing a bachelor's degree in social sciences at a college there.
In 2010, his parents enrolled him in Southampton FC's youth academy after shifting to England.
Carolin, who had started her Master's at Frankfurt's Goethe University, had the opportunity to attend the University of Southampton, and the whole family moved there.
Jamal still vividly remembers his mother driving him to his training camp, which she continued until he started his senior club career later with Bayern.
Both his parents knew Jamal would make it big someday and supported him with all their hearts. Their happiness had no bounds when he was selected for England's U15 team in 2016.
Despite initially playing for the English national teams of various age groups, Jamal eventually opted to play for his mother's nation. After completing her studies in England, Carolin and the rest of the family moved back to Germany around 2016.
Three years later, Jamal joined Bayern, where he reunited with his family. At present, both his parents and his siblings reside in Germany.
Jamal Musiala's Net Worth
The Bayern Munich winger Jamal Musiala is estimated to have a net worth of around $1.2 million. According to Transfermarkt, Jamal's current market value is over $110 million.
His primary source of earnings is his professional soccer career, through which he earns over $100k per week.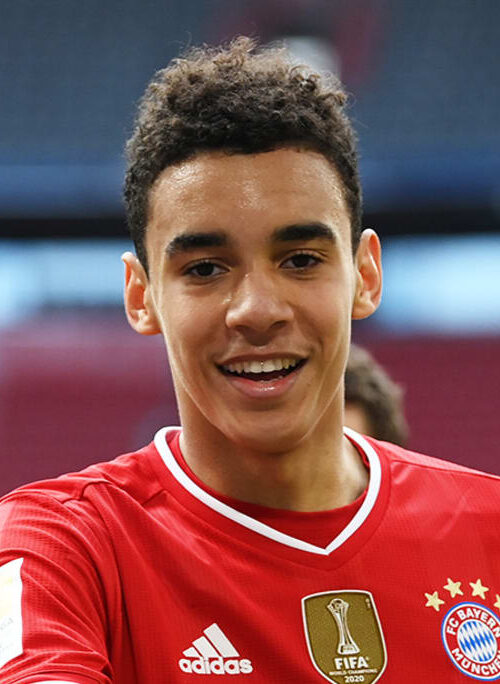 As per Capology, Jamal's annual income from his club is over $5 million.
Aside from his club career, Jamal has signed endorsement deals with various brands, including Nike, Adidas, and Audi.