An up-rising MLB figure, Alek Thomas, often shares pictures with his longtime girlfriend, Kailey McCaffrey, whom fans often mistake as his wife.
McCaffrey, an Illinois native, has been in a relationship with Thomas ever since his high school days. The year 2023 marks their eight years of togetherness.
Be it to cheer up in his games or family gatherings, Kailey is always by Alek's side. Indeed, in essence, she is already taking up the role of his wife.
Alek Thomas, the 2nd round 2018 MLB draft pick, plays for the MLB team Arizona Diamondbacks. It was after his four seasons in the minor league that he made his debut in the major league in 2022.
Aside from the MLB, he played internationally- representing the USA at the 2017 U-18 Baseball World Cup and Mexico at the 2023 World Baseball Classic.
The Tucson, Arizona-born progressed to professional baseball right out of Mount Carmel High School.
Before the Diamondbacks took him in, he was committed to Texas Christian University to play college baseball and football.
Along with his determination and talent, his parents, Allen and Marcella Thomas, played another significant role in his success.
His father is a former baseball player who worked with the White Sox for nearly three decades.
Alek Thomas Girlfriend Or Wife: Who Is Kailey McCaffrey?
McCaffrey is the longtime girlfriend of MLB player Alek Thomas. As reported, the two have been dating since November 2015, when both were high school attendants.
Unlike some rumors, they were attendees of different high schools in Illinois. Alek went to Mount Carmel High School in Chicago, while Kailey graduated from Lemont High School in Lemont.
Perhaps it was during one of the high school baseball games that the two met each other and fell in love.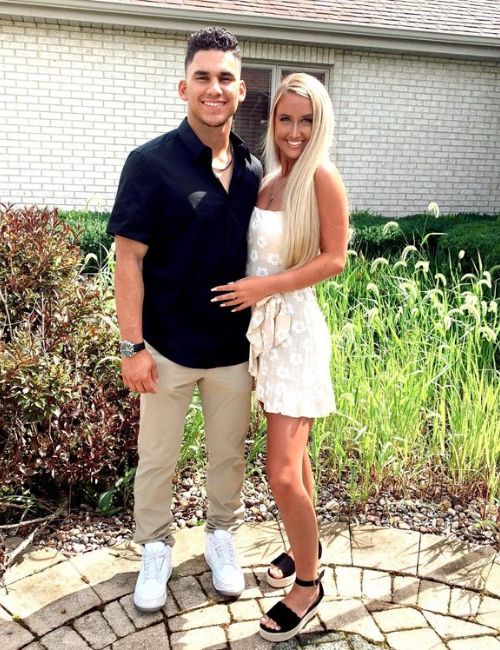 The couple is not shy to display their adoration for each other on their social media profiles- they often share pictures of each other on Instagram.
On November 8, 2018, Kailey shared an IG post on their three years of relationship and wrote, "you were worth all the prayers // happy 3 years my love."
On their 6th anniversary of the relationship, the baseball outfielder took to Instagram and shared an adorable photo with the caption, "Mi Amor, Happy 6 Year Anniversary."
Kailey frequently attends Alek's games and showcases her affection and support for his career via her posts.
The duo has yet to get engaged or disclose any plans for marriage. Fans anticipate that the wedding bells are not far!
Kailey McCaffrey Family And Education
Kailey was born on July 20, 1998, in Illinois. As of 2023, she is 25 years old, which makes her nearly two years senior to her boyfriend, Alek (b. April 28, 2000).
A devout Christian, she is the daughter of Lori McCaffrey (nee Rago) and the late Dennis Richard McCaffrey. Her father died on June 12, 2021, at the age of 53.
McCaffrey has a brother named Kyle Schwarbo, who shares a daughter named Meadow with his fiancee, Jessica Lynn. They got engaged on April 4, 2023.
Kailey completed her high school at Lemont High School in 2016. Then, she went to the University of Iowa and graduated in 2020.
As of now, her profession is not out. But it's not wrong to say she's been quite a social media influencer with more than 18.4K followers on Instagram and 220k followers on TikTok (@kaileymccaffreyy).