Alek Thomas, an American professional baseball outfielder for the Arizona Diamondbacks of Major League Baseball (MLB), was born on April 28, 2000, to his parents, Allen Thomas and Marcella Thomas.
Thomas' father, Allen, established himself as the strength and conditioning coach for the Chicago White Sox over an extensive period.
Marcella, his mother, has a deep connection to Sonora, while Thomas himself maintains familial ties in Agua Prieta, adding to the rich tapestry of his heritage.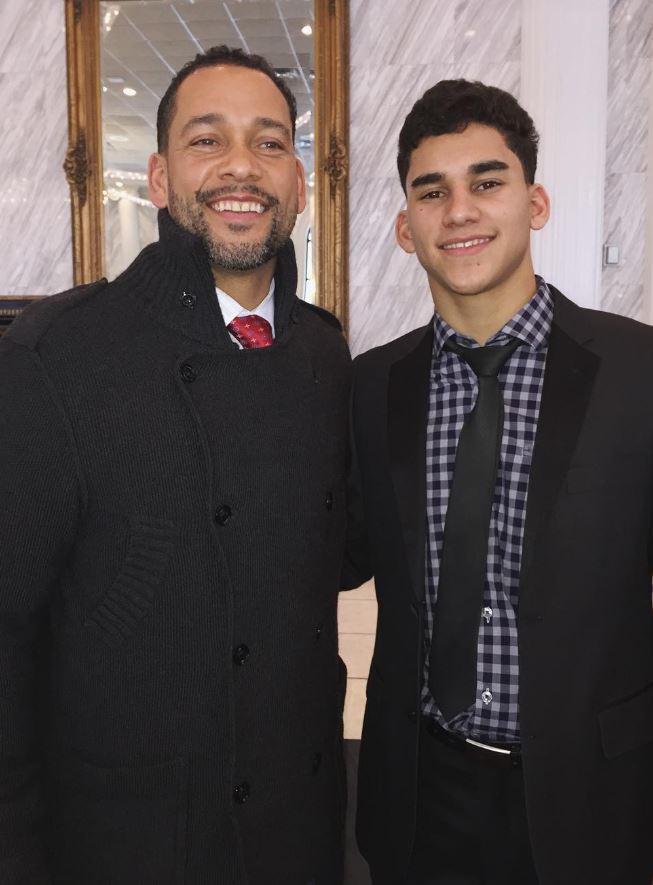 Alex's father, Allen, forged an illustrious path as both a basketball player and coach, a foundation that became the bedrock for Alex's journey in the sport.
It was under his father's nurturing guidance that Alex found his initial footing in the game.
At a mere 22 years of age, Alex is a burgeoning baseball talent, making waves as he dons the Arizona Diamondbacks uniform in the MLB, sharing the field with the likes of Madison Bumgarner.
His promising trajectory began when the Diamondbacks selected him in the 2nd round of the 2018 MLB Draft.
Alek Thomas Parents: Meet Allen Thomas and Marcella Thomas
Father Allen Thomas
Alek Thomas's father, Allen, was born on February 4, 1974, in Morgantown, North Carolina.
Allen Thomas boasts a notable history as a former American baseball player who notably represented the Chicago White Sox.
His journey with the Sox commenced when they selected him in the 45th round of the 1996 MLB Draft.
During the prime of his baseball career, Allen primarily competed in Single-A, a division within the minor league baseball system.
However, his path later transitioned towards coaching, where he made significant strides.
In 1995, Allen earned his bachelor's degree in Athletic Training from Wingate University.
His pursuit of knowledge continued as he enrolled at the SNI School of Massage and Allied Therapies, specializing in massage therapy and Sports Medicine.
His year-long training culminated in 1997, and this expertise paved the way for his entry into the Chicago White Sox organization as the head of Strength and Conditioning.
This pivotal role saw him serve the team for an impressive span of over two decades, extending until the 2021 season.
Allen's tenure with the White Sox spans over twenty-five years, and his dedication remained unwavering throughout this remarkable journey.
His impact became particularly evident during his 17-year partnership with former head athletic trainer Herm Schneider, a period marked by the team's robust health record.
Schneider eventually departed after the 2018 season.
Furthermore, Allen's LinkedIn profile indicates his transition to a role as a self-employed Professional Sports Performance Consultant and specialist.
This transition marked the continuation of his engagement with the world of sports, where his wealth of experience continues to make a meaningful impact.
Mother Marcella Thomas
Marcella Thomas, originally hailing from Douglas, Arizona, embarked on a new chapter by relocating to Chicago, Illinois, after her marriage to Allen.
As a supportive mother, Marcella nurtured her three children's growth.
Despite not having a background in athletics, her presence and steadfast encouragement became a cornerstone for Alek as he navigated his professional journey.
Marcella's guidance instilled in him the fundamental lessons and values necessary to thrive as a top athlete.
A poignant and unforgettable moment unfolded on May 8, 2022, when Alek made his inaugural appearance in the MLB.
This landmark day held an exceptional significance, not only marking his debut but also coinciding with Mother's Day, adding an extra layer of sentimentality for both mother and son.
Their connection was palpable as they shared an affectionate embrace on the field, an embodiment of their profound love and mutual appreciation.
Marcella's active presence extends to social media platforms, particularly Facebook and Twitter.
She exhibited her enthusiastic support by sharing a video from the WBC game between Mexico and Colombia in March 2023 on her Facebook page, loudly cheering for her son Alek from the spectator's standpoint.
Interestingly, while Alek was born in Chicago, Illinois, he took a unique path by representing Mexico in the 2023 World Baseball Classic.
This eligibility stems from his mother, Marcella, originating from the Mexican state of Sonora.
The decision carried personal resonance for Alek, who expressed his excitement to be part of a team featuring notable players like Jarren Duran, Randy Arozarena, and Javier Assad.
Through this representation, he further conveyed his thrill at embodying a part of his cultural heritage.