The internet is abuzz about Mikey Williams' love life rumors, with a hint suggesting a possible romance with Jocelyn Dysart.
Meanwhile, the 19-year-old is also in the news for facing trial on six felony charges for allegedly shooting at a vehicle with five people.
Despite all the controversy surrounding the Memphis star, fans are curious to know more about his personal life and current relationship status.
Michael Anthon William, born on June 26, 2004, is a basketball player for the Memphis Tigers in the American Athletic Conference. He was born in San Diego, California.
Williams had a humble beginning, playing with the guidance of his parents, Mahlon Williams and Charisse Williams, on an outdoor court in their apartment complex.
However, he made his first game dunk at the age of 12 against San Diego Sharks.
In eighth grade, Williams joined the North Coast Blue Chips, gaining attention and playing alongside Bronny James, LeBron James' son.
Williams gained a four-star recruit status in the 2023 class, receiving offers from different NCAA Division I programs. However, on November 5, 2022, he committed to the University of Memphis.
The point guard is not with the Tigers team and doesn't have access to team-related facilities.
However, he still remains on the Tigers roster, as he is waiting for the legal situation to solve.
Mikey Williams Girlfriend: Who Is Jocelyn?
Widespread rumors circulate about Mikey Williams' girlfriend, with fans speculating that he's dating someone named Jocelyn Dysart.
Jocelyn Dysart, born on June 12, 2003, in Los Angeles, California, is a TikTok content creator known for running the account under the name @jadysart19.
Dysart entertains her 223.1K TikTok followers with dance videos. It's also reported she works as an exotic dancer and bottle girl in an LA club.
In July 2023, Williams posted a photo with his rumored girlfriend, Jocelyn, on his Instagram story.
Following Williams' post, the couple have been spotted together on social media multiple times.
Similarly, Mickey's girlfriend shared a photo with the Tigers' point guard on August 28, 2023.
Furthermore, the TikTok celebrity posted a video of them together with the caption "My man," strongly hinting at their relationship.
Additionally, fan accounts of Williams have shared photos of the couple, indicating a significant bond between them.
However, it is difficult to pinpoint exactly when the couple started dating or when their relationship started.
Gun Felony Charges And Trial
Williams, who was once ranked as the number 2 player in his class, has been all over the news following a court's order to stand trial on gun charges.
According to reports, the incident took place after "several uninvited individuals" entered Williams' residence, causing a disturbance.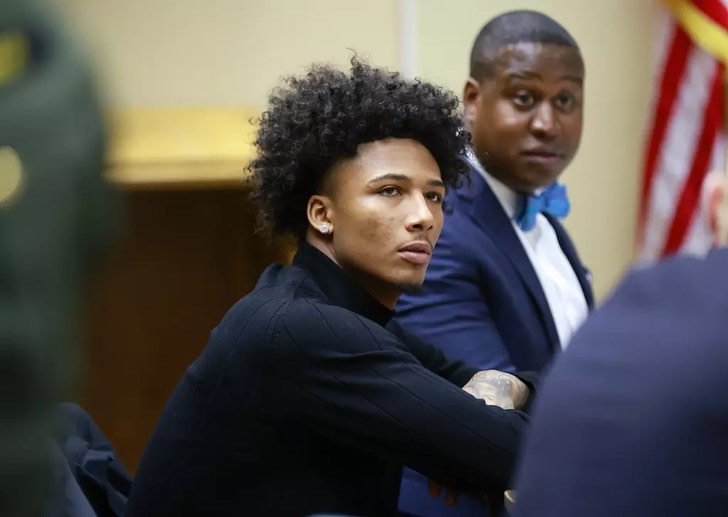 Meanwhile, Williams was released on a $50,000 bond since his initial arrest on April 13, 2023.
Following the incident, the point guard was booked with five counts of assault with a deadly weapon and one count of firing into an occupied vehicle.
Furthermore, this incident casts uncertainty on Williams' basketball career, as he might face a 30-year prison sentence after the trial.
At the moment, the 19-year-old has been taking online classes at Memphis.