Morgan Rielly's soon-to-be wife, Tessa Jane McCormick Virtue, is a retired Canadian ice dancer. Their relationship was the talk of the town before their engagement.
Morgan Frederick Rielly is a Canadian professional ice hockey defenseman. Rielly is also an alternate captain for the Toronto Maple Leafs of the National Hockey League.
The hockey player, born on March 9, 1994, was selected in the first round, fifth overall, by the Maple Leafs in the 2012 NHL Entry Draft.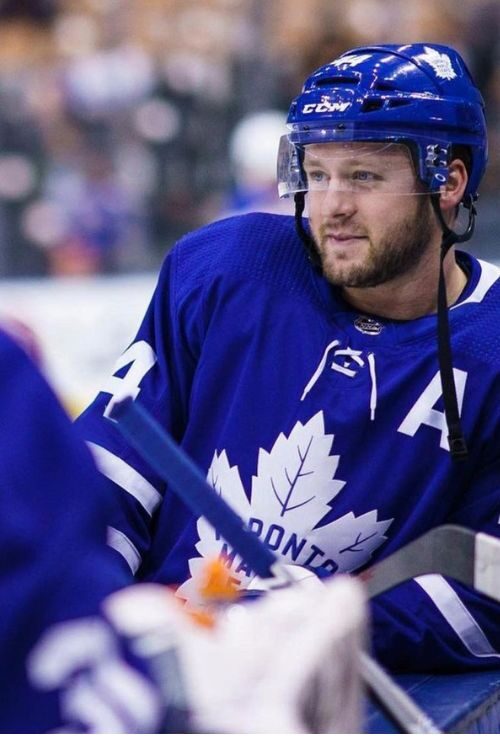 Before that, Morgan played with the Moose Jaw Warriors of the Western Hockey League. Not only that, Frederick represented Canada on various occasions internationally.
In addition to that, the player won the gold medal at the 2016 World Championship.
Since childhood, Morgan has been a fan of the Toronto Maple Leafs, and on October 29, 2021, he signed an eight-year, $60 million extension contract with the team.
Morgan Reilly Wife
Morgan Rielly's future wife, Tessa Jane McCormick Virtue, was born on May 17, 1989, and is a retired Canadian ice dancer.
Tessa has won many championships, like with her dance partner Scott Moir, who became the 2010 and 2018 Olympic champions.
In the 2014 Olympics, she was a silver medalist, and in 2010, 2012, and 2017, she was the world champion three times.
Likewise, Virtue was the Four Continents champion three times in 2008, 2012, and 2017. Equally important, she became the Canadian National Champion eight times (2008–2010, 2012–2014, 2017–2018).
She not only became the 2016–17 Grand Prix Final champion but also won the gold medal in the 2006 Junior Grand Prix.
Talking about Tessa and Morgan's relationship, the rumor about their affair started in 2019, during the pandemic.
Until the dancer posted some photos on Instagram and the player's teammate Toronto Maple Leaf star Auston Matthews confirmed their romantic relationship, there was no official confirmation.
On January 2023, they announced their engagement and surprised their fans and most of the people interested in their life.
Morgan Rielly Family
Rielly grew up with an older brother, Connor, in Vancouver, British Columbia. They were beautifully raised by her mother, Shirley, who is a cancer researcher and owns a medical company, and her father, Andy, who owns Rielly Lumber.
Morgan's paternal family is from Hamilton, Ontario. The family is a Maple Leafs fan and is of Irish descent. Being animal lovers, their family owns a lab named Maggie.
Since childhood, he has had a best friend named Jake Gardiner. Not only a teammate, but Jake was also his roommate until September 2015.
Rielly became a groomsman at Gardiner's wedding, and despite the circumstances, they have remained close.
The player doesn't share much about his personal life, which is why most of the time, when he was dating, it was a rumor.
The champion not only has a supportive family but also a supportive best friend and now a supportive fiance.
Further, talking about his kids, Morgan doesn't have any yet.