Washington Mystics guard Jacki Gemelos announced her retirement Friday, ending her injury-filled journey.
Announcing her retirement, Jacki Gemelos wrote, "Goodbye takes a hell of a lot of courage but what takes, even more, is the hello that comes next.
Basketball, you are a part of me forever. Excited to see what you bring next."
Then she thanked the WNBA, the Washington Mystics, the Chicago Sky, the Connecticut Sun, Greece, USC, St. Mary's, all her coaches & Fabrice.
Gemelos, who is just 32 years has played only 35 career WNBA games with three teams.
She made her debut in 2015 and returned to the league just last year after injury.
Her return to the league was something many thought would never happen but Gemelos never gave up.
An injury-filled inspiring journey
Before every practice and every game, Jacki Gemelos says a prayer: Please keep me safe.
The prayer gives her the strength to take the court and live her dream.
Gemelos' entire basketball journey is full of uncertainties and injuries, as she has suffered numerous knee injuries to fulfill her dream of playing in the WNBA.
Born and raised in Stockton, California, Gemelos graduated from St. Mary's High School as the most recruited player.
But she suffered five knee injuries during her high school and college career, due to which she missed many important games.
In the last game of her high school career, she suffered an ACL tear in her right knee.
It forced her to miss the famed McDonald's All-American Game and her entire freshman season at USC.
Unfortunately, Gemelos re-tore the same ACL in 2007, just before starting a redshirt freshman season.
She again tore her other ACL in 2008 in a preseason workout, due to which she missed a third straight season.
Her injuries worsen; a few months after her third ACL tear, she was forced to have a fourth reconstructive ACL surgery.
Ain't no mountain high enough for Gemelos
Despite all the injuries, she kept fighting and finally geared up for her first game in Cardinal and Gold, where she scored 8 points and a game-high 5 assists.
Gemelos finished out the 2010 season and made it through the 2011 season without major injuries. She averaged 12.4 points in her game.
After the 2011 season, she won a gold medal with Team USA at the World University Games held in Shenzhen, China.
Nine games into her sixth season at USC, Gemelos suffered the third tear in her left ACL, ending her college career.
I dream of being a WNBA player, but the wait was longer.
"It's an athlete's worst nightmare," said Gemelos of tearing an ACL. "It's such a long process."
"It takes such a long time. And every day, it's not pretty. It doesn't feel good. It hurts. You're constantly in your head about whether you're going to be the same player you were before, if it's even possible.
Can you even mentally convince yourself to get out there? For me, there was always a bigger picture. There was always that end goal.
And for me, it was to make it to the WNBA". But, that goal took longer to become fulfilled.
In the 2012 WNBA draft, the Minnesota Lynx drafted Gemelos in the third round. Gemelos signed with the team in April 2013 but was released before the regular season.
After that, she went to Europe, where she flourished. She changed her game and worked to become a strong outside shooter to prevent more injuries.
Her playstyle was then recognized and rewarded, and she went on to play Serie A! teams in Italy, Greece, and Spain.
"To be successful out there, you have to be able to shoot from the outside," Gemelos explained.
"The game is more with your mind versus quickness, speed, and athleticism. It's more thought-out and structured. It fit me really well."
Despite her success in Europe, Gemelos return to US to fulfill her only dream- to play in the WNBA.
Her journey to WNBA is the definition of "NEVER GIVE UP."
"The WNBA is the most elite level of women's basketball," Gemelos said. "It's the biggest stage."
"The top 144 players in the world. And it's been a goal of mine since I was little. In 1996 when the WNBA started, and when the Sacramento Monarchs had a team, I was at those games.
I was watching Ticha Penicheiro, Ruthie Bolton-Holifield. That was what I grew up watching, so naturally, that was a dream of mine." Gemelos added.
Her dreams to become a WNBA player made Gemelos work very hard and finally got the chance to live that dream.
She made her WNBA debut with Chicago Sky against Connecticut Sun, but after 17 games with Chicago, she returned to Europe.
Gemelos continued to show her talent overseas, made it to the Greek women's National Team in 2018, and won the Greek League's MVP Award for the 2019-20 season.
As a result, she caught the eye of Sun's head coach Curt Miller, who invited Gemelos to a very competitive training camp in May.
Originally Gemelos didn't make it, but when a prominent player Jonquel Jones opted out of the season due to COVID concerns, Gemelos invited to join the team.
On June 25, 2020, Gemelos signed a contract to play in the WNBA with the Connecticut Sun.
Despite enduring five ACL tears and eight knee surgeries over the last 15 years of her career.
Rise with the Suns & set with the Mystic
Gemelos finally debuted for the Sun on July 28, 2020, after five years of her WNBA debut with the Sky.
She scored 6 points and 1 rebound in the game and hit two three-pointers in five minutes of play.
"It was pretty incredible," said Gemelos. "Any time I play on this stage, this WNBA stage, I feel like it's where I belong.
It's where I've always belonged.
I had an unfortunate series of knee injuries that prevented me from being in the league for so many years. But it's magical.
It's the greatest league in the world. Just to be in this bubble and to be in this environment at this unique time is really special."
Gemelos appeared in six games for the Sun before waived on Aug. 17, 2020.
Two days later, the Washington Mystics signed her to a seven-day contract, and within five days, she signed for the remainder of the season.
In 12 games with the Mystics, Gemelos averaged 3.2 points, 1.4 rebounds, and 1.2 assists per game.
Gemelos averaged 4 field goal attempts per game, making 31-percent in terms of shooting.
She put up a season-high 10 points in 15 minutes on the Mystic floor against the Seattle Storm in early September. It was her best performance.
She also played her first league playoff game.
In an early September interview with ESPN's Holly Rowe, Gemelos discussed how "amazing" it was to experience her first WNBA start. "I finally got my start, my opportunity, and it was just a dream come true," Gemelos said.
Gemelos added, "I wouldn't have it any other way." I feel so blessed to be here, and I'm just soaking in every moment."
Advocacy for Black Lives Matter with the WNBA.
Jacki Gemelos and her team, the Washington Mystics, and the whole WNBA took a stand on social justice issues.
They raised their voice against racism, inequality, and police brutality.
WNBA players made a strong statement in honor of 29-year-old Jacob Blake, an unarmed Black man shot by a Kenosha, WI police seven times.
The Washington Mystics took the court in white shirts that spelled out Jacob's name on the front and had seven bullet holes on the back, representing the seven times he was shot.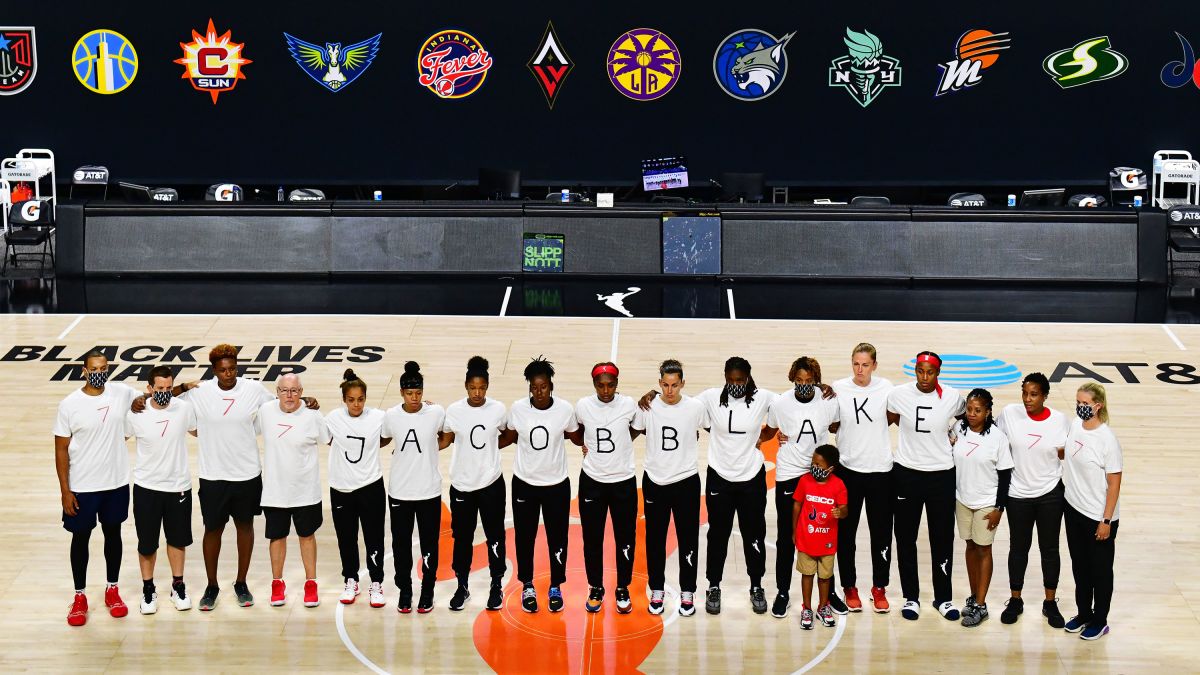 The team also boycotted a game over social justice issues and showed their support for police brutality victims.
They advocated for the Black lives matter movement.
"We thought it was our responsibility, even though we don't generate as much of a fan base and revenue and things like that.
It doesn't take away the fact that we wanted our voices heard as well," Jacki said.
"That is why we wear Breonna Taylor's name on the back of our jerseys, and that is why we have been advocating for Black Lives Matter this entire season.
And I think that differently; we took a stand, which was not to play the game, and not playing today and picking up things tomorrow.
Just making that noise and statement was important to us."
As a result of their stand on the social justice issues, she, along with the WNBA players association, received NAACP's Jackie Robinson Sports Award.
Fight on; live your dream.
Her love for the game and effort to live the dream of becoming a WNBA player was so high that the injuries that she suffered were not enough to limit her.
The courage, determination, resilience that she had, and perseverance to make her dream come true are truly inspirational.
Mystics head coach and general manager Mike Thibault nicknamed her "The Mayor of the Bubble" thanks to Gemelos for her effort.
"Jacki energized our team at a crucial point last season," Mystics head coach and general manager Mike Thibault said in a release.
"Her love of the game has always been evident.
And I am sorry that her injuries have caught up to her. Thanks for giving us your all."
A journey filled with injuries, perseverance, endurance, and determination comes to an end with a beautiful future ahead.
Her resilience, courage, determination, and never-giving-up attitude have inspired many people.
"Fight On really describes who I am, my story, and my journey," Gemelos said. "It means so much to me."
She hopes to join the coaching staff at USC- a place that taught her the Fight On spirit that pushed her forward through all the setbacks.