Zion Williamson is an American professional basketball player. He plays at the power forward position for the New Orleans Pelicans of the NBA. Zion Williamson's parents are Sharonda Sampson and Lateef Williamson. Besides, Lee Anderson is his stepfather.
Zion had impressed his colleagues and coach at Duke University playing for the Duke Blue Devils. Accordingly, the Pelicans selected him in the 2019 NBA draft.
Zion has won three state championships with his high school's senior team. Moreover, people used to recognize him as South Carolina Mr. Basketball.
Zion publicly considers his parents as the inspiration and mentor for his success. Sadly, he was separated from his biological father at an early age.
However, his stepdad had a significant contribution to polishing the talent he got in his body.
Let's shed light on Zion Williamson's parents and the star they brought up to the world.
Quick Facts about Zion
Full Name
Zion Lateef Williamson
Birth Date
July 6, 2000
Birth Place
Salisbury, North Carolina, United States
Nickname
Zion Williamson
Religion
Christianity
Nationality
American
Ethnicity
Black
Education
Spartanburg Day School

Duke University

Horoscope
Cancer
Father's Name
Lateef Williamson
Stepfather
Lee Anderson
Mother's Name
Sharonda Sampson
Age
21 Years Old
Height
6 feet 7 inches (200 cm)
Weight
129 kg (284 lbs)
Build
Athletic
Favorite Food
Spanish
Favorite Actor
Will Smith
Eye color
Dark Brown
Hair Color
Black
Profession
Basketball Player
Playing Position
Power forward
Active years (Senior Career)
2019-present (NBA)
Team
New Orleans Pelicans (2019 – present)

Duke Blue Devils (2018-2019)

Sexual Orientation
Straight
Marital Status
Unmarried (In a relationship)
Girlfriend's Name
Tiana White
Net Worth
$8 million
Salary
$10 million
Endorsements
Nike, Gatorade, Mountain Dew
Social Media
Facebook, Twitter, Instagram
Merch
Paperback, Bobblehead
Last Update
August, 2021
Zion Williamson Parents: Zion's Birth and Their Divorce
Sharonda Sampson and Lateef Williamson are Zion's biological parents. They gave birth to him on July 6, 2000. At the time, the couple was living in Salisbury, North Carolina.
Lateef played football in his school and college days. Similarly, Sharonda ran tracks at her young age at Livingstone College.
The couple attended Livingstone College. It was during the college days they first met and fell in love. After her college days, Sharonda worked as a health and physical education teacher in middle school.
However, things did not go right in the marriage life of Sharonda and Lateef. Soon the couple divorced and separated from each other when Zion was at the age of five.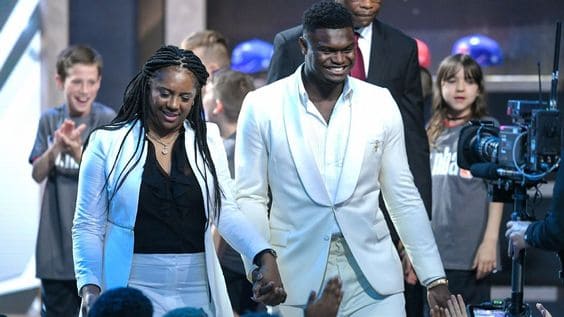 Accordingly, Zion does not remember much of his birth father. But he is really thankful to him for giving him the dawn of his life.
Also, Zion admits through his social media posts that he has only love for his real dad. However, he is not close, in particular to Lateef.
Zion Williamson Parents: Zion's Stepdad
Sharonda married Lee Anderson soon after separating from Lateef. Lee was from South Carolina. There he attended Clemson University.
Remarkably, Lee played basketball for the university's collegiate team. He played 16 games for the Tigers in three seasons from 1975 to 1978. Likewise, he had averaged a single point per game.
It was Lee who proved to be a real factor for Zion's success in the game. Also, Zion publicly acknowledges the fact.
In reality, he was not so good as a player. But he provided Zion a drive and a path in pursuing a career in the game.
Zion Williamson Parents: Zion's Early Mentors
Born from athletic parents, Zion had athletic attributes in his body and genes. However, the features cannot perform on the field unless they are polished. Only hard work can make sure the birth talents are appropriately utilized.
Similarly, Zion's parents made sure that the ability he acquired in the genes won't turn into a waste. His stepfather helped him to improve his ball-handling and point guard skills.
He was trained from day one to be a guard, that's why he is so versatile now.
Besides, Zion's mother had an outstanding role in developing him as a player. Notably, she was the first coach of his career.
Sharonda had good knowledge of shaping a physique and dietary requirements as she taught the related subjects in middle school.
Accordingly, she applied the knowledge into practice with her son.
Zion Williamson Parents: Training Routines
Sharonda and Lee started pushing Zion to his limits from his early days. Likewise, they used to wake him up at 5:30 am. Then, they used to take him to a nearby court. The hard training sessions continued until breakfast.
During his high school, Williamson made mixtapes of his wild dunks. Soon, it became an internet sensation. Likewise, a lot of people loved and shared it.
Ultimately, it reached the rapper, Drake. Pleased with the video, Drake posted a photo wearing Zion's high school jersey on Instagram. Zion was 16 years of age at that time.
This moment inflated neither Zion nor their parents. Their attention and Zion's commitment to improving never depleted even by a small fraction.
Accordingly, Zion suffered only three defeats in two years in middle school.
Zion Williamson: High School Career
As a junior at high school, Zion had an average of 36.8 points, 13 rebounds, and 2.5 blocks per game. Remarkably, his talents drew the praise of stars like Stephen Curry.
Moreover, he was included in the All-USA first team by USA Today High School Sports.
For his 2017-2018 high school season, Zion was renowned as South Carolina Mr. Basketball. Then, he joined Duke Blue Lions, where NBA star Kyrie Irving once played.
Zion Williamson: College Choice
There were several offers from 16 NCAA Division I programs. They included Clemson, Florida, South Carolina. Later, in August 2016, Duke University offered him a scholarship.
Consequently, he joined them in January 2018 after completing the senior season at high school. However, his stepfather wanted him to join Clemson.
Duke was not the first choice of his stepfather. Notably, Williamson scored 28 points in his first seasonal game for Duke. Also, he became ACCC Freshman of the Week on several occasions during those times.
Besides, he was the season's Rookie of the Year and the Player of the Year.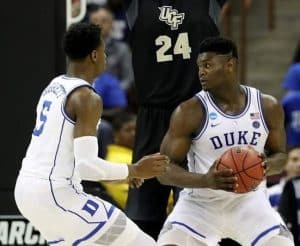 The Duke won ACC Championship with a 73-63 score against the Florida State in 2019. Notably, Zion was named the Most Valuable Player of the match after scoring 21 points.
Later, he played in the 2019 NCAA Tournament with the debut on March 22. Overall, he averaged 22.6 points, 8.9 rebounds, and 1.8 blocks per game.
Zion Williamson: Draft Selections and NBA Career
Zion's stepfather Anderson wanted him to sign for the New Orleans Pelicans in the 2019 NBA draft.
Accordingly, the Pelicans drafted him in the first pick. His debut in NBA came in January 2021. It was against the San Antonio Spurs.
Actually, he scored 22 points and seven rebounds in the 18-minute appearance. Similarly, Zion scored a minimum of 20 in ten consecutive games. Accordingly, he is the first teenager in NBA history to do so.
Zion Williamson Parents: Net worth
Zion's mother works for a middle school. She teaches health and physical education. Also, Lee is just a personal mentor to Zion.
Therefore, their exact net worth remains unclear. Likewise, their economic status can be estimated by linking it with Zion's earnings.
Zion Williamson's net worth as of 2021 is around $8 million.
Zion had signed for the New Orleans Pelicans with about $44.2 million for a four-year contract. Moreover, the average salary of the rookie in 2021 is $10 million.
Besides, he has a sneaker endorsement deal with Nike. According to reports, the deal is worth $75 million for five years. In contrast, Lebron James had a $12.4 million per year contract in his first deal with Nike.
Thus, it is clearly seen that Zion is providing a prosperous life for his parents. They had held his hands when he knew nothing about the game.
As a result, they are now beginning to enjoy the fruit of all those commitments and hard works.
For more information, read this article: Zion Williamson Net Worth | Brand Endorsements & Car >>
Current Relation with his Parents
To emphasize, Zion is known for being a mama's boy. Likewise, his relation with his mom has never downgraded by even a small amount.
Besides, he hangs out with his mom whenever he gets time to do so. Moreover, Zion watches cartoons with his mom whenever he visits her.
When we get time alone he'll come over and we'll watch the cartoon called Naruto.
Similarly, Zion admits he cried in his mom's arms when he injured himself against North Carolina. Then, she held her tight and consoled him.
At the same time, his stepfather stands right next to the court during Zion's games. He cheers and drives Zion during the game.
Likewise, Lee is seen celebrating every point Zion earns.
Identically, he has nothing else but love and remembrance for this biological father. Lateef resides in Darlington, South Carolina, as per his Facebook profile. Zion posted a photo on Instagram, where he had appreciated both of his father.
Zion Williamson Parents: Social Media Presence
Neither of Zion's parents are active on any of the social media platforms. We found only the Facebook accounts of Sharonda and Lateef. However, those accounts seem as if they have not been active for years.
Sharonda Sampson Facebook: 419 friends
Lateef Williamson Facebook: 1,201 followers
In the meantime, you can also check out the social media profiles Zion. He is active on Facebook, Instagram, and Twitter.
Zion Williamson Facebook: 228,525 followers
Twitter Zion Williamson: 474,000 followers
Zion Williamson Instagram: 5.1 million followers
Commonly Asked Queries
Why did Zion Williamson's parents name him Zion?
Zion Williamson's parents wanted an "extra special" name for their lad. Likewise, they found the words "Mount Zion." It is one of the giant mountains located in Jerusalem.
Accordingly, they choose the name for him. As of now, Zion has built a big career as per his name.
Do Zion Williamson's parents have other children?
Sharonda and Lee gave birth to a boy, Noah. Noah is 13 years younger than Zion. After all, Zion says he loves his stepbrother and always looks out for him.
In fact, they play basketball together sometimes.
Noah caught up the media's attention during an AAU game. He was seen sleeping in his father's arm as Lee was coaching.