A professional basketball player for the Brooklyn Nets of the National Basketball Association, Kyrie Andrew Irving is an American. In the 2011 NBA draft, the Cleveland Cavaliers selected him with the first pick overall and named him Rookie of the Year. He currently plays for the Brooklyn Nets of the NBA.
However, on November 3, 2022, he got suspended by the Brooklyn Nets, saying they were dismayed by his failure to "unequivocally say he has no antisemitic beliefs."
The Brooklyn Nets have said to suspend Kyrie Irving for at least five games without pay.
Kyrie Irving from Australia, who dreamt of playing in the NBA once, has a net worth amounting to $90 million at the moment.
But his road to the NBA was not as easy feat achieve as many would expect. Sometimes we need more than passion and dedication to get what we want. And Kyrie Irving has successfully grabbed them.
Looking at him, many would believe Irving to be a smart man. However, his statement about the flat Earth shocked many of his fans, including us.
So, what's the story behind it, and how much do you guys know about him?
Kyrie Irving | Quick Facts
| | |
| --- | --- |
| Full Name | Kyrie Andrew Irving |
| Birth Date | March 23, 1992 |
| Birth Place | Melbourne, Australia |
| Nick Name | Mr. 4th Quarter, Uncle Drew, Kyriediculous, Kyrazzle-Dazzle, Ankletaker, Mr. Overtime, Flat-Earth |
| Jersey Num | 11 |
| Nationality | Australian-American |
| Ethnicity | African-American |
| Education | Duke University |
| Horoscope | Aries |
| Father's Name | Drederick Irving |
| Mother's Name | Elizabeth Irving |
| Siblings | Two sisters; Asia and London |
| Age | 31 Years Old |
| Height | 6 feet 3 inches / 190 cm /1.90 m |
| Weight | 89 kgs / 195 lbs |
| Shoe Size | Updating soon |
| Hair Color | Black |
| Eye Color | Black |
| Body Measurement | Athletic |
| Profession | Basketball Player |
| League | NBA |
| Current Team | Brooklyn Nets |
| Position | Point Guard |
| NBA Draft | 2011 (Cleveland Cavaliers) |
| Active years | 2011-present |
| Net Worth | $90 million |
| Marital Status | In Relationship (Marlene Wilkerson) |
| Social Media | Instagram, Twitter |
| Merch | Posters, Jersey, Boots, Rookie Card |
| Last Update | June, 2023 |
Kyrie Irving Controversy | Suspension from Brooklyn Nets
On November 3, Kyrie Irving was suspended by his team, the Brooklyn Nets, for "recklessly posting the link to a film containing deeply offensive antisemitic material."
The Brooklyn Nets believe Kyrie Irving is "currently unfit to be associated with the Brooklyn Nets."
Statement from the Brooklyn Nets pic.twitter.com/699px8XYpx

— Brooklyn Nets (@BrooklynNets) November 4, 2022
Following his suspension by the Nets, Kyrie Irving apologized on Instagram for a social media post last week about a book and movie that contained antisemitic tropes.
In response to that, Kyrie shared the post, which you can read completely, as attached below:
He wrote, "To All Jewish families and Communities that are hurt and affected by my post, I am deeply sorry to have caused you pain, and I apologize. "
In addition, he concluded his apology with the lines, "I am no different than any other human being. I am a seeker of truth and knowledge, and I know who I Am."
Kyrie Irving's Net Worth And Salary – How Much Does He Earn In a Year?
Kyrie Irving's Net Worth
Being an NBA player playing for a professional team is not a dream that many can turn into reality.
It makes Kyrie even more admiral than before. With that being said, Irving is paid handsomely for his contribution to his team. So, the question arises, how much does he make?
The Australian-American basketball player Kyrie Irving has a net worth of $90 million for starters.
His total revenue comes from his career as a player and other ventures such as commercials and brand endorsements.
Endorsements And Contracts
Similarly, the famed player has starred in many Pepsi Max commercials and has often played the character of "Uncle Drew." Not to mention he also directed one of these commercials.
Besides Pepsi, Irving has endorsement deals with other brands, Skullcandy and Nike being the major ones.
Irving has a shoe deal worth $11 million with Nike alone, where Kyrie's signature shoes are among the best-selling Nike shoes.
The young star also earned around $36 million from salary and endorsements between June 2017 and June 2018 alone.
The revenue increased in the following years to $43 million in 2019 and $40 million in 2020.
Moreover, Kyrie's contract is impressive too. In 2014, he signed a five-year contract with the Cavs worth $94 million.
In 2019, he signed a four-year deal with the Brooklyn Nets, amounting to a jaw-dropping $141 million.
What Is Kyrie Irving's Real Name? What Is His Nationality?- Bio
Kyrie Irving, a professional NBA player, was born Kyrie Andrew Irving to his parents in Melbourne, Australia.
He is the son of Frederick and Elizabeth Ann Irving, American ex-pats and Shetellia Irving's stepson.
Irving's mom died when he was just four years old, leaving his father to raise them alone with the help of Irving's aunts.
Likewise, Irving is Australian-born and possesses dual American and Australian citizenship.
His ethnicity is African-American, and others like Lakota (Oglala, Hunkpapa, Sihasapa) and French-Canadian, Irish, Scottish, Welsh, and English.
Did you know Kyrie's Lakota name is Hela, meaning "Little Mountain"?
Besides his parents, Irving has an older sister named Asia and a younger sister named London.
Similarly, his father, Drederick, was a basketball player at Boston University alongside Shawn Teague.
Before relocating to the states, his family lived in the Melbourne suburb of Kew. At that time, Irving was just two years old.
Kyrie Irving | Childhood and Education
Inspired by his father, Kyrie always attended his father's games while growing up in West Orange, New Jersey.
However, the Continental Airlines Arena game in fourth grade inspired him to push forward and play in the NBA.
Because of his father, young Kyrie spent a lot of time playing in Boston, including during their basketball skills camp.
But don't be mistaken. Kyrie did not attend college at Boston University in any way.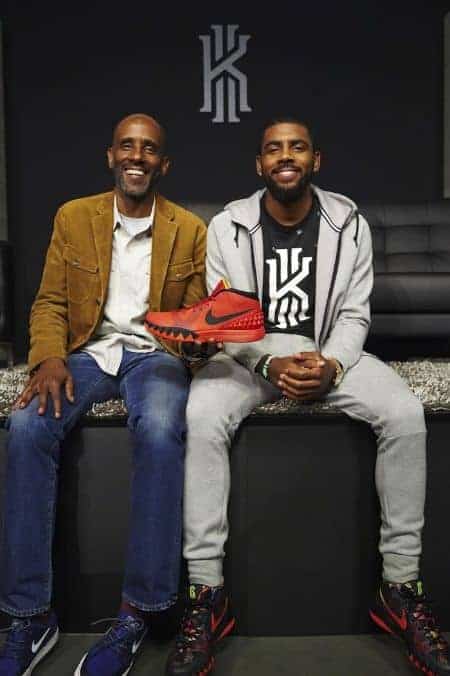 During his freshman and sophomore years, Kyrie attended Montclair Kimberley Academy and later transferred to St. Patrick High School as he felt the need for a more significant challenge.
Moreover, during his college years, 'Mr. 4th Quarter' went to Duke University and even played for the teams since October 22, 2009.
During the basketball season from 2010-11, he played with the Blue Devils.
Kyrie was a strong contender for NCAA Freshman year until his ligament injury during the ninth season. Not to mention, it also affected his points.
Age and Body Measurements – What Is Kyrie Irving's Height in Feet?
Mr. 4th Quarter or Flat-Earth, Kyrie has earned many names from his fans. Nonetheless, this hardworking gentleman was born in the year 1992, making him 31 years as of 2023.
Yes, Kyrie Irving, whose net worth alone amounts to $90 million, is just in his 20s.
Similarly, Irving celebrates his birthday every year on March 23 under Aries' sign. Also, this sign is known for being fierce, confident, and oozing charisma and aura.
True to that, it is not only his personality that catches the attention; his broad physique is an art of its own.
At 1.90 m, the Brooklyn Nets point guard weighs 195 lbs.
The Aussie-born player has black hair, facial hair, and black eyes that give him an intimidating aura.
Kyrie Irving | Basketball Career
NBA Draft, NBA Champion, And 2016 Olympic
Kyrie Irving's basketball career started when he vowed to play in the NBA during his fourth grade.
Since then, the player has persevered and worked through pains and injury. As the years passed, Kyrie began gaining attention for his gameplay.
During his years at Duke University, he averaged 17.4 points per game on 53.2% shooting within the first eight games, along with 5.1 assists, 3.8 rebounds, and 1.5 steals.
Likewise, Irving entered the 2011 NBA draft and was picked by the Cleveland Cavaliers and his teammate Tristan Thompson.
The following year, he earned the season's 2012 NBA Rookie of the Year Award.
That same year, he heated the debate as Irving was given a position on the Australian team for the 2012 Olympics.
However, the player refused to represent Australia and wished to join the U.S. National Team in the 2016 Olympics.
Despite his injury in the 2012-2013 season, Kyrie became the youngest player in NBA history to score 40 points in the Madison Square Grade.
His next season's performance was remarkable, where he recorded his first career triple-double with 21 points, 12 assists, and ten rebounds.
In 2014, he fulfilled his dream of playing for the U.S. national team by representing them in the FIBA Basketball World Cup.
Their team even emerged victorious, where Kyrie was awarded the 2014 USA Basketball Male Athlete of the Year.
He also did the same thing in 2016 and helped win the team gold medal. Not to mention, Kyrie ended up as the fourth member of Team USA to get both the NBA Championship and an Olympic Gold that same year.
Moreover, his 2015-16 season performance was phenomenal, which helped his team win the 2016 NBA Championship' defeating the Golden State Warriors in the finals.
Boston Celtics And Brooklyn Nets
The point guard requested a trade from the Cavaliers as he wanted to shine as himself rather than play alongside LeBron James.
So, the Cavs traded him to the Boston Celtics, where he played for two NBA seasons.
Surely, in a different team, he found his spotlight. Moreover, fans, media, and NBA officials finally recognized and appreciated his abilities and skills.
Shortly after that, Irving helped the Celtics defeat the San Antonio Spurs for the first time since 2011. Likewise, he took the Boston team to the NBA playoffs in his next season with them.
Following the end of his contract with the Celtics, he joined the Nets as a free agent. As a Nets shooting guard, he scored 50 points in a loss against the Milwaukee Bucks in his debut game.
Furthermore, he became the first NBA player to score 50 or more points in his debut game with a team. However, he missed several games because of injuries.
Achievements and Highlights
2016 NBA champion With the Cleveland Cavaliers
Seen-time NBA All-Star from 2013 to 2015, 2017 to 2019, and 2021
NBA All-Star Game MVP in the year 2014
All-NBA Second Team in the year 2019
2015 All-NBA Third Team
2012 NBA Rookie of the Year
NBA All-Rookie First Team in the year 2012
NBA Three-Point Contest champion in the year 2013
2014 USA Basketball Male Athlete of the Year
FIBA World Cup MVP in the year 2014
First-team Parade All-American in the year 2010
Kyrie Irving | Injury Updates
During the 2012-2013 NBA season, the basketballer broke his right hand after reportedly slapping it against a padded wall.
In a game against the Dallas Mavericks, he injured his index finger, forcing him to sit out for three weeks.
Furthermore, the athlete had to wear a face mask while playing to protect a broken bone in his face. Besides, he suffered a knee injury while playing in the 2014-15 NBA playoffs.
Later, he sustained a fractured left kneecap that required serious medical attention and surgery. As a result, the shooting guard wasn't allowed to play for three to four months.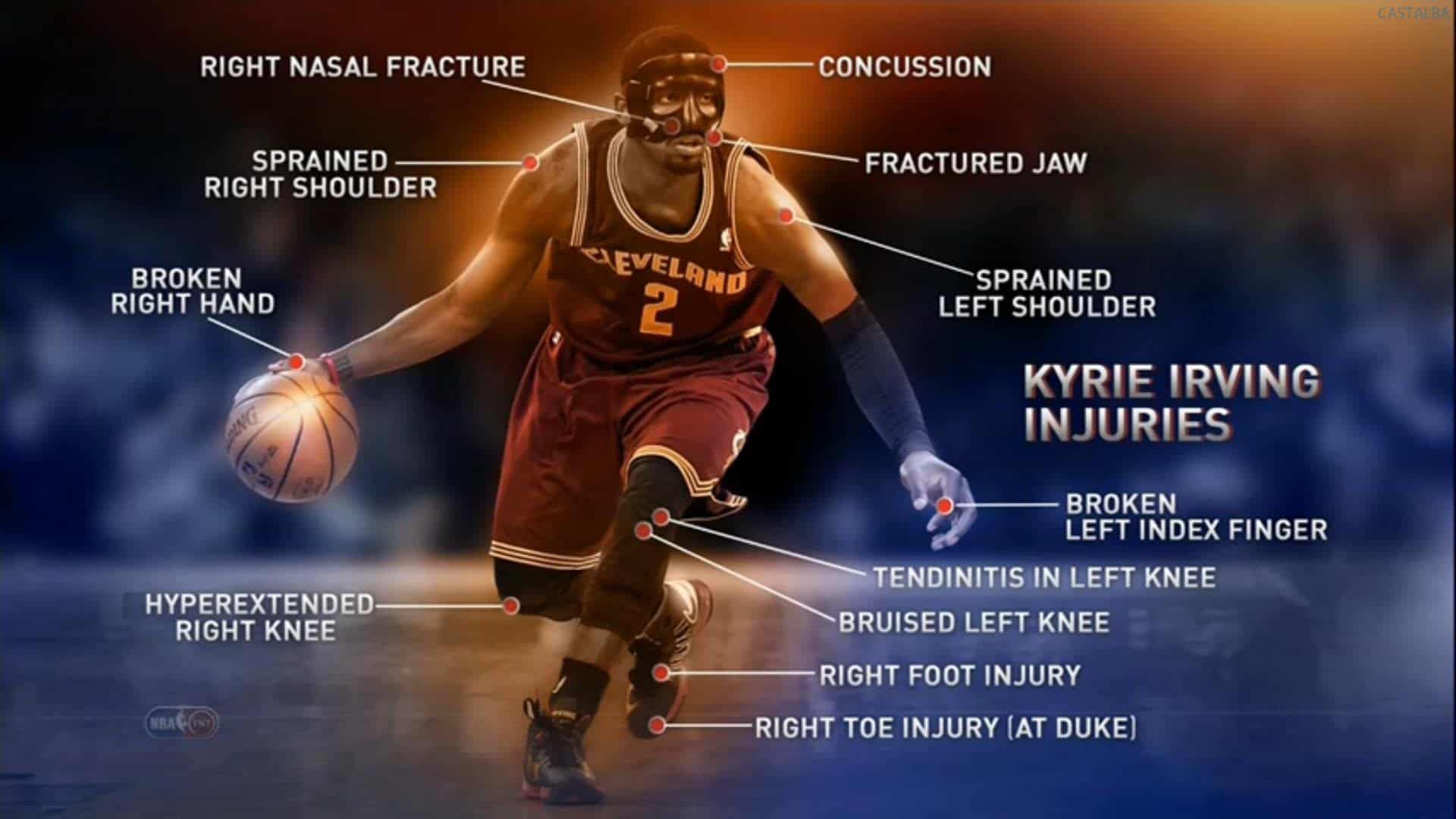 Initially, he was set to miss a few weeks while playing for the Celtics to undergo a minimally invasive procedure. He had a tension wire removed from his left knee.
However, he underwent another procedure where the doctors detached two screws from his patella.
Hence, the Boston Celtics revealed that he would miss four to five months to recover and heal.
While playing for the Nets, Kyrie struggled with a shoulder injury that led him to miss 26 games.
Subsequently, he required surgery on his injured shoulder, which resulted in him missing the season.
Kyrie Irving | Career Stats
| | | | | | | | | | | | |
| --- | --- | --- | --- | --- | --- | --- | --- | --- | --- | --- | --- |
| Year | GP | GS | MPG | FG% | 3P% | FT% | RPG | APG | SPG | BPG | PPG |
| Career | 528 | 528 | 33.8 | .466 | .390 | .877 | 3.7 | 5.7 | 1.3 | .4 | 22.4 |
| All-Star | 6 | 4 | 25.3 | .571 | .457 | 1.000 | 6.2 | 8.7 | .8 | .2 | 17.5 |
Kyrie Irving | Shocking Flat Earth Theory
Earth is not flat but round; end of discussion. Numerous facts and proofs have been gathered for the very purpose of backing up this theory.
However, some believe it is false and that the Earth is flat.
Now, obviously, from the viewpoint of the 21st Century, the thought alone is enough to make people cringe.
Surprisingly, no one expected Kyrie Irving to be one of them. Yes, the millionaire shocked everyone when he pointed out that the Earth is flat.
The statement was made in February 2017 when the young NBA player appeared on his teammates' podcast "Road Trippin."
He insisted that the Earth is flat, and "many powerful people were controlling the flow of information to convince the masses otherwise."
Nonetheless, the comments caught wildfire online, and many began questioning his sanity.
Still, no one can believe this is the same man, Kyrie Irving, earning a $90 million net worth.
The issue was so huge that even Neil deGrasse Tyson, a famous astrophysicist, pitched into the matter. He said,
"We live in a free country, so you ought to be able to think and say whatever you want. If he wants to think the Earth is flat, go right ahead–as long as he continues to play basketball and not become head of any space agencies."
Neil deGrasse Tyson responds to Kyrie Irving's flat earth claims https://t.co/FN2qkh4Ain pic.twitter.com/mFxJVnMtws

— Rolling Stone (@RollingStone) February 24, 2017

Furthermore, he also explained to people not to believe everything blindly and think for themselves.
Kyrie Irving | Shoes and 'How Uncle Drew Came to Be.'
It is no secret that Kyrie is endorsed by one of the famous shoe brands, Nike. When he entered his fourth NBA season, Nike gave his signature shoes, the Kyrie 1, in December 2014.
Likewise, the athlete took the opportunity to express himself with his footwear over the years.
Since joining the Celtics, the 31-year-old has worn many versions of his shoes, one being a clover-covered toecap and the special-edition "mom" shoes.
Besides that, Irving is also known for Pepsi Max's endorsements, where he debuted as "Uncle Drew" in the commercials.
In the 2012 ads, the star player appeared as a cranky older man who reminisced about days while dominating his younger opponents in a basketball game.
Moreover, in 2018, the Uncle Drew concept was developed into a feature movie starring former NBA stars Shaquille O'Neal, Reggie Miller, and Chris Webber.
Kyrie Irving | Girlfriend, Wife, and Daughter
To the best of our knowledge, the shooting guard is not currently dating anyone. Nevertheless, he has dated many models throughout these years.
His most recent girlfriend is Marlene Wilkerson. She is a youtube influencer. In 2019, the couple made their relationship public and even Instagram official.
Moreover, many fans and media outlets thought she might be the one as Marlene was spotted with a huge ring on her finger.
However, there are no recent talks about the two, and many believe they might've broken up. Furthermore, the athlete has no wife and hasn't tied the knot with anyone.
Besides that, Kyrie has a daughter named Azurie Irving from his previous relationship. The two have a very special bond. Many fans have seen a different side of the player as a father.
He fulfills his responsibility as a dad and is the most lovable parent to his daughter. Azuri's mother's identity has not been revealed to respect her and the mother's privacy.
After a few years of relationship with Marlene, the couple welcomed their first baby boy in 2021. Irving is a happy father of two of his kids.
Net Worth of Kyrie Irving in Different Currencies
Here is the net worth of Kyrie Irving in different currencies, including Cryptocurrency and the Canadian Dollar.
Currency
Net Worth
Euro
€

77,584,050

Pound Sterling
£

66,041,550

Australian Dollar
A$

123,566,940

Canadian Dollar
C$

113,334,750

Indian Rupee
₹

6,709,419,000

BitCoin
฿

1,802
Kyrie Irving | Quotes
"I do have a chef, but I still go out. Sometimes I can still blend in, and sometimes I get a little bombarded. It's the best of both worlds."
"I'm going to give input when I need to. When it needs to be said."
"Multiple Bentleys isn't making anyone 'financially set."
"When you're playing against a whole bunch of All-Stars, it's like a video game. There's so much talent on the floor at once."
Kyrie Irving | Social Media Presence
Twitter– 4.6 million Followers
View this post on Instagram

Instagram– 17.6 million Followers
Kyrie Irving | Popularity
The Brooklyn Nets player has been in the highlights either for his athletic skills or controversies surrounding his viewpoints.
The google search interest in Kyrie has risen up since his recent controversy on antisemitism.
Common Queries:
How much is Kyrie Irving's net worth?
Kyrie Irving's net worth is over $90 million. Besides that, he earns a salary of $35 million.
The basketballer earns most of his salary through basketball and NBA. He also makes a good amount from his shoes, endorsements, and sponsorships.
Is Kyrie Irving Australian?
Kyrie Irving is a successful basketball player born and lived in Melbourne, Australia. Hence, he is Australian.
What team is Kyrie Irving on?
Currently, the shooting guard is on Brooklyn Nets. Besides that, he has played for the Cleveland Cavaliers and Boston Celtics.
Who is Kyrie Irving's dad?
The athlete's dad is Drederick Irving. He is a former collegiate and professional basketball player.
He played college basketball for Boston University. After that, the father moved to Australia to pursue basketball professionally.
When was Kyrie Irving drafted?
The basketball player was drafted in 2011 by the Cleveland Cavaliers. He was surely good so was the first pick overall.
Did Kyrie Irving Buy the House for the George Floyd family?
The basketball star Kyrie Irving bought a house for the George Floyd Family.
Is Kyrie Involved in Movies?
The basketball player was featured in the Uncle Drew movie, released in 2018.
The Nets suspended guard Kyrie Irving indefinitely, calling him "unfit to be associated" with the team.
Kyrie had declined to say he has no antisemitic views in the week since he posted a link on Twitter to a film with hateful claims about Jewish people.
The Brooklyn Nets suspended Kyrie Irving indefinitely for his "failure to disavow antisemitism."