AJ Armstrong's parents, Antonio Sr., and Dawn Armstrong, finally received justice seven years after their death. Their youngest son was accused of murdering his parents on July 29, 2016.
Before the murder of his parents, AJ Armstrong was considered a standout athlete at The Kinkaid School by his coaches. The 23-year-old AJ, who was only 16 at the time of his parent's demise, soon had his career in jeopardy.
His falling grades and marijuana use were said to have caused tension between him and his parents. The teenager was charged with his parent's murder hours after their death.
In 2019 and 2022, the jurors couldn't agree on a verdict, as the three-week trial ended in a mistrial. On July 31, 2023, the third trial of the capital murder began. And this time around, the prosecutors have said they have previously undiscovered DNA evidence.
AJ Armstrong Parents, Antonio Sr, And Dawn Armstrong
AJ Armstrong's parents, Antonio Sr., and Dawn Armstrong, were brutally shot while asleep in 2016. But before that, the couple reportedly lived a happy and stable married life.
AJ Armstrong Sr was a former NFL player drafted by the Miami Dolphins in 1995 as a sixth-round pick. He played two seasons in the NFL before moving to Canadian Football League in 1998 with BC Lions.
After playing four seasons in the CFL, AJ Armstrong Sr hung up his cleats and became a motivational speaker. With his wife, AJ ran a 1st Class Training in Bellaire.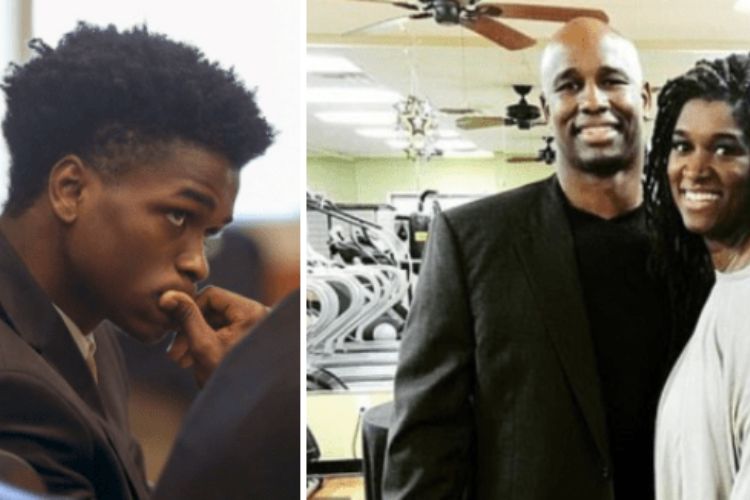 As per Dawn's Facebook handle, the couple also served in ministry together, and Antonio was said to be an associate pastor.
And though the Armstrongs looked like a perfect family from the outside, not everything was the same behind the four walls.
Five months before their murder, Dawn had sent several messages to AJ calling him a liar. She complained to him about his falling grades and his newly formed habit of smoking weed and sneaking out to see his girlfriend.
During the previous trials, it was said that AJ was upset with his parent for giving his brother a Mustang, and he had to take his brother's old truck.
How Did Dawn And Antonio Sr Murder Take Place? Who Killed Them?
On July 29, 2016, at around 1:30 am, AJ Armstrong dialed 911, saying he was hiding in a closet after hearing gunshots from his parent's room.
When the police arrived at their southwest Houston home, the couple was found shot in their bed. Dawn Armstrong was shot twice in her head, and AJ Armstrong Sr was rushed to hospital but lost his life a few hours later.
AJ, 16, at the time, told the officers he had seen masked intruders escape from their home. But it was already confirmed there were no signs of forced entry.
The .22 caliber firearm used in the murder was found in the first-floor kitchen alongside a note that read, "I have been watching for a long time. Get me."
The detectives also found a bullet hole originating from AJ's personal room and going directly into his parent's room.
At first, the teenager said he didn't know anything about it, but later confessed a few weeks before his parent's murder had misfired the gun while showing it to his friend. But the problem was it was the same weapon used to murder his parents.
Though the detectives didn't find physical evidence against AJ, they charged him with two counts of capital murder.
AJ Armstrong Siblings, Sister Kayra, And Brother Joshua Armstrong
AJ Armstrong's siblings, Kayra and Joshua Armstrong have been the center of the murder trial, with Kayra even supporting her brother.
AJ's defense has previously tried tilting toward the possibility of Joshua committing the murders. But the adopted son of the Armstrong family has never been called to the stands.
Kayra Armstrong Defended Her Brother In The 2022 Trial
In the 2022 trial, Kayra Armstrong backed her brother and told the jurors AJ had a great relationship with their parents.
She also leaned towards Joshua being the one to murder their parents as he always tried to make the case of him being the family's black sheep.
Kayra was only 12 when her parents were murdered, and recalling the fateful night during her stand in 2022, Kayra said everything was routine that night.
The four of them had talked a bit in their parent's room and said their goodnight. And the next thing she remembers is being shaken by her brother, saying they had to get out of the house.
It was previously mentioned in 2022 that Kayra was a freshman at Louisiana State University. She completed high school at Hightower High School in Missouri City, Texas, where she was on the volleyball team.
Brother Joshua Armstrong
Joshua Armstrong is said to have been adopted by the couple and raised alongside their two biological children.
Kayra had previously alleged Joshua and their parents' relationship had soured by the time he was at university. She also told the jurors about Joshua's drug abuse which led to him not caring about his appearance.
A few of Joshua's medical records were made public during the trial calling him extremely psychotic. In 2016, a few weeks before his parents' murder, Joshua had bought an apartment close to their home.
It was said Joshua's mental health severely deteriorated after the murder of his parents. He had to be admitted to a mental health facility and was later diagnosed with schizophrenia.
Joshua is available on Facebook and at times gives updates about his current situation.