Alan Henderson's wife, Maxine, is a mother, wife, founder, CEO, and electrical engineer.
Alan Lybrooks Henderson, born on December 2, 1972, is a former professional basketball player who played as a forward/center for the NBA.
The Atlanta Hawks drafted Henderson in 1995 for the NBA Draft with the 16th pick. Besides the Hawks, the player played for the Dallas Mavericks, Cleveland Cavaliers, and the Philadelphia 76ers.
He was named the NBA Most Improved Player in 1998 during his NBA career.
The player retired from his NBA career in the year 2007. After that, he became an entrepreneur and established his own company named Henderson Development LLC in the year 2015.
After five years, in 2020, Alan again opened a company named Henderson Spirits Group.
Moreover, he also started a company with his wife, Maxine, named Bollygood on July 2021.
Alan Henderson Wife, Maxine
Maxine and Alan Henderson are life partners as well as business partners. Maxine Henderson is the founder and CEO of Bollygood, and Alan an Operation Advisor.
Maxine was born and raised in Canada. Her family moved from Kerala, India, to Canada in the 1960s.
She graduated with a Bachelor of Engineering-BE, Electric Engineering from Western University in July 1999.
Right after graduation, the founder worked full-time as a Senior Electrical Engineer at Motorola Solutions until 2005.
While she was working at Motorola in Atlanta, she met former IU Basketball Player Alan Henderson. Eventually, they started dating and decided to get married. They exchanged their vows on February 20, 2005.
Furthermore, Maxine put a hold on her career to start a family with Alan. The couple then welcomed four lovely children.
Later, the family moved back to Indiana and established a spirits company promoting African-American distillers and bartenders.
What Is Their Company About?
Bollygood is a sparkling Indian-inspired beverage. It is similar to the taste of lemonade or limeade but with more flavor and lower sugar.
In India, it is called "Nimbu Pani," made by blending lemon or lime with herbs, spices, sugar, and water. It is one of the famous beverages in India for the summer.
Maxine was inspired to create Bollygood to give everyone the refreshing taste of Nimbu Pani. Maxine wanted to create a beverage that is low in sugar and is also healthy and safe.
She wanted it to be suitable for all age groups. She tried fifteen to twenty combinations to make it the best flavor possible.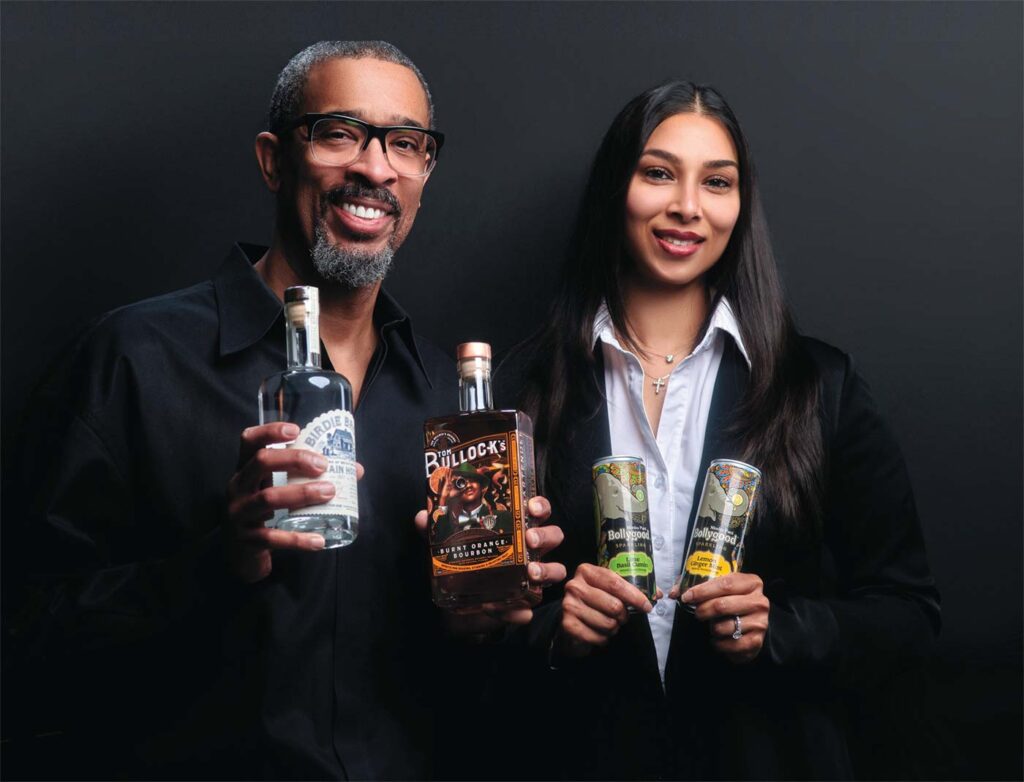 Later, the CEO decided to fix a recipe with carbonation and Himalayan pink salt, adding her twists to create the first-ever Indian-inspired drink in North America.
This unique beverage stands out for its diversity, as people may drink it as a thirst quencher or can drink it with any meal.
Moreover, Alan, the owner of Henderson Spirits Group, also started that company for the same reason as his wife.
The player noticed that only a few spirits industry represents African American culture. By establishing this company, he wanted to bring some diversity to the spirit business.
He began the beverage company a few years before Maxine, and now he helps Bollygood as Operation Advisor.