When we talk about soccer, one name that is not new to the fans is Alan Pulido. Alan Pulido is a Mexican professional soccer athlete in Major League Soccer (MLS)'s team Sporting Kansas City. He plays in the position of striker.
Before joining the MLS, Pulido has represented various famous Mexican and Greek clubs. He has also represented the Mexico National Team throughout his career.
Moreover, Pulido has won various achievements like Liga MX Most Valuable Player, Copa MX Top Scorer, Sporting Kansas City Offensive Player of the Year, and many more.
Now, let's learn a little more in-depth about the life of a rising soccer player Alan Pulido. But, first, here are some quick facts about Pulido.
Alan Pulido | Quick Facts
Full Name
Alan Pulido Izaguirre
Birth Date
8th March 1991
Age
32 Years Old
Birth Place
Ciudad Victoria, Tamaulipas, Mexico
Nickname
Pulido
Religion
Not Available
Nationality
Mexican
Education
Not Disclosed
Horoscope
Pisces
Father's Name
Armando Pulido
Mother's Name
Nuira Izaguirre
Siblings
Armando Pulido
Height
5'10" (1.77 m)
Weight
68 kgs
Build
Athletic
Shoe Size
Not Available
Eye Color
Black
Hair Color
Black
Marital Status
Unmarried
Girlfriend
Ileana Salas
Children
None
Profession
Professional Football Player
Current Team
Sporting Kansas City of MLS
Position
Striker
Former Teams
Tigres UANL

Levadiakos

Olympiacos

Guadalajara

Net Worth
$9 million
Awards and Achievements
Liga MX Most Valuable Player

Copa MX Top Scorer

Liga MX Golden Boot

Social Media
Instagram, Twitter, Facebook
Last Update
May, 2023
Alan Pulido | Early Life, Family & Education
Alan Pulido was born on 8th March 1991, in Ciudad Victoria, Tamaulipas, Mexico, to his parents Armando Pulido and Nuira Izaguirre. Likewise, Pulido has a sibling who holds their father's name, Armando Pulido.
His brother, Armando, is also a soccer player like Alan.
According to zodiac charts, Alan's birth date falls under the sun sign of Pisces. People with Pisces as their sun sign are mostly known for their empathetic and creative nature.
Age, Height, and Body Measurements
Pulido turned 32 years in 2023, and he possesses an athletic build with black-colored hair and eyes.
Alan stands at the height of 5'10" (1.77 m) and weighs around 68 kg.
Education
The information regarding Alan's educational background is unknown. However, he was born and raised in Mexico. Thus, we can assume that he graduated from Mexican educational institutions.
Alan Pulido | Career and Profession
Tigres UANL
Moving on to Alan's professional career, he debuted in the SuperLiga tournament in 2009 with Tigres UANL against Major League Soccer's Chivas USA.
The match took place on 20th June 2009, he scored in the 11 minutes of the game, and the team won by 2-1.
Moreover, Tigres UANL reached the final and played against Chicago Fire's American Soccer club. The Tigres won the match by 4-3.
Likewise, Pulido made his debut in the Primera Division on 27th February 2010. Alan scored his first league goal on 13th April 2011 during a 4–2 win while playing against Pachuca.
You might also like <<46 Famous Pele Quotes that will inspire you>>
Furthermore, Alan won his first league title on 11th December 2011 by scoring the third goal in a second-leg victory against Santos Laguna during the 2011 Apertura Final.
He represented the team as a substitute behind Héctor Mancilla throughout the tournament. Hence, receiving less playing time.
Moreover, Alan was a crucial element during the club's victory in the Clausura 2014 Copa MX. He finished the tournament, becoming the top scorer by scoring 11 times in 10 matches.
Dispute During Transfer
Alan was meant to join the club Tigres for the 2014 Apertura tournament after representing the Mexico National Football Team in the 2014 World Cup. However, various European clubs showed interest in him.
Moreover, Pulido claimed that his contract with the club Tigers has ended, and he is now a free agent. However, the club exclaimed that Pulido is under a contract extension until June 2016.
Likewise, Alan did not attend any pre-season training sessions, and eventually, the club secluded him from the first team, and the Tigres assigned him to train with the reserves.
As Pulido missed the training sessions, he did not participate in the Apertura tournament.
Following the dispute between Alan and the club, his representatives began a legal dispute with Mexican Football Federation. They claimed that the signature on the contract was fake.
As a result, the Federation supported the Tigres, and Pulido's team filed another complaint with the Court of Arbitration for Sport (CAS).
Levadiakos
Reportedly, Alan signed a one-and-a-half-year contract with the Greek club Levadiakos on 29th January 2015.
He announced his transfer through his Twitter account. However, club Tigres published a press release declaring that CAS has ruled in their favor and rejected Alan's transfer.
Moreover, CAS denied Alan's request for a temporary transfer. Then, he and his team submitted another request to FIFA.
As a result, he participated in his first training session with Levadiakos on 2nd February 2015.
Likewise, on 27th February, FIFA's Player's Status Committee granted a temporary transfer to Levadiakos, and he was allowed to play for them despite the ongoing dispute.
Furthermore, Alan participated in his official league debut with Levadiakos on 9th March 2015 against Platanias and won the Man of the Match honors.
Olympiacos
Olympiacos announced that they signed Alan from club Levadiakos on 3rd July 2015.
Before the move, Guadalajara, a Mexican club, claimed that they bought fifty percent of Alan's rights in the annual league draft.
However, they also stated that they were waiting for the final decision from the CAS.
Furthermore, Alan began his first match representing Olympiacos in the Greek Cup on 13th January 2016. He scored the fifth goal in the 6–0 victory while playing against Chania.
Likewise, Pulido made his debut for the club in the Super League on 18th January 2016. Alan achieved a significant role by scoring the only goal in a 1–0 victory against Xanthi.
He played for the full 90 minutes of the game.
Similarly, Alan scored the winning goal in the 3–0 victory over Veria on 28th February, leading the Olympiacos to win the league by leaving six matches to spare.
Guadalajara
Moreover, Alan returned to Mexico and announced that he would represent Guadalajara on 30th August 2016.
Reportedly, he signed a $7.15 million contract with the club, making Alan the most expensive player at the time.
On 10th September 2016, Alan made his league debut representing Guadalajara playing during the second half. The next week Pulido scored his first goal for the club while playing against Toluca.
During the Clausura Championship, Alan faced his former club Tigres UANL and scored the first goal. But, unfortunately, the match ended with a 2-2 draw.
Likewise, he scored the first goal again in the second match between them, which won the "Goal of the Tournament" honors.
You might also like <<38 Inspiring Lionel Messi Quotes>>
The Guadalajara won the Clausura Championship, and Alan was included in the club's Best XI. He won the Most Valuable Player honor as well.
Similarly, in a match between MLS's Toronto FC, Alan scored a free-kick and helped win the game. The goal won the "Goal of the Tournament" honors.
Alan ended the Apertura 2019 coming one of the top goalscorers, and he was also the first-ever Mexican to record the most goals in the tournament. He also won the Golden Boot and became part of Apertura's Best XI.
Sporting Kansas City
Reportedly, it was announced that Alan would be representing Major League Soccer's Sporting Kansas City by signing a four-year contract worth $9.5 million as a Designated Player.
This signing became one of the most expensive transfers in the club's history. Alan played his debut match against the Vancouver Whitecaps on 29th February 2020.
Unfortunately, he suffered a hamstring injury in between and came back to play on 3rd October in a game against Houston Dynamo and became the MLS Player of the Week in the same game.
Furthermore, during the end of the season, Alan became part of the nomination group for the MLS Newcomer of the Year Award, and he won the Offensive Player of the Year honor.
International Career
Alan represented the national under-20 team of Mexico and recorded three goals in the 2011 CONCACAF U-20 Championship, which led the team to win the tournament and qualify for the Under-20 World Cup.
Likewise, he was also part of the senior national team and scored his first-ever goal representing the senior game during the 2012 CONCACAF Olympic Qualifying Tournament on 23rd March 2012.
Furthermore, Alan became part of the national team for the 2017 Gold Cup, but he canceled his appearance due to an injury.
Alan Pulido | Awards and Achievements
CONCACAF Men's Olympic Qualifying Tournament Golden Boot- 2012
Liga MX Best XI- Clausura 2017, Apertura 2019
Copa MX Top Scorer- Clausura 2014
Liga MX Goal of the Tournament- 2016–2017
CONCACAF Champions League Goal of the Tournament- 2018
Liga MX Golden Boot- Apertura 2019
Sporting Kansas City Offensive Player of the Year- 2020
Liga MX Most Valuable Player- Clausura 2017
Alan Pulido – Jersey
Pulido wears jersey number 9 for the Sporting Kansas City of MLS. Here's a picture of him wearing his jersey:
Alan Pulido – Estadistaticas (Stats)
| | | | | | | | | | | |
| --- | --- | --- | --- | --- | --- | --- | --- | --- | --- | --- |
| Estadistaticas (Statistics) | TITU | FC | FS | TA | TR | G | A | TT | TM | FL |
| 2021 Major League Soccer | 5 | 3 | 10 | 0 | 0 | 4 | 1 | 29 | 7 | 0 |
You can check the website of ESPN to learn more about Pulido's career statistics.
Alan Pulido – How Much Does he Make? – Wage and Net Worth
Alan is one of the top soccer players in Mexico and has had a successful career. While joining the Mexcian club Guadalajara he signed a $7.15 million contract, making him the most expensive player.
Likewise, Alan signed a $9.5 million contract with Major League Soccer's Sporting Kansas City, making his transfer one of the most expensive transfers in the club's history.
Thus, by the following information, we can state that- The presumable new worth of Alan Pulido falls around $9 million.
You can check transfermarkt – Alan Pulido to know about his transfer history.
Net Worth of Alan Pulido in Different Currencies
Below is the net worth of Alan Pulido in different currencies, including the Euro and Pound.
Currency
Net Worth
Euro
€

7,943,162

Pound Sterling
£

6,707,565

Australian Dollar
A$

12,438,675

Canadian Dollar
C$

11,513,655

Indian Rupee
₹

674,626,050

BitCoin
฿

175
Alan Pulido | Wife
Alan Pulido is married to his long-time girlfriend, Ileana Salas. According to her social media, Ileana is a psychologist. Alan and Ileana got married on 6th December 2019.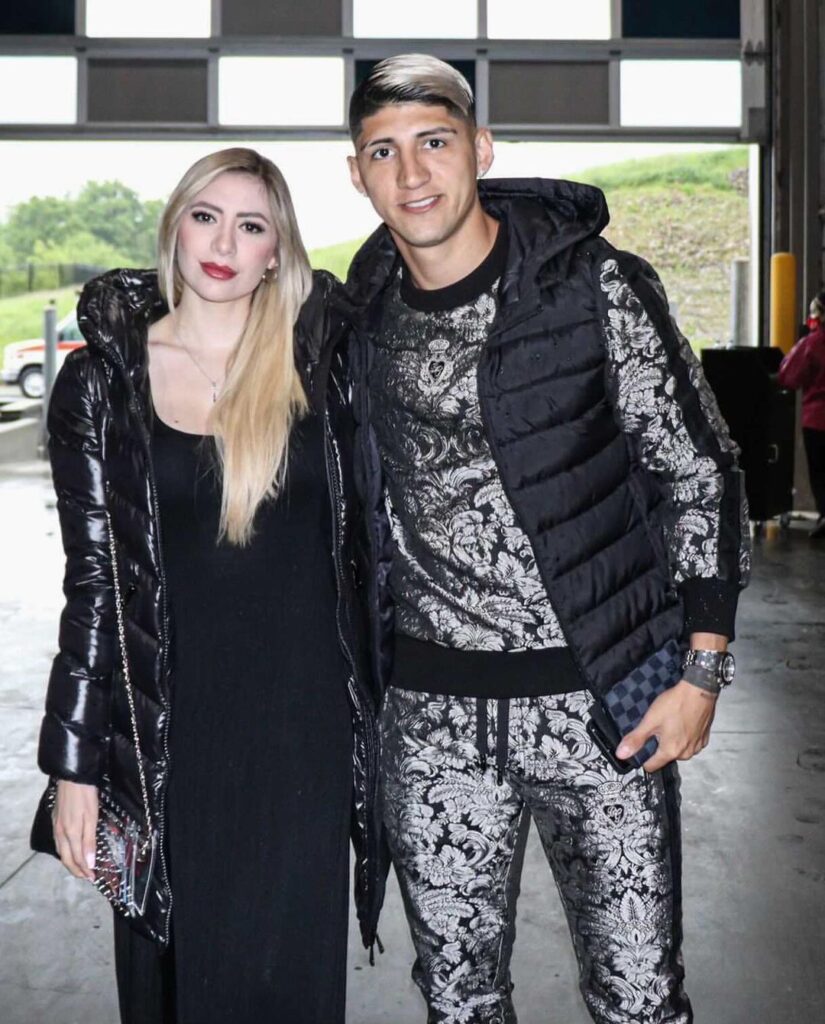 Reportedly, Alan and Ileana met in 2016, and after months of dating, they got engaged. However, their wedding got postponed twice as Eleana stated that he was unfaithful to her on various occasions.
However, after many circumstances, they finally got married. They visited Dubai for their honeymoon.
Alan Pulido | Kidnapping
In 2016, Alan and his wife, who was his girlfriend, attended a party in Ciudad Victoria, Tamaulipas. They left the party at around 11:30 p.m., and midway was stopped by another vehicle.
After that, six masked men with guns forcefully abducted them. Later, Ileana was released unharmed by the kidnappers.
After that, the case got, severe and police were in full force searching for Pulido.
Moreover, Alan managed to escape from his kidnappers on 30th May 2016 by fighting one of the men and taking his gun.
Moreover, he went to a safe place, called for help, and gave his location to the police. But, unfortunately, the police only captured one of the abductors.
Later, Alan had to go through a medical examination. The doctors informed that Pulido had received a minor injury on his right hand while escaping. Other than that, he was in good shape.
Alan Pulido | Social Media Presence
Twitter– 1 million followers
Instagram– 910k followers
Facebook– 693 thousand followers
Common Queries about Alan Pulido
Which Club does Alan Pulido play for?
Alan Pulido currently plays for the Sporting Kansas City of Major League Soccer (MLS).
Does Alan Possess Tattoo on His Body?
Yes, he has a tattoo on his hand.
Was Alan Pulido and Gaby Ramirez In a Relationship?
Before getting in relation with Ileana Salas, Alan and Gaby were in a relationship.