Alana Blanchard is an American professional surfer and model who has surfed on the ASP World Tour.
Blanchard's fiance, Jack Freestone, is a professional surfer from Australia who ranks at #14 in the Men's CT as of 2023. He has also accumulated an impressive 13 heat wins and holds an average heat score of 10.84.
When we talk about women's surfing, the first name that comes to mind is Alana; through talent and unbridled beauty, Blanchard has made herself the face of surfing.
Alana has won many pro-surfing tournaments. But this talented woman is also a model who has appeared on Sports Illustrated and Maxim's covers.
Thus, it is fair to state that the 33 year old is the epitome of a successful young woman.
Let's look at this article about a regular-footed surfer, where we will detail Alana's professional and personal career.
You will also find intel on her wealth, friends, age, horoscope, nationality, and social media.
Let's start with quick facts.
Quick Facts
| | |
| --- | --- |
| Full Name | Alana Rene Blanchard |
| Birth Date | March 5, 1990 |
| Birth Place | Kauai, Hawaii, U.S.A. |
| Nick Name | Lana |
| Religion | Not available |
| Nationality | American |
| Ethnicity | White |
| Education | Not available |
| Horoscope | Pisces |
| Father's Name | Holt Blanchard |
| Mother's Name | Cydney Blanchard |
| Siblings | Byron Blanchard, Dorian Blanchard |
| Age | 33 Years Old |
| Height | 5 ft 8 in / 172 cm / 1.72 m |
| Weight | 54 kg / 119 lb |
| Shoes | Not available |
| Hair Color | Blonde |
| Eye Color | Blue |
| Body Measurement | Not available |
| Married | No |
| Engaged | Jack Freestone |
| Children | Banks Harvey |
| Profession | Surfer |
| Favorite Maneuvers | Airs |
| Salary | Not available |
| Net Worth | $2 Million |
| Social Media | Instagram, YouTube, Twitter, Facebook |
| Last Update | March 2023 |
Early Life, Friendship & Family
Alana Rene Blanchard was born to her parents, Cydney and Holt Blanchard, on March 5, 1990, in Kauai, Hawaii.
She grew up with her two brothers, Byron Blanchard and Dorian Blanchard. Besides, Alana is the second child of her parents.
At age 13, Blanchard happened to be present when a shark attacked her friend and fellow surfer, Bethany Hamilton.
Although Alana came out unscathed, the incident shook her confidence to get back in the water.
Both the girls eventually overcame their fears and are now probably the most recognized duo in women's surfing.
Moreover, Alana's Father and brother and brother were also at the scene. Even a movie called 'Soul Surfer' documented the events of that fateful day.
Alana and Bethany are still friends, and Blanchard was a bridesmaid at Bethany's wedding.
In 2022, Alana's friend Bethany stood 9th in Billabong Pro Pipeline and 4th in Priority Destinations Pro.
Career
Alana started her career in 2005; she won the 2005 T&C Women's Pipeline Championships in her rookie year. Since then, Blanchard has participated in many tournaments.
Alana has won The Women's Pipeline Championships in Hawaii and The Rip Curl Girls Festival Junior Pro in Spain.
She also came first at The Roxy Pro Trials in Haleiwa, Hawaii, and The Billabong Pro Pre Trials in Hookipa, Maui.
She last competed in the Volcom Pufferfish Surf Series in Pinetrees held in Kauai, when she again secured the first position.
However, Blanchard's talents are not just limited to surfing. She is also a prevalent model due to her stunning physique and godlike looks.
Blanchard signed a deal with Rip Curl swimwear in 2004, in which she also designed and modeled, including a line of wetsuits.
She has also appeared in world-famous publications such as Sports Illustrated and Maxim.
Thus, a combination of beauty and talent has made Blanchard the face of women's surfing.
Championships
The Women's Pipeline Championships, Hawaii
The Rip Curl Girls Festival Junior Junior Pro, Spain
The Roxy Pro Trials in Haleiwa, Hawaii
The Billabong Pro Pre-Trials in Hookipa, Maui
The Volcom Pufferfish Surf Series in Pinetrees, Kauai
Age, Height, Weight & Horoscope
Alana was born in 1990, making her 33 years old. When it comes to her nationality, Blanchard is an American and is of white ethnicity.
She trains in boxing, pilates, and yoga programs to keep fit.
Alana stands at 1.72 meters and weighs 119 lb, while her body is extremely fit, as she does modeling. Likewise, she also maintains a good diet and does intense workouts.
Her deep blue eyes complement perfectly to her blonde hair.
When it comes to Blanchard's horoscope, she is a Pisces. Furthermore, Pisceans are thoughtful, compassionate, and well-attuned to their emotions and everyone around them.
Diet
When it comes to Alana's diet, she is strictly vegan. In an interview, Blanchard said, "Being on a vegan diet has helped me so much. I don't have to think about calories or stress about how much I'm eating because plant-based diets are generally low in calories."
Her loved vegan recipes are vegan cookies, vegan pumpkin pies, and vegan banana bread.
Besides that, Alana revealed that her perfect body's secret is big salads, green smoothies, gorging vegetables, and fruits.
Net Worth & Salary
Alana is a professional surfer and model who has been involved in the business for nearly 15 years. Hence, it is only fair that Blanchard has a net worth of $2 million.
Talking about her salary, Alana has not revealed her exact earnings. But because she is one of the most famous surfers, Blanchard must be taking home hundreds of thousands of dollars.
She also participated in T-Mobile's Sony Xperia Z advertisement.
Blanchard launched the Alana Blanchard Foundation (ABF) to support female talent in surfing in May 2017.
Blanchard has her own television show on Network A called Surfer Girl, sponsored by Rip Curl, Reef, SPY Optic, Sticky Bumps, GoPro, Rockstar, and the Channel Islands.
Alana Blanchard Rip Curl
Alana accused her former sponsor and surfwear giant, Rip Curl, of ending her contract due to her pregnancy.
The brand had endorsed her for over a decade. Consequently, Rip Curl faced massive backlash from the women's community and fans.
In a statement, Rip Curl denied that and said Rip Curl and Blanchard could not agree to the terms of a new deal.
Husband, Boyfriend, And Kids
Blanchard is not yet married; however, she is engaged to her long-time boyfriend, Jack Freestone.
The pair announced their engagement by sharing a beautiful picture showing Blanchard her gorgeous engagement ring. Moreover, the couple got engaged in June 2019.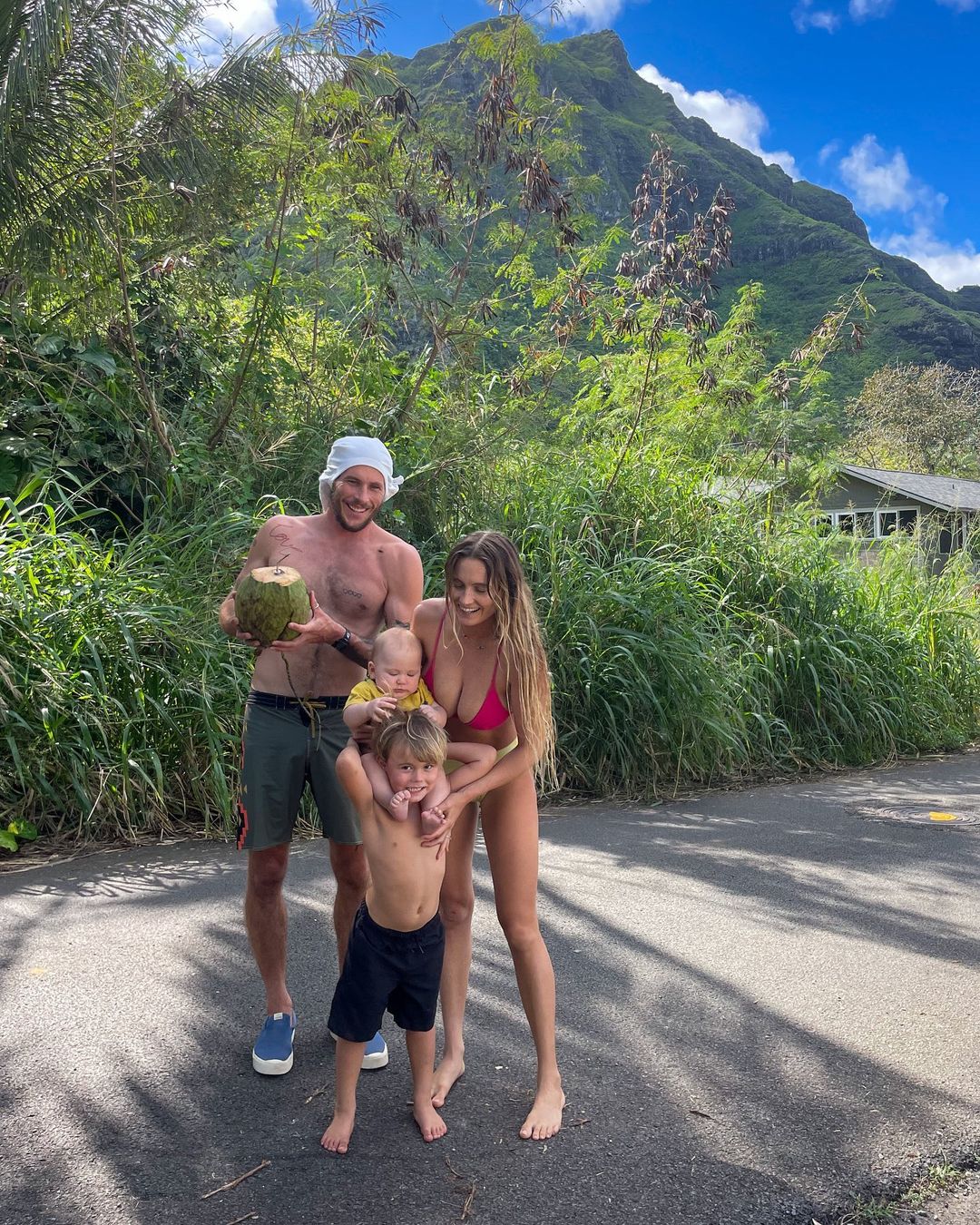 Talking about their relationship's genesis, it all started when they met on the North Shore of Oahu, Hawaii.
In June 2017, the two lovebirds announced they were expecting their first child after dating for four years.
Subsequently, her son, Banks Harvey, came into this world on December 1, 2017. Since then, there have been no indications of a breakup or controversy.
The couple announced the birth of their second son Koda Riley Freestone on August 12, 2021.
Instead, the duo is head over heels for each other.
Alana Blanchard YouTube
The surfer shares a YouTube channel with her beau, Jack, called "Alana Blanchard and Jack Freestone."
Moreover, it is a vlog channel where Alana shows her fans her family's everyday life.
Social Media Presence
Alana Blanchard posts a lot about surfing on her social media platforms. Below are all the links to the surfer's social media.
View this post on Instagram
Instagram: 1.7 million followers
Youtube: 129 thousand subscribers
Twitter: 143.2 thousand followers
Facebook: 2.1 million followers
Popularity Graph
Alana Blanchard is a professional surfer and a model.
The above graph shows Blanchard's popularity over the past twelve months.
Frequently Asked Questions (FQAS)
Where does Alana Blanchard lives?
Blanchard lives in Kauai, Hawaii, United States, with her two children and fiance Jack Freestone. She posts a lot about themselves on social media, where she posts teaching her children surfing.
Is Alana Blanchard vegan?
Yes, the surfer is vegan and takes only a vegan diet. She often drinks almond milk and makes vegan cheese sauce for mac n cheese.
What happened to Alana Blanchard's rip-curl contract?
The surfer explained in an emotional video that she had ended her long-term contract with Rip Curl as they were unhappy about her pregnancy.
Did Alana Blanchard play herself in Soul Surfer?
No, Alana did not play herself in Soul Surfer. American Actress and director Lorraine Broussard Nicholson played Blanchard in the movie.