Alex Greenwood is an English professional soccer player who plays for Manchester City in the FA Women's Super League and the England national team. She is considered a set-piece specialist and can play as a left-back and center-back.
She started her professional soccer career with Everton. Since then, Alex has played for the teams like Olympique Lyonnais, Manchester United, Liverpool, and Notts Country.
The English left-back received quite the backlash when she signed with Manchester City instead of joining Manchester United on September 9, 2020. Many fans took to her social media to call her a traitor and a snake. However, she did not take it seriously.
The Athletic published an article on Alex on January 17, 2023, revealing that she produced a data report to secure the best deal with the City.
She and her agency, Rept Sports, collaborated with a data company called Analytics FC to track her performance for the 2019-2020 and 2020-2021 seasons.
Talking about her personal life, she is known for being the long-time girlfriend of the English soccer center-back Jack O'Connell of Premier League's Sheffield United.
Today, we will dive into her early life, family, career, net worth, and social media presence.
Before diving into details about the athlete's life, here are some quick facts about her.
Quick Facts
Full Name
Alex Greenwood
Birth Date
September 7, 1993
Birth Place
Liverpool, England
Nick Name
Alex
Religion
Christian
Nationality
English
Ethnicity
White
Education
Savio Salesian College
Horoscope
Virgo
Father's Name
N/A
Mother's Name
N/A
Siblings
Two sisters
Age
29 Years Old
Height
5'6″/1.67 m/167 cm
Weight
62 kg/137 lb
Hair Color
Blonde
Eye Color
Blue
Build
Athletic
Profession
Professional Soccer Player
Team
Everton
Notts County
Liverpool
Manchester United
Olympique Lyonnais
Current Team
Manchester City, England women's national soccer team
Jersey Number
5
Position
Left-back, Centre-back
Active Years
2008-Present
Marital Status
Unmarried
Boyfriend
Jack O'Connell
Child
N/A
Net Worth
$1 Million-$5 Million
Social Media
Instagram, Twitter
Merch of Manchester City
Pullover Hoodie, T-shirt
Last Update
March 2023
Early Life, Family, & Education
Alex Greenwood was born in Liverpool, England, on September 7, 1993. As a little girl, she used to watch soccer with her father.
Alex was always enthusiastic about the sport, and as she grew, her love for soccer grew correspondingly.
Despite unequal pay and discrimination, her parents were very supportive of her career choice.
When she was young, she often played soccer with the neighboring boys. Alex stated that, unlike many girls, she didn't face discrimination for being a female soccer player.
She started getting good at it and loving the sport even more.
The athlete studied at a local school in her town. At 8, her parents admitted her into the Everton Football Academy.
After graduation, she attended Savio Salesian College to earn her degree.
Age, Height, And Weight
Having born in the year 1993 makes Alex's age 29 years old as of 2023.
Her birthdate is September 7, making her birth sign Virgo. And from what we know, they are known for being passionate, enthusiastic, determined, and creative.
Likewise, the Manchester City left-back stands 5'6″/1.67 m tall and weighs 62 kg/137 lb.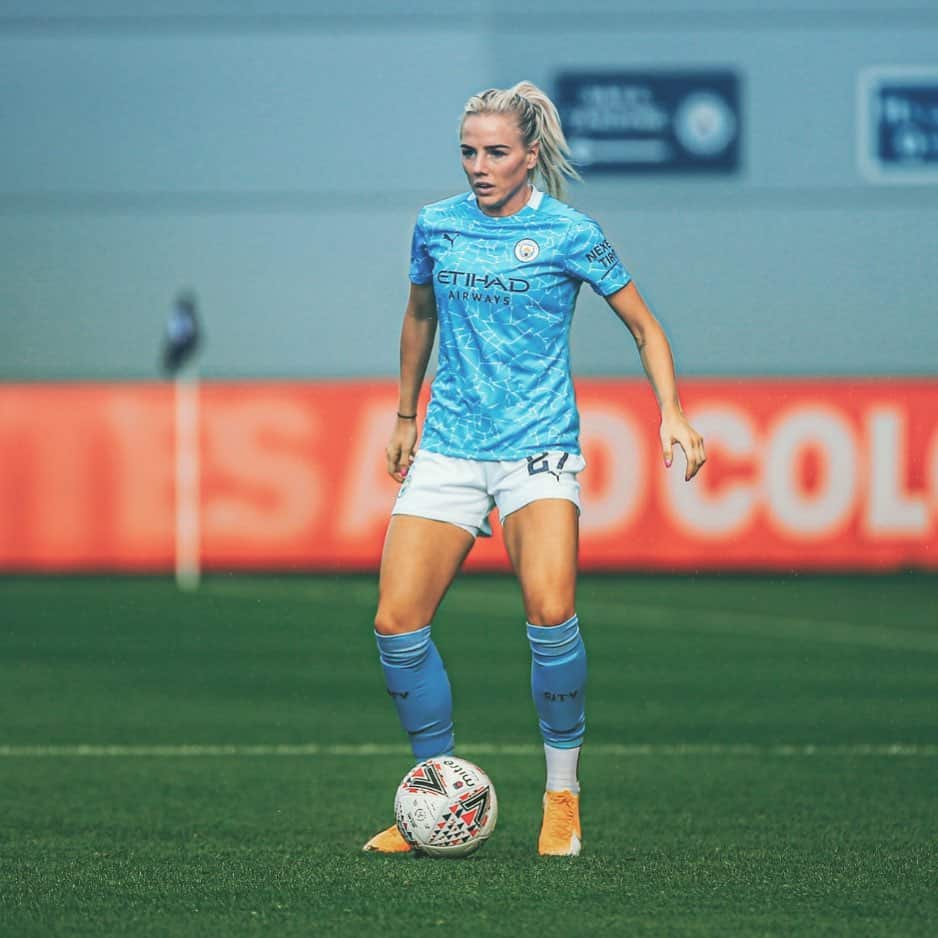 Her other notable facts include long blonde hair and shining blue eyes. Not to mention, Greenwood holds British nationality and belongs to the white ethnicity.
Soccer Career
Initial Career With Everton
Alex's love for the sport led her to join Everton Football Club when she was eight. She trained very hard and eventually started getting better at it.
On August 5, 2010, she made her first team debut in a 6-0 2010 UEFA Women's Champions League qualification round win against KÍ Klaksvík Kvinnur. Two days later, she scored a penalty kick in the 80th minute in a 10-0 win over Fk Borec.
The athlete performed exceptionally throughout the season and became the Young Player of the Year at the FA Women's Football Awards.
Furthermore, she was featured against Arsenal in FA Women's Cup's finale, where her team lost by 2-0 defeat.
Playing Career With Notts County
In 2014, the former United player requested to leave to save her place in the national team. Later, she was included in the 2015 England team in the FIFA Women's World Cup.
Following that, she signed a two-year deal with Notts County. Everton was disappointed by the move as they wanted Greenwood to leave on loan and return if they were promoted again.
Playing Career With Liverpool
At the beginning of 2016, Liverpool signed the left-back player. She scored in each of the three seasons in the two years with the club.
While playing for Liverpool, one of her main highlights was her penalty shot against FA Women's National League North's Sunderland.
She scored 6 goals in 44 appearances in the 2017-2018 season. After that season, the club released her, and she signed with Manchester United.
Playing Career With Manchester United
After her spell at Liverpool, she joined the English club Manchester United. The team announced her as the captain for their inaugural season on July 13, 2018.
The left-back made her debut in a 1-0 League Cup Victory against Liverpool on August 19. Moreover, she made her Championship debut against Sheffield United on September 20.
Not to mention, the former Everton player scored her first goal as a United player with a penalty shot against Crystal Palace.
Furthermore, Alex helped Manchester United win the Championship title in the 2018-2019 season, providing them with a promotion to the Women's Super League.
Playing Career With Olympique Lyonnais
After her successful season, United revealed that they had a deal to transfer Alex to a French club Olympique Lyonnais. The transfer deal was made for a fee of €40k plus €20k in potential add-ons.
On August 24, 2020, she made her league debut in a 6-0 home win against their rivals Olympique Marseille.
Furthermore, the soccer player made her first Championship League appearance in 2010, where she helped beat Wolfsburg to claim the UEFA Women's Champions League title.
By the end of her one-year contract with the French club, she again headed back to England.
Playing Career With Manchester City And Backlash
Upon her arrival in England, she signed a three contract with Manchester City. She helped the City to win the FA Women's Cup at the end of the 2019/20 season.
The English left-back received quite the backlash when she signed with Manchester City on September 9, 2020. Fans called her a traitor and snake for not rejoining her former club Manchester United.
Nevertheless, she did not let the hate and negativity get to her. Greenwood stated that she understood the frustration and had to choose what was best for her as a player.
Alex saw this situation as a challenge and an inspiration to do even better.
England National Team
In 2012, she served as the captain of England's Under-19 team and competed in the UEFA Women's Championship.
Her head coach, Mark Sampson, also selected her for the 2014 Cyprus Cup.
Moreover, she scored her first goal for England in September 2014 in a 10-0 win against Montenegro.
She was the youngest member of the squad at the 2015 FIFA Women's World Cup who shared left-back duties with Claire Rafferty. Her team won a bronze medal after beating Germany in third place.
Furthermore, the talented left-back was included in England's squad that won UEFA Women's Euro 2022.
Relationship & Kids
The Manchester City player is in a long-time relationship with an English soccer player Jack O'Connell.
He currently plays as a center-back for EFL Championship club Sheffield United. Jack started his career at Blackburn Rovers and played for teams like Rochdale and Brentford.
The pair have been together for almost five years now.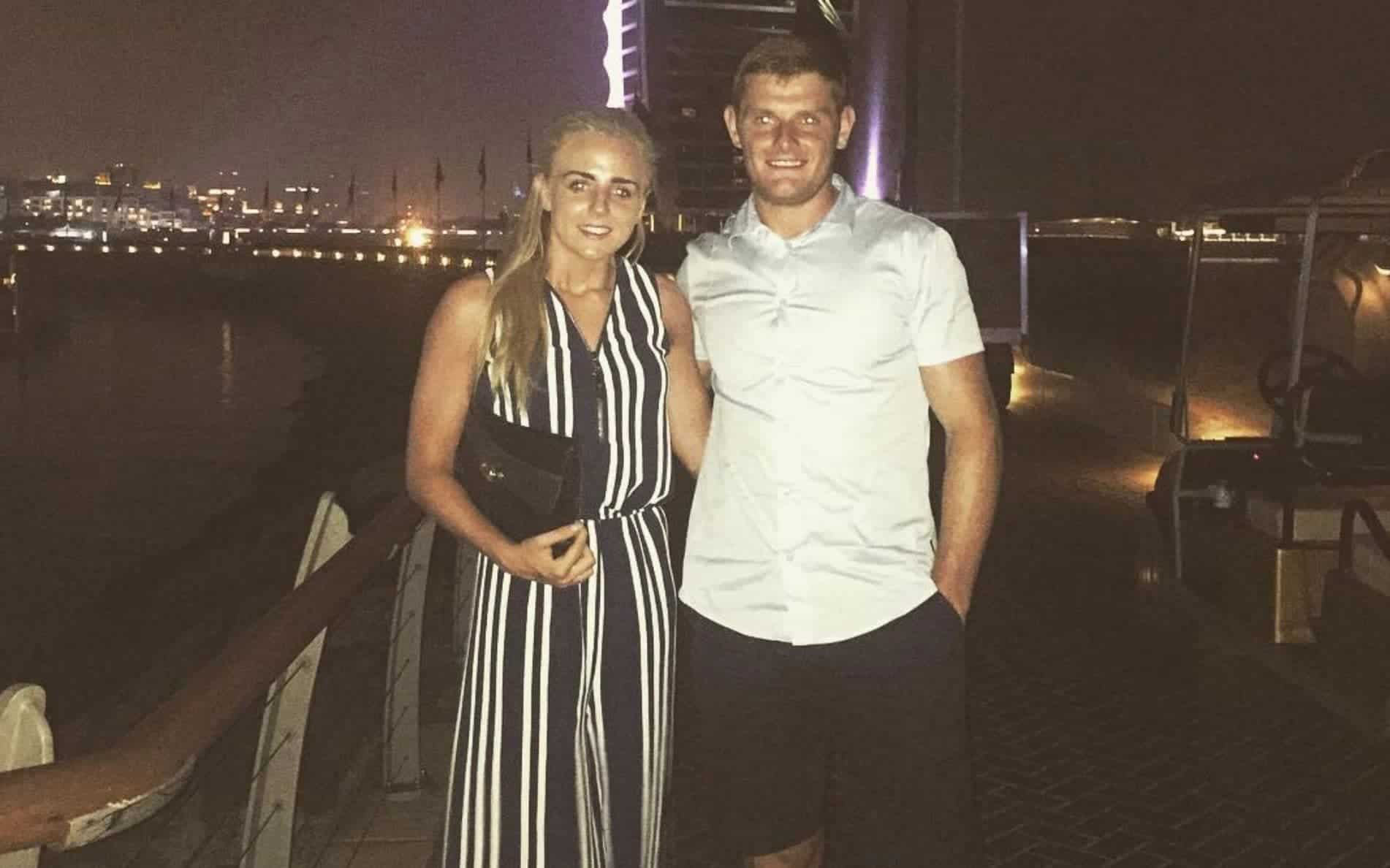 Nonetheless, there is no news regarding wedding bells or pregnancies. Both soccer players are focusing on their careers as of now.
Greenwood recently signed a three-year deal with Machester City, so wedding news and children are not in the picture yet.
Net Worth & Salary
The English soccer player has a net worth between $5 million-$10 million in 2023.
Regarding her salary, Alex earns like £100k annually, including a £25k retainer from the England squad and the remaining from her club's salary.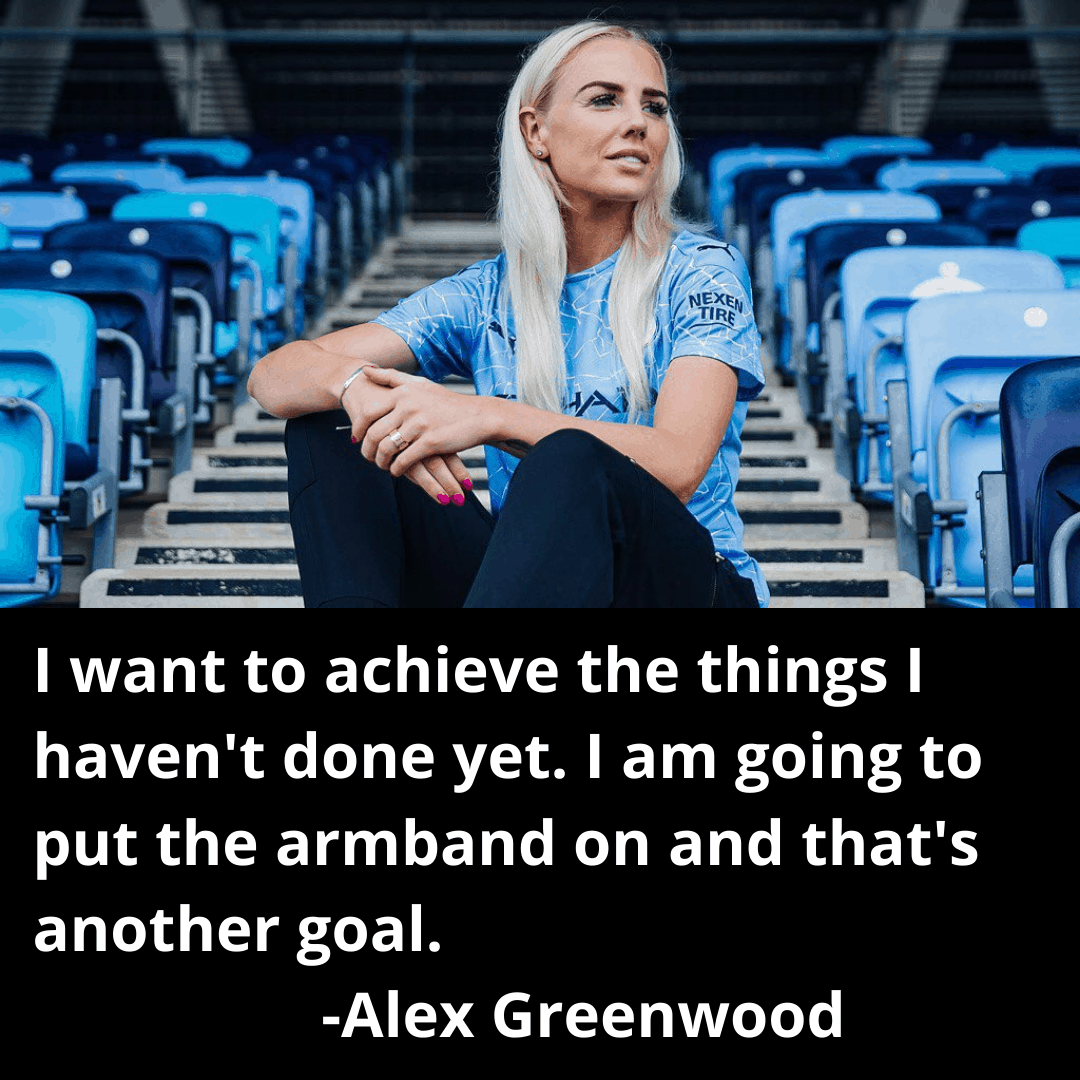 Not to mention, she is also a Nike athlete and earns from endorsement and sponsorship deals.
Despite unequal pay in men's and women's soccer leagues, she still loves the game and plays with all her heart.
Her boyfriend has amassed a net worth of $4 million as of 2023. He earns a yearly salary of $1.1 million with Sheffield United.
Social Media Presence
The Manchester City left-back is available on various social media platforms like Instagram and Twitter.
Instagram: 382 k followers
Twitter: 106.1k followers
View this post on Instagram
Alex's social media post primarily includes her soccer life and teammates' game highlights game. Besides that, the athlete also shares snippets of training and workouts.
The former United player is quite popular among young female athletes. Like her Instagram account, she tweets and retweets mostly about soccer and her team milestones.
Popularity
The Manchester City player is well-known for her dribbling, shooting, and decision-making skills.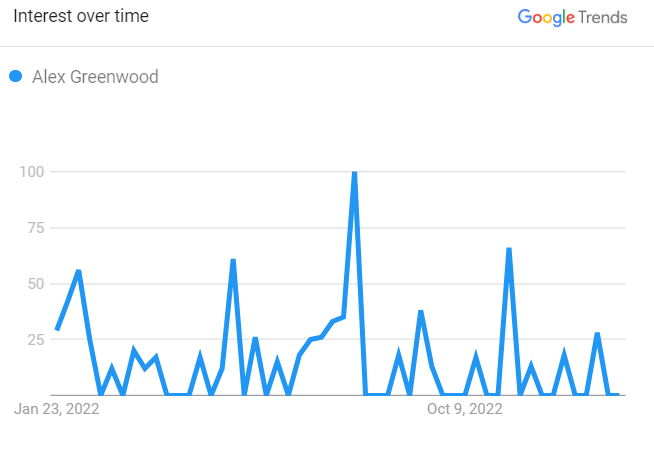 The graph shows her search graph for 12 months.
Frequently Asked Questions (FAQs)
Who is Alex Greenwood's husband?
Alex is not married. But she is in a romantic relationship with her boyfriend, Jack O'Connell. Jack currently plays as a center-back for Sheffield United.
Is Mason Greenwood the brother of Alex Greenwood?
No, Mason Greenwood is not the brother of Alex Greenwood. Though both have the same surname in common, they are not related.
What position does Alex Greenwood play?
Alex Greenwood mainly plays in left-wing and defender positions. However, she can also play as a center-back.
Why was Alex Greenwood criticized for putting on makeup?
In 2019, Alex Greenwood was spotted wearing fake eyelashes and heavy mascara on her face during the game against England Vs. Scotland. Many people criticized the young talent's appearance saying she should spend less time on her fake lashes and more on her game.
Why did Alex withdraw from England Squad in 2019?
Alex Greenwood withdrew from the England squad in 2019 due to an injury.
What is Alex Greenwood's rating in FIFA 21 and 22?
Alex Greenwood's overall rating in FIFA 21 was 79, with a potential of 80. Similarly, her rating at FIFA 22 was 78, with a potential of 78.
How many goals has Alex scored for the England soccer team?
Alex Greenwood has scored 5 goals in 71 caps for the England women's national soccer team.
Where is Alex Greenwood from?
The athlete is from Liverpool, England.