Alex Rodriguez, nicknamed A-Rod, is an American former baseball shortstop and third baseman who played 22 seasons in Major League Baseball (MLB) for the Seattle Mariners (1994-2000), Texas Rangers (2001-2003), and New York Yankees (2004-2016).
The former MLB player is the 2009 World Series Champion with the Yankees. Furthermore, he was the American League's Most Valuable Player three times and All-Star fourteen times.
Besides that, he is a very successful businessman and philanthropist. Alex is the chairman and CEO of A-Rod Corp of Presidente beer and co-owner of the National Basketball Association's (NBA) Minnesota Timberwolves.
The former baseball player has invested in several well-known technology companies, real estate, and the entertainment sector. He was a FOX Sports and ESPN analyst and starred in many advertisements.
If all this information doesn't jog your memory, you may recognize the baseball player as the ex-fiance of Jennifer Lopez. Unfortunately, they parted ways in April 2021.
Alex is dating Jaclyn Cordeiro in 2023. He posted an Instagram picture with Jaclyn on December 17 with the caption, "From our hearts to yours, Merry Christmas."
Before getting into details about the former Yankee's life and career, here are some quick facts about him.
Alex Rodriguez | Quick Facts
Full Name
Alexander Enmanuel Rodriguez
Birth Date
July 27, 1975
Birth Place
Manhattan, New York City
Nick Name
A-Rod
Religion
Christian
Nationality
American
Ethnicity
Dominican
Education
Westminster Christian School

Christopher Columbus High School

Horoscope
Leo
Father's Name
Victor Rodriguez
Mother's Name
Lourdes Rodriguez
Siblings
Three; Joe Dunand, Suzy Dunand, and Victor Rodriguez
Age
47 Years Old
Height
6'3″/1.90 m/190 cm
Weight
104 kg/229 lb
Hair Color
Black
Eye Color
Hazel
Build
Athletic
Profession
Businessman MLB Player (Former)
Former Team
Seattle Mariners, Texas Rangers, New York Yankees
Position
Shortstop, Third Baseman
Active Years
1994 – 2016
Marital Status
Dating
Partner/Spouse
Jaclyn Cordeiro
Kids
Two; Natasha and Ella
Net Worth
$350 Million
Social Media
Instagram, Twitter
Merch
Alex Rodriguez Biography, Signed Jersey
Last Update
March 2023
Alex Rodriguez | Early Life, Family, & Education
Alex Rodriguez was born on July 27, 1975, in Manhattan, New York City, to supporting and loving parents Victor Rodriguez and Lourdes Rodriguez.
His father, Victor, was a former baseball player in his hometown, the Dominican Republic. He was also a big fan of the New York Mets.
Victor's drive and love for the game attracted Alex to baseball. He often taught young Rodriguez to hit and catch. He worked at a shoe store in Manhattan before they moved to the Dominican Republic.
After three years, they relocated to Miami, where the MLB player attended Westminster Christian High School. However, the athlete's parents divorced a few years later. Then he was raised solely by his mother.
The former shortstop grew up alongside his older half-siblings, Joe Dunand and Suzy Dunand. Alex's mother worked 9-5 jobs to fulfill their basic needs.
Lourdes was a secretary at the local immigration office and waited tables at a restaurant.
The successful athlete credits his mother for his work ethic. Besides that, Rodriguez also has an older half-brother Victor Rodriguez Jr. who served in the United States Air Force.
In school, his coach, Hofman, served as a fatherly figure for him and encouraged him to pursue baseball.
Although he committed to join the University of Miami to play collegiate baseball, he entered the 1993 MLB Draft, and the Seattle Mariners drafted him in the first round.
Alex Rodriguez | Age, Height, & Weight
Alex turned 47 years old in 2023. As a former athlete, he takes excellent care of his health and diet.
Moreover, he works out daily. Rodriguez is reasonably fit and healthy for a guy in his mid-40s. Besides that, he is 1.90 m tall and weighs 229 lbs.
Alex Rodriguez | Baseball,Other Career & Controversies
MLB Career
Seattle Mariners
The Mariners drafted Rodriguez as the first pick in the 1994 MLB Draft. He did not attend college and got straight into the league after high school.
Hence, he was one of the youngest players in the Seattle team's history. Shortly after, Alex showed the group his true potential.
Rodriguez was one of the first shortstops in the franchise and American League history to win a batting title.
A-Rod also won the Silver Slugger Award four times while playing with the Mariners. The athlete was the Players Choice AL Player of the Year.
He assisted his team in the 2000 American League Champion Series. There he faced the New York Yankees. Although he set a career-high for walks, runs, and RBIs, the Yankees defeated the Mariners.
The Sporting News and Associated News picked Rodriguez as the Major League player of the year. Also, he finished second to Juan Gonzalez for the Most Valuable Player (MVP) Award.
Alex entered 2000 as the milestone player, setting a career high for walks (100), and became the only shortstop to have 100 runs, RBI, and walks in the same season.
Furthermore, he was selected as the Major League Player of the Year by Baseball America and ranked third in the AL MVP voting.
Texas Rangers
Following the 2000 American League defeat, the former shortstop became a free agent. He signed one of the richest deals in baseball history with the Rangers, worth $252 million over ten years.
However, Alex expressed his regret over taking the deal years later. The former baseball player wished he had listened to his agent and joined the New York Mets.
Nevertheless, he became the first player to ace the league in Home Runs (HR), Runs Batted In (RBI), and total bases. He also won the Babe Ruth Home Run Award and Gold Glove Award twice as a Ranger.
Besides that, he was the American League's Most Valuable Player. The former Mariners parted ways with the Texas team in 2003 after the MLB Association vetoed his deal.
After that, the Rangers traded him to the New York Yankees.
New York Yankees
The MLB player signed with the Yankees for $179 million, which would pay him $67 million in salary.
He also agreed to switch from shortstop to the third baseman as the legendary Derek Jeter was the Yankee's shortstop.
Rodriguez changed his jersey number from 3 to 13, as the Yankees' 3 was retired in Babe Ruth's honor.
In his first season with the Yankees, he hit .286 with 26 home runs, 106 RBIs, 112 runs scored, and 28 stolen bases.
Rodriguez was one of the only three players to complete 35 runs and 100 runs in seven consecutive seasons.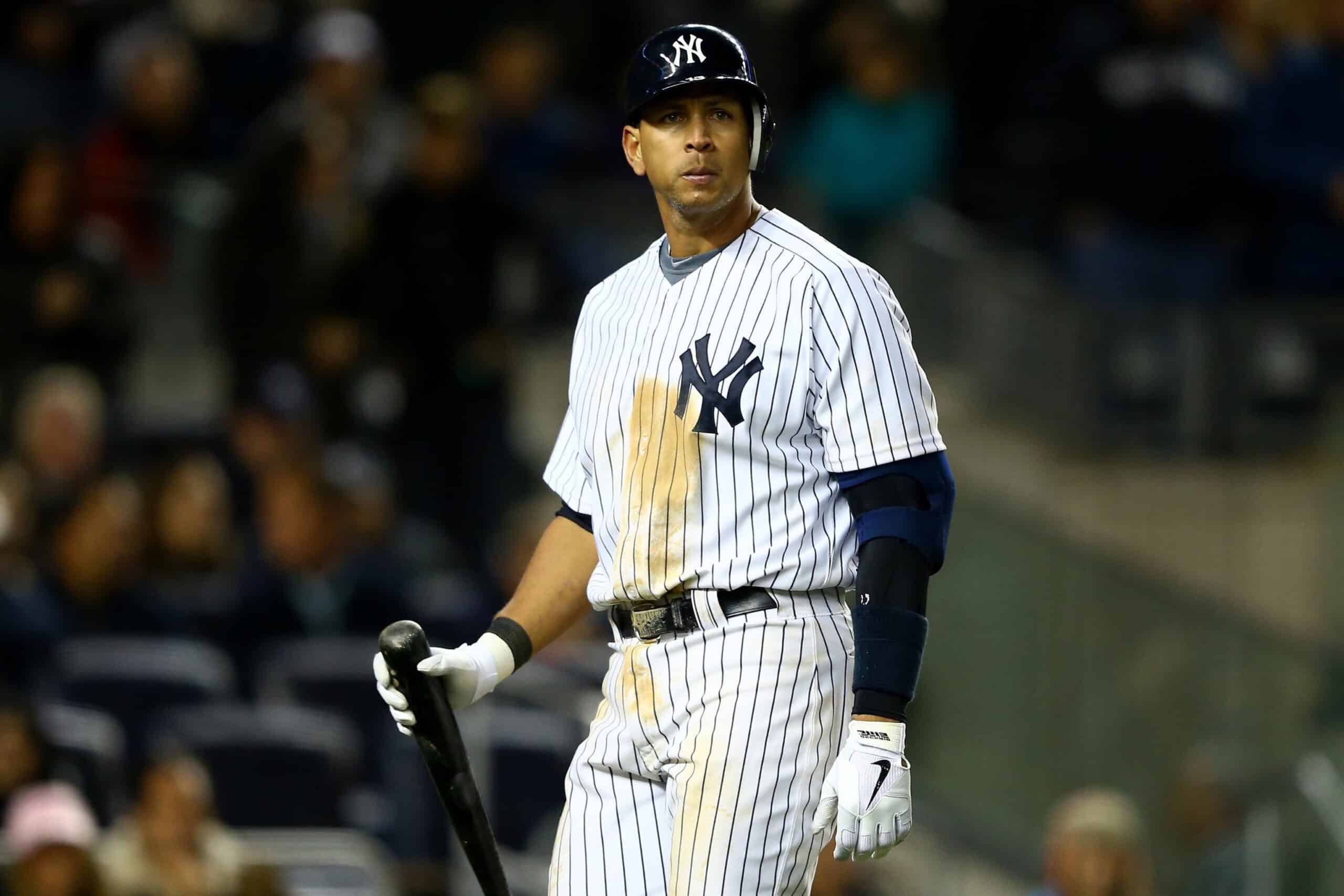 Alex became the first Yankee to win the American League Home Run since Reggie Jackson in 1980. He hit 47 home runs in 2005, establishing the record for right-hand batters.
The athlete won his second and third AL MVP Awards in 2005 and 2007. Alex also won his first and only series in 2009. Likewise, he received the Silver Slugger Award three times after joining the team.
However, while playing for the Yankees, Rodriguez was at the center of several controversies. He was accused of using performance-enhancing drugs and was involved in the Biogenesis scandal.
Alex hit his 500th career home run against pitcher Kyle Davies of the Kansas City Royals and became the youngest player to reach such a milestone at 32 years and eight days.
2007 marked the last year of Alex's 10-year contract, and his agent Scott Boras revealed that he wouldn't renew an agreement with the Yankees citing the future composition.
Many people called him 'Mr. Cooler' because whenever he joined a team, their performance turned cold, and as soon as he'd leave, they would do well again.
Use Of Performance-Enhancing Drugs
During Rodriguez's playing career, rumors about his potential drug use were swirling around. Initially, the former athlete denied all the allegations.
Former MLB player Joe Canseco hinted at writing about Alex in his next book about steroid use. A-Rod denied all the allegations and stated that he had never used performance-enhancing drugs (PEDs).
However, his statements quickly came back to haunt him. Sports Illustrated revealed that the player was one of 104 players who tested positive for drugs in 2003.
He was found to have anabolic steroids, testosterone, and Primobolan while playing for the Rangers. Since there were no penalties for drug violations, MLB took no strict actions against the players.
Eventually, the former MLB shortstop admitted to using banned substances from 2001 to 2003.
Nevertheless, Alex ensured that he was clean while playing for the Yankees. He blamed the substance abuse on his age and said he was young and naive.
Biogenesis Scandal
Alex was also a massive face in the Biogenesis Scandal. An anti-aging clinic in America called Biogenesis was accused of injecting MLB players with Human Growth Hormone (HGH).
As a result, A-Rod became one of many baseball players suspended for the 2014 season. He went through a lengthy process of opposing the decision.
Moreover, Alex took the matter to federal court with lawyer Joe Tacopina. Although Rodriguez appealed the decision from MLB, he later accepted his suspension.
Media Personality And Analyst Career
After a long career with the Yankees, Alex took a break in 2016 to spend quality time with his family and friends.
Nevertheless, the former shortstop remained a close and special advisor to the Yankees owner.
He then moved on to have a career in media Journals. The businessman appeared as a guest judge in Shark Tank's business reality television series.
Besides that, the former Yankee signed a deal with ABC News through which he served in GMA, Nightline, etc. Furthermore, he worked as an analyst for Fox Sports and ESPN.
During his tenure with Fox, Rodriguez was an Emmy nominee for Outstanding Sports Personality, Studio, and Sports Events, Analyst.
Moreover, he hosted Back in the Game for the CNBC network. He also judged Forbes' Next 1000 list.
Business
The retired MLB player is the founder of A-Rod Corp, an investment firm that backs growing businesses with capital, champions teams, and creates value for investors.
His other business ventures include Vita Coco, Snapchat, Wheels Up, Wave, Petros Pace, and Finance. Alex has funded startups like Acorn and Sonder Corp.
He has also invested in the American professional esports organization NRG Esports alongside Shaquille O'Neal and Jimmy Rollins.
The former baseball player has also financed fitness studio TruFusion, beverage brand Dirty Lemon, and Dominican Beer Company Presidente.
Recently this year, he invested in a financial technology company called Nova Credit.
Alex Rodriguez | Career Stats
Alex Rodriguez | Relationship And Kids
The former MLB player is in a relationship with Jaclyn Cordeiro. She is a 42-year-old fitness expert and lifestyle transformation stylist and has her fitness program called JacFit.
The fitness expert attended the University of Windsor, graduating with B.Sc in Nursing. She is a single mother with two young daughters named Bella and Savanah.
The two love birds first meet in October in Beverly Hills.
They were spotted walking together at their first meeting, as per DailyMail. The rumors started when the media clicked them for the first time.
Ex-girlfriend
The retired baseball player was in a relationship with his fiance, Jennifer Lopez.
The pair initially met at a baseball game where A-rod played for the Yankees. However, at the moment, Jennifer was married to her ex-husband Marc Anthony.
The couple met accidentally after twelve years at a restaurant. Shortly after, they started dating.
Besides that, the former athlete was married to Cynthia Scurtis.
They met at the gym. Together the former pair have two daughters named Natasha Alexander and Ella Alexander.
Alex Rodriguez | Net Worth And Salary
Through years of career in the Major Baseball League, the former shortstop has built impressive wealth. He is the Major League's all-time highest earner.
He earned almost $441 million from baseball alone. On top of that, A-Rod earned over $40 million from endorsements. As of 2023, he has a net worth of $350 million.
Moreover, he used to earn $33 million per year in salary at the peak of his career. Besides that, Alex had one of the most significant contracts in the sports world, worth $252 million.
The former athlete still earns a great deal from his investments and companies.
Alex Rodriguez | Social Media Presence
The former Yankee is active on social media platforms like Instagram and Twitter. His social media post includes pictures from MLB, media events, and travel pictures with two daughters.
Moreover, he shares information about a lot of baseball-related news on his Twitter.
Instagram: 4.1 million followers
Twitter: 1.2 million followers
Besides that, he has posed for photos alongside legendary NBA player LeBron James and lawmaker Ruth Bader Ginsburg.
Alex Rodriguez | Popularity
The former baseball shortstop and third baseman player is renowned for their fantastic career with the Mariners, Rangers, and Yankees.
The graph shows his search for 12 months.
Alex Rodriguez | Frequently Asked Questions (FAQs)
What years did Alex win MVP?
The former Ranger won the American League's Most Valuable Player title three times in his MLB career.
Is Alex Rodriguez hispanic?
Yes, Alex is Hispanic. Although he was born in New York City, his parents are from the Dominican Republic.
The former athlete is quite proud of his Hispanic and Latin roots. He consciously tries to teach and pass on his culture to his children.
How many home runs does Alex Rodriguez have?
Alex, in total, has 696 Runs.
What position did Alex play?
Alex played in shortstop and third-baseman positions.