Alexander Volkanovski and his wife Emma share two kids together.
Their romantic relationship dates back to 2004; they have been married since 2012.
In their 19 years of togetherness, the couple is proud parents of two daughters, soon to be three.
On February 20, 2023, Volkanovski announced they were expecting their third child- a baby girl.
Alexander Volkanovski, born on September 29, 1988, is an Australian mixed martial artist who competes in the Featherweight division in the UFC.
He is currently the No. 1 MMA pound-for-pound fighter of his division class.
Volkanovski is the defending UFC Featherweight Champion, having taken the title from Max Holloway in the UFC 245 (December 2019).
Since then, he has defended his championship in four bouts against Holloway (two times), Brian Ortega & Jung Chan-sung.
The New South Wales native was not into the MMA from early on.
Rather, he was an avid fan of wrestling and had already won a national title twice at 12. But he gave up wrestling at 14 and tried his hands on a different sport, rugby.
However, after playing rugby semi-professionally, Alexander pursued a career in MMA almost towards the end of 2011.
After several amateur fights, the UFC eventually signed him, and made his promotional debut on November 26, 2016.
Alexander Volkanovski Wife Emma
Alexander Volkanovski and Emma are high school sweethearts and have been together for more than 18 years.
They tied the knot on October 21, 2012, and never misses to celebrate their biggest day, even now.
Every year on their anniversary, the professional MMA fighter finds time to post about how grateful he is to find a girl like Emma and wife her.
Like Alexander, his wife, Emma, is also a fitness freak and often joins him during training.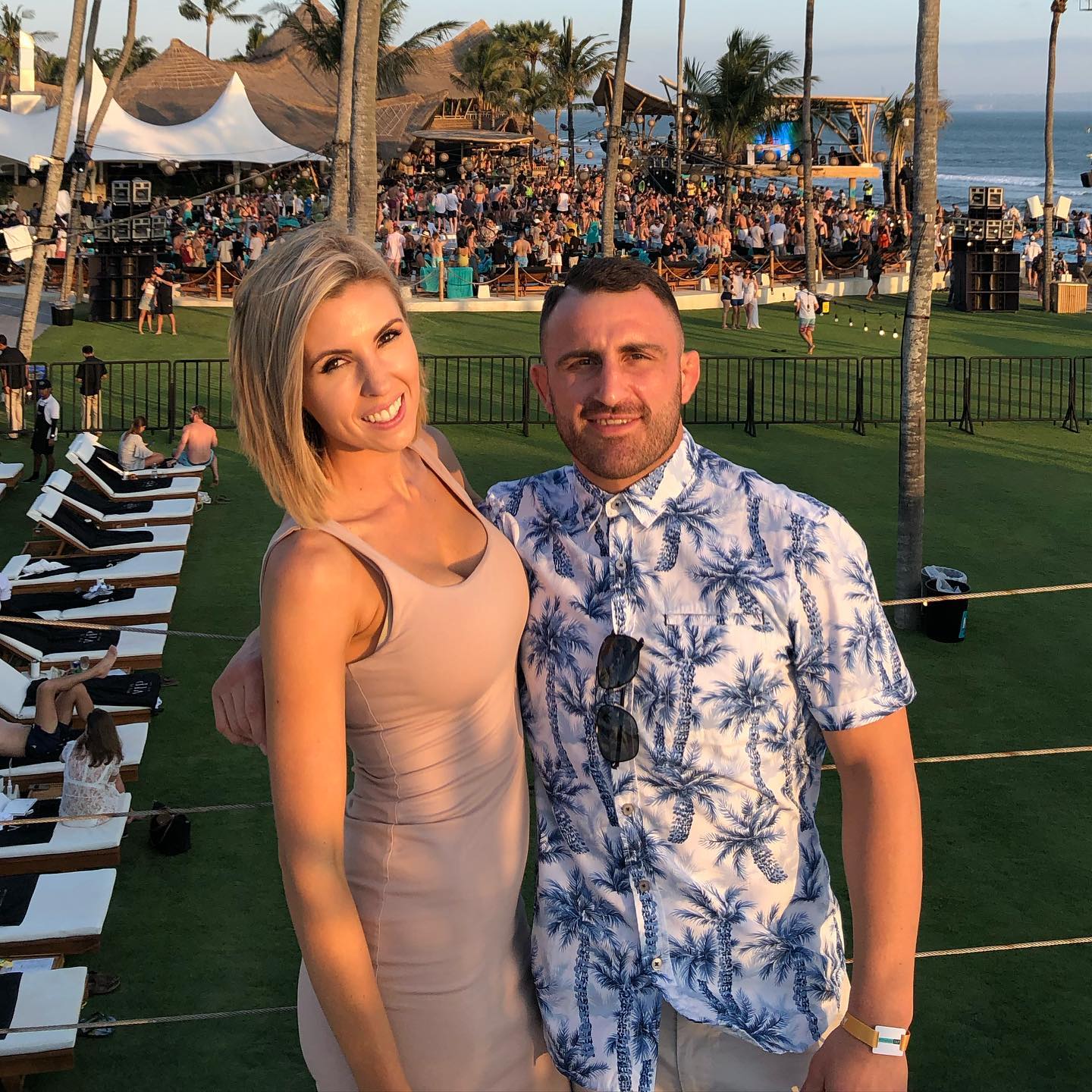 Moreover, Emma Volkanovski has done her BSc in Psychology from the University of Sydney.
She was reportedly born into a family of farmers and grew up with three sisters.
However, not much information is available about Emma's early life and personal details, and her social media is also private.
The Volkanovski Family Are Expecting A New Member
Alexander and his wife, Emma, welcomed their first child after almost three years of marriage.
Their bundle of joy, a baby girl named Ariana, was born on October 19, 2015. The arrival of Ariana brought immense pleasure to the couple's lives, and they embraced their new roles as loving parents.
Similarly, Mr. and Mrs. Volkanovski were blessed with their second child, another girl, Airlie, in September 2017.
The family of four was frequently seen having quality time together and going on vacations to different places.
Despite his tough exterior in the MMA ring, Alexander Volkanovski effortlessly transitioned into a doting father to his precious daughters, showcasing his softer side.
In a heartwarming announcement on February 20, 2023, the Volkanovski family shared delightful news with their fans- they are expecting another addition to their family.
They share a gender reveal video, where their two little kids were eager to reveal whether they would welcome a baby brother or sister.
Girl, it is! The Volkanovski family will soon be graced with the presence of a new baby girl.
Moreover, the Volkanovskis' journey as parents has been filled with love, joy, and memorable moments.