Max Holloway, the American professional mixed martial artist, was born to his father Mark Holloway, and mother, Missy Kapoi. Learn everything about Max Holloway parents!
Holloway is widely considered one of the best fighters in the UFC and currently competes in the Featherweight division.
He was born on December 4, 1991, in Honolulu, Hawaii. He started learning martial arts at an early age, and at the age of 18, he made his professional MMA debut.
Halloway has exceptional cardio, movement, and hitting skills, which define his fighting style. He is renowned for his heavy hitting, deft footwork, and capacity to keep a fast pace throughout a battle.
Competing in the UFC, Max has also been a part of a number of noteworthy battles, such as his two matches with Dustin Poirier and his five-round battle with Brian Ortega.
Max Halloway Parents
Max Holloway was born and raised in Honolulu, Hawaii, where he grew up with his family but didn't have a pleasant childhood.
Holloway didn't have a father around while he was growing up. In fact, his grandparents raised him.
His mother, Missy Kapoi, was constantly there, yet she wasn't because of her drug use. Both of Holloway's parents were heavy drug users, with his mother using crystal meth before getting clean.
His dad, Mark, constantly abused his mom, who came and went from Max's life, and beyond age 10, he never saw him again.
Nevertheless, those habits did not transfer to him. Instead, he concentrated on bettering himself and started kickboxing in 2007.
After three days of training, he won his first amateur fight in kickboxing while fighting for Team Ruthless.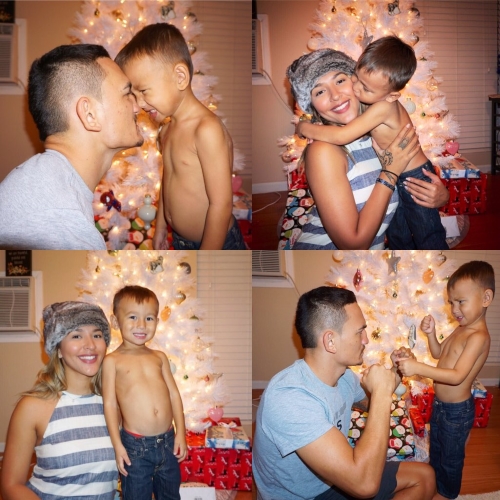 In 2012, Holloway wedded his longtime partner Kaimana Pa'aluhi, with whom he has a son named Rush Holloway. Before being divorced in 2017, the pair had separated in 2014.
Alessa Quizon, a Hawaiian professional surfer, and Max started dating in early 2020. On April 16, 2022, they were married.
He often shares pictures and videos of his family on his social media accounts, demonstrating his love and dedication to them.
Max Halloway: Skilled and accomplished fighter of the UFC
Max Holloway is undoubtedly one of the most skilled and accomplished fighters in the UFC.
He began his martial arts journey at a young age, studying kickboxing, and later on transitioned to mixed martial arts.
He went on to win his first four fights in the MMA, setting the stage for a remarkable career that has since included numerous accolades and accomplishments.
Holloway made his UFC debut in 2012 at the young age of 20 and quickly made a name for himself with his impressive striking abilities and well-rounded skillset.
The most notable of his achievements was his reign as the UFC featherweight champion, which began in 2017 and lasted for nearly three years. During this time, he defended his title against some of the toughest fighters in the division.
Holloway's fighting style is characterized by his exceptional striking abilities, particularly his precise and powerful punches and kicks.