Ali Krieger does not have a husband; instead, she is married to her wife, Ashlyn Harris. The couple married on December 28, 2019, in a ceremony held in Miami.
Ashlyn Harris and Ali Krieger both won the Women's World Cup twice and married in a beautiful ceremony at Vizcaya Museum & Gardens in Miami.
They had 140 guests at their wedding.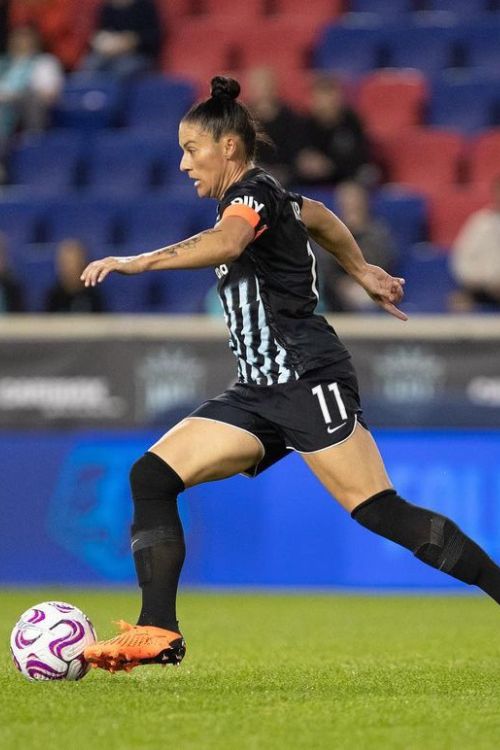 Ali Krieger was born in Alexandria, Virginia, to parents Debbie Alongi and Ken Krieger. She grew up in Dumfries, Virginia, alongside her older brother, Kyle.
Inspired by her brother and father, Ali started playing soccer at a young age and joined the Prince William Sparklers youth soccer team.
Ali later played soccer at Penn State University and was a member of the Nittany Lions women's soccer team.
After her first year at Penn State University, she had the opportunity to join the Washington Freedom for exhibition matches during the summer of 2004.
This experience allowed her to gain valuable direction in professional soccer and provided a platform to showcase her skills outside of the college environment.
Ali currently represents NJ/NY Gotham FC in the National Women's Soccer League (NWSL), the premier division of women's professional soccer in the United States.
Ali Krieger Husband
Ashlyn Michelle Harris, the spouse of Ali Krieger, is a former American soccer player who gained recognition for her impressive career in the sport.
She was born in Cocoa Beach, Florida, and grew up in a lively environment with her parents, Tammye and Mike Harris, and her older brother, Chris.
During her childhood, Harris looked up to her brother and often engaged in skateboarding and surfing activities with him and his friends.
She started playing soccer with clubs like Palm Bay Rangers and South Brevard United and later played for the Seminole Ice girl's team.
In 2003, Harris achieved a significant milestone by winning the state championship with the U-17 Indialantic Force.
She debuted on March 11, 2013, and played a crucial part in the championship-winning squad at the 2015 FIFA Women's World Cup in Canada and the 2019 FIFA Women's World Cup in France.
Professionally, Harris had a remarkable journey, playing for several clubs in different leagues.
Her contributions to women's soccer on the national and international stages have left a lasting impact.
Even after her retirement, she remains a respected figure in the sport.
Ashlyn And Ali's Relationship Timeline
Ashlyn Harris and Ali Krieger met in 2010 as members of the U.S. Women's National Soccer team.
Over time, they grew closer through their shared love for sports and other activities. They fell in love, and their relationship has become an inspiration to their fans.
After dating for a decade, Ashlyn proposed to Ali during a vacation in Clearwater, Florida.
The couple took their relationship to another level by tying the knot in December 2019, just three days after Christmas.
The Couple Are Parents To Two Children
In 2021, a couple who had been married for two years decided to adopt a child.
They were open about their plans to adopt a child before having a biological one. On February 12th, 2021, they welcomed their daughter Sloane Phillips Krieger-Harris into their family.
Then, on August 17th, 2022, they expanded their family once again by adopting a baby boy named Ocean Maeve Krieger-Harris.