Christian Pulisic is an American soccer player who plays for Chelsea and the United States national team; he has won many accolades at a young age. Pulisic has been nicknamed Captain America as he captained the U-17 national team.
In 2022 Christian was named to the USMNT roster for the World Cup 2022 Qatar, however, under Gregg Berhalter, the USMNT coach decided not to assign the position of captain to Pulisic.
The athlete plays as an attacking midfielder and winger. He began his professional career with a German club called Borussia Dortmund.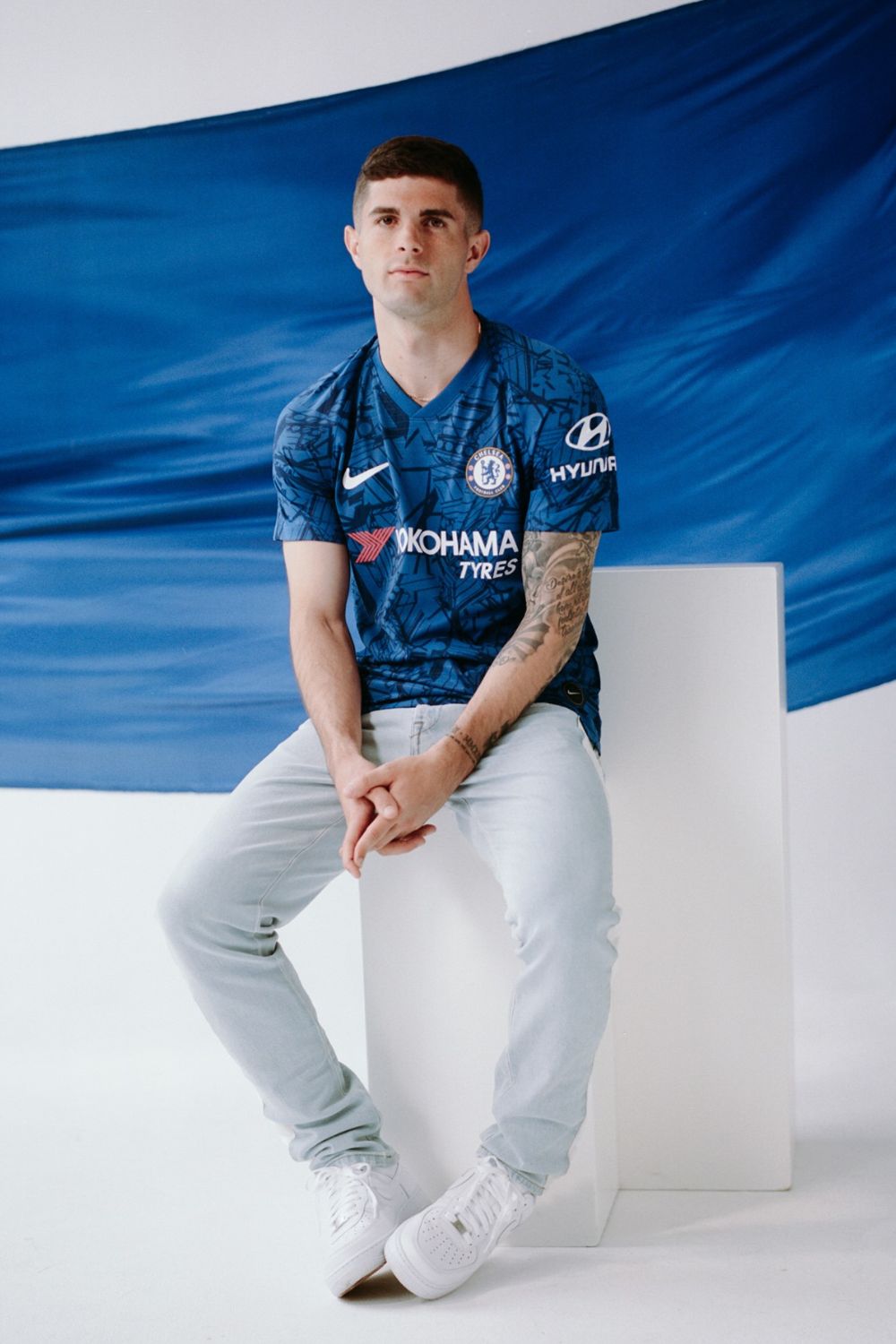 Moreover, Pulisic was at the top of the headlines for several days as his transfer to Chelsea was worth $73 million, which made him one of the all-time most expensive players in North America.
Likewise, Christian is the youngest athlete ever to become a captain of a U.S. national team. He has earned several honors under his name throughout his career.
Furthermore, let's get to know more about one of the rising soccer athletes, Christian Pulisic.
Firstly here are some quick facts about the soccer world's Captain America.
Christian Pulisic | Quick Facts
Full Name
Christian Mate Pulisic
Birth Date
September 18th, 1998
Age
24 Years Old
Birth Place
Hershey, Pennsylvania
Nickname
Captain America
Religion
Not Available
Nationality
American
Education
Workman Elementary School

Hershey High School

Horoscope
Virgo
Father's Name
Mark Pulisic
Mother's Name
Kelley Pulisic
Siblings
Devyn Pulisic
Height
5 ft 8 in / 1.73 m / 173cm
Weight
70 kgs / 150 lb
Build
Athletic
Shoe Size
8.5 US
Eye Color
Brown
Hair Color
Brown
Marital Status
Unmarried
Girlfriend
Not Disclosed
Children
None
Profession
Professional Soccer Player
Current Team
Chelsea FC
Player agent
Relatives
Position
Attacking Midfielder, Winger
Former Teams
Brackley Town

Michigan Rush

PA Classics

Borussia Dortmund

Net Worth
Estimated $14 Million
Awards and Achievements
U.S. Soccer Young Male Athlete of the Year- 2016

U.S. Soccer Male Athlete of the Year- 2017, etc.

Books Writer
Pulisic: My Journey So Far
Current Team
Chelsea FC
Social Media
Instagram, Twitter, Facebook
Merch
Autograph, Signed Jersey
Last Update
November 2022
Christian Pulisic | Early Life, Family & Education
Chelsea's famous winger and attacking midfielder, Christian Pulisic, was born on September 18, 1998, in Hershey, Pennslyvania, to his proud parents, Mark Pulisic and Kelley Pulisic. He also has a sister named Devyn Pulisic.
Pulisic grew up with parents who loved soccer. Both his parents played soccer at George Mason University.
His father, Mark, played professionally for an indoor soccer team called the Harrisburg Heat during the 1990s.
View this post on Instagram

After his retirement as an athlete, Christian's father started working as a coach at the youth and professional levels.
Moreover, Christian lived in England at seven and played for the youth soccer club Brackley Town.
Christian and his family moved back to Michigan after his father became the general manager of the indoor soccer club called the Detroit Ignition.
Likewise, he played for the Michigan Rush football club and attended Workman Elementary School.
Similarly, his family moved again and resided in the Hershey area where he was born. He represented PA Classics, a local U.S. Soccer Development Academy.
Similarly, Christian occasionally trained with a professional club called the Harrisburg City Islander, which is presently called the Penn FC.
Christian Pulisic | Age, Height, And Body Measurements
Christian, also famously known as Captain America, turned 24 years old. He has light brown colored hair and eyes.
Moreover, Pulisic possesses an athletic physique, stands at the height of 1.73 m, and weighs around 150 lbs.
View this post on Instagram

Furthermore, according to Christian's birthdate, his horoscope falls under the sun sign of Virgo.
People with Virgo as their sun sign are known for their critical, hardworking, and reliable nature.
Christian Pulisic | Career And Profession
Borussia Dortmund
Christian started his professional club career with Dortmund at 16 in February 2015.
Initially, he was part of the U17 team, and later Dortmund transferred him to the U19 team.
Moreover, Christian made his debut for the first team on January 24, 2016, in a friendly match against Union Berlin.
In the match, he scored a goal and assisted for another goal while playing for 90 minutes.
Likewise, Pulisic made his debut in the UEFA Europa League while playing against FC Porto on February 18.
Similarly, he participated in his first Bundesliga on February 21, 2016, where the club competed against Bayer Leverkusen.
After his second appearance in the Bundesliga, the team manager stated-
"Christian is just a teenager in his first year of professional football. His first two games as the starting eleven were with Leverkusen and here today in Schalke – which is not the easiest of tasks.
"It presents our huge appreciation…..see him as a full-time player on our team… He looked outstanding lately, which was proven today. It is completely normal not to have played with such pace and intensity for over 90 minutes."
Furthermore, Christian recorded his career-first Bundesliga goal on April 17, making him the fourth-youngest and youngest non-German player to score a goal at 17 years.
Similarly, he became Bundesliga's youngest player to score two top-flight league goals on April 23.
Champions League
During the 2016 International Champions Cup, Christian became the youngest player of Dortmund to compete in the UEFA Champions League, his first competitive appearance.
Moreover, Christian signed a contract extension with Dortmund on January 23, 2017.
According to the contract, Christian had to play for the club until 2020. Pulisic's first goal in the UEFA Champions League made him the first youngest scorer of Dortmund to record the goal.
Furthermore, he recorded his first goal during the DFL- Supercup on August 5, 2017.
Chelsea
Premier League's club Chelsea signed Christian on January 2, 2019. However, due to his contract extension with Dortmund, he represented the club on loan for the remaining 2018-2019 season.
Chelsea had to pay £58 million as a transfer fee for Christian's transfer from Dortmund.
This particular transfer made Christian the most expensive American player. He was also the second most expensive player sale for Dortmund.
He scored in Chelsea's opening game in the 2021-2022 Premier League season 3 by winning 3-0 over Cyrstal Palace.
Debut Season
Christian made his Premier League debut on August 11, 2019, representing Chelsea while playing against Manchester United.
He scored his first goal as a Chelsea player on October 26, 2019, finishing with a perfect hat-trick win against Burnley.
Moreover, his perfect hat-trick record was the first of his career, and Christian became the second American to accomplish this in the Premier League.
He was also the youngest hat-trick scorer in entire Chelsea history. Likewise, Christian became the first Chelsea member to score a perfect hat trick since 2010.
You Might Also Like: Neymar Net Worth: Early Life, Career, House, Cars & Lifestyle>>
Christian Pulisic | Injury
On August 1, 2010, Christian scored the opening goal during the 2020 FA Cup Final while playing against Arsenal and became the first American player to score in the competition finals.
However, Pulisic was substituted early during the second half due to a hamstring injury.
Furthermore, in August 2020, Christian became part of the eight-player shortlists for the Premier League Young Player of the Season honors, which was later awarded to Trent Alexander-Arnold of Liverpool.
After his injury improved, Christian made his season debut on October 3, 2020.
He started his first Premier League match on October 17 while playing against Southampton.
During the game, Christian's 93rd-minute goal for Chelsea while playing against Leeds United on December 5, 2020, made him the fastest American to lead toward ten Premier League goals.
He tested positive in late 2021 and could not appear; he did not play until November as he suffered an ankle injury.
On January 2, 2022, he scored an equalizer 2-2 against Liverpool. They won under the supervision of Graham Potter, Chelsea's new manager, against Wolverhampton.
Christian Pulisic | International Career
Moreover, Christian has played with local and professional clubs throughout his career. He has also represented the United States team- U-15 and U-17.
He was captain of the U-17 team during the 2015 FIFA U-17 World Cup. Likewise, Christian was also eligible to play internationally, representing Croatia, but he declined the opportunity.
Similarly, on March 27, 2016, the national senior team's head coach, Jürgen Klinsmann, called Pulisic to represent the national team during World Cup qualifiers.
Thus, making Christian the youngest American player to play in the World Cup qualifier. He became part of the senior team for the Copa América Centenario.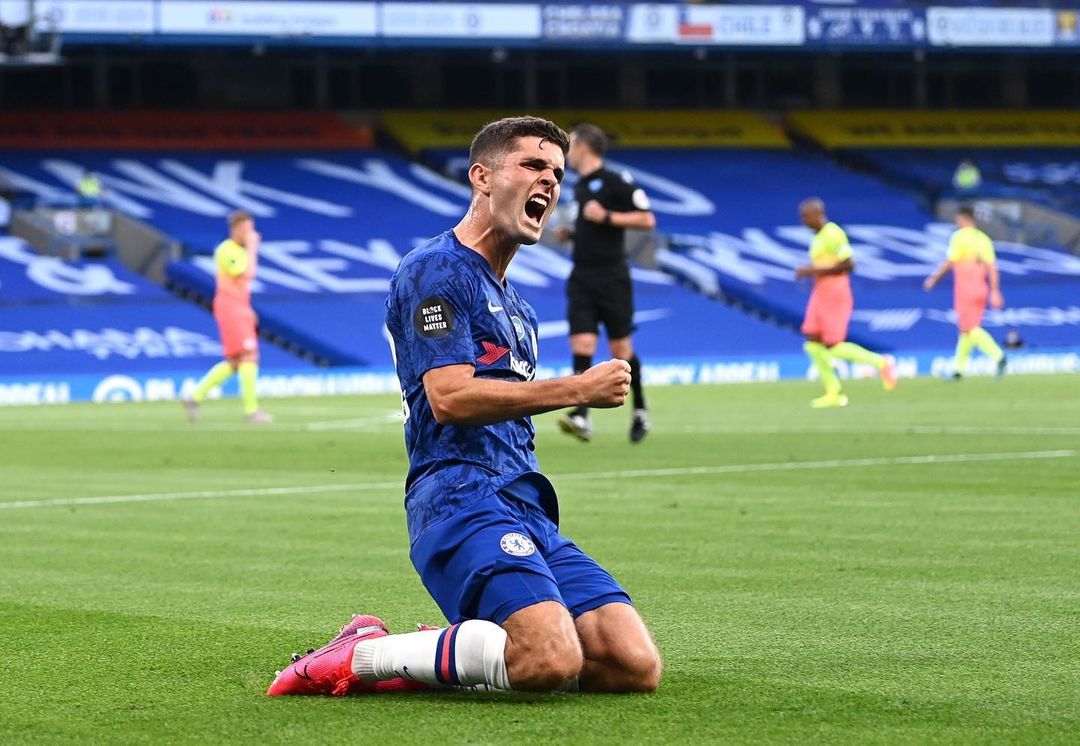 While playing against Bolivia, Christian became the youngest player to score for the United States.
Furthermore, on September 2, 2016, Christain recorded two goals and an assist during a World Cup qualifying and became the youngest person to score in a World Cup qualifier representing the U.S.
Also, he became the youngest athlete to score a brace in American history.
Similarly, in the next match against Christian broke another youth record and became the youngest American player to start a World Cup qualifying match.
Additionally, Christian became the youngest player to captain the United States national team on November 20, 2018.
Christian Pulisic | Awards and Achievements
Club (until 2020)
Chelsea
FA Cup runner-up 2019–2020
Borussia Dortmund
International
CONCACAF Under-17 Championship third-place 2015
CONCACAF Gold Cup runner-up 2019
Individual
2016's U.S. Soccer Young Male Athlete of the Year
Kopa Trophy- 2nd place 2018
CONCACAF Gold Cup Best XI 2019
UEFA Champions League Breakthrough XI 2016
CONCACAF Best XI 2017
2x U.S. Soccer Male Athlete of the Year
CONCACAF Gold Cup Best Young Player Award 2019
Christian Pulisic | Net worth
Christian Pulisic, Captain America, has become one of the biggest soccer stars.
Pulisic's journey started at a very young age, and since then, he has achieved various youngest-player honors throughout his career.
He is one of the most expensive North American athletes in history to date. His exceptional ability has undoubtedly awarded him various attractive deals.
Although we cannot state the exact amount of his career earnings, we can assume that-
"The presumable net worth of Christian Pulisic falls somewhere around $14 million and more."
Christian Pulisic | Personal Life And Girlfriend
With an impressive professional career, Christian is also one of the most good-looking athletes.
Hence, the most frequently asked question about him is whether he is single or not. If he has a girlfriend or not? If yes, who is she?
Christian has never gotten his name linked with anyone or shared about a potential girlfriend on his social media.
Thus, we can assume that Christian Pulisic is probably single and not dating anyone.
Christian Pulisic | World Cup 2022 Qatar
Christian was elected CONCACAF Nations League Final Best XI 2021 in 2021.
On November 12, 2021, he and his team qualified against Mexico for World Cup qualification.
He appeared in qualification matches against Honduras and Panama in February and March 2022, respectively.
People were curious whether Christian would make it to the 2022 World Cup.
The wait is over with the recent release of a news source; Pulisic, nicknamed Captain America, will be playing in the World Cup 2022 Qatar; he was expected to play as a captain for the United States later this month.
However, the USMNT coach Gregg Berhalter for Qatar 2022, has chosen not to assign the position of captain to Pullisic, and Tyler Adams will replace him.
The armband for Qatar 2022 has been assigned to the 23-year-old midfielder from Leeds United, Tyler Adams, who will become the youngest to do it for the Bars and Stripes in a World Cup since 1950, as per news released on November 20, 2022.
As the Leeds duo, Tyler Adams and Brendon Aaronson were also given green flags.
Social Media Presence
On his social media sites, he updates his games and lifestyle. Follow him to know more about him through
Instagram: 6.1 million followers
Twitter: 799.6k followers
Facebook: 4.2 million followers
View this post on Instagram
Popularity Graph
Christian Pulisic is an American soccer player, all set to represent his country in Qatar FIFA 2022.
As his nickname Captain America, he will be playing in the national team of the United States for the World Cup 2022; therefore, his search rate hiked.
Interesting Facts about Christian Pulisic
Christian has Croatian Citizenship, as his Grandfather was born in Croatia.
Pulisic's cousin Will Pulisic is a soccer player like him and has represented the U.S. U17 team as a goalkeeper and Borussia Dortmund.
Besides soccer, Christian is a fan of various other sports teams like- the Philadelphia 76ers, New York Rangers, and New York Jets.
Frequently Asked Questions (FAQs)
Is Christian Pulisic good?
According to Fox Sports, Christian Pulisic is undoubtedly one of the best players in Chelsea.
How is Christian Pulisic called Captain America?
Christian Pulisic is called Captain America because he is considered one of the players who carried the nation into the new generation. Thus, earning his nickname "Captain America.
What does Christain Pulisic's tattoo say?
The tattoo contains a quote from American author Napoleon Hill that reads, "Desire is the starting point of all achievement, not a hope, not a wish, but a keen pulsating desire which transcends everything."
How old was Christian Pulisic when he went pro?
Christian Pulisic turned a professional player at the early age of 17.
What is Christian Pulisic Chelsea's jersey number?
Christian Pulisic Chelsea jersey number is #10.
What is Christian Pulisic's rookie card value?
Christian Pulisic's rookie card price ranges from $1,383.40 to $11,947.67.
What is Christian Pulisic's market value?
According to the TransferMarkt website, Christian Pulisic's current market value is €50.00m.
How many goals did Pulisic score for Chelsea?
Christian Pulisic scored eight goals for Chelsea in 2021/22, six in the Premier League, and twice in the Champions League.
Interestingly, Kai Havertz is yet to learn English, while Christian Pulisic can speak German.