"The fifth-greatest NBA shooting guard of all time," as rated by ESPN, Allen Iverson is a former American basketball player. The eleven-time NBA All-Star played fourteen seasons in the National Basketball Association (NBA).
He was in both the shooting guard and point guard positions during his career. The 2001 NBA's Most Valuable Player is known for prolific scoring regardless of his relatively small height.
The Basketball Hall of Famer has a playoff scoring average of 29.7 points per game, only behind Michael Jordan. He won the bronze medal for the United States at the 2004 Summer Olympics.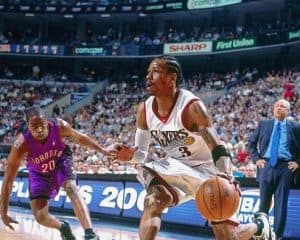 You may have watched Allen play the NBA games and cheered for him for years. However, you may not know enough about his aspiring career journey and outstanding accomplishments.
With a difficult childhood and legal problems in early adulthood, his life story is worth reading. So, stick with the article through to the end.
Quick Facts:
Full Name
Allen Ezail Iverson
Birth Date
June 7, 1975
Birth Place
Hampton, Virginia, United States
Nickname
AI, The Answer, Ivy, The 3rd Degree
Religion
Christianity
Nationality
American
Ethnicity
Black
Education
Bethel High School

Georgetown University

Horoscope
Gemini
Father's Name
Allen Broughton
Mother's Name
Ann Iverson
Siblings
None
Age
47 Years Old
Height
6 feet (183 cm)
Weight
75 kg (165 lbs)
Shoe Size
11 (US)
Build
Athletic
Eye color
Dark Brown
Hair Color
Black
Profession
Basketball Player (former)
Position
Shooting guard/Point guard/Combo guard
Active years (Senior Career)
1997-2016 (player)

2019-present (coach)

Teams
Philadelphia 76ers

Denver Nuggets

Detroit Pistons

Memphis Grizzlies

Beşiktaş

Jersey Number
#3 Philadelphia 76ers

#1 Detroit Pistons

#3 Denver Nuggets

#3 Memphis Grizzlies

Sexual Orientation
Straight
Marital Status
Divorced
Ex-Wife
Tawanna Turner (m. 2001-2010)
Children
Five
Net Worth
$1 million
Salary
$2 million (2010)
Endorsement
Reebok
Social Media
Facebook, Twitter, Instagram
Merch
Books, Gifts, Bobblehead, Signature Autographed Jersey
Last Update
March, 2023
Where is Allen Iverson from? Family and Education
Allen Ezail Iverson, shortly, Allen Iverson was born in Hampton, Virginia, on June 7, 1975. His mother, Ann Iverson, was 15 years old when he was born.
Her husband, Allen Broughton, left her before Allen was born. So, she gave her maiden name to Allen. Then, Ann moved to the new apartment of her new boyfriend, Michael Freeman, with her infant child.
Michael, his father figure, was arrested for drug dealing when Allen was 13. Consequently, Allen's childhood was a challenging experience dealing with poverty.
Allen went to Bethel High School. He played for the school's football team as a running back, kick returner, and defensive back. Also, he was a point guard for the school's basketball team.
For both sports, Allen received The Associated Press High School Player of the Year Award. Besides, he won the 1992 under-17 AAU national champions with the Boo Williams AAU basketball team.
Along with his friends, Allen was involved in a fight at a bowling alley in Hampton in 1993. The conflict soon turned out to be racial. Allen was claimed to have hit a woman in the head with a chair during that.
Only he and his three black friends were arrested. Allen was 17 at the time. However, he had to face adult charges of maiming three people.
Going to jail, someone sees something weak in you; they'll exploit it. I never showed any weakness. I just kept going strong until I came out.
Allen was a victim of racial prejudice and had to spend five years in prison. Later, his conviction was overturned by the Virginia Court of Appeals in 1995.
College Career
The shooting guard joined Georgetown University in 1994. In his first season, he reached the All-Rookie Tournament First Team and won the Big East Rookie of the Year.
Also, in his second season, Allen won Big East Championship with the Hoyas. He was the all-time leading average scorer at 22.9 points per game when he ended his college career.
Professional Career
Allen got selected in the 1996 NBA draft and left his college to join the Philadelphia 76ers.
Philadelphia 76ers
Allen was the shortest pick ever in the NBA draft during the time. He debuted against the Milwaukee Bucks with 30 points and six assists. Then, Allen crossed over Michael Jordan against the Chicago Bulls, in which he earned 37 points.
In the 1998-1999 season, Allen averaged 28.5 points per game in ten playoff games. He extended his contract the next season for six years with net wages of $70 million. But, this season too.
The Sixers were eliminated, made only to the second round of the NBA championship. Besides, Iverson was included in the Eastern Conference All-Star team for the first time in his career.
First NBA Finals
In the 2000-01 season, Iverson played in the 2001 NBA All-Star Game and was the MVP. He also became NBA's Most Valuable Player in the season. Allen was the shortest and the lightest player ever to win the MVP title.
The 76ers faced Los Angeles Lakers featuring Kobe Bryant in the 2001 NBA Finals, the first finals since 1983. Iverson scored 48 points for the 76ers beating the Lakers 107-101 to be the NBA champion.
Playoff Disappointments
Injuries disrupted Allen's 2001-02 season. However, he averaged 31.4 points playing only 60 games. As a result, the 76ers bowed out from the first round of the playoffs with a defeat to the Boston Celtics.
The next season was disappointing for the 76ers as the Detroit Pistons eliminated them in the second round of the playoffs.
In the latter part of the 2003-04 season, Allen was suspended and fined for missing practice under a new coach. During the season, the 76ers could not make up to the playoffs.
Leaving the 76ers
Again, the team had a disappointing start of 5-10 in 15 games in the 2006-07 season. Later, Allen ended his 10-year career with the Sixers after he reportedly wanted to be traded.
Denver Nuggets
In December 2006, Allen and Ivan McFarlin were traded with the Denver Nuggets for four players. He made 22 points and ten assists in his first game for the Nuggets against the Sacramento Kings.
After the game between the Nuggets and his former team, he criticized the referee, the 76ers, as he was expelled from the game after two fouls. NBA fined him $25,000 for the act.
Detroit Pistons
Allen was traded to the Detroit Pistons in November 2008. He scored a minimum of 24 in four of his first five games for the Pistons.
However, he did not get enough playing time there. As a result, the Pistons announced he wouldn't play the latter of the 2008-09 season.
Memphis Grizzlies
Allen signed for the Memphis Grizzlies with a one-year contract in September 2009. But, again, he was benched for several games at the Memphis. So, he terminated the contract a couple of months after playing only three games.
The 76ers return
After leaving the Pistons, Iverson returned to his old club with $1.3 million for a one-year contract. The home crowd cheered him on his first match after his return against the Denver Nuggets.
He ended the Sixers' twelve games losing streak against the Golden State Warriors. Allen played his final NBA game against the Chicago Bulls on February 20, 2010, before leaving the 76ers for personal issues.
Beşiktaş
The Turkish Super League team, Beşiktaş, announced the signing of Allen in October 2010. It was reported it was a $4 million, two-year deal. He debuted for the team against the Serbian team, Hemofarm, with a 91-94 loss.
Allen played ten games for Beşiktaş and did not play professional basketball after his calf surgery.
BIG 3
Allen served as a captain and coach for the 3's Company in the 3-on-3 professional basketball league, BIG3. He scored 2 points in 9 minutes in his first game there.
Check out this video to see Allen Iverson's jump shot,
When did Allen Iverson play his last game? Retirement
Allen Iverson formally announced his retirement from basketball on October 30, 2013, saying he lost his desire to play.
The 76ers' home crowd gave him a standing ovation on the same night at their 2013-14 season opener.
He last played in the NBA in the 2009-2010 season, where he played three games with the Memphis Grizzlies and twenty-five with the Philadelphia 76ers.
Moreover, Iverson last played professionally in Turkey in the 2010-2011 season but left halfway through the first season of a two-year contract.
1995 World University Games
Allen was in the 1995 USA World University games Team with Tim Duncan and other future NBA stars. The team snatched the gold medal with a 141-81 win against the hosts, Japan.
2003 FIBA Americas Championship
Allen started eight games for the Team USA team in the 2003 FIBA Americas Olympic Qualifying Tournament. He was 10th in scoring, fourth in steals, and seventh in assists during the campaign. He missed the USA's final two matches with a sprained right thumb.
Olympic Career
Iverson represented the US national team at the 2004 Athens Summer Olympics. Moreover, he played under the coaching of legendary coach Larry Brown.
Furthermore, Allen was the captain of the 2004 US men's basketball team along with Tim Duncan. It was the first Olympics since 1992 that the US team had not won the gold medal.
Besides that, it was the team's second Olympic bronze medal since 1988. In addition, it was the worst performance of the men's basketball team since the NBA players were allowed to play in the Olympic games.
The US team lost three games, including the opening game against Puerto Rico, where they lost by 19 points. It is the largest margin of defeat for the team to this date.
Since then, Iverson has not played in any Olympic Games, and Tokyo 2020 is not an exception. On top of that, he is a retired player and is not coming out of retirement to join the US men's basketball team in Tokyo.
What rule did the NBA change because of Allen Iverson?
NBA changed the dress code rule because of Allen Iverson. Iverson was one of the coolest and flashiest guys to ever play in the NBA. He was one of the main reasons why the NBA implemented a dress code rule.
To be precise, Allen was known for arriving at post-game interviews or games wearing his street clothes. His hip-hop-styled, baggy clothes were considered unprofessional for the league.
So David Stern the-then commissioner of the NBA implemented the dress code rule in 2005. The rule stated that,
"All players must dress in business or conservative attire while arriving and departing during a scheduled game, on the bench while injured, and when conducting official NBA business (press interviews, charity events, etc.)."
Moreover, the dress code rule also banned (vintage) jerseys, sunglasses (indoor), headphones, jeans, hats, T-shirts, do-rags, sneakers, large jewelry, etc. Not to mention violations of the dress code lead to fines and suspensions.
Allen Iverson | Accolades and Achievements
1993: First-team Parade All-American

1995: Big East Rookie of the Year, Second-team All-Big East, Big East Defensive Player of the Year

1996: Big East Defensive Player of the Year, First-team All-Big East, Consensus first-team All-American

1997: NBA Rookie of the Year, NBA All-Rookie First Team

1999: NBA scoring champion, All-NBA First Team

2000: All-NBA Second Team

2001: NBA Most Valuable Player, NBA All-Star Game MVP, NBA scoring champion, All-NBA First Team

2002: NBA scoring champion, All-NBA Second Team

2003: All-NBA Second Team

2005: NBA scoring champion, NBA All-Star Game MVP, All-NBA First Team

2006: All-NBA Third Team

2000–2010: 11× NBA All-Star

2001–2003: 3× NBA steals leader

2016: Naismith Memorial Basketball Hall of Fame
Allen Iverson | Career stats
How many kids does Allen Iverson have?

Wife and Children

Allen married his high school sweetheart Tawanna Turner in 2001.

The couple has had five children: Tiaura, Allen II, Isaish, Messiah, and, Dream. They divorced in 2013.
Allen Iverson | Net Worth and Salary
Allen made more than $150 million from his NBA career. Moreover, his total income during his entire career is reported to be $200 million. However, due to his high spending habits and legal fees, he has lost almost all of his earnings.
Allen Iverson's net worth as of 2021 is $1 million.
Allen was once among the highest-paid athletes who earned more than $20 million a season at his peak. He has a trust fund deal with Reebok that will provide him with $30 million after 2030.
Detroit Pistons paid him $20.8 million in the 2008-2009 season. But being relatively poor in terms of net worth, it is speculated that he has millions of dollars in the bank.
Allen Iverson | Films
Iverson has appeared as himself in the movies Like Mike (2002) and Imagine That (2009) and has the role of Stephon Marbury's friend in the 2017 film My Other Home.
Allen Iverson | Social Media Presence:
Allen primarily uses Facebook, Twitter, and Instagram as his social media handles. He is pretty much active on all those platforms.
Facebook: 3,914,539 followers
Twitter: 1.2M Followers
Instagram: 8.8M followers
Allen Iverson | Some FAQs:
Why is Allen Iverson called "The Answer"?
Allen Iverson gained the name "The Answer" as he turned out to answer all the questions to the 76ers regarding their success in the NBA.
Before he signed for the 76ers, they had consecutive worse seasons with no superstars. But Iverson led them to the NBA Finals and returned glory days to the team.
Why is Allen Iverson poor?
Despite earning many fortunes in his career as one of the highest-paid athletes, Allen Iverson is considered to be broke nowadays.
The reason is his expensive style of living and loss of money in different legal issues.
Were Allen Iverson and Kobe Bryant friends?
Allen Iverson and Kobe Bryant were two of the fiercest competitors. They both were drafted in 1996 and were the best players in the league.
Likewise, every time Iverson faced Kobe, it would be fireworks. However, this was only on-court and off-court; they were best friends.
After Kobe's death, Allen broke down in tears and was heartbroken and devastated. He also shared multiple posts on his social media handles about Kobe's death, saying,
" It still doesn't seem real. Of course, he was younger than me, but still, I always looked up to him and his greatness."
What is Allen Iverson's defense rate?
Allen Iverson's career defense rate is 106.
Did Allen Iverson release a song?
Allen recorded a rap single, "40 Bars". But he could not release the song as it contained controversial lyrics. Eventually, it could not happens due to the allegations from different activist groups.
What is Allen Iverson's player efficiency rating?
Allen Iverson's player efficiency rating is 20.92 (NBA/ABA).