Alphonso Davies' former girlfriend, Jordyn Huitema, is dating MLB star Julio Rodriguez. Davies has also moved on after his breakup with the OL Reign player.
Bayern Munich's left back, Alphonso Davies, was previously in a five-year-long relationship with Jordyn Huitema.
The former couple started dating while in Canada and later moved together to Europe to pursue their soccer careers.
And the two successfully found their feet in the European land, with Davies becoming a key player for the German side Bayern Munich and Huitema a key player for PSG.
After their breakup in May 2022, Jordyn returned to American soil, transferring to OL Reign.
After her move to the US, she also found a new partner in Julio Rodriguez, the star player for the MLB team, Seattle Mariners.
Alphonso Davies Girlfriend: Who Is He Dating After Jordyn Huitema?
Alphonso Davies hasn't revealed his new girlfriend publicly but has been seen in a few videos with her. During a video with the internet personality IShowSpeed, Davies revealed he was with a new girl.
In the video, Alphonso revealed his girlfriend comes from Italian descent and currently lives in Munich, Germany.
In another video, his alleged new girlfriend was seen repping the Canadian jersey and rooting for him.
The Bayern Munich defender was previously in a long-term relationship with Canadian professional soccer player Jordyn Huitema. The couple announced that they had gone their separate ways in May 2022.
Alphonso Davies And Jordyn Huitema Began Dating As Teenagers
The two soccer stars, Jordyn and Alphonso, began dating in 2017 when they were teenagers while still in Canada.
The couple was a relationship goal for soccer fans worldwide. Their interaction and Instagram pictures would go viral over social media time and again.
A tweet shared by ESPN in 2021 even went viral showing Jordyn becoming French Champion with PSG and Alphonso becoming the Bundesliga champion with Bayern Munich.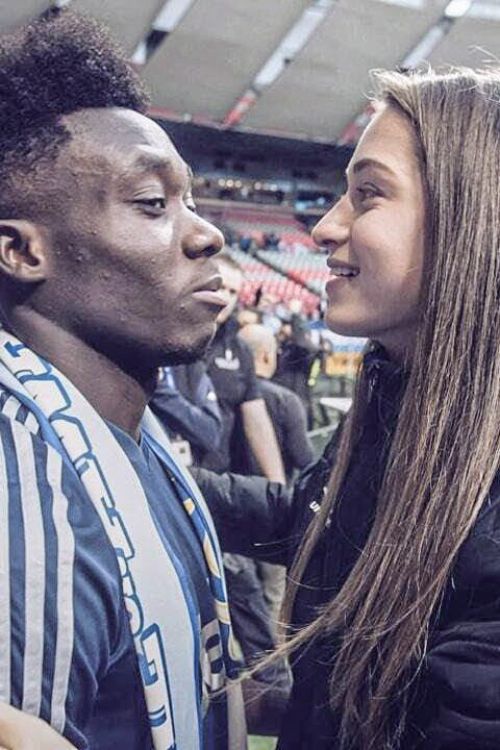 But their breakup in 2022 left many baffled as fans thought everything was sailing smoothly for the talented couple. Before their breakup, the couple even had a joint YouTube account.
Earlier this year, Jordyn's comment on a TikTok video raised many eyebrows, with the soccer player implying Davies cheated on her.
A fan had asked her on a TikTok video, "Why did you cheat on Phonzy, he was the one." Huitema then replied, "I wasn't the one that cheated."
Davies hasn't made any comments since this revelation from Huitema. Davies seems focused on his soccer career and moving on with his new partner.
Jordan Huitema Boyfriend, Julio Rodriguez
Since ending their relationship, Alphonso Davies and Jordyn Huitema have moved on with their respective partners.
If Alphonso Davies has kept his relationship lowkey, then Jordyn hasn't shied away from showing her new partner.
The Canadian soccer player is currently dating MLB starlet Julio Rodriguez. Rodriguez is the outfielder for Seattle Mariners and made his MLB debut for the Mariners in 2022.
The youngster had a roaring start to his MLB career, which ended up with him starring in the All-Star team and winning the AL Rookie of The Year. The couple went public with their relationship in November 2022.
Recently, the couple partnered with Wells Fargo for a short soccer video showing the MLB star's soccer skills. But in the end, he ended up losing the challenge leading him to buy ice cream for the pair.
Jordyn even went to Julio's homeland, Dominican Republic, to celebrate Christmas and New Year with Jordyn's family traveling with her.