Amanda Balionis is one of CBS Sports' most famous sportscasters of golf, NFL, and college football; not only that, she is a certified yoga instructor and a pet lover.
The Journalism industry has become important in today's world because that helps us let the world know about what is going on.
This industry has introduced new mediums and new faces as a journalist in public. Out of all the faces, Amanda is one of the talented, gorgeous, and beautiful female sportscasters.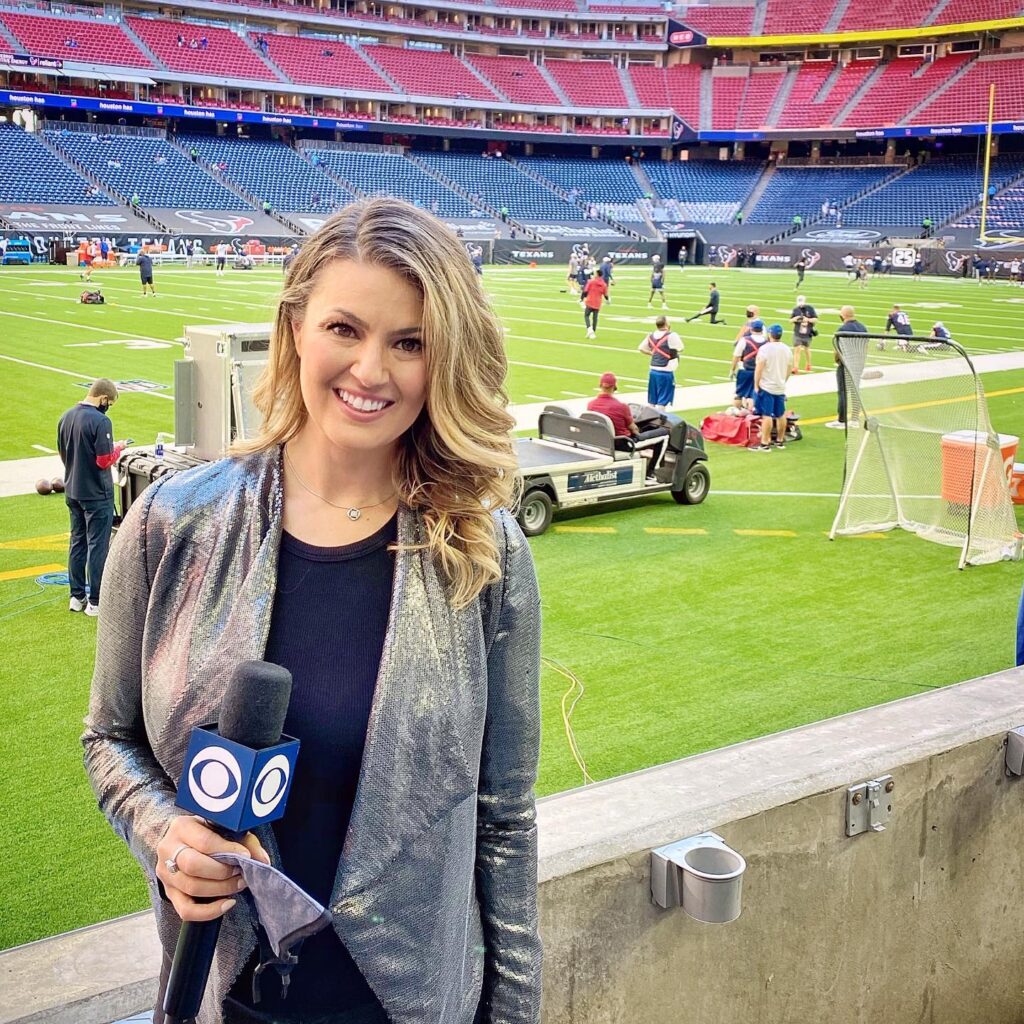 Her beautiful face, friendly yet professional interviews, and reporting have attracted lots of audiences. Her devotion to reporting is truly inspiring.
In this article, we have compiled all the information regarding Amanda, from her personal life to her professional life. Keep on scrolling to find out more about this beautiful sportscaster.
But first, let's look into some quick facts about her.
Amanda Balionis | Quick Facts
| | |
| --- | --- |
| Full Name | Amanda Balionis |
| Birth Date | June 20, 1985 |
| Birth Place | Pittsburgh, Pennslyvania, United States of America |
| Religion | Undefined |
| Nationality | American |
| Ethnicity | American/White |
| Education | Graduate in Broadcast Journalism from Hofstra University |
| Horoscope | Gemini |
| Father's Name | Tony Balionis |
| Mother's Name | Dana Balionis |
| Age | 37 years old |
| Height | 5 feet 5 inches (approx) |
| Weight | 57 kgs |
| Body Build | Hour-glass |
| Hair Color | Black-Brown |
| Eye Color | Black-Brown |
| Dress size | 8 |
| Marital Status | Unmarried |
| Boyfriend/Partner | Bryn Renner |
| Profession | Sportscaster and Anchor for Golf, Yoga Instructor |
| Net Worth | $1 million (approx) |
| Salary | $38K to $150K annually (approx) |
| Currently Works At | CBS Sports |
| Affiliations | CBS Sports, Turner Sports Digital, PGA Tours |
| The state as a professional | Active from 2011 till present |
| Social Media | Instagram |
| Last Update | February, 2023 |
Early life, Parents & Education
Birth Date, Family, and Golf
On 20th June 1985, Amanda Balionis was born in Pittsburg, Pennsylvania, America. Amanda's grandparents loved playing golf, and they also had their own golf course.
Her parents also played golf. Like a family tradition, Amanda also developed a love for golf.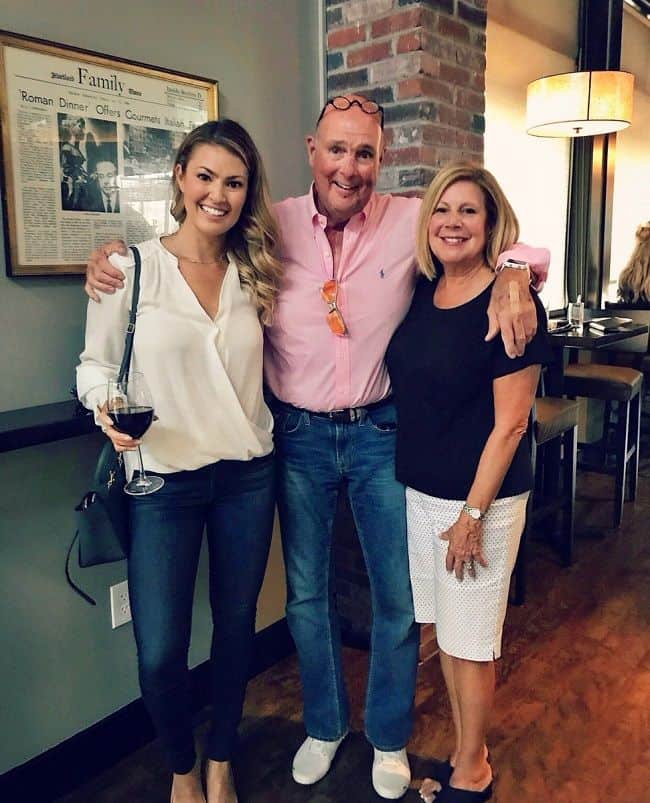 She also took lessons at a golf course when she was 8 or 9 years old and even played junior golf.
Later her parents moved to Lancaster, Pennsylvania where she attended her high school.
Education
She attended Manheim Township High school. After graduating from high school, Amanda applied for Broadcast Journalism at Hofstra University.
With the growing interest in Journalism, Balionis did an internship at CBS2, ABC News Now, New York Islanders, and New York Jets.
Age, Height, and Body Measurements
As of now, Amanda is 37 years old, born under the sun-sign Gemini. People with this sun sign are believed to be playful and intellectually curious, with bright, creative, and energetic minds at the same time.
While talking about her physical appearance, she has got Black-Brown pair of eyes with Black-Brown hair color. Likewise, she stands at a height of 5 feet and 5 inches tall.
She has a slim hourglass body weighing 57 kg. In fact, she credits Yoga with helping her maintain a healthy body and a calm mind.
Professional Life and Career
Early Career life
At Hofstra University, she became a WRHU Radio, The Chronicles Newspaper Team, and the Association of Women in Communications.
Eventually, Amanda got a reporting job at Lancaster Newspaper.
After that, she worked for Verizon Sports. Likewise, Balionis used her skills in MSG Network.

Afterward, she worked as a Volleyball Commenter and featured Reporter in MSG Varsity.
If you are interested in buying a golf ball, click here.>>
In 2011, she left her small tv job in NYC covering football, basketball, lacrosse, and soccer.
Likewise, Amanda visited the Callaway Truck at The 2014 Open Championship.

With Roger Cleaveland, she discussed the golf equipment and the players who visited the truck.
Work with PGA Tour
Next was the PGA Tour waiting for her. From 2011-2016, she worked there as an anchor and reporter. Also, Buy a Mulligan, Flavor of the Tour, The Takeaway, The Good, The Bad,
The Unusual were some exciting PGA Tours segments. Among them, Buy a Mulligan was a much loved and booming segment.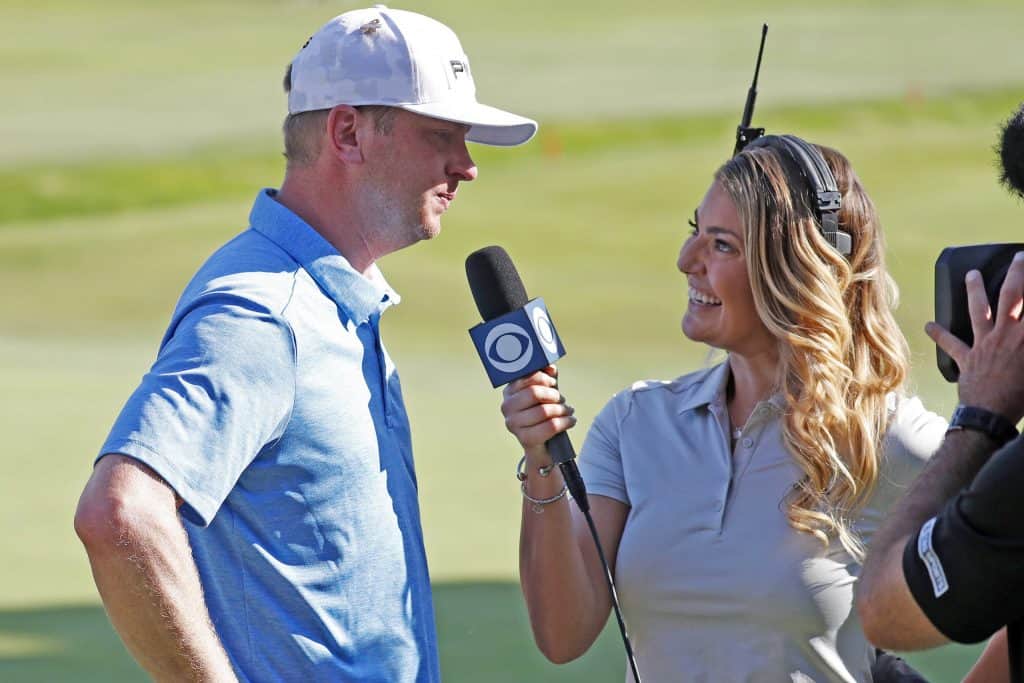 When about to work for Callaway Golf, Turner Sports came searching for Amanda. The coverage for PGA Championship became a debut for Turner Sports.
Her work was impeccable. Thus, CBS Sports appointed her for their Golf Team. She handles post-match interviews gracefully.
Work with CBS Sports
In 2017, Balionis started joined CBS. Amanda worked as a part-time golf reporter, working in select tournaments.
She became a full-time CBS golf reporter in 2018. She also worked as a sideline reporter for CBS Sports Network college football games and NFL On CBS games.

Similarly, In 2017 She played a round of "Speed Golf" at Callaway Golf Headquarters. There she answered nine questions related to her field and her colleagues.
Photoshoot
Golf.com sees Amanda Balionis as one of the most stylish people in golf. She also did a photoshoot and had lots of fun.

Moreover, this photo shoot was out of Amanda's comfort zone.
Interview with golfers
Furthermore, She interviewed great golfers like Tiger Woods, John Rahm, Paige Spiranac, and Jim Herman.
Footgolf with Tim Howard
Before the 2018 PGA Championship, Amanda Balionis and Colorado Rapids goalkeeper Tim Howard played footgolf. Together they had fun times.
On Dan Patrick Show
Likewise, in 2019 in Dan Patrick Show, Amanda Balionis talked about US Open and her interview with Tiger Woods via a telephone call.
You might want to know about 123 inspiring Tiger Woods Quotes that will help you >>
Records
Surprisingly, She made history by being first CBS's first social media correspondent for the Super Bowl in 2019.
Everyone likes her. Thus her reporting has secured other side jobs for her. She still works as an interviewer on CBS Sports.
Similarly, Balionis did a couple of commercials for the Supreme Golf app. Recently She hosted CBS Social Rewind.
Appearance in Podcasts
She has also appeared in Callaway Podcast Network, Girls N Golf Podcast. On the occasion of Women Golf day, 2021, Amanda gave her opinions in the online video conference and Annika Sörenstam.

Amanda said that the increasing interest of women in sports has been giving her some happy feelings.

Also, she said that children and women could group up and play golf. They should enjoy the game without thinking of being professional in the future.
Commercials
Similarly, she has also done a couple of commercials for the Supreme Golf app.
CBS Social Rewind
Recently, She hosted CBS Social Rewind. Also, Balionis will be giving updates on what players are up to while at home.
Yoga classes via STIFEL
During the COVID-19 lockdown, she partnered with Stifel and brought weekly beginner Yoga and breath-work series.

Moreover, She also encourages the audience to detox physically and mentally. This series continued for the seventh week.
You might even want to read about Beth Daniel Bio: Age, Career, Family, Career & Social Media >>
Work from Home
During the work from home, Balionis also aired Charley Hoffman's charity party at the Belly Up Tavern for the Farmers Insurance Open at Torrey Pines.
Likewise, she also hosted Rickie Fowler's clinic on the Torrey Pines driving range.
Thoughts on Black Life Matters
In July 2020, Balionis appeared in 10 Minutes with T-Mac. Here, she discussed the importance of the Black Life Matters movement and racial equality. Likewise, she shared her friend's story, who faced racist discrimination.
The Sit Down Segment
Again in August 2020, She appeared on The Sit Down Segment of CBS Local News. Also, she discussed the 2020 PGA Championship and the challenges of TPC Harding Park.
Along with that, she spoke about this year's CBS Sports golf broadcast adaptations.

Likewise, she talked about Brooks Koepka and his potential to be as famous as Tiger Woods. Here, Amanda expressed her love for the We Need To Talk program on CBS and CBS Sports Network.
Know about another great anchor Charissa Thompson Age, Net Worth, Salary, Engaged, Husband, Fox Sports, IG >>
Not a Golfer
Since her golf reporting is precise and professional, most of the audience often thinks Amanda is a golfer. However, She finds this funny. Hence, She always clarifies this in most of her interviews.
Personal life
Parent's Accidents | Father's Death
Amanda is very close to her parents. In 2016, her parents had a terrible accident. This left her in deep despair.

When they recovered, Balionis gathered the courage to talk about the incident to her followers. She shared the news one year after the accident had happened.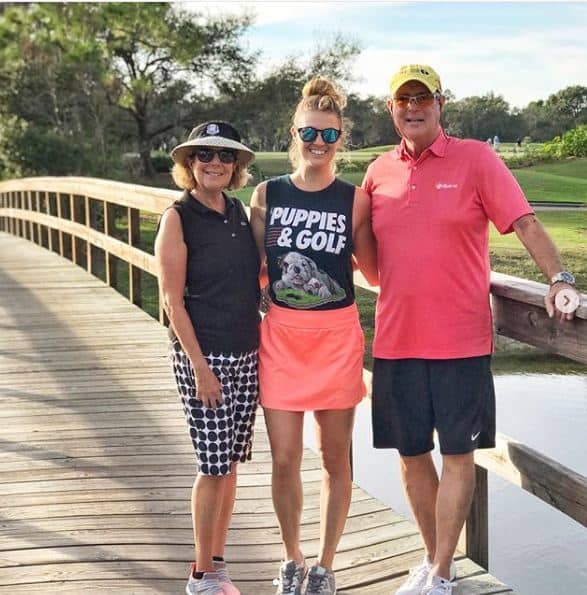 Luckily, her parents recovered from the accident. Unfortunately, after two years, in 2018, her dad passed away.
The sudden demise of her father affected Amanda's health tremendously. This led to some mental struggles.
Mental Struggle
Along with the growing agony of losing her father, She got an eating disorder. She gained some weight. Amanda was struggling mentally, as well.

Finally, Amanda seeks help from a therapist and doctors to recover mentally and physically. She has shared her story without any hesitation.
Residence and Routine During Work from Home
At present, she lives in San Diego. Here she also takes golf classes with her former co-worker at CBS, Peter Kostis. She also goes to play golf with her girlfriends.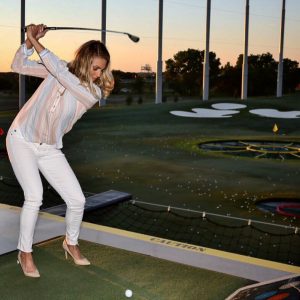 According to Amanda, every morning, she takes a short walk from her Pacific Beach. Her hand holds a cup of coffee.
Finally, after the brisk walk, she sits on the grass and stares out at the ocean. She also performs Yoga daily.
Yoga and Amanda
Besides being a beautiful reporter, Balinos is a certified yoga instructor. After taking 200 hundred hours of education, she became a professional instructor.
Thus, She is devoted to helping herself and others who need help to fit bodies and calm minds.
Boyfriend & Pets
Balionis was quite secretive about her personal life. For several years, Amanda would hint at having a boyfriend, but she never revealed the identity.
Finally, she shared the identity of her mystery man on an Instagram post.
Not to be surprised, it was Bryn Renner. They started dating in early 2020. Her Instagram post on Valentine's proves their growing love-life. Amanda thanks him for being supportive of her schedules.
Pet lover
Balionis is a kind-hearted person. She loves the furry friends-the dogs. She is a dog owner herself. Her posts are frequently about these cuties. She also works with the K9s for warriors dogs charity group.

For instance, She visited the Atlanta Humane Society. She helped them get a much-needed shout-out in her Instagram account.
Net Worth
As per the source, Balionis is earning a good source amount of money from her professional career.
Balionis's net worth is estimated to be fewer than 1 million US dollars.
Interestingly, She takes an exotic vacation with her boyfriend and friends. However, she likes to have a healthy life.
Social Media Presence
She is also on the Facebook page. Also, she is featured on the CBS Facebook page time and again.
Good News! She is active on Instagram. She shares her professional shots, BTS moments with the furries, and her personal life pictures.
Balinois mostly tweets about the Sports and welfare of animals, especially dogs, on her Twitter.
Her name is on the list of PGA Tour CBS commentators on Wikipedia. But her Wikipedia page is still under construction.
Instagram : 224K followers (@balionis)
Twitter: 154.2K followers (@Amanda_Balionis)
Some FAQs
1. Who is Amanda Balionis Married to?
Amanda is not married yet. However, she has already found her soulmate, Bryn Renner.
2. W
hen did Amanda Balionis graduate from Hofstra University?
Amanda graduated from Hofstra in the year 2008.