Who doesn't know Tiger Woods? He is an American Golfer who is not only one of the greatest golfers but also one of the famous athletes of all time.
He is the first golfer of African American or Asian descent to win the Masters Tournament, one of the most prestigious events in golf.
Tiger ranks second in men's major championships and also holds several golf records. He is to be inducted into the World Golf Hall of Fame in 2021.
From career highs to scandalous past, we will dive into every detail.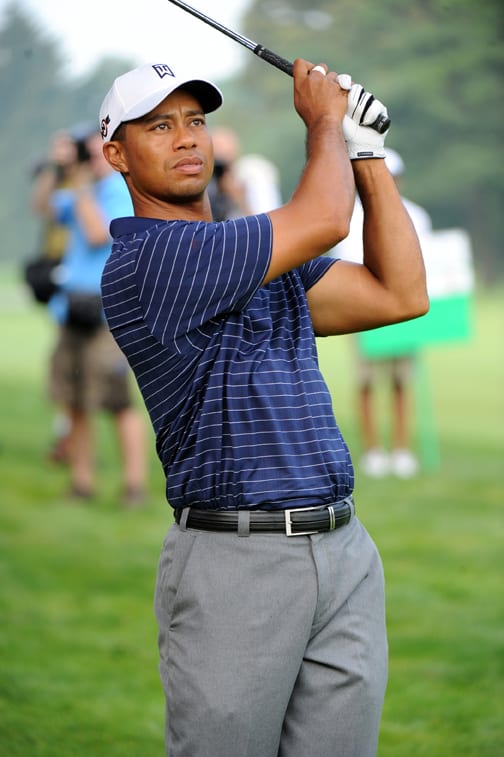 But first, here are some quick facts about Tiger Woods.
Quick Facts
| | |
| --- | --- |
| Full Name | Eldrick Tont Woods |
| Birth Date | 30 December 1975 |
| Birth Place | Cypress, California, U.S. |
| Zodiac Sign | Capricorn |
| Nick Name | Tiger |
| Religion | Buddhism |
| Nationality | American |
| Ethnicity | Thai, Chinese, Dutch, African American, Chinese, and Native American |
| Father's Name | Earl Woods |
| Mother's Name | Kultida "Tida" Woods |
| Siblings | Two half-brothers and One half-sister; Earl Jr. Woods, Kevin Woods, and Royce Woods |
| Education | Stanford University |
| Age | 46 years old |
| Height | 6'1″ (185cm) |
| Weight | 185 pounds (84 kg) |
| Body Build | Athletic |
| Hair Colour | Black |
| Eye Colour | Brown |
| Married | No |
| Partners | Elin Nordegren (Ex-Wife), Lindsey Vonn (Former Partner), Erica Herman (Current Partner) |
| Children | Two; Sam Alexis Woods (Daughter) and Charlie Axel Woods (Son) |
| Profession | Golfer |
| Active Since | 1996 |
| Net Worth | $800 million |
| Social Media | Twitter, Instagram, Website |
| Merch | Books, Jersey, Autographed Items |
| Last Update | November, 2022 |
Tiger Woods | Early Life and Education
Tiger was born on 30 December 1975 in Cypress, California, U.S. He is the only child of Earl Woods (father) and Kultida "Tida" Woods (mother).
His father was married before and had two sons Earl Jr. Woods and Kevin Woods, and a daughter Royce Woods from the first marriage, making them Tiger's half-siblings.
His nationality is American, and his ethnicity is a mix of Thai, Chinese, Dutch, African American, Chinese and Native American, all of which combined is coined as Cablinasian by Tiger himself. He practices Buddhism.
His nickname came in honor of his father's friend Col. Vuong Dang Phong, who was also known as Tiger.
Tiger graduated from Western High School in 1994 and was voted "Most Likely to Succeed" by his classmates.
He went on to attend Stanford University under a golf scholarship and majored in economics. He left college two years later to focus on his professional golf career.
Tiger stuttered when he was a kid. He wrote to a boy who contemplated suicide: "I know what it's like to be different and sometimes not to fit in."
He further added,
"I also stuttered as a child, and I would talk to my dog, and he would sit there and listen until he fell asleep. I also took a class for two years to help me, and I finally learned to stop."
You might be interested in 123 inspiring Tiger Woods Quotes that will help you >>
Tiger Woods | Age, Height, and Physical Appearance
As of 2020, Tiger is 45 years old, and since he was born on 30 December, his zodiac sign is Capricorn.
He stands 6 feet and 1 inch (or 185 cm) tall and weighs approximately 185 pounds (or 84 kg).
His black hair and brown eyes compliment his smooth skin, not to mention his athletic body structure.
Tiger Woods | Career
Amateur Golf
Tiger learned golf when he was two years old.
In 1978, at the age of three, Tiger played against comedian Bob Hope in a television appearance on The Mike Douglas Show and shot 48 over nine holes at the Navy course.
Held at the Navy Golf Course in Cypress, California, he won the Under Age 10 section of the Drive, Pitch, and Putt competition before he was seven years old.
At the age of eight, he won the 9-10 boys' event at the Junior World Golf Championships and went on to win it a total of six times, with four consecutive wins from 1988 to 1991. Needless to say, he was a child prodigy.
At the age of thirteen, Tiger played in his first major national junior tournament, the 1989 Big I.
He became the youngest U.S. Junior Amateur champion at the age of 15 and defended his title in 1992 and 1993, becoming the tournament's first three-time winner.
Moreover, he also competed in his first PGA Tour event, the Nissan Los Angeles Open. In 1994, he became the youngest winner of the U.S. Amateur Championship.
College Golf
Tiger again won the U.S. Amateur title in 1995 at the Newport Country Club in Rhode Island.
At the age of 19, he participated in his first PGA Tour major, the 1995 Masters, and tied for 41st. He won the tournament in 1997 by twelve strokes.
When he was 20 years old, he had won three consecutive U.S. Amateur titles, the first golfer to do so, and won the NCAA individual golf championship. He also came second at The Open Championship.
Professional Golf Career
The 1990s
Tiger became a professional golfer at the age of 20 in August 1996. He won his first major championships, the Master's Tournament, in 1997, and was the youngest winner at 21 years old.
He also set the record for the fastest reach to No. 1 in the Official World Golf Rankings just two months later.
In 1999, he finished the season with eight wins, including the PGA Championship.
The 2000s
In 2000, on the PGA Tour, Tiger won six consecutive events. In the U.S. Open, he broke or tied nine tournament records and won the tournament by a record 15-stroke margin.
Woods also became the youngest golfer to accomplish the Career Grand Slam at age 24.
He was the only player who won four consecutive major professional golf titles once he won the 2001 masters. This was called "Tiger Slam." He won six PGA Tour events in 2005.
At the end of the 2006 season, he had 54 wins, including 12 majors. He continued to achieve excellence throughout 2007 and 2008. Tiger underwent knee surgery and returned to golf in 2009.
He made a spectacular comeback at the 2009 Presidents Cup but didn't win any major tournaments.
However, towards the end of 2009, his marital affairs became the focus of media, after which he took an indefinite break from the competitive break.
Yet, he competed in April at the 2010 Masters and tied for fourth place. The rest of the season was a slump for him.
You might be interested to learn about Brian Hollins Age, Net Worth, HBS, Golf, Podcast, Wife, Kids, Instagram >>
The 2010s
Again, in 2011 Masters, he tied for fourth place. In December 2011, he won Chevron World Challenge.
In the 2012 season, he had the lowest final-round score in his PGA Tour career, tying second at the Honda Classic.
He won the Arnold Palmer Invitational, Memorial Tournament, and AT&T National.
2013 started as a good year for him as he won the Farmers Insurance Open and WGC-Cadillac Championship for the seventh time.
He also won Arnold Palmer Invitational for the 8th time. However, his elbow injury caused him to play poorly at the 2013 U.S. Open.
In 2014, Tiger sustained another injury and had to undergo back surgery, and struggled after returning to competitive play.
At the beginning of 2015, he sustained another back injury and took a break for the back to heal.
Tiger returned for the Masters, finishing in a tie for 17th. He underwent another back surgery on 16 September 2015. He underwent his third back surgery in December 2016.
In April 2017, Tiger underwent his fourth back surgery to relieve back and leg pain.
On 11 March 2018, he tied for second at the Valspar Championship and tied for sixth at the 2018 Open Championship. At the 2018 PGA Championship, he finished second.
He won the Masters Tournament on 14 April 2019, becoming the second oldest golfer to win the Masters at 43.
He underwent knee surgery to repair minor cartilage damage, and that he had an arthroscopic procedure during the Tour Championship.
Awards and Achievements
Tiger Woods has achieved numerous feats to date and during his journey, he has passed a score worth the note. Well, as of now, his highest or best score is recent.
It was back in November 2020 when he made a septuple-bogey 10 on the par-3 12th hole after hitting three balls into the water.
Some of the honors and awards that Tiger Woods have achieved to date are highlighted below.
Presidential Medal of Freedom (2019)
Laureus World Sports Award for Sportsman of the Year (2001 and 2000)
Best Record-Breaking Performance ESPY Award (2002)
Come-from-behind Performance ESPY Award (2001)
Showstopper of the Year ESPY Award (1998)
Best Breakthrough Athlete ESPY Award (1997)
Best Male Athlete ESPY Award
Associated Press Male Athlete of the Year
Best Golfer ESPY Award
Be sure to check out Tiger Woods' rookie cards!
Injuries
With greater gameplay and work come greater incidents at times. Through the uncertainty, many get a scar that's hard to heal. With Tiger Woods, he has also faced numerous such injuries.
Talking about his recent injury, Tiger Woods fell into a car crash this February which has deeply affected his right leg. Fortunately, his condition has improved a lot lately and he is on his rehab.
Right Achilles' tendon
Back in 2008, Tiger Woods tore his right Achilles' tendon which was only disclosed in the 2010 Masters.
Back spasms
Often it has made Woods crumble right there on the course during games. However, he has been handling it internally. Also, he has had five back surgeries to date.
Strained Elbow
Well, this is the very reason that Tiger was out of the 2013 AT&T National game.
Benign Growth on Knees
Tiger has been facing this problem since 1994 which went a lot bigger back in 2007 when he ruptured the anterior cruciate ligament. Though he didn't treat it right away, however, he did it after his games.
Well, Woods underwent arthroscopic surgery to repair cartilage.
Leg injuries
Tiger has had numerous leg injuries to date and has undergone several surgeries.
Tiger Woods | Net Worth
Currently, Tiger is one of the highest-paid athletes in the world. He has numerous endorsement deals, and he has been playing golf for a really long time. He has also amassed a vast amount of assets such as a yacht and a private jet.
As of 2022, his net worth is estimated to be $800 million.
His salary is around $50-60 million per year.
You can get detailed information on his net worth and properties right here: Tiger Woods Net Worth: House, Endorsements & Salary >>
Tiger Woods | Personal Life
Tiger married Elin Nordegren, daughter of former Swedish minister of migration Barbro Holmberg, and radio journalist Thomas Nordegren, on 5 October 2004.
They had a daughter in 2007 named Sam Alexis Woods and a son Charlie Alex Woods in 2009. They got divorced on 23 August 2010.
He has a niece, Cheyenne Woods, a professional golfer and made her pro debut in the LPGA Championship.
Tiger dated Olympic gold medal skier Lindsey Vonn from March 2013 till May 2015. He is currently in a relationship with restaurant manager Erica Herman since November 2017.
Tiger was inducted at The California Museum for History, Women and the Arts in Sacramento on 5 December 2007.
In May 2019, following his 2019 Masters Tournament win, he was awarded the Presidential Medal of Freedom by President Donald Trump.
Daily Schedule
Years and years have gone by since his debut on the course and yet he is still working hard as ever. A true athlete, indeed! Let's dive into his daily routine life in brief.
An early rise is a way to start his day as he welcomes the day at 6:30 sharp.
With a bit of freshening, he commences with his one hour of cardio. This is often followed by another hour of stretching from the cardio and strength training on the legs.
After two hours of workout, Tiger indulges in his low-fat breakfast. Following it is his other training session.
By 1:30, he would be done with his cardio, putting, and range, and thus, it's time for a break.
Again with low-fat lunch and break, he is back to his range and short-game areas which after accomplishment, he shifts to the weight area.
Altogether, his day ends by 6 and it usually follows the dinner and short time for himself and into the bed.
Infidelity Scandal
Tiger had an extramarital affair with New York City nightclub manager Rachel Uchitel in late 2009.
Ultimately, more than a dozen women came forward and claimed to have had affairs with him.
At this point, several companies ended their sponsorship deals, and the shareholder lost between $5 billion and $12 billion because of Tiger's affairs.
Arrest
Tiger was arrested near his home on 29 May 2017 for driving under the influence of alcohol or drugs. He was pleaded guilty.
He received a year of probation, was fined $250, and was ordered to undergo 50 hours of community service along with regular drug tests.
You might be interested to learn about Paige Mackenzie Bio: Golf, IG, Salary, Wedding, Baby, Husband Wiki >>
Other Ventures
Tiger is the Founder and CEO of TGR, a "multi-brand enterprise comprised of his various companies and philanthropic endeavors, including TGR Design, the golf course design company;
The TGR Foundation, a charitable foundation; TGR Live, an events production company; and The Woods Jupiter, an upscale sports restaurant."
If you are interested in Tiger woods, his fashion sense, and outfits. Click the link to follow and visit his outfit code.
Social Media Presence
Twitter: 6.5 million followers
Instagram: 2.3 million followers
Common Queries
How much is Tiger Woods worth right now?
Tiger Woods' net worth is estimated to be $800 million.
Is Tiger Woods a billionaire? In which golf game is the featured?
In 2009, Tiger Woods became the first billionaire sportsman. As for the golf game, Tiger Woods is in the PGA Tour 2K.
What is a Tiger Woods degree?
Tiger Woods majored in Economics.
What is Tiger Woods' stats now?
Altogether, Tiger Woods has bagged 82 PGA Tour wins, 41 European Tour wins, 3 Japan Golf Your wins, 2 Asian Your wins, 3 PGA Tour of Australasia wins, and other 16 wins.